More Space in Your Little Place: Decorating and Storage Ideas for a Studio Apartment
Lifestyle
August 20, 2019
Everyone dreams of living in a two-bedroom penthouse with towering ceilings, limitless counter space and walk-in closets the size of Manhattan. However, your budget may deter you from sealing the deal on that dream apartment you've been eyeing. And, if you live in Los Angeles or New York, chances are a small studio might be the only option available. Whether your budget or location limits your choices, these storage ideas and decorating tips will help you make the most of your 650-square-foot studio apartment.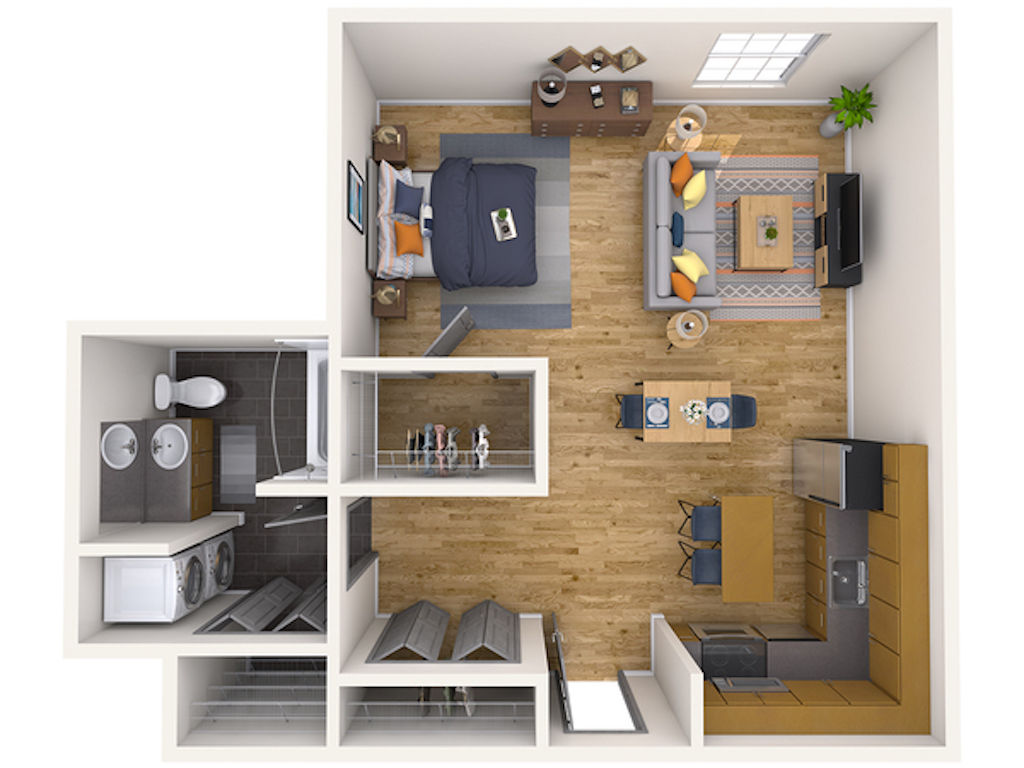 Mentally Divide Your Studio into 'Rooms'

In any home, it's important to have separate spaces for sleeping, living, eating and working. But, when you have a studio apartment, crowding seems inevitable. To avoid overlapping spaces, mark clear boundaries in order to create a sense of separate "rooms." While room dividers are certainly an option, they offer little to no space-saving potential. To make the most of the space you have, consider putting your sofa at the foot of your bed to divide the bedroom and living area.

If you want a more dramatic separation, place a media console and a TV affixed to a rotating mount at the foot of your bed with the couch against the opposite wall. Alternatively, a large, open back bookshelf will create a defined space while opening the room and providing a creative storage solution.

Trick the Eyes

For centuries, mirrors have been used to create optical illusions and magic tricks. Although adding mirrors to your décor won't make extra square footage magically appear, the right mirror will make your studio look larger than life. For a brighter apartment, try angling a mirror adjacent to an open window to reflect natural light throughout. If your place could use some height, get a floor-length mirror or a massive art piece to create a central focal point and add depth to your room.


Use Every Inch of Space

Studio apartments are filled with storage possibilities, if you know how to make the most of every nook and cranny. Install a utility rack on the back of your bathroom door to hang toiletries, styling tools, cosmetics and even damp towels. Spice it up by attaching a mesh spice rack to the back of your kitchen cabinets for roomier shelves.

Don't overlook corners either. This area that was once used for time-outs offers a great opportunity for your tiny space. From triangular bookshelves to wedged desks, there's an abundance of corner-friendly furniture pieces available.

Use Functional Furniture

Less is always more, especially when it comes to furnishing studio apartments. Combine your personal style with functional furniture pieces that double-up as a swanky storage option. For an ultra-modern look, opt for a platform bed with drawers or bookshelves underneath. You can even exchange your coffee table with cushioned storage ottomans or benches, providing both a plush foot prop and additional seating.


Display Your Clothing

While going the minimalist route is a great lifestyle for studio dwellers, it's not an absolute necessity. Take advantage of your vertical square footage and proudly display your possessions for a personally curated look using clothing racks, open-back bookshelves and floating shelves. Hang a steel clothing rack from the ceiling to showcase your wardrobe in an industrial fashion.

If you're a seasoned fashionista, a modular closet like The Container Store's elfa® is well worth the investment. These storage systems allow you to create one-of-a-kind solutions tailored to your personal needs and style. Add a clothing rack, a few drawers, birchwood shelving and a few stylish wicker baskets to create a Pinterest-worthy storage solution.

Do You Have Plenty of Space but Not Enough Style?
The information presented on or through this Website is made available solely for general information purposes. We do not warrant the accuracy, completeness, or usefulness of this information. Any reliance you place on such information is strictly at your own risk. We disclaim all liability and responsibility arising from any reliance placed on such materials by you or any other visitor to this Website, or by anyone who may be informed of any of its contents. Any reference to amenities, services, rules, policies, or procedures at a Greystar apartment community is general in nature, and each Greystar apartment community may have amenities, services, rules, policies, and procedures that differ from those referenced on this Website. Please consult with your Greystar apartment community for the exact amenities, services, rules, policies, or procedures applicable.

This Website may include content provided by third parties, including materials provided by other users, bloggers, and third-party licensors, syndicators, aggregators, and/or reporting services. All statements and/or opinions expressed in these materials, and all articles and responses to questions and other content, other than the content provided by Greystar, are solely the opinions and the responsibility of the person or entity providing those materials. These materials do not necessarily reflect the opinion of Greystar. We are not responsible, or liable to you or any third party, for the content or accuracy of any materials provided by any third parties.