Feng Shui for Your Apartment: Easy Tips from New York City's Leading Consultant
Looking to feng shui your apartment since you can't technically remodel it? Bringing peace and positive energy into your home doesn't necessarily require knocking down walls. Whether you're a deep believer in the Eastern philosophies of feng shui or simply want to redecorate your apartment, there are simple tips and tricks you can practice to improve the energy of your space without sacrificing your security deposit.
Laura Cerrano, a certified Feng Shui Consultant and the CEO and founder of Feng Shui Manhattan, tackles this topic daily in consultations and workshops locally, nationally and internationally. While she finds it important to clarify that feng shui is far greater than just furniture placement and interior design, implementing a few small changes in your apartment can be the perfect first step to changing your perspective and opening yourself up to new possibilities for a better life.
Let there be light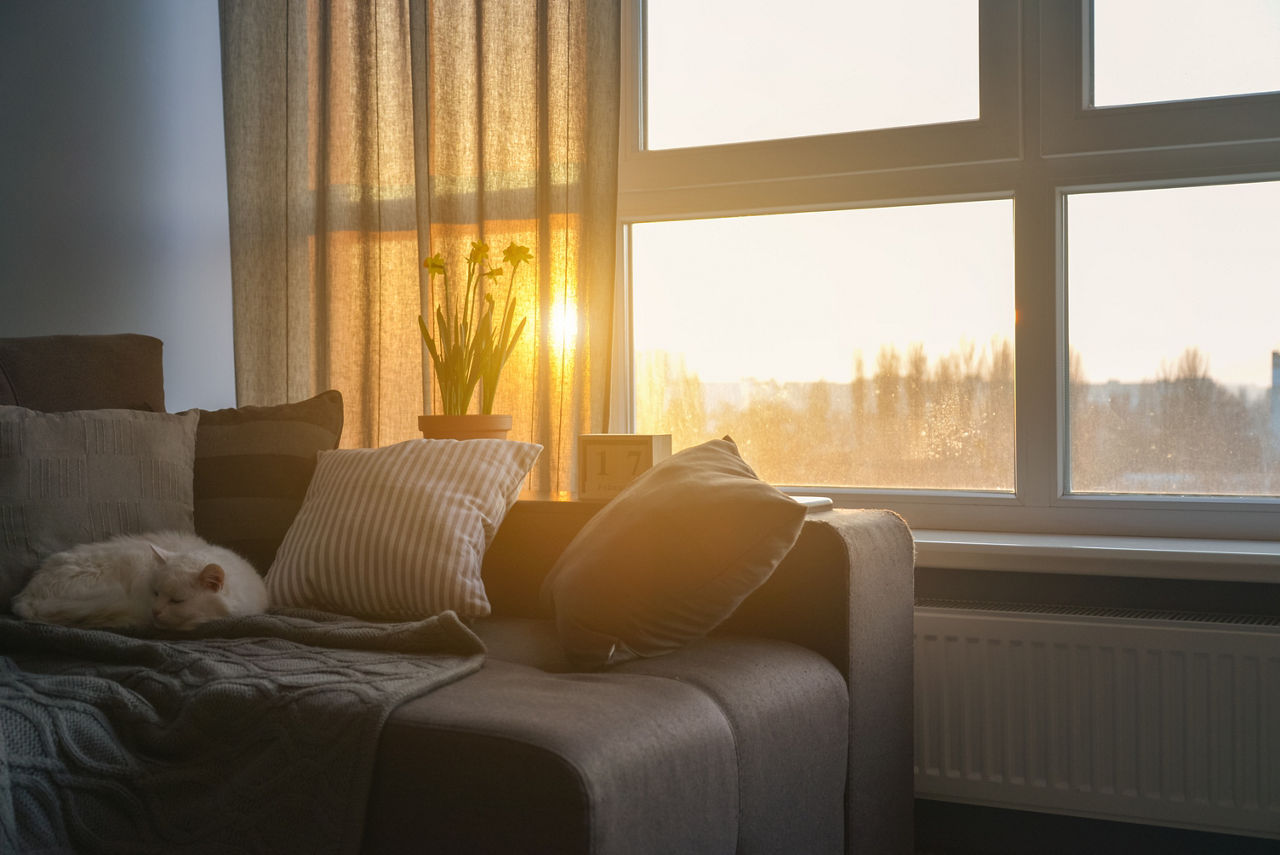 "Every morning, make it a habit to pull back the curtains and/or open up the blinds to let some natural light into your apartment," says Cerrano. "It not only wakes you up, but it refreshes the energy every day."
Feeling skeptical? Not only is this a powerful feng shui technique (especially if you look at it as a metaphor), but there are thousands of scientific studies to back up its benefits. According to Architectural Lighting: "Scientists at the Lighting Research Center in Troy, N.Y., for example, have reported that day-lit environments increase occupant productivity and comfort, and provide the mental and visual stimulation necessary to regulate human circadian rhythms."
Utilizing natural light more can also cut down on your electricity bill, and who doesn't want that?
Prioritize plants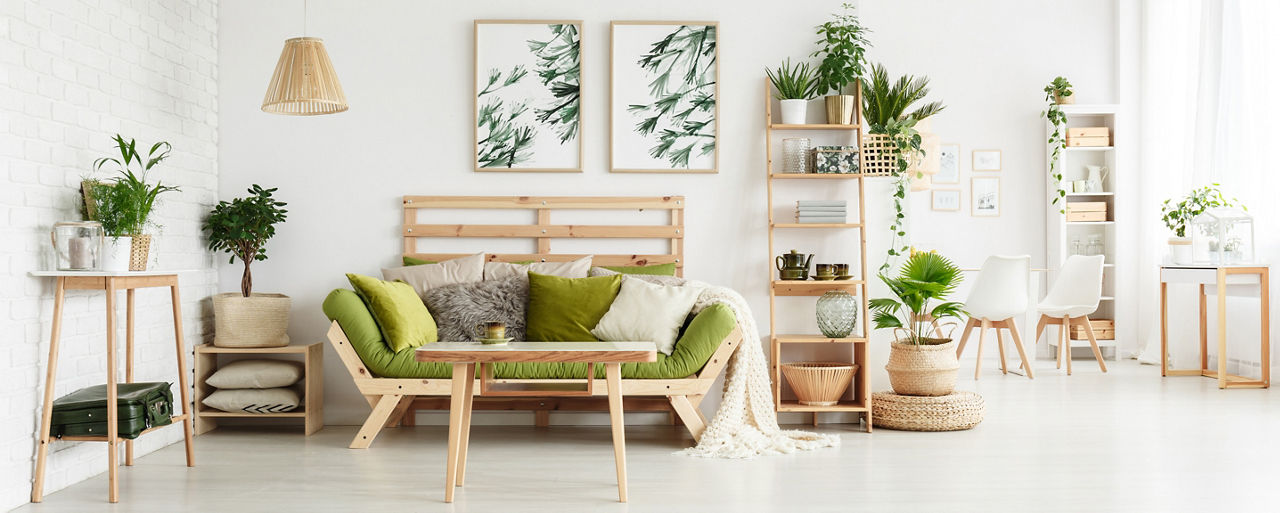 In addition to enhancing the physical appearance of your apartment, healthy plants emit fresh energy and positive growth by cleansing the air. Some of the most popular air-purifying plants include the Bamboo Palm, Lady Palm, Peace Lily and Boston Fern.
"The key with plants is to look for smooth, soft, round leaves," says Cerrano. "While you can use succulents and different types of cacti, you want to avoid anything sharp or prickly, like the prickly cactus, for example. A plant with sharp, jagged edges or even one that just looks aggressive is referred to as 'sha' energy, meaning it acts as a poisonous dagger that cuts into your energy field over a long or short period of time."
Separate work from relaxation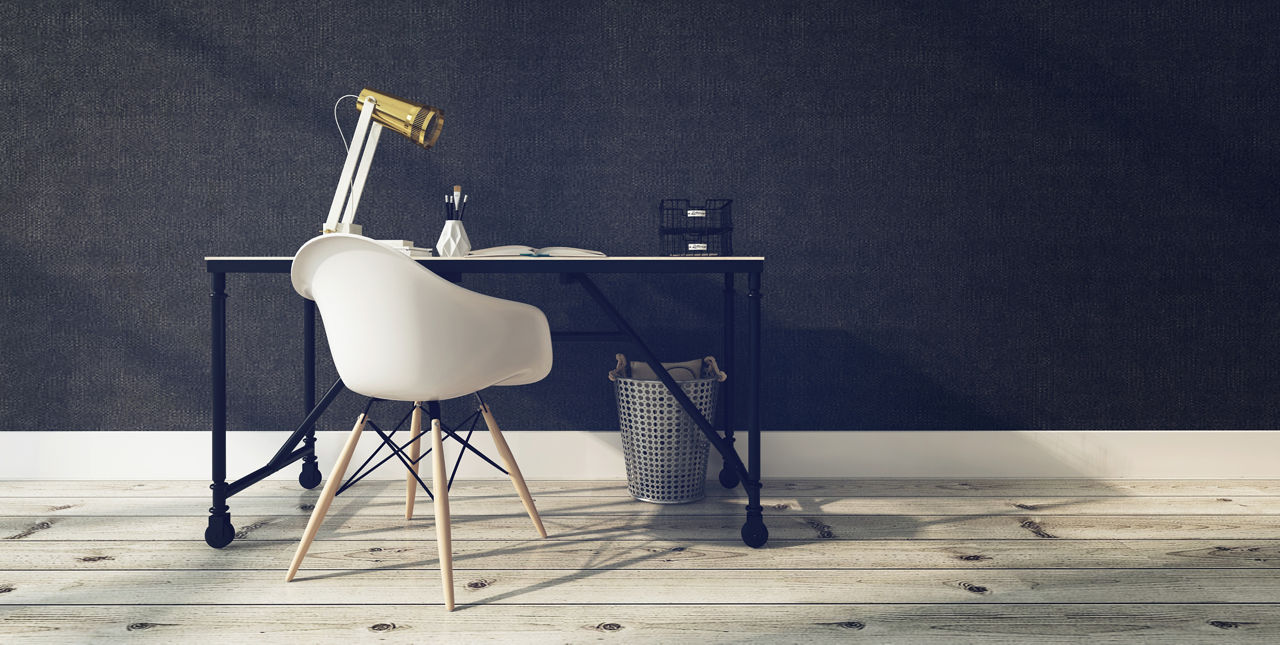 In today's digital world, it's easy to bring the office home with you, especially if your apartment duals as your office. While it's okay to have a workspace in your apartment, Cerrano makes it clear that you should always avoid it interfering with your bedroom, since that space is meant to be a sacred place for rejuvenation, rest and relaxation.
"If you are limited on space and have to work in your bedroom, try and find a desk or piece of furniture that can close up or hide your paperwork and gadgets so you can literally shut down your workstation when it's time to go to sleep," she says.
The same can be said for electronics. Feng shui experts highly discourage devices such as cell phones, TVs and radios being in the bedroom. While this isn't always realistic for the modern lifestyle, Cerrano recommends that if you do insist on bringing electromagnetic devices into your sleeping space, try and keep them at least 4 feet to 5 feet away from the bed.
Break away from bad bed placement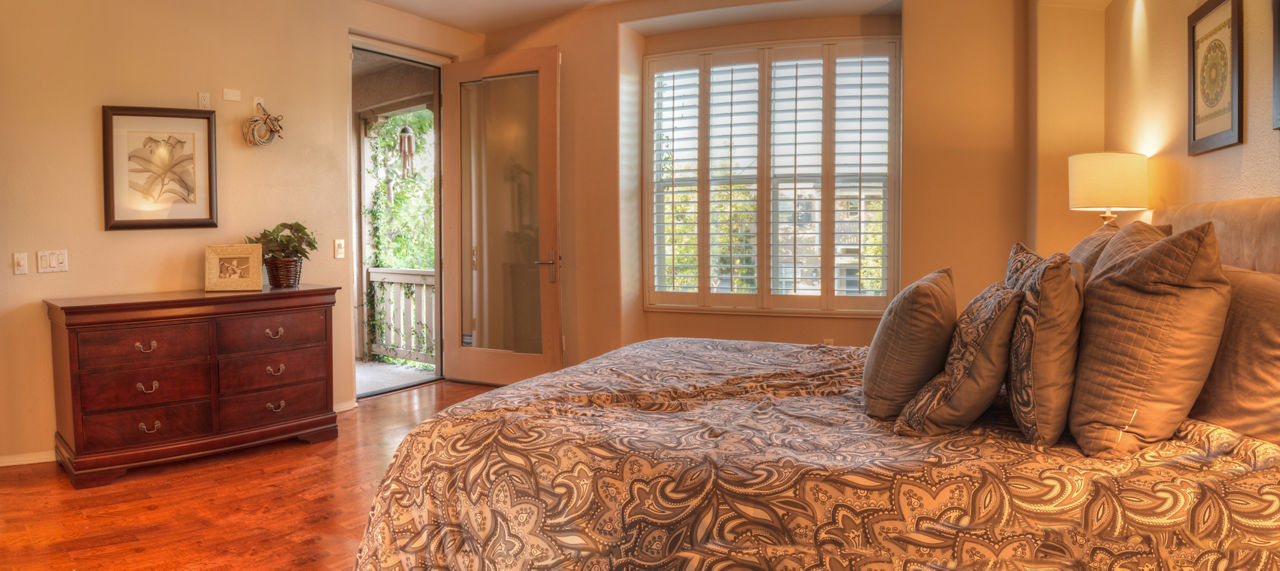 Speaking of the bedroom, clearing out the gadgets is not the only thing to think about. Bed placement plays an important role in the feng shui of a room. For one, you should always try and avoid placing the bed along a wall with a bathroom behind it.
"In Western feng shui, the piping of the bathroom can create stress points in a home, whether resulting in a person feeling more tired, irritable, sick or emotionally unstable," says Cerrano.
She furthers this point by giving an example of how one of her clients had a baby who would constantly cry whenever she was in her crib. As soon as they moved the crib away from the bathroom wall, she suddenly slept through the night.
Another principle to consider when choosing where to place your bed is finding the commanding position in the room.
"We want to make sure that you can comfortably see the doorway from your bed," says Cerrano. "Psychologically, this means you can see opportunities when they arrive, and it can make you feel more supported and protected."
Thus, you get a better night's sleep.
Focus on functionality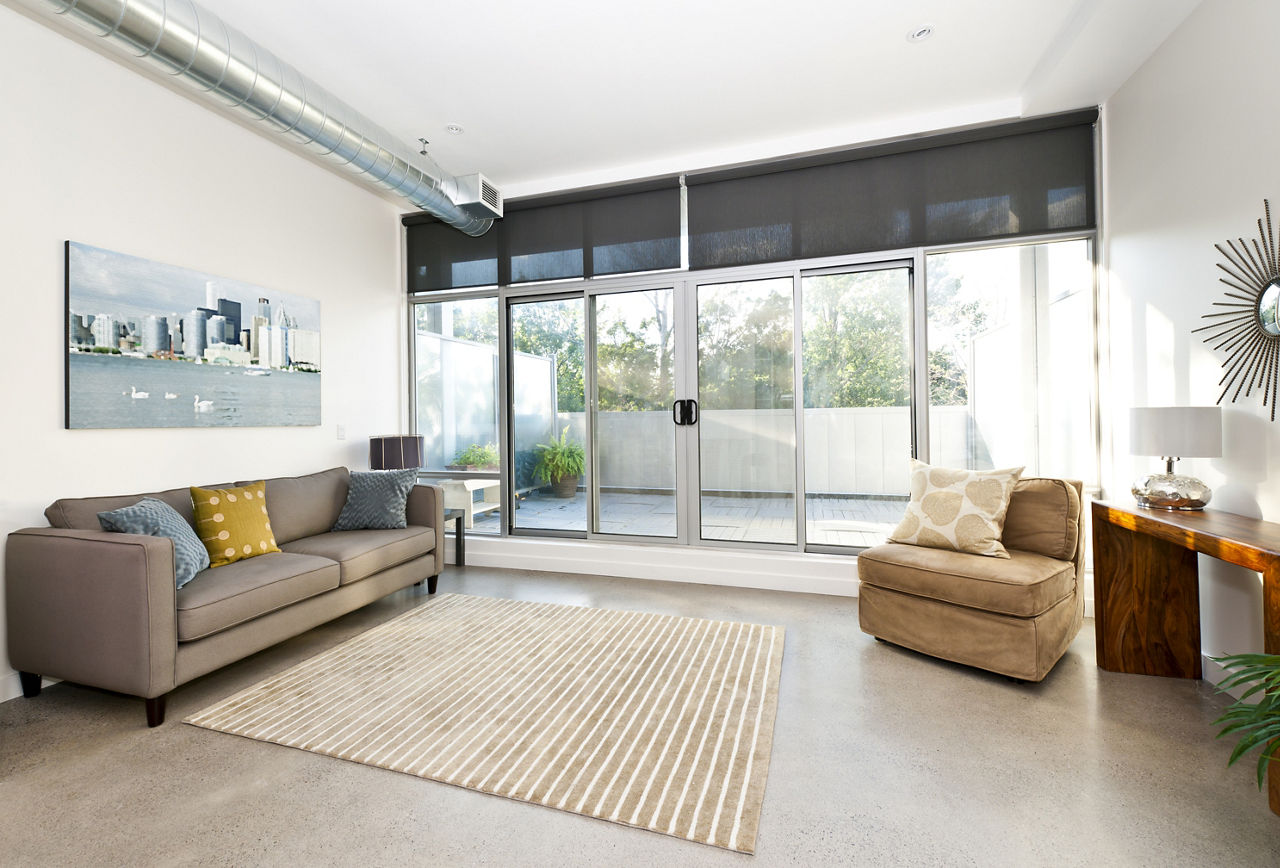 The importance of intentional furniture placement isn't just limited to the bedroom, but rather every room in your apartment. When it comes to arranging furniture and décor, Cerrano stresses to always "focus on the flow of energy in a room to ensure that it's unobstructed and easy to navigate around."
Simply put, think about usability. Is it easy to move around each room? Or are you constantly maneuvering around different pieces of furniture? Do the items in each room make sense according to how you're using that space? Or do you tend to just try and find a spot for everything, regardless of the purpose of a room? The sole intention of furniture and décor shouldn't be to look pretty. That's just a bonus.
Cut ties with clutter
It's only natural that the principle of functionality be followed with the practice of eliminating clutter. After all, according to feng shui, every item in your apartment – no matter how big or small – is taking up space not only physically but energetically and emotionally.
"You can take it even further by thinking about the metaphorical story your space is telling," says Cerrano. "For example, if someone says they have a ton of oversized furniture and knick-knacks in their partnership area – which is meant to be in harmony and balance – but it's completely bogged down with excess junk, that's very telling. How can you allow someone else in your life if you're not even making room for yourself?"
While it can be difficult to decide what stays and what gets the boot, Cerrano simplifies it with one of her favorite phrases passed down by her mother: "Anything you don't need, use, or love, let it go."
It's that simple.
Don't have an apartment to fend shui yet? It's time to open yourself up to the new possibilities Greystar has for you. Reach out to one of our many leasing experts to find a studio, one-, two- or three-bedroom apartment that speaks to you.
The information presented on or through this Website is made available solely for general information purposes. We do not warrant the accuracy, completeness, or usefulness of this information. Any reliance you place on such information is strictly at your own risk. We disclaim all liability and responsibility arising from any reliance placed on such materials by you or any other visitor to this Website, or by anyone who may be informed of any of its contents. Any reference to amenities, services, rules, policies, or procedures at a Greystar apartment community is general in nature, and each Greystar apartment community may have amenities, services, rules, policies, and procedures that differ from those referenced on this Website. Please consult with your Greystar apartment community for the exact amenities, services, rules, policies, or procedures applicable.
This Website may include content provided by third parties, including materials provided by other users, bloggers, and third-party licensors, syndicators, aggregators, and/or reporting services. All statements and/or opinions expressed in these materials, and all articles and responses to questions and other content, other than the content provided by Greystar, are solely the opinions and the responsibility of the person or entity providing those materials. These materials do not necessarily reflect the opinion of Greystar. We are not responsible, or liable to you or any third party, for the content or accuracy of any materials provided by any third parties.