Apartment-Friendly Smart Technology to Add to Your Holiday Wish List
Lifestyle
December 12, 2019
The holidays are right around the corner, and it's time to make your wish list. This year, consider adding a few new pieces of technology to your list while improving your apartment. Life is easier when you control things from your phone or with your voice. You can program many smart options to do their jobs automatically, like turning up the temperature before you wake up or locking the door behind you.

So, where should you begin in your apartment? Try one new smart piece of technology in each room.

Entryway: Smart Door Lock
There's a common misconception that smart door locks can't be installed in apartments because it changes the lock, but that isn't always true. Just look for conversion kits or one that says you keep the same keys before you buy it. Instead of changing the actual lock, these options add a device inside the door that turns the deadbolt. You keep the same lock on the outside, so you or your landlord can continue to use the same key to enter the apartment. Kwikset offers an easy-to-install conversion kit that works well with other smart devices, including Apple Watches and Alexa.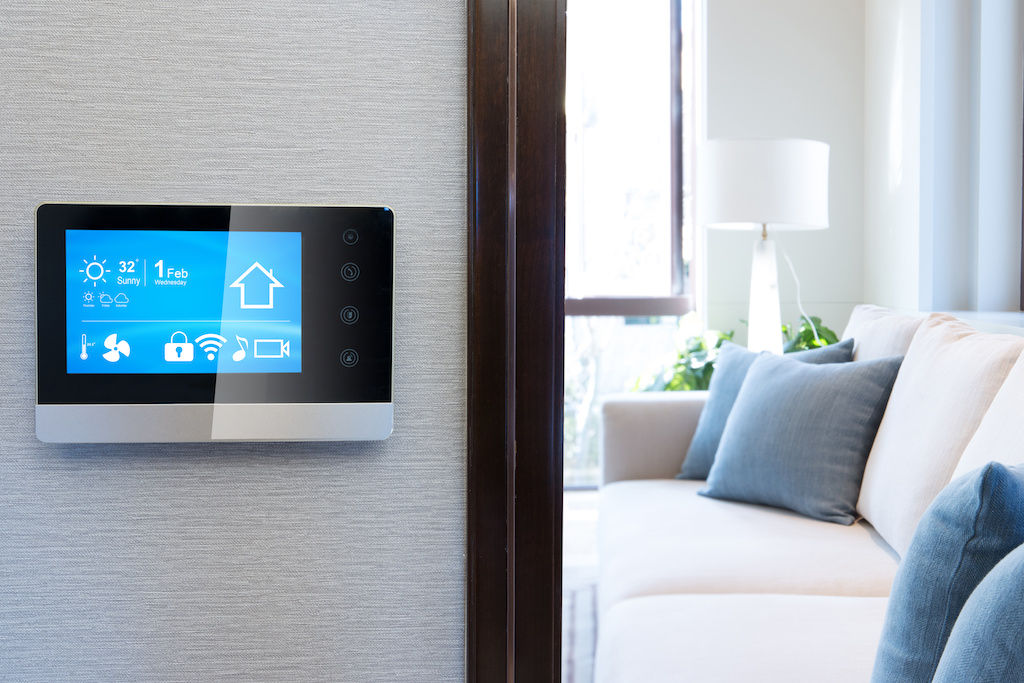 Hallway: Smart Thermostat
While they may seem like a significant investment upfront, smart thermostats quickly pay for themselves in reduced energy costs. Drop the temperature when you're in bed or out of the house, but set it to warm back up before you hop in the shower in the morning. Programmable thermostats do this to an extent, but smart ones have a few extra perks. It's easy to change them from your phone, meaning you can adjust it if you're working late or getting home early. They also learn from your preferences and the weather. You also don't have to worry about forgetting to change your settings if you leave on vacation. The Nest Learning Thermostat is the gold standard, but be sure to check with your energy provider because some provide discounts and special offers to save you money.

Kitchen: Smart Scale
While cooking is a freestyle art, baking is a precise science. One of the secrets to success is to use a scale instead of measuring cups. Because ingredients like flour pack differently, this leads to more accurate measurements. The Drop Scale connects to your phone, making it easy to weigh each ingredient with the help of recipes in the app. It will also advise you on substitutions, which is perfect for anyone using alternatives due to health concerns or if you forgot to buy something.

Dining Room: Smart Speaker
Set the mood for an intimate dinner party and enjoy some music with a smart speaker. Instead of plugging your phone into the sound system in the living room or just putting the volume up all the way, stream it through the speaker directly. There are a few different options, including ones that connect directly to your favorite music service with voice controls and ones that use Bluetooth to connect to your phone. Just like regular speakers, these smart options vary wildly in price and quality, but there are plenty of options. For a little bit of a splurge, try the Sonos One, which also offers both Google and Alexa capabilities.

Living Room: Smart IR Control Hub
While many newer electronic devices come with apps, some still run on an older remote. To add smartphone controls to all of the devices in your entertainment center, consider a smart IR hub. The hub sits near your entertainment center and sends the necessary IR blast by connecting to your phone. Some older Android phones offer this technology natively, eliminating the need for a hub, but they're mostly gone from the market now. Broadlink offers an affordable control hub that even works with Alexa so that you can make your non-smart TV feel like a high-end one.


Bedroom: Smart Lights
Smart lights are an excellent addition to any room in the house but installing them in your bedroom should be where you start. Choose a softer light in the morning when you wake up so that it's not as harsh to your eyes. In the evening, make them brighter to put away your laundry then dim them while you read a book. When you're finished reading, you don't even have to get out of bed to turn the lights off. Do you have teenagers who forget to turn their bedroom lights off at night? Set them to turn off automatically at a specific time and save on electricity. For easy connectivity, try the Phillips Hue bulbs, but if you're looking to save money, there are plenty of off-brands on Amazon.

Bathroom: Smart Voice Assistant
As with the lights, there's no wrong room for a smart voice assistant. However, putting one in the bathroom makes getting ready for the day a breeze. While you're washing your face and brushing your teeth, ask about the weather, so you know how to dress, then get an update on the news. Don't stop listening to your favorite podcast while you hop in the shower, or amp up your shower concerts with voice-controlled music. The best part is that if a song you don't like comes on, just ask your device to skip it. Amazon and Google are the heavyweights on this one, so pick whichever ecosystem has your loyalty.

Don't stop preparing for the holidays:
The information presented on or through this Website is made available solely for general information purposes. We do not warrant the accuracy, completeness, or usefulness of this information. Any reliance you place on such information is strictly at your own risk. We disclaim all liability and responsibility arising from any reliance placed on such materials by you or any other visitor to this Website, or by anyone who may be informed of any of its contents. Any reference to amenities, services, rules, policies, or procedures at a Greystar apartment community is general in nature, and each Greystar apartment community may have amenities, services, rules, policies, and procedures that differ from those referenced on this Website. Please consult with your Greystar apartment community for the exact amenities, services, rules, policies, or procedures applicable.

This Website may include content provided by third parties, including materials provided by other users, bloggers, and third-party licensors, syndicators, aggregators, and/or reporting services. All statements and/or opinions expressed in these materials, and all articles and responses to questions and other content, other than the content provided by Greystar, are solely the opinions and the responsibility of the person or entity providing those materials. These materials do not necessarily reflect the opinion of Greystar. We are not responsible, or liable to you or any third party, for the content or accuracy of any materials provided by any third parties.