Fa-La-La-La Love: Create Traditions for Your First Holiday Together
Lifestyle
December 3, 2018
Surprises are only fun when they're neatly packed in a box covered in gift wrap and topped with a pristine bow. That's why it's important to discuss with your partner or roommate the ever-so exciting time that is the holiday season. Now that you've gotten married or decided to move into your first apartment together, you're going to want to discuss all the things that are important to the both of you, including how you would like to spend your first holiday living together under the same apartment roof. This calls for holiday music, cookies galore and a productive chat by the fireside, if your Greystar apartment has a fireplace.
Did you have cookie-decorating night growing up? Maybe you watched a special holiday movie on loop with your family. Traditions that are rooted in holiday celebrations carry their weight well into your adult years – whether it be opening up Christmas-themed pajamas at the beginning of the month or being the host to light the menorah during Hanukkah. The same goes for your partner.
Here are a few tips that might bring cheer to a seamless holiday season as a newly moved-in couple.
Discuss How You've Spent Holidays in the Past
This is definitely something you want to do before moving in together. However, if that opportunity was missed and you find yourself getting ready to indulge in the eggnog, you'll want to make sure your partner is up for it. Have an open discussion on how celebrating the holidays works for both of you. Do you celebrate Christmas, Hanukkah or both by calling it Chrismukkah? In addition, sometimes people are less excited about the holidays due to emotional stress.
Suggestion: Check in with your partner to make sure you are both on board for how you're going to spend the holiday season. Once that's figured out, the fun stuff comes into play!
Discuss the Importance of Gift Giving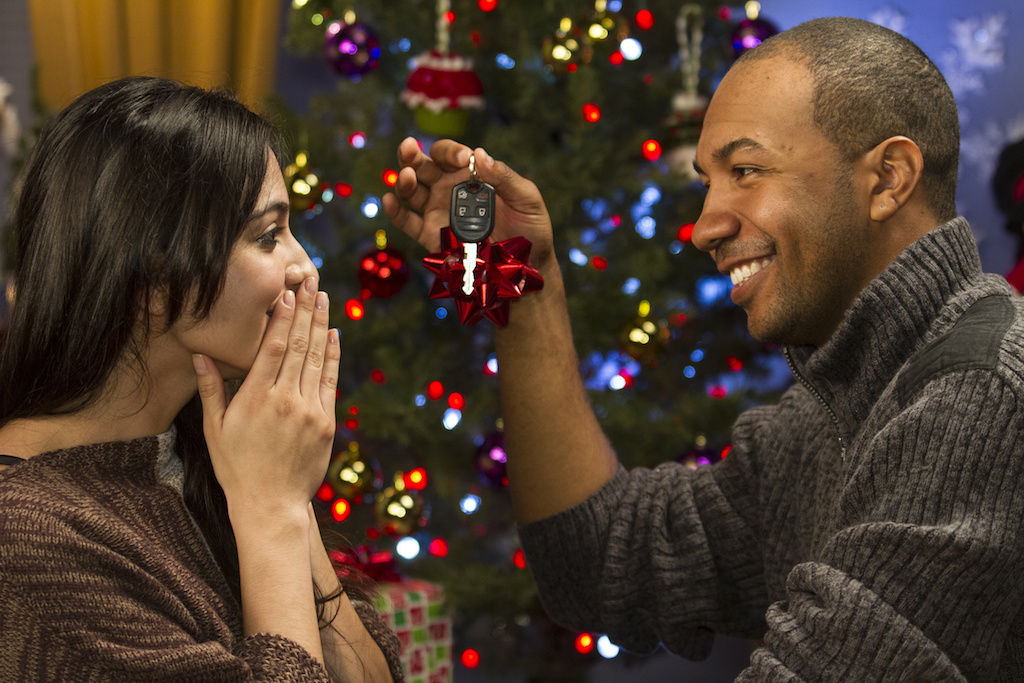 Ah, so you have found the perfect gift? Deciding on a gift exchange is crucial to an easy and stress-free holiday season. Maybe you and your partner limit each other to one gift this year, or maybe you take it up a notch and go all out. It's important to communicate on what your expectations are so that neither of you feels left behind or undermined. This goes back to the idea that the holidays aren't always fun for everyone. Make sure you and your partner have established boundaries on gifts – if you're doing them at all.
Suggestion: Maybe this year, you can opt to donate gifts to non-profit organizations near your apartment community and start a new tradition on gift giving.
Discuss Décor and Make Sure to Have Fun with It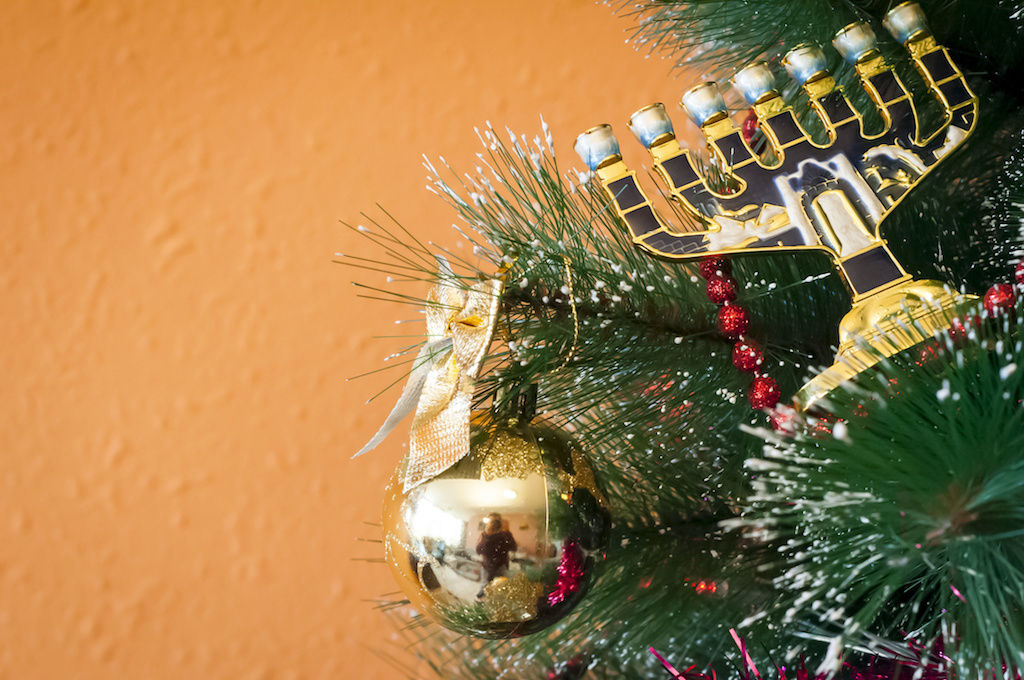 You managed to make it past the décor discussion when first moving in together. However, the holidays might pose a new challenge. What's important here is compromise. Hear why a specific item might be important to your partner, and also explain the same to them. Is that Santa-style gnome really necessary? Figure it out. This will help bring you two together for a merry holiday season.
Suggestion: Once you have discussed what's important to both of you, make some fun out of it and head to a local store to shop for new things, together. It's the perfect way of making new memories while also finding new holiday décor that can be used for years to come.
Discuss the Idea of Hosting the Family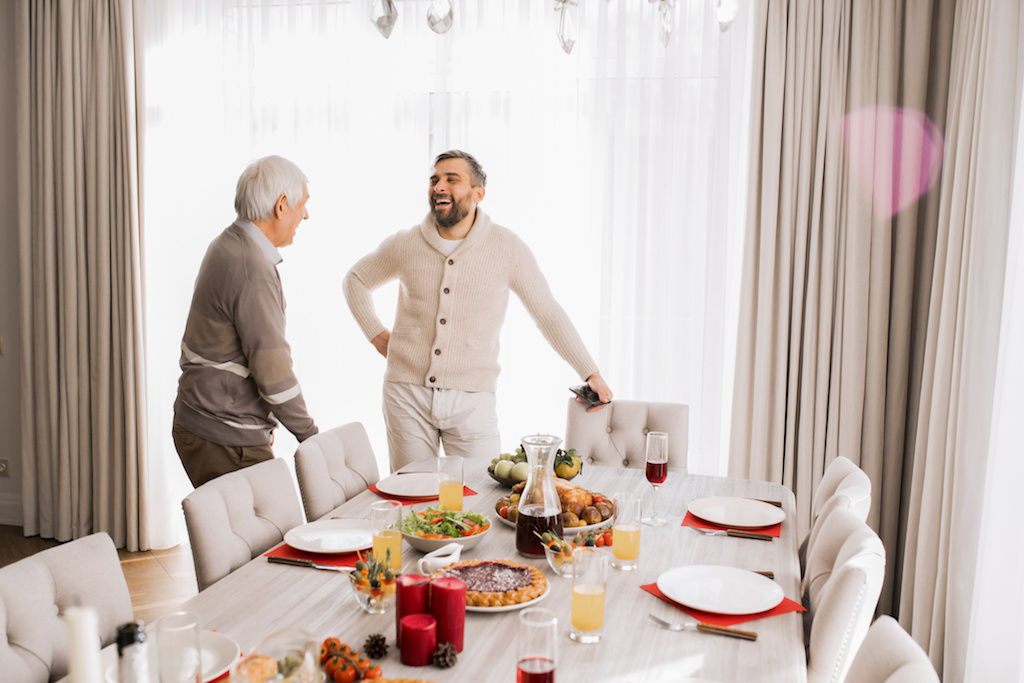 The perfect way to combine traditions is to combine the families. As first-year apartment dwellers this holiday season, you might want to avoid secluding yourself from your family. They surely don't want to feel abandoned, and neither do you. That's why it could be super fun to host both families. This gives you both an excuse to bond over how you're going to host your tacky sweater party while also giving your family a chance to share stories from previous holidays that might bring everyone a little closer.
Suggestion: Make fun holiday cards together and send out invites for the family and friends to join you in hosting a cozy holiday celebration. Assign everyone a dish and see what fun it brings to your first holiday together in your apartment.
Discuss Ways to Get Involved in the Local Holiday Scene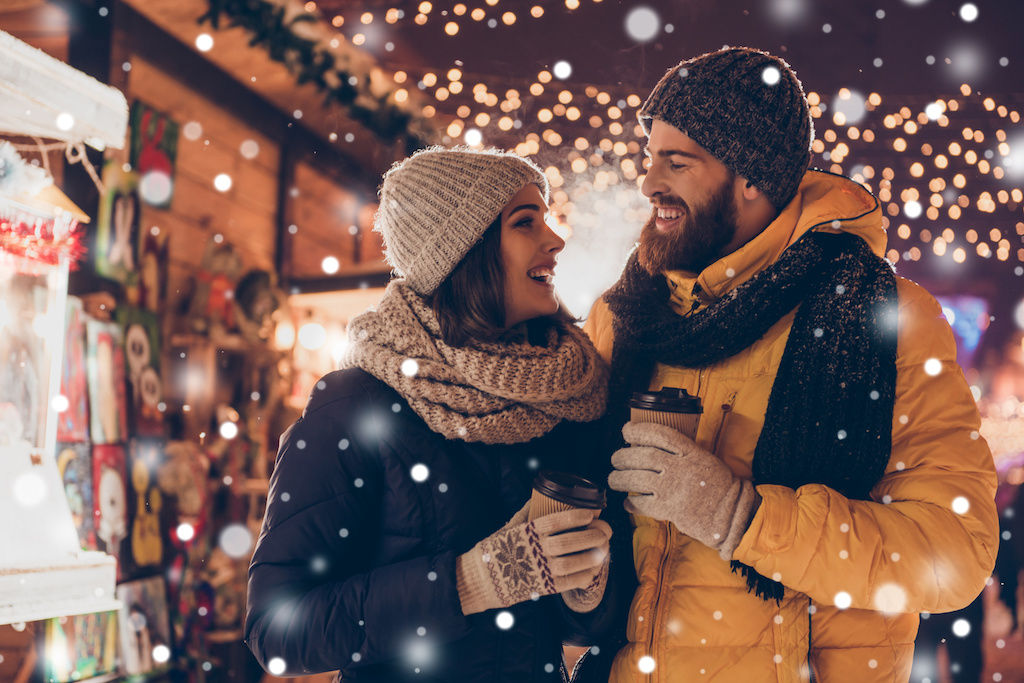 If you're new to a particular area, there's no better way to introduce a new tradition like trying something for the first time – be it making/meeting new friends or visiting a farmers market to check out the cool holiday items for sale. Get to know the area by checking to see if your local bars have any holiday-themed pub crawls. Maybe you make an occasion out of visiting Santa Claus every year. Even better, there are plenty of opportunities for you to volunteer near your apartment community.
Suggestion: Make sure to keep your eyes open for fun holiday treats and experiences that you and your partner can take on together. Who knows what kind of tradition this will brew for years to come!
At the end of the day, all that matters is being with those who matter most. That's why it's important this holiday season to be open to new ideas and types of celebrations. The holidays don't have to be stressful. In fact, they should be all about giving and spreading joy, especially in your apartment. Make sure to communicate with your partner on how to make this holiday the best one yet.
More Blog Posts You'll Want to Read
The information presented on or through this Website is made available solely for general information purposes. We do not warrant the accuracy, completeness, or usefulness of this information. Any reliance you place on such information is strictly at your own risk. We disclaim all liability and responsibility arising from any reliance placed on such materials by you or any other visitor to this Website, or by anyone who may be informed of any of its contents. Any reference to amenities, services, rules, policies, or procedures at a Greystar apartment community is general in nature, and each Greystar apartment community may have amenities, services, rules, policies, and procedures that differ from those referenced on this Website. Please consult with your Greystar apartment community for the exact amenities, services, rules, policies, or procedures applicable.
This Website may include content provided by third parties, including materials provided by other users, bloggers, and third-party licensors, syndicators, aggregators, and/or reporting services. All statements and/or opinions expressed in these materials, and all articles and responses to questions and other content, other than the content provided by Greystar, are solely the opinions and the responsibility of the person or entity providing those materials. These materials do not necessarily reflect the opinion of Greystar. We are not responsible, or liable to you or any third party, for the content or accuracy of any materials provided by any third parties.