Splash into Summer: 8 Ideas for a Five-Star Staycation at your Apartment Community's Pool
Community Life
June 28, 2019
The weather's getting hotter. The smell of sunscreen is beginning to linger. The sparkling pool at your apartment community is going to start filling up with the friendly faces of your neighbors. Yes, summer is finally here.

From Savannah to San Diego, Philadelphia to Portland and everywhere in between, everyone is searching for ways to get in that laid-back summer state of mind. If you weren't lucky enough to book that oceanside bungalow in Tahiti or excursion to the United Kingdom this year, you can still treat yourself to the relaxing getaway you deserve. And, it might be closer than you think.

Here are eight ideas to help you create a five-star resort ambiance for the best poolside staycation at your apartment community.

Lounge In Luxury At Park 12 – The Collection in San Diego, California


The only thing better than lounging around on a lazy summer day is lounging from the comfort of a posh, poolside cabana. Pile up the pillows and spread your beach towel to mark this chic amenity as your staycation headquarters.

Cool Down With A Cold Treat At Arlo Westchase in Houston, Texas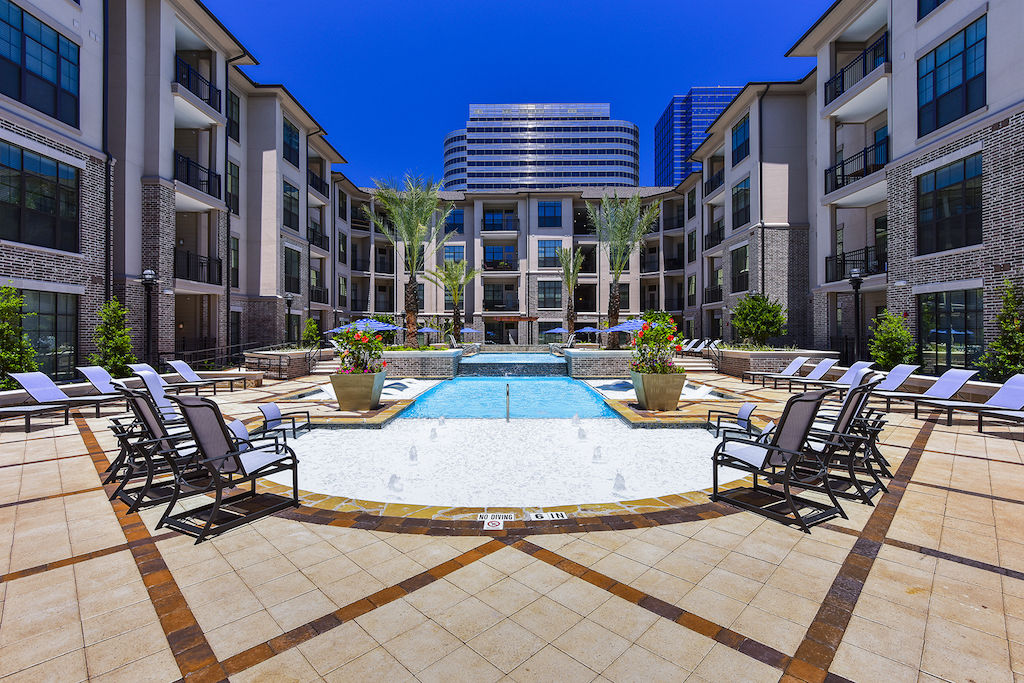 Although it may seem ironic, it's important to stay hydrated at the pool. The combination of warm air, water temperature and high humidity can cause you to dehydrate quicker than normal. Beat the heat during your homebody holiday by packing a cooler full of thirst-quenching beverages. Old-fashioned H2O will do the trick, but fruit-infused water with a fresh slice of lemon or a fruit smoothie garnished by a tiny umbrella offers a little slice of luxury. Remember to leave the glass bottles in your apartment, as they are not allowed in the pool and surrounding areas.

Soak Up The Sun At Access Culver City, A Greystar Elan Community in Culver City, California


Recline your lounge chair and take advantage of the endless days of sunshine. Studies have shown that spending a little time in the sun can benefit your health. Vitamin D, known as the "sunshine vitamin," is said to help fight winter depression, keeps your bones healthy and could possibly protect against breast, prostate and other cancers. Because overexposure can pose a serious risk for sunburn, sun poisoning or skin cancer, the Skin Cancer Foundation recommends slathering on a broad-spectrum sunscreen with an SPF of 30 or higher.

For an authentic resort-style retreat, invest in a high-end sunscreen that not only protects your skin from harmful rays but also nourishes it with added benefits such as moisture, luminosity and enriching vitamins. Look for ingredients such as vitamin E, zinc and tea leaves to give your skin the TLC it deserves this season.

Take In The View At Yacht Harbor Club Apartments in Portland, Oregon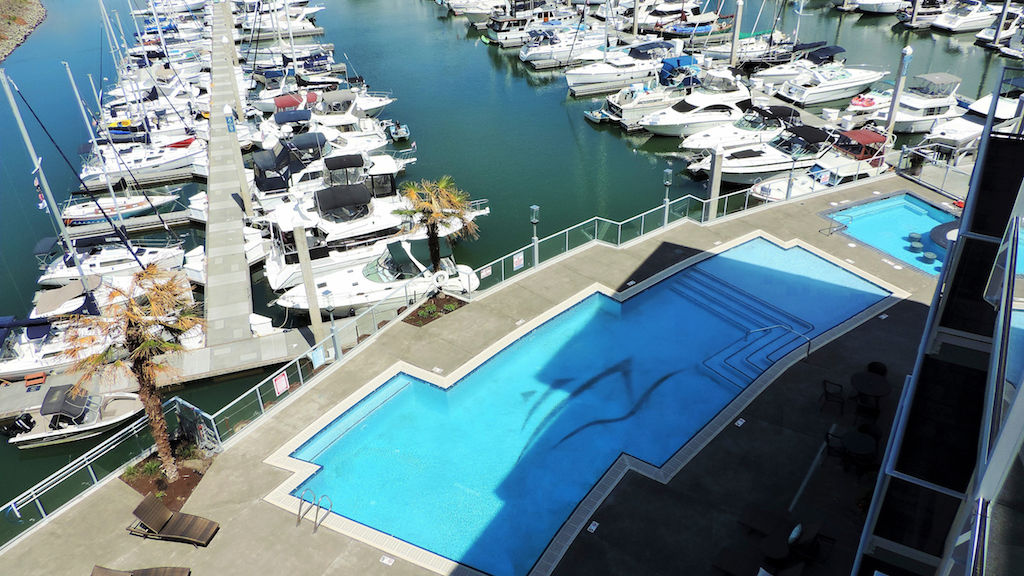 From rooftop patios to infinity pools overlooking the ocean, luxury resorts are home to scenic sights. However, many of our apartment communities boast unrivaled views of city skylines, mountainside landscapes and waterfront marinas, immediately transporting you to a five-star escape.

Enjoy A Spa Day At The Hills Of Corona Apartments in Corona, California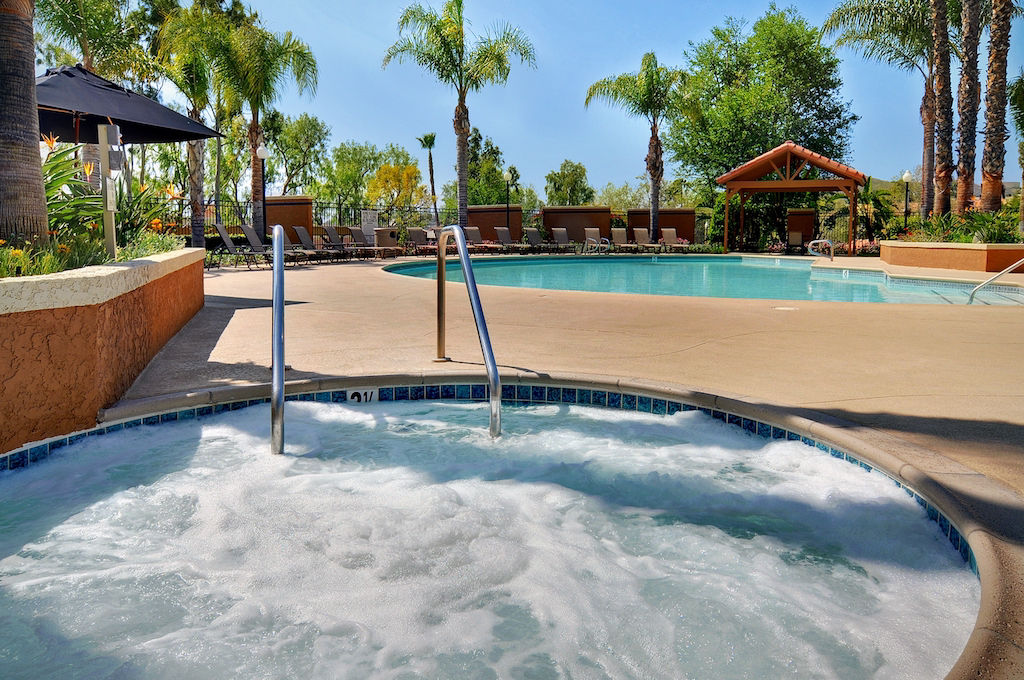 Nothing says "rest and relaxation" quite like pampering your muscles and putting your mind at ease with a restorative soak in your community's hot tub. If you live in a southern state such as Texas or Arizona, you might want to wait for the cooler evening temperatures to take a soak.

Dine Al Fresco At Stadium Walk Apartments in Atlanta, Georgia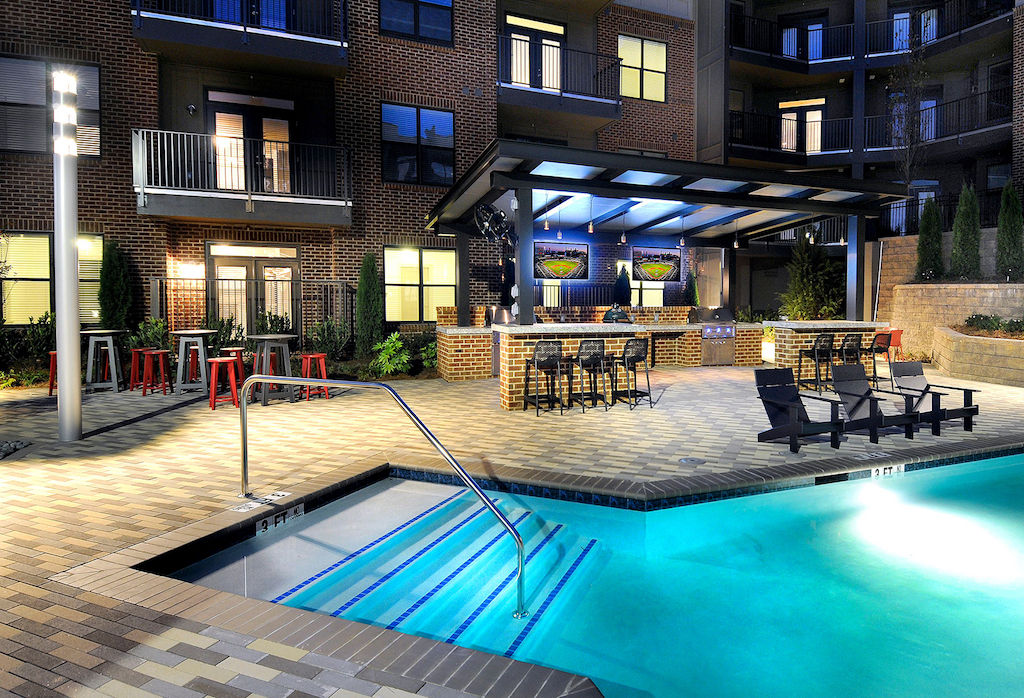 Whether you prefer using a grill or a campfire, there's no doubt that summer is the perfect time to cook and dine outside. Take a break from splashing around and throw some steaks, burgers or corn on a grill. Many of our communities feature stunning outdoor kitchens equipped with everything needed for a summer barbecue.

Float Away on Cloud Nine At The Oliver in Chamblee, Georgia


Garnish your staycation with a floating slice of pizza or a giant flamingo. Of course, we're talking about pool floats. If you're looking to soak up the sun for a little me time or are in need of a good conversation starter, this addition will help you thrive this summer. However, don't rely on floatation devices alone to keep you or your pool visitors afloat. Closely supervise young children at the pool even if they are strong swimmers, as they have the highest risk of drowning.

Be In Great Company At Harborwalk in Plymouth, Massachusetts


You've got the resort-style pool and a float to match. Now, invite the people who matter most to join your staycation. Poolside lounges, outdoor fire pits and private cabanas are the perfect place to unwind with friends and family throughout the dog days of summer.

Keep swimming, keep swimming, keep reading these blog posts

• You definitely might want to jump in your pool after moving in this heat. Here are some other tips on how to make your summer move easier.

• Be sure to follow your apartment community's rules while at the pool. Also, here's how you can make a positive splash in your pool without making your neighbors mad.

• With amenities this luxurious, every day is a vacation at this Salt Lake City, Utah apartment community managed by Greystar.

The information presented on or through this Website is made available solely for general information purposes. We do not warrant the accuracy, completeness, or usefulness of this information. Any reliance you place on such information is strictly at your own risk. We disclaim all liability and responsibility arising from any reliance placed on such materials by you or any other visitor to this Website, or by anyone who may be informed of any of its contents. Any reference to amenities, services, rules, policies, or procedures at a Greystar apartment community is general in nature, and each Greystar apartment community may have amenities, services, rules, policies, and procedures that differ from those referenced on this Website. Please consult with your Greystar apartment community for the exact amenities, services, rules, policies, or procedures applicable.

This Website may include content provided by third parties, including materials provided by other users, bloggers, and third-party licensors, syndicators, aggregators, and/or reporting services. All statements and/or opinions expressed in these materials, and all articles and responses to questions and other content, other than the content provided by Greystar, are solely the opinions and the responsibility of the person or entity providing those materials. These materials do not necessarily reflect the opinion of Greystar. We are not responsible, or liable to you or any third party, for the content or accuracy of any materials provided by any third parties.