Henderson Park and Greystar unveil Bloom Nine Elms
Press Release
February 13, 2023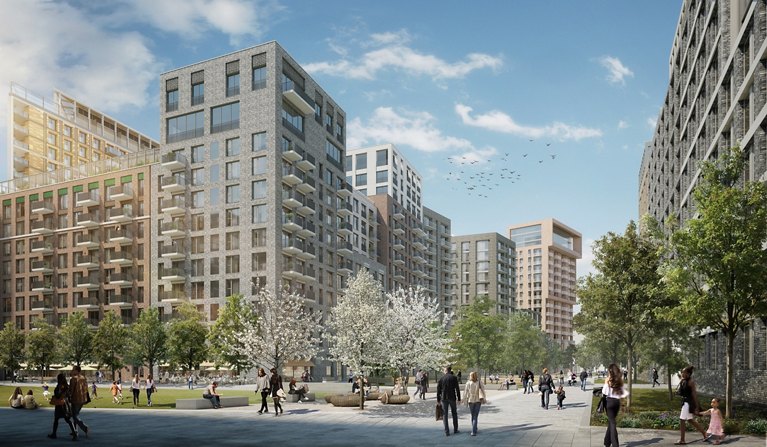 First phase of studio, one, two and three-bed apartments unveiled at Bloom Nine Elms
Private balconies and floor-to-ceiling windows make the exceptional rental apartments the perfect oasis for individuals and families
Two rooftop pools, garden terraces and 24-hour gyms complement games rooms and pet spas to offer a sanctuary for busy city lifestyles
LONDON, 13 February 2023 – Henderson Park, the private real estate investment fund manager, and Greystar, a global leader in the investment, development, and management of high-quality real estate, has today unveiled a new rental community at Nine Elms Parkside, close to Battersea Power Station. Bloom Nine Elms ("Bloom") offers a range of stunning, light-filled apartments where individuals and families can flourish thanks to private balconies, floor-to-ceiling windows and access to both rooftop garden terraces and stunning surrounding parkland.

Residents of Bloom benefit from a 24-hour dedicated community management team, a state-of-the-art gym and two expansive heated rooftop swimming pools (one for laps and the other for leisure) that sit at the centre of a rooftop garden terrace and accompanying sky-lounge bar with riverside views across London. Catering for the needs of busy London lifestyles, residents have access to on-site pet spas, co-working spaces and meeting rooms. A library, games room and private dining lounges offer private entertaining options for when friends and family visit, extending renters living space to adapt to their lifestyle.

Located on the south bank of the Thames, and surrounded by calming green spaces, including a brand new lateral park, the development of 894 apartments is a twelve minute walk from the Victoria Line and National Rail services at Vauxhall, and even closer to the two new stations of the Northern Line extension at Nine Elms and Battersea Power Station.
The first properties to come to market are 16 studios and 126 one to three bed apartments, with prices starting from £2,100 per month. The homes range in size from 538 to 2626 sq. ft. making them ideal for young professionals and growing families. A selection of affordable DMR (discounted market rental) apartments are also available.
Christophe Kuhbier, Managing Director, Henderson Park, said: "The London residential rental market continues to prove its resilience while the outlook remains positive, with the sector underpinned by strong demographic drivers that shield it from wider economic uncertainties. Bloom responds to the robust demand for high quality rental accommodation in the heart of one of the world's most exciting and dynamic capital cities, while its sustainability credentials and amenity rich offering sets it apart from other existing schemes."
Bella Peacock, Managing Director of Asset Execution - Europe, Greystar, said: "Bloom provides a true sanctuary in the heart of London, offering a sense of belonging within a vibrant and growing community of individuals committed to the Capital. From the rooftop pool at the centre of a landscaped garden terrace, to individual balconies and co-working spaces, every detail of this new rental community has been designed with the needs of busy Londoners in mind."

Bloom is part of a wider development by Greystar which alongside partner, Henderson Park, has invested more than £500 million into the wider Nine Elms masterplan, which alongside new rental buildings includes a new primary school, retail and leisure provision and additional public realm. The location benefits from a prime position in the Nine Elms regeneration area and is a short walk from both the Nine Elms and Battersea Power Station Zone 1 Underground stations. Bloom apartments are all rated BREEAM Excellent and the buildings are connected to a district heat network to reduce the development's environmental footprint as part of a commitment to reduce carbon emissions by 35%.

The launch of Bloom adds to Greystar's UK portfolio of nearly 11,000 rental homes and more than 35,000 student beds. Greystar has been active in the UK market since 2013 and was the first vertically integrated build-to-rent platform in Europe.

For more information contact:

Henderson Park enquiries:
FTI Consulting (PR adviser)
Richard Sunderland
Ellie Sweeney
Andrew Davis Tel: +44 (0)20 3727 2293
HendersonPark@fticonsulting.com

Greystar media enquiries:
Finsbury (PR adviser)
Gordon Simpson
James Thompson
Ellen Donald
Tel: +44 (0) 20 7251 3801

gordon.simpson@finsbury.com
james.thompson@finsbury.com
ellen.donald@fgsglobal.com

About Henderson Park
Henderson Park is a leading global private real estate fund manager headquartered in London. Since its formation in 2016, the firm has invested approximately $13 billion in building a portfolio of flagship real estate assets across Europe, with a presence in major cities and capitals in France, Germany, Greece, Ireland, Italy, Poland, Portugal, Spain and the UK. Henderson Park seeks high quality assets in prime locations where it can identify the potential for unlocking or creating value through asset management, or by taking on and working in complex situations. The company's current portfolio is diversified across various sectors such as office, logistics, multifamily, student housing, hospitality and retail, including several real estate development projects. Henderson Park strives to work and build long-term strategic relationships with the best local partners.

Henderson Park is a signatory of the UN PRI.

Visit www.hendersonpark.com for more information.

About Greystar
Greystar is a leading, fully integrated global real estate company offering expertise in property management, investment management, and development services in institutional-quality rental housing, logistics, and life sciences sectors. Headquartered in Charleston, South Carolina, Greystar manages and operates more than $250 billion of real estate in 227 markets globally with offices throughout North America, Europe, South America, and the Asia-Pacific region. Greystar is the largest operator of apartments in the United States, manages nearly 794,000 units/beds globally, and has a robust institutional investment management platform comprised of more than $62 billion of assets under management, including over $26 billion of development assets. Greystar was founded by Bob Faith in 1993 to become a provider of world-class service in the rental residential real estate business. To learn more, visit www.greystar.com.