Greystar secures 391-home BTR forward funding in Staines-Upon-Thames
Press Release
October 5, 2023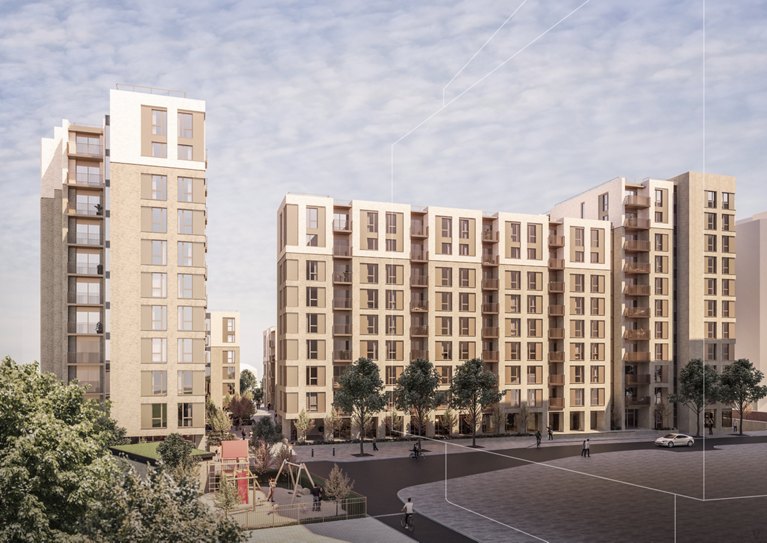 • Greystar has acquired the Renshaw's Yard development from Dandara Living, following a competitive process
• Dandara Living will act as developer and contractor for the site, which is located in an attractive location with strong transport links to London
• Construction on the site is due to start later this year, with completion expected in the second half of 2026

London, 5 October 2023 – Greystar Real Estate Partners, LLC ("Greystar"), a global leader in the investment, development, and management of high-quality rental housing, has forward funded a 391-home development in Surrey from Dandara Living, a leading BTR developer, marking the latest transaction in its strong UK growth strategy.
The attractive site, Renshaw's Yard, is located adjacent to the Staines-Upon-Thames town centre and a 5-minute walk from the train station. Staines, west of London, has abundant green spaces, direct access to riverside living and boutique retail shops, offering local residents quintessential suburban amenities to enjoy – from walking and cycling routes, to several pubs and restaurants for relaxing along the river. It also provides excellent links to key Outer London locations via the M25 motorway and is only a 35-minute train journey to Central London.
The well-amenitised development, designed by Hodder + Partners and Aros, will consist of 345 private units, six private three-bed townhouses and 40 Discounted Market Rent (DMR) units, as well as a basement with 215 car parking spaces and 396 cycle storage spaces. The external amenity space has been designed to enhance residents' living experience, and will feature a lounge, private dining room, co-working space, gym, and private courtyard gardens.
Since launching in the UK in 2013, Greystar has continued to play a key role in addressing the chronic under-supply of rental housing by providing high-quality homes – designed for community living and with exceptional amenities – that cater for a broad demographic of residents.
The Renshaw's Yard site benefits from planning permission for a BTR multi-family planning consent, obtained in December 2022. The site has already been cleared for construction, which Dandara Living will commence in Q4 2023, with an expected completion date of Q3 2026.
Harry Downes, Managing Director – UK Investment, Greystar, said: "The acquisition of Renshaw's Yard will provide much-needed rental housing in Surrey, a region constrained by limited supply but fast-growing demand for a high-quality rental product. Part of the M3 local enterprise corridor, and adjacent to the M4 tech corridor housing several global creative and technology companies, Staines provides excellent proximity to employment hubs and is increasingly attracting new talent to the region. This has led to significant residential-led regeneration in the areas, with approximately 1,750 apartments currently in the pipeline to house existing and new residents drawn to Staine's well-connected location paired with enviable riverside living."
Jim Davies, CEO - Dandara Living, said: "As a leader in the UK rental market, Greystar recognises the significant opportunities and growth potential of the UK's BTR sector. The location, amenity offering and broad demographic appeal of Renshaw's Yard, responds to both local market demand and the needs of today's renter, and is entirely aligned with Greystar's strategy.
"Our extensive in-house experience and expertise in site acquisition, delivery, mobilisation and operation of large-scale BTR multi-family schemes is a unique combination that sets us apart from many other developers. Our track record includes managing close to 3,000 apartments delivered by Dandara Living, the majority on behalf of third-party investors, with sites secured to bring forward a further 5,000 apartments and PBSA beds, as we continue to expand our development footprint through direct acquisitions and partnerships in prime regional city centres, London, and the Southeast."
Dandara Living was advised by Savills.

Enquiries
FGS Global
Gordon Simpson / James Thompson / Ellen Donald
Greystar-LON@fgsglobal.com
About Greystar
Greystar is a leading, fully integrated global real estate company offering expertise in property management, investment management, development, and construction services in institutional-quality rental housing, logistics, and life sciences sectors. Headquartered in Charleston, South Carolina, Greystar manages and operates more than $275 billion of real estate in 238 markets globally with offices throughout North America, Europe, South America, and the Asia-Pacific region. Greystar is the largest operator of apartments in the United States, manages more than 803,000 units/beds globally, and has a robust institutional investment management platform comprised of more than $74 billion of assets under management, including nearly $32 billion of development assets. Greystar was founded by Bob Faith in 1993 to become a provider of world class service in the rental residential real estate business. To learn more, visit www.greystar.com.
About Dandara Living
Dandara Living is the specialist rental division of Dandara. With close to 3,000 apartments currently under management, 17 pipeline sites and a growing portfolio of more than 7,900 homes and student beds across the UK, Dandara Living is one of the UK's leading specialists in the design, delivery, and management of apartments in the UK's build to rent sector today. To learn more visit www.dandaraliving.com.