Greystar and Grosvenor agree sale of BTR scheme in Bermondsey, London
Press Release
September 1, 2022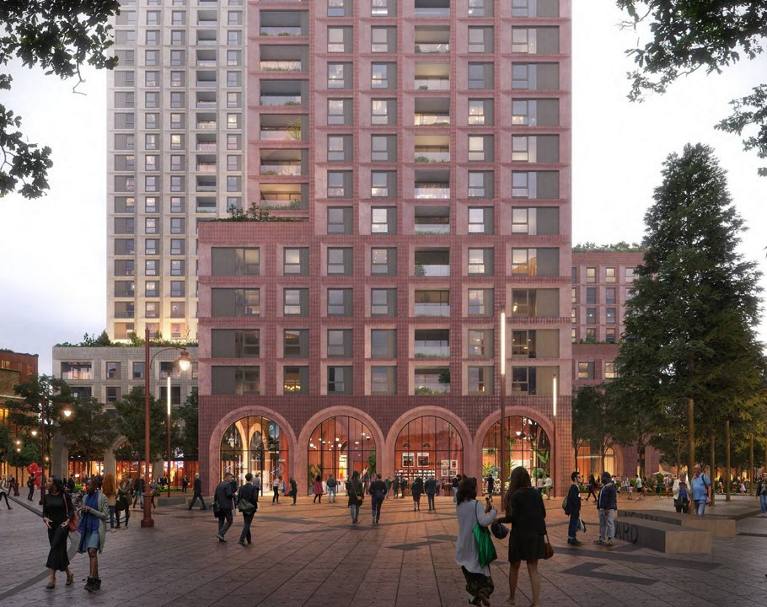 Grosvenor and Greystar have exchanged contracts on a landmark BTR scheme in Bermondsey
The development is strategically located close to London's important transport links
The acquisition forms part of Greystar's strategic partnership with ADIA
London, 1 September 2022 – Greystar Real Estate Partners, LLC ("Greystar"), a global leader in the investment, development, and management of high-quality rental housing, and Grosvenor's UK property business, today announced they have agreed the sale of a build-to-rent ("BTR") scheme in Bermondsey, south London.

The scheme, at the former Peek Freans biscuit factory site, will feature 1,548 exceptional homes, extensive play and public spaces, including a large public roof terrace and pedestrian walkways. It will help to create new job opportunities through 150,000 sq ft of flexible employment space, driving additional footfall for local businesses.

The Bermondsey site will incorporate new homes for a range of rents, a new secondary school and employment, cultural and retail spaces, interwoven into the neighbourhood. The development will incorporate historic buildings in the area into the plans.

Since entering the UK market in 2013, Greystar has pursued a growth strategy and built up a property portfolio worth £6.5 billion, representing more than 14,300 units and comprising both multifamily rental accommodation and student accommodation – helping to address the acute shortage of high-quality and professionally managed-rental housing. Greystar's proven track record of delivering sustainable regeneration sites focused on the management of communities has made it the ideal developer for taking the scheme forward.

Greystar will execute the acquisition of the Bermondsey scheme through its strategic partnership with a wholly-owned subsidiary of the Abu Dhabi Investment Authority ("ADIA"). In December 2021, Greystar announced a new strategic partnership with ADIA of up to £2.2 billion to develop BTR housing in London and its surrounding commuter towns.

The site is extremely well connected, it is approximately a 4-minute walk from Bermondsey Underground station which is serviced by the Jubilee Line where residents will be able to reach London Bridge in two minutes, Waterloo and Canary Wharf in five minutes, Bond Street in 11 minutes and Stratford in 17 minutes.

Mark Allnutt, Senior Managing Director – Europe, Greystar, said: "The acquisition of Grosvenor's Bermondsey development site represents another milestone reached in our ongoing strategy to develop thoughtfully designed and professionally-managed rental communities, particularly in light of the current shortage of high-quality rental property in the capital. We look forward to building upon the work Grosvenor has started to deliver new homes and amenities for the people of Bermondsey."

Heather Topel, Director of Development, Grosvenor, added: "Our designs create a world-class neighbourhood infused with the history of Bermondsey in a way that both involved and connected its communities and interest in the opportunity to deliver this scheme was exceptionally competitive. Greystar has a strong track record, and environmental and community values aligned to our own and we are confident they will deliver it to an incredibly high standard.

"We will reinvest the capital from this sale into growth opportunities in our London portfolio and regional investment business."

Greystar's teams acted on the transaction, demonstrating the extent of its real estate expertise. Savills London Development Land team acted for Grosvenor.

The transaction details are not disclosed.



For more information contact:

FGS Global

Gordon Simpson gordon.simpson@fgsglobal.com

James Thompson james.thompson@fgsglobal.com

Ellen Donald ellen.donald@fgsglobal.com


Grosvenor
Matthew O'Connell
Senior Communications Manager
matthew.oconnell@grosvenor.com


About Greystar

Greystar is a leading, fully integrated real estate company offering expertise in investment management, development, and management of rental housing properties globally. Headquartered in Charleston, South Carolina, Greystar manages and operates approximately $230 billion of real estate in 215 markets globally including offices throughout North America, Europe, South America, and the Asia-Pacific region. Greystar is the largest operator of apartments in the United States, manages more than 754,000 units/beds, and has a robust institutional investment management platform with approximately $49.9 billion of assets under management, including $22.6 billion of development assets. Greystar was founded by Bob Faith in 1993 with the intent to become a provider of world-class service in the rental residential real estate business. To learn more, visit www.greystar.com.

About Grosvenor's UK property business
www.grosvenor.com

Grosvenor is an international organisation whose activities span urban property, food and agtech, rural estate management and support for philanthropic initiatives.

We are a values-led business which represents the Grosvenor family and share a common purpose - to deliver lasting commercial, social and environmental benefit - addressing today's needs while taking responsibility for those of future generations.

Our UK property business began in London's West End, where we now support c11,000 residents, c1,000 businesses and 79,000 visitors every day. We also invest in and create sustainable neighbourhoods and properties across England. As one part of a global, family-owned business we have been pioneering change and new ways of thinking about property and places for over 340 years. Thinking long term allows us to give equal weight to the environmental, social and commercial impact of everything that we do.