Greystar and BPD mark halfway point for Canvas Living Hamburg
Press Release
November 2, 2023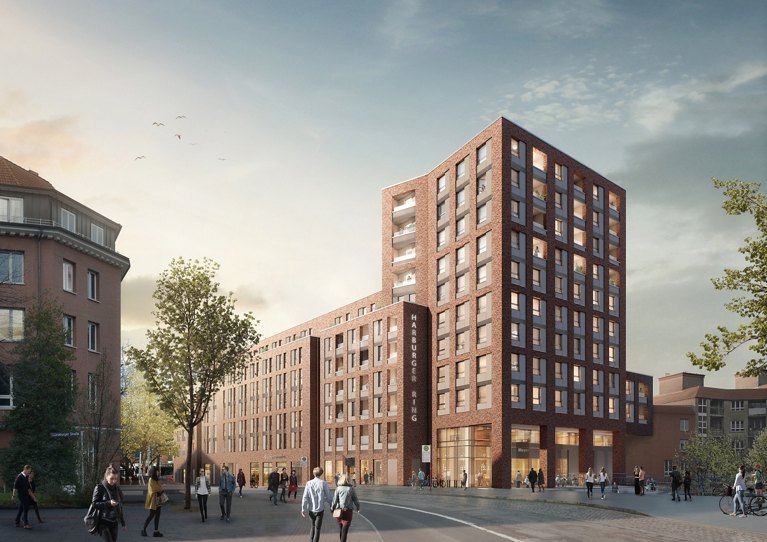 Hamburg - November 2, 2023 - BPD Bouwfonds Property Development and Greystar have reached the highest point of their building project with 234 residential units at Harburger Ring.

A total of approximately 8,500 square meters of living space is being created in the Harburg district of Hamburg. Commercial units with a combined area of approximately 2,500 square meters will be located on the ground floor of the eleven-storey building. The opening is scheduled for October 2024.

Project and area developer BPD acquired the site of the former Harburg Center shopping center in 2017, obtaining building rights by 2022. At that time, the residential developers Greystar joined, a company offering expertise in property management, investment management, development, and construction services in institutional-quality rental housing worldwide. Greystar entered an agreement to forward purchase the asset and will operate the building upon completion.

The global company entered the European market in 2013 and now provides multifamily, young professional, student and flexible housing across seven markets (Austria, France, Germany, Ireland, Netherlands, Spain and the UK).

Mark Kuijpers, Senior Managing Director at Greystar, commented: "This project is aimed at young professionals, couples, and students, target groups with an urban lifestyle that blend really well as we see in our other projects in Europe. In its design, we have incorporated typical elements of Hamburg architecture. Recently, we have developed and launched urban living concepts of this magnitude in Amsterdam, Rotterdam, Frankfurt and Vienna."

Tobias Stüber, Head of Investor Sales at BPD, says: "With the sale to Greystar, the project development in Hamburg-Harburg reaches the next milestone. This construction project on the site of the former Harburg Centre is a viable inner-city project development that is characterised by its central location and its future, attractively mixed form of use. We are pleased to be able to bring the site, which had recently lain fallow, back to life."

The hallmark of Greystar Germany includes furnished apartments with a high design standard, common areas for all residents, and a dedicated on-site team. In other markets such as Austria, the Netherlands, and the UK, student apartments are also part of the offering. Greystar Central Europe, with its operations in The Netherlands, Germany and Austria, forms a distinct unit within the international organisation.

The plans for Canvas Living Hamburg, by Schenk Fleischhaker Architects, include 203 fully furnished micro-apartments and 31 rental apartments in an elegant new building that incorporates design elements of Hamburg's Speicherstadt architecture. The tradition is continued on the inside, designed by the Hamburg design firm JOI-Design, with brick walls, herringbone parquet floors, and green and red glazed tiles.

As an extension of the individual apartments, the building will offer a range of amenities including a resident lounge, co-working spaces, a fitness studio, a laundry room, parcel lockers, two rooftop terraces, bike storage and free Wifi for all residents.

In October 2022, Greystar opened its first Canvas Living location, in Frankfurt.