Don't Let the Grinch Steal Christmas: How to Safely Get Packages Delivered to Your Apartment
Lifestyle
December 5, 2019
Along with joy and good cheer, the holiday season isn't complete without shopping sprees galore. Lucky for gift-givers everywhere, online shopping has never been easier. You can skip the mall madness this year and have presents delivered right to your door. Of course, with an increase in online shopping comes a possible rise in package theft.

Whether you're traveling or staying busy at home for the holidays, here are some tips on getting your presents delivered safely to your home.

Hold Your Packages Elsewhere

Instead of having your packages pile up by your door or in the mailroom while you're away, reach out to your property manager and see if they can store your boxes in the apartment's main building or leasing office. You can even ship your items straight there to make things easier. In addition to talking to your apartment management team, you can also see if your sweet neighbor or local UPS, U.S. Postal Service, or FedEx office will hold onto your packages.


Require a Signature

If you're receiving something expensive, you don't want to take any chances that it will catch someone's eye. By requiring a signature, the delivery service will only drop it off if you're there to sign for it. If you're not home, they'll leave you a note, and you can either pick it up from the office or schedule a delivery for another time.

Sign Up for Text Alerts

While this won't prevent your boxes from being stolen, tracking your package in real-time will help ensure it's not sitting out by your door for hours. The shipping company will send you updates so that you can complete those holiday errands with ease.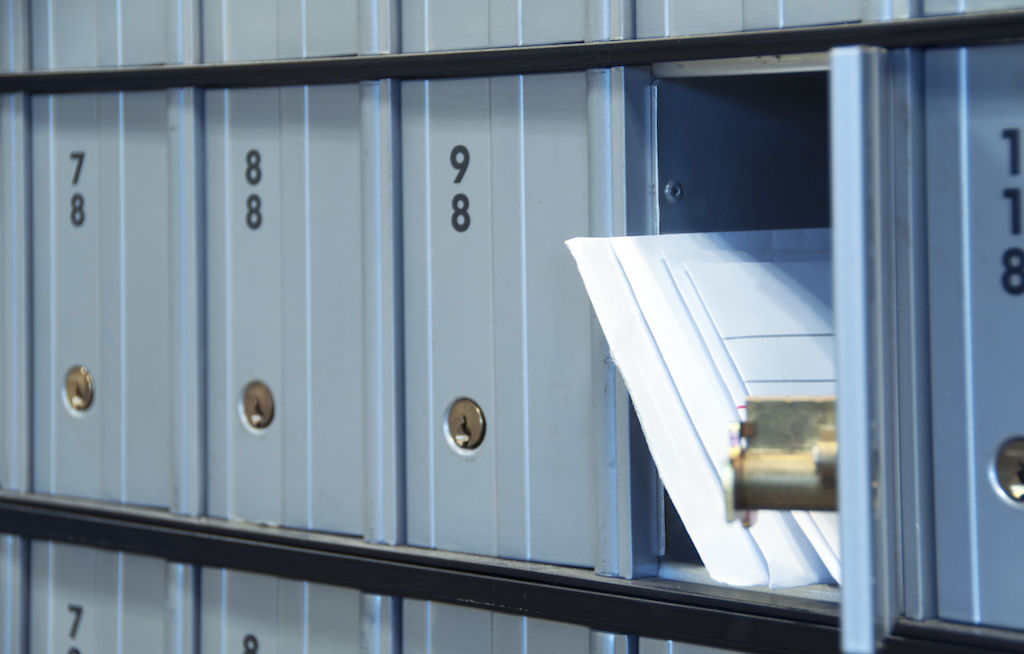 Rent a P.O. Box

While a P.O. box can't receive mail from carriers such as UPS or FedEx, it might be worth renting one for your U.S. Postal Service needs. Not only are they securely monitored, they also protect the privacy of your home address, so you don't have to worry about any visits from the ghost of Christmas past.

Ship it to Your Office

If you aren't able to work from home and don't have flexible hours, consider shipping your packages straight to your office. Just make sure your co-worker doesn't see your gift for the office-wide secret Santa.

Sign Up for a Program

Some services, such as UPS My Choice®, give you more control over your delivery details. The day before the shipment arrives, they'll notify you of the two-hour delivery window. If you aren't going to be home, you can quickly reroute your package to a more convenient location or reschedule the delivery.

Key by Amazon and Cloud Cam, a smart lock and camera system, go the extra step by allowing drivers to drop off your packages inside your home. They'll give you a four-hour delivery window, and once the driver arrives, you'll receive a notification and can watch the delivery happening live. After knocking, the driver will then send a request to Amazon, which will verify the package belongs to the address and unlock your door. Once they place the box inside, the driver will request to lock your door. You'll then receive a final notification and video clip of the entire delivery. While this can seem unsettling to some, it ensures your packages stay out of the cold and harm's way.

Other Blogs to Fa-la-la-la-love this Holiday Season:

• While you add items to your online wish list, turn on these movies to get in the holiday spirit.
• Online shopping is convenient until your Christmas present is lost or late. Check out these tips on receiving your packages on time.
• Don't let your shipment boxes go to waste and learn more about having a green Christmas this year.
The information presented on or through this Website is made available solely for general information purposes. We do not warrant the accuracy, completeness, or usefulness of this information. Any reliance you place on such information is strictly at your own risk. We disclaim all liability and responsibility arising from any reliance placed on such materials by you or any other visitor to this Website, or by anyone who may be informed of any of its contents. Any reference to amenities, services, rules, policies, or procedures at a Greystar apartment community is general in nature, and each Greystar apartment community may have amenities, services, rules, policies, and procedures that differ from those referenced on this Website. Please consult with your Greystar apartment community for the exact amenities, services, rules, policies, or procedures applicable.

This Website may include content provided by third parties, including materials provided by other users, bloggers, and third-party licensors, syndicators, aggregators, and/or reporting services. All statements and/or opinions expressed in these materials, and all articles and responses to questions and other content, other than the content provided by Greystar, are solely the opinions and the responsibility of the person or entity providing those materials. These materials do not necessarily reflect the opinion of Greystar. We are not responsible, or liable to you or any third party, for the content or accuracy of any materials provided by any third parties.