8 Ways to Optimize your Outdoor Space
Lifestyle
August 24, 2022
Summer is slowly awakening from its slumber, even if the weather doesn't reflect that in some parts of the country. The new season welcomes a chance for rebirth, rejuvenation and renovation. No matter if you've just moved into your apartment or you're looking to enhance the aesthetic of your outdoor space, it's time to get your patio or balcony up to par.
Just because you live in an apartment doesn't mean you can't flash your favorite finds or grow a gorgeous garden. Get your Pinterest page ready because these tips will help you combine creativity and practicality so your outdoor space will blossom.
1. Let your vertical garden grow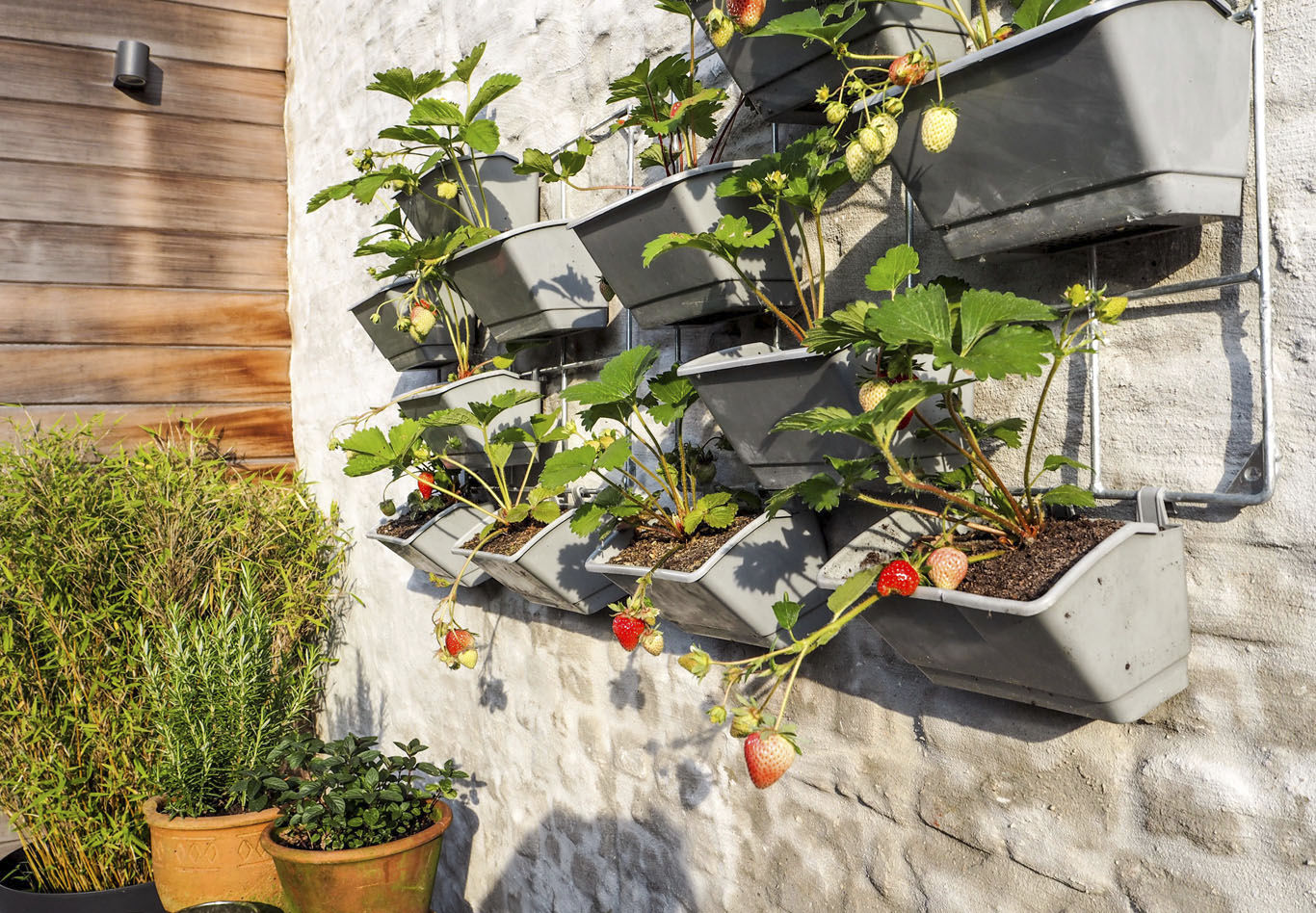 A vertical garden does wonders to your outdoor space as well as your kitchen. When you plant a vertical garden on your patio, you can grow herbs for fresher meals in addition to perennials, succulents and more. If you have a fence or railing around your patio space, you can recycle tin cans or get store-bought planters and hang them up. Just plant the greens of your choice and watch them grow. If you've run out of space on your vertical platform, hang up a beautiful pothos in the corner. This will leave room for other decorative items on your actual patio while allowing the plant leaves to pour over as nature's beautiful accent. If you don't have a fence, create a strand of plants with rope and clay pots and hang them from the top of the patio. Here's some inspiration.
Be sure to check with your apartment community to ensure you can hang hardware or plans on your balcony or patio.
2. Pots, patterns and mirrors – oh my
If you're going green with a vertical garden, chances are you already have plenty of pots. If you have to say so long to a plant or two because you're green thumb has shriveled a bit, turn its pot into a piece of décor by painting it and using it for something else. If it's big enough, you can paint it, flip it over, throw on a cushion and use it as a seated stool. Another way to make your patio look bigger is to add patterns and mirrors. Mirrors – since the beginning of time – have been notorious for making any space look bigger. The same goes for your patio! Just pair it with chevron, floral or a creative pattern of your choice and your space will look bigger without feeling cluttered.
3. Get creative with your seating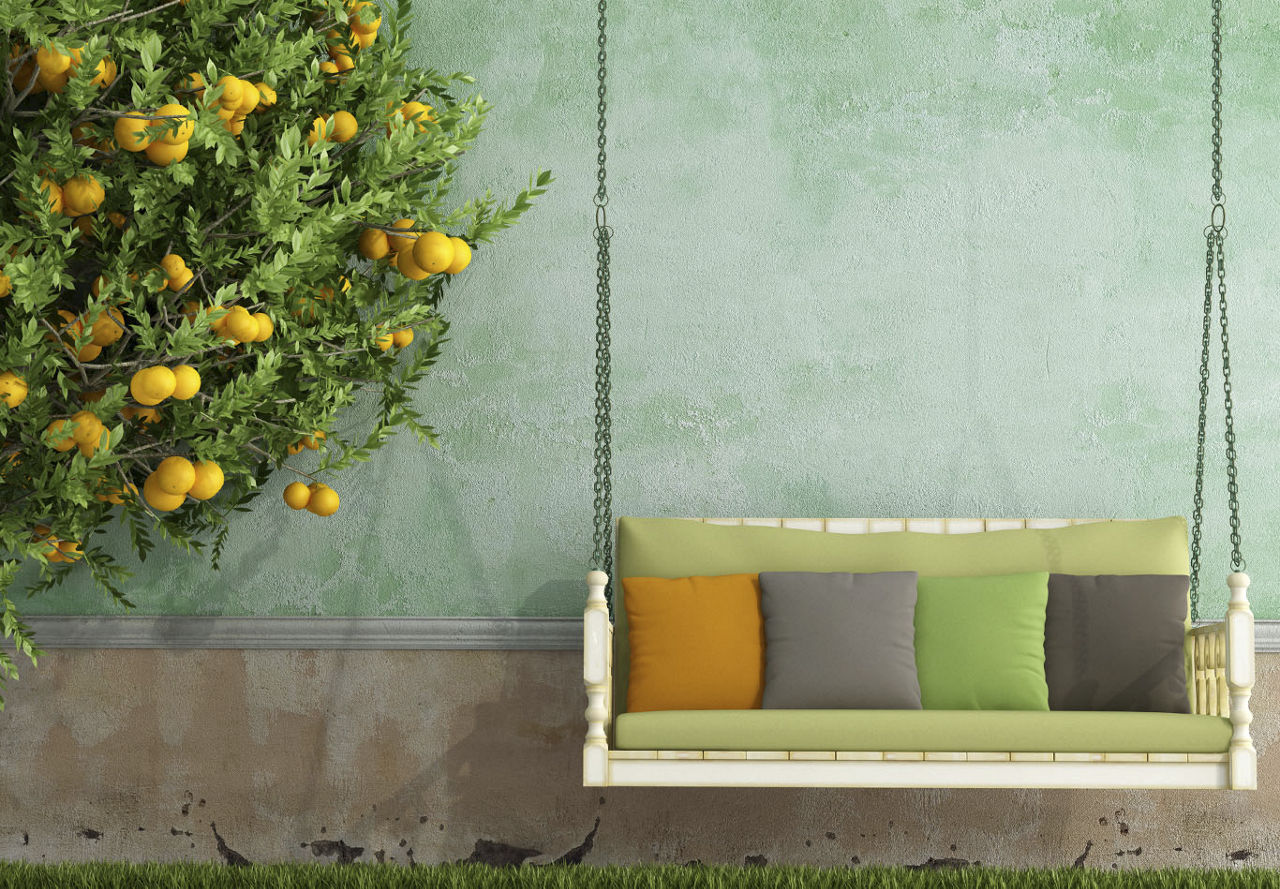 Despite what magazines show, you don't need a large seating area to have a stylish outdoor space. You can dress up your patio with a swing bench (again, check with your community to see if this is allowed), a solo bench with stylish cushions, floor cushions for your inner hippie and perimeter seating. Perimeter seating is perfect because you can configure your furniture into a corner to create space for other things.
4. Layers on layers
Here's your chance to let your style run wild. The best way to make the most of your space – no matter how big or small – is by combining colorful or printed rugs and pillows that accentuate your inner bohemian. When you do this, you're still leaving room for other accessories while adding a variation of colors and styles that make your space come to life. You don't need a ton of space – just the right accessories.
5. Explore table options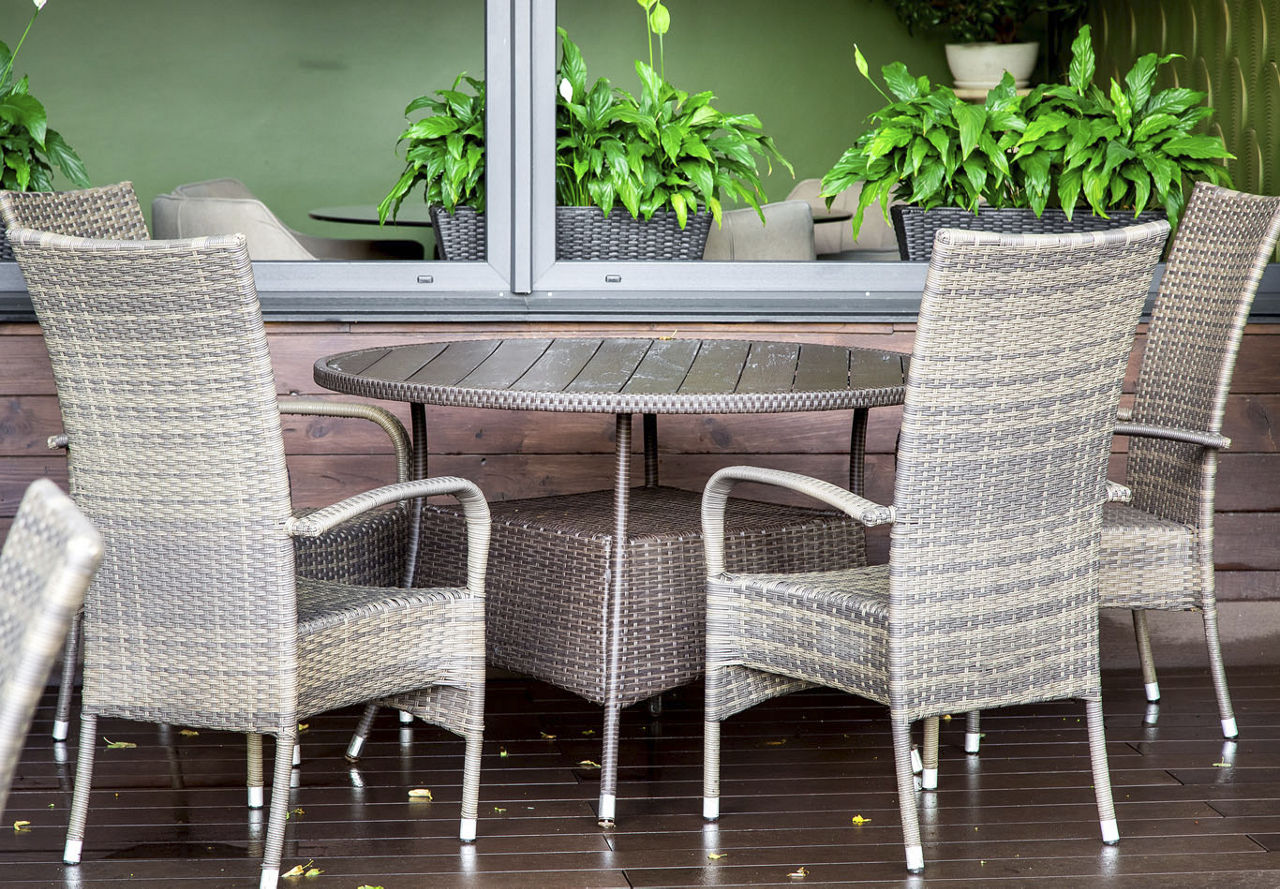 You don't need a large table to permanently take up all the space that could be used for something else. If you know you're going to be hosting dinner parties, you can get creative by getting two smaller tables. When it comes time to serve your favorite dish, place them together while hosting and then separate them again when everyone leaves. This allows you to get creative with your placement and also gives you the option to use them for something else in the meantime.
If you're looking for something more DIY, get crafty with a wood pallet. Paint the pallet in whatever way you want, throw on a table cloth or décor that you prefer and create a bohemian dining and relaxing space for you to gather around on a starry night.
6. Flexible furniture for the win
The best way to get everything out of your outdoor space is to snag furniture that serves multiple functions. Foot stools that can be used as side tables are just an example of how you can take advantage of one item for different purposes. If you have tools, toys or gardening items, you can get a bench that has a storage compartment so you not only have a place to hang but so do your possessions.
7. Add lights, and lots of them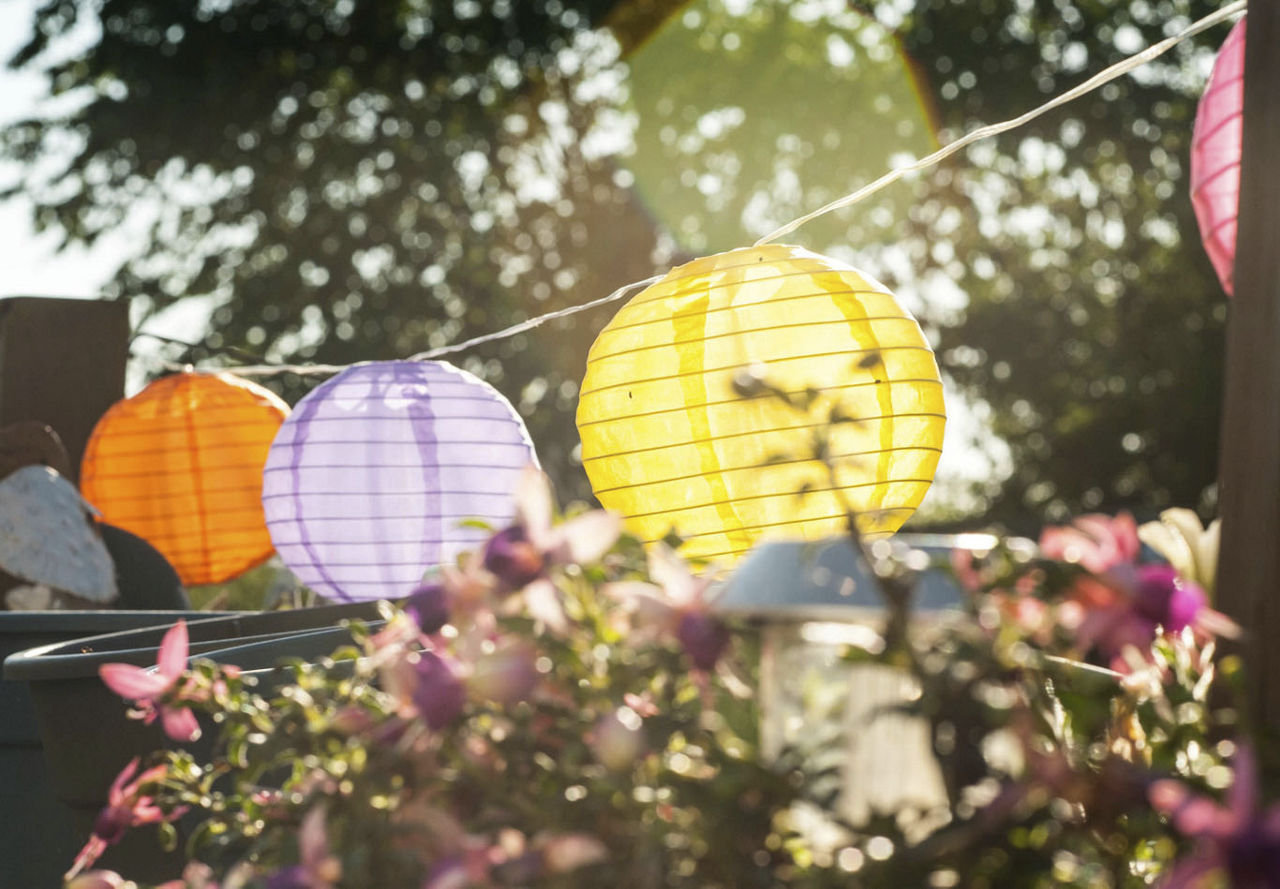 A patio or balcony can always benefit from the use of lights. String lights and lamps are perfect for cozying up your space while illuminating it so it looks bigger and brighter. You can string them on the perimeter of your patio, around the window, across the ceiling or wherever your heart desires - if your apartment community allows it. If you don't want too much light, get a stylish lamp to keep out there for sweet outdoor dinners with your special someone. Either way, adding lights can turn your dull patio into a chic and glistening outdoor oasis.
8. Less is more
When decorating your space, avoid clutter. If you don't leave room for foot traffic, you're actually going to end up with a mess rather than a well-designed and curated space.
Making the most of your outdoor space should be a fun project. Channel your creativity to create a patio/balcony all of your own. Right now the best thing we can do is to stay indoors and follow the advice of our government.
Read more information about Greystar's response to Coronavirus (COVID-19)
.
Other Blog Posts You Might Be Interested In
You can help your mood when you paint your apartment a certain color. But what color and why?
Are you having trouble sparking joy? We've got 5 helpful decorating themes that can help with that.

So, maybe you can't grill on your apartment patio because local fire laws don't allow it. No worries. You can still be a grill master and apartment renter.
The information presented on or through this Website is made available solely for general information purposes. We do not warrant the accuracy, completeness, or usefulness of this information. Any reliance you place on such information is strictly at your own risk. We disclaim all liability and responsibility arising from any reliance placed on such materials by you or any other visitor to this Website, or by anyone who may be informed of any of its contents. Any reference to amenities, services, rules, policies, or procedures at a Greystar apartment community is general in nature, and each Greystar apartment community may have amenities, services, rules, policies, and procedures that differ from those referenced on this Website. Please consult with your Greystar apartment community for the exact amenities, services, rules, policies, or procedures applicable.
This Website may include content provided by third parties, including materials provided by other users, bloggers, and third-party licensors, syndicators, aggregators, and/or reporting services. All statements and/or opinions expressed in these materials, and all articles and responses to questions and other content, other than the content provided by Greystar, are solely the opinions and the responsibility of the person or entity providing those materials. These materials do not necessarily reflect the opinion of Greystar. We are not responsible, or liable to you or any third party, for the content or accuracy of any materials provided by any third parties.