L.A. Living Part 3: Glamming it up in Hollywood
For Residents
January 9, 2019
Steeped in history and entertainment, the neighborhood of Hollywood has so much to offer new apartment residents. Popular tourist destinations and hidden gems let you enjoy the best of both worlds. Concert venues and even theme parks are easily accessible from this area of the City of Angels.
For Your Entertainment
The city of L.A. has many popular neighborhoods, but probably it's most famous is Hollywood. The glitz and glamour of this part of town pairs perfectly with the natural landscapes of SoCal. Just sitting on Hollywood Boulevard are three movie theaters, each famous in their own right: TCL Chinese Theatre, the Egyptian Theatre and El Capitan Theatre.
Several live music venues also thrive here, but it's the world-famous Hollywood Bowl that stands out. From philharmonic to rock bands, the Hollywood Bowl has played host to many iconic performances. For a more traditional concert experience, Hollywood Palladium offers an exciting event space that welcomes some favorite musicians. The massive space features an intimate setting that celebrates musicians and accommodates large masses of concert attendees.
After an evening of excitement, slow down and relax with the beauty of nature and the wonders of science. Griffith Park offers hiking trails with beautiful landscapes. As you make your way through the park and to its peak, the famous Hollywood sign comes into view. The beauty of nature pairs perfectly with the famous sign and provides the perfect Instagram backdrop. At the peak, you'll notice the Griffith Observatory. Featured in movies such as La La Land, the observatory is a beautiful spectacle of science, architecture and wonder.
For a day of family fun and excitement, you can head up north of Hollywood and discover Universal Studios Hollywood. Home to your favorite movie characters and a real working film backlot, the park is a great way to escape the day to day and dive into your favorite flicks.
Shop Like the Stars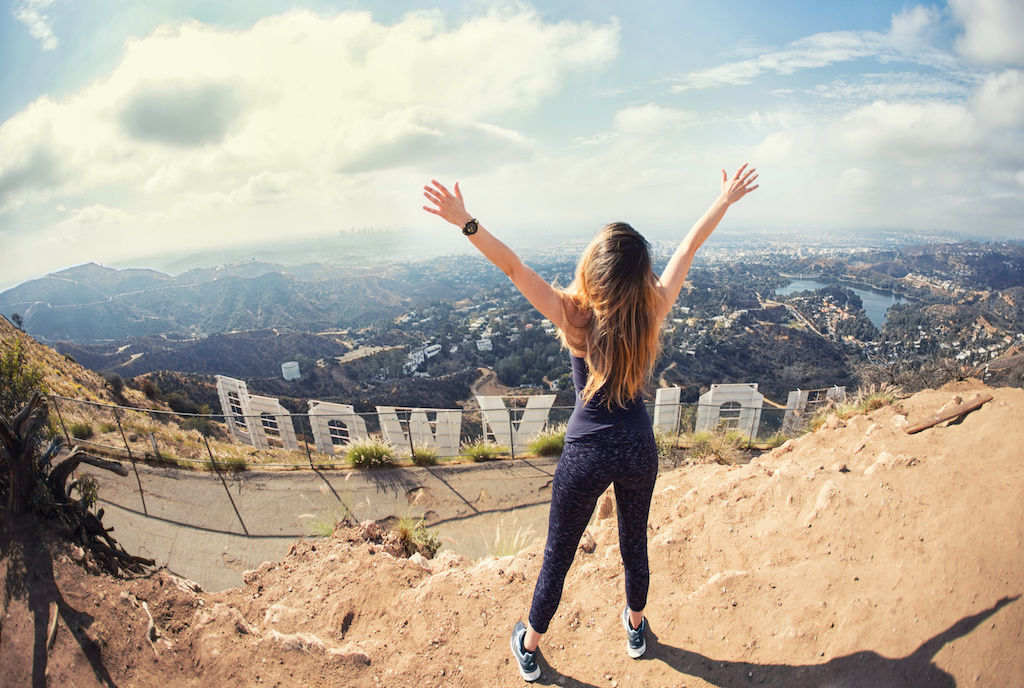 In Hollywood, it's much easier to find the perfect outfit than to spot your favorite celebrity. Blending the lines between art, dining and shopping, Hollywood & Highland is the perfect place to shop in style. This massive shopping area is located just minutes from Hollywood Boulevard and the Hollywood Bowl. Boutique shops and popular brand stores await in this outdoor mall.
Los Angeles residents love their sunshine. At Beverly Connection, you can shop to your heart's content in a large outdoor space. A favorite among locals, Beverly Connection provides shoppers with the latest trends and myriad sales. The smart shopper can get a stylish outfit at half the cost and avoid the crowds. If you're looking for a full day of shopping, visit the Beverly Center. Similar to Hollywood & Highland, this center offers a mix of designer boutiques and brand stores. This indoor shopping facility offers popular options and special events including yoga and guest lectures.
Coming Tomorrow
Hollywood might be one of the more famous neighborhoods, but it's not the only noteworthy place of interest in Los Angeles. Our series continues to the home of the Rose Bowl Stadium: Pasadena. Check out this part of town that blends the liveliness of L.A. with residential charm.
Other Blog Posts You Might Enjoy
The information presented on or through this Website is made available solely for general information purposes. We do not warrant the accuracy, completeness, or usefulness of this information. Any reliance you place on such information is strictly at your own risk. We disclaim all liability and responsibility arising from any reliance placed on such materials by you or any other visitor to this Website, or by anyone who may be informed of any of its contents. Any reference to amenities, services, rules, policies, or procedures at a Greystar apartment community is general in nature, and each Greystar apartment community may have amenities, services, rules, policies, and procedures that differ from those referenced on this Website. Please consult with your Greystar apartment community for the exact amenities, services, rules, policies, or procedures applicable.
This Website may include content provided by third parties, including materials provided by other users, bloggers, and third-party licensors, syndicators, aggregators, and/or reporting services. All statements and/or opinions expressed in these materials, and all articles and responses to questions and other content, other than the content provided by Greystar, are solely the opinions and the responsibility of the person or entity providing those materials. These materials do not necessarily reflect the opinion of Greystar. We are not responsible, or liable to you or any third party, for the content or accuracy of any materials provided by any third parties.