L.A. Living Part 1: Making the Most of Downtown
For Residents
January 7, 2019
Moving to a big city and making new friends can be a massive change, and calling the city of Los Angeles big is an understatement. Each neighborhood in the City of Angels has its own identity. Depending on where you settle in your new L.A. apartment, a host of attractions and destinations will surround you.
From Downtown and Koreatown to Hollywood, Pasadena and the Westside, join us each day this week as we dissect the city of Los Angeles.
Dining in Downtown
The local food scene in Downtown L.A. is impressively diverse. The entire city houses everything from barbecue and take-out to brunch and fine dining. Between shopping sprees and art museums, finding a place to fuel up is easy. Your usual sushi experience is taken to the next level at SUGARFISH. Blending traditional values with modern services, SUGARFISH is Chef Kazunori Nozawa's personal showcase of sushi style. The menu is a departure from the traditional omakase, but it still retains the sense of quality and presentation. Your inner foodie might also shine bright at KTCHN DTLA, an iconic downtown dining destination. With a regularly changing menu, each dish is sure to taste and look great. Whether looking to fill your Instagram feed or wanting to devour something truly delicious, KTCHN DTLA will satiate your appetite.
Going Out in Downtown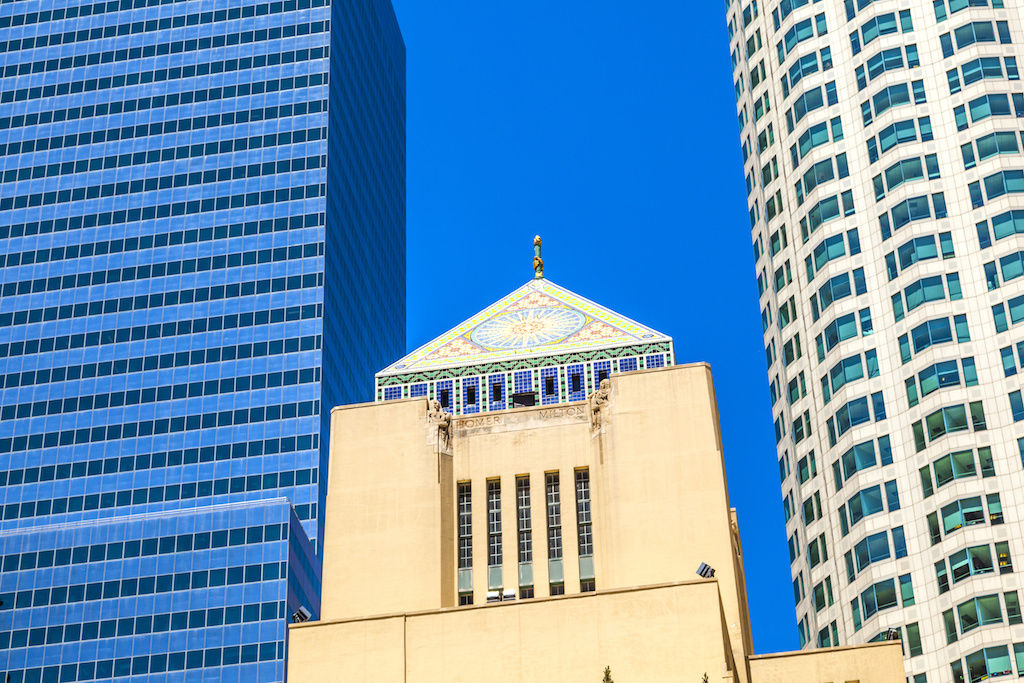 Entertainment can be found throughout all of Downtown L.A. From sports arenas and live music venues to museums and art galleries, the area has something fun for everyone. Spend time in the heart of the city and you'll surely notice the unique architecture. From city hall to the LA Central Public Library, downtown is brimming with history and is a visual feast for the eyes.
Lovers of live entertainment will adore the various venues surrounding downtown. From the experimental The Blind Spot Project to the massive L.A. Live, there is no shortage of entertainment options in the city. Sports fans can get their fill at the Staples Center, home to two major NBA teams.
Rows of museums surround the city, perfect for a more relaxed adventure in downtown. The Broad houses some of the best modern art exhibits in the city – and a visit is completely free. The Museum of Contemporary Art is a local favorite and showcases art reflective of the past decade.
L.A. Fashion and Shopping
The city is famous for its bold and trendy sense of fashion, which means famous shopping comes with it. Unlike your common shopping center, The Grove is home to an assortment of stores from designer boutiques to popular brand shops. The outdoor shopping center is the place to go to fill your bags and your closet. However, The Grove isn't the only place to shop in Downtown L.A. With more than 100 blocks of stores and shops, LA Fashion District lets you find the trends even before they hit the mainstream. Bargain hunting, sample sales and open-air bazaars surround you as you walk through this capital of fashion.
Coming Tomorrow
There's so much more to La-La Land than just Downtown L.A. To dive more into the unique atmosphere of the city, join us as we take you on a tour of one of the biggest foodie destinations in SoCal: Koreatown.
Other Blog Posts You Might Enjoy
The information presented on or through this Website is made available solely for general information purposes. We do not warrant the accuracy, completeness, or usefulness of this information. Any reliance you place on such information is strictly at your own risk. We disclaim all liability and responsibility arising from any reliance placed on such materials by you or any other visitor to this Website, or by anyone who may be informed of any of its contents. Any reference to amenities, services, rules, policies, or procedures at a Greystar apartment community is general in nature, and each Greystar apartment community may have amenities, services, rules, policies, and procedures that differ from those referenced on this Website. Please consult with your Greystar apartment community for the exact amenities, services, rules, policies, or procedures applicable.
This Website may include content provided by third parties, including materials provided by other users, bloggers, and third-party licensors, syndicators, aggregators, and/or reporting services. All statements and/or opinions expressed in these materials, and all articles and responses to questions and other content, other than the content provided by Greystar, are solely the opinions and the responsibility of the person or entity providing those materials. These materials do not necessarily reflect the opinion of Greystar. We are not responsible, or liable to you or any third party, for the content or accuracy of any materials provided by any third parties.