Celebrate Earth Day with These 22 Sustainable Living Ideas for an Eco-Friendly Apartment
Greystar Green
April 16, 2018
Earth Day on April 22 is the perfect chance to celebrate the planet's beauty. Not much can compare to the grandeur of glistening ocean waters, rugged mountains set against a blue sky and a lush forest at right at the crack of dawn. So, it's time to do your part as an apartment resident — and Earthling — and help maintain this splendor for future generations.
These 22 simple practices will lessen your carbon footprint and help you celebrate Earth Day, leaving the world a happier and greener place to live.
Home Décor
1. You may think your couch has come to the end of its life. But ignore those wine stains and reupholster it. The new fabric will revive the couch and add a little style to your place.
Barbara Gilbert, Owner and Lead Designer at Barbara Gilbert Interiors, recommends using organic fabrics in your apartment. "I don't think people realize how many dyes are put in fabrics. If you're not using natural fabrics like linens and cottons, you're adding a lot of chemicals to your home. Organic fabrics and products are better for your health and are far more sustainable."
The award-winning, Dallas-based designer is passionate about being environmentally friendly when she's working on a renovation project of any size. Continue reading for more of her tips.
2. Before throwing away old furniture, think about ways to recycle it. Tapestries can make stylish curtains or table cloths. Wooden blinds, old boards and even doors can be remade into trendy DIY coffee tables. You can even transform a wooden ladder into a statement décor piece by adding some twinkly lights, a few plants, books, mugs and picture frames.
3. If you decide to paint your walls (check with your apartment community to make sure this is allowed per your lease), make sure you use low-VOC paint that does not contain high levels of toxins that can negatively impact your health and the environment. Low-VOC paint doesn't have a strong odor, either.
Lifestyle Adjustments
4. Unplug your devices when they are not in use. Before going to sleep or leaving your apartment, remember to unplug your laptop and phone chargers. Unplugging appliances such as your TV, printer, coffee maker and fans can also help reduce your apartment's energy drain.
Gilbert notes: "Using electronics and being around them continually exposes you to electromagnetic fields that are unhealthy. Keep your bedroom free at night of any electronics you can."
5. Donate your unworn clothes. Residents in the U.S. throw away over 15 million tons of textile waste each year. Rather than pitching last year's fashions, give them a new home by donating to your local thrift store, shelter or charity.
6. Recycle! Although it can feel like a hassle at first, once you get used to separating your trash between the bin and recycle box, recycling will become an act of habit within no time. Many Greystar apartment communities allow you to set out separate bags of recyclables along with your trash. Contact your local manager for details.
7. Only run a full load when you use your washing machine and dishwasher. Running these appliances at half capacity will waste water.
8. Your parents probably already taught you this one, but don't let the water run when you're brushing your teeth. Also, turn off your shower while you lather your hair and body. Scrub first, then rinse with water to conserve this precious resource.
9. Use household ingredients to clean your apartment. Distilled white vinegar and baking soda can be used to sanitize a variety of surfaces in your home.
10. Go paperless by paying your bills online or switching to an online magazine or newspaper subscription. It's not only more convenient, it will also decrease your amount of paper waste each month. Most Greystar apartment communities allow you to make rent payments online. Find your community's portal.
Apartment Changes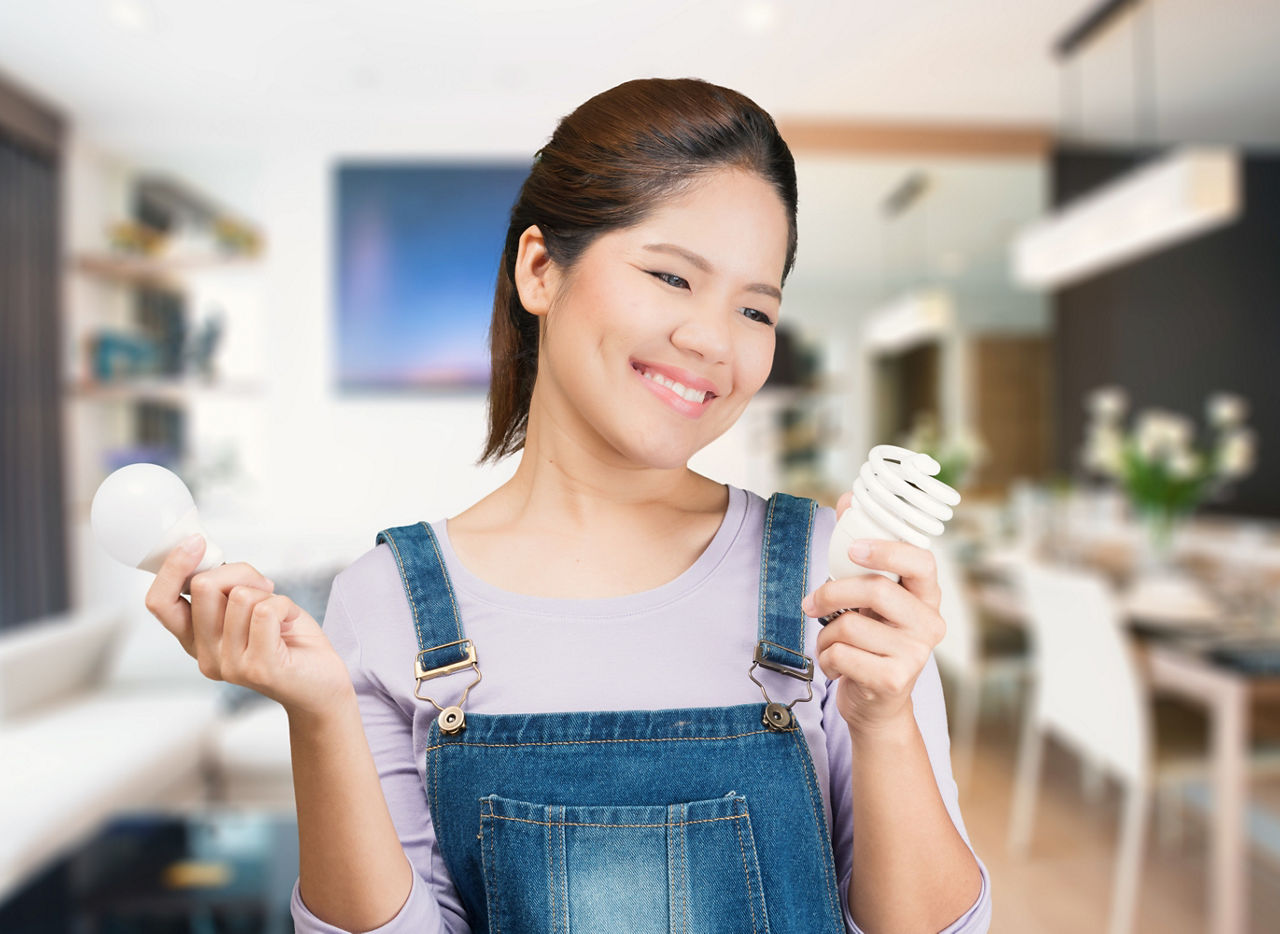 11. Change your standard light bulbs to energy efficient LED light bulbs. Dimmer switches are another option to conserve energy. Don't forget about natural light, too, for your dose of Vitamin D and a lower electricity bill.
12. Switch your shower head to a high-efficiency shower head. You'll still end up squeaky clean while helping the planet.
13. Attach a filter to your kitchen sink and use it for your drinking water. You'll cut down on those plastic water bottles that can often end up polluting the ocean.
Green Thumb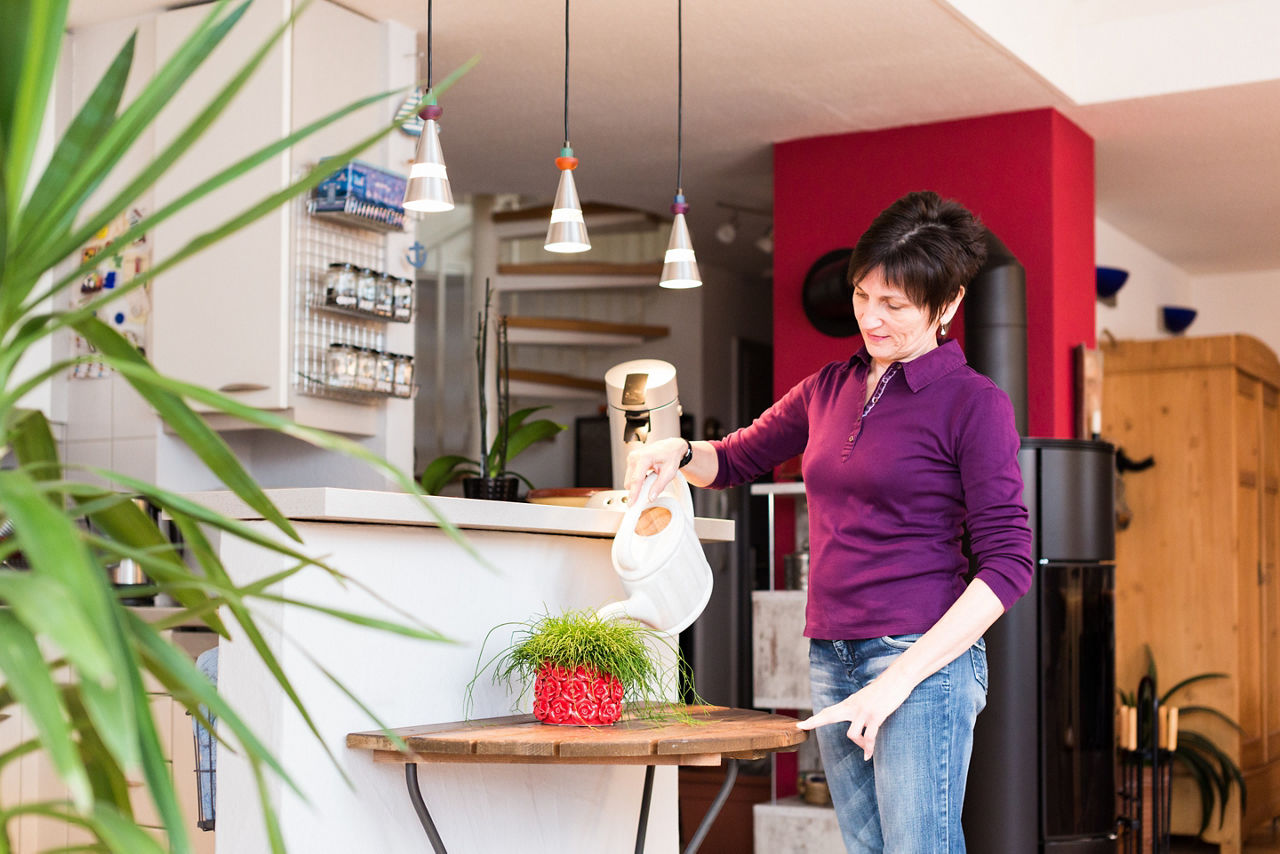 14. Add a splash of green to your apartment home with plants, flowers and an herb garden. This will promote oxygen production, air purification and even help keep your apartment cooler during the hotter months.
15. Don't throw away your old coffee grounds, egg shells and banana peels. Instead, create a compost pile which you can use to grow new plants in your home. Yes, it can be done even if you live in an apartment. See how to DIY an indoor composting center.
16. When it rains, set out a bucket or bowl on your apartment patio to collect the water and use this to nourish your plants rather than waste your tap water. Just be sure not to let that water stand for too long without using it because it could attract mosquitoes.
Food Habits
17. Instead of using plastic wrap or bags that you throw away after a single use, store your foods in glass containers that you can use for years to come.
"Using glass is better because we don't have to dispose of it," Gilbert the designer said. "It's definitely a healthier way to live, and it's sustainable for the environment."
18. Bring your own reusable tote bag to the grocery store. This way, you won't have to throw away all those plastic bags and you might save a little money, too, given that cities such as Washington, D.C., and New York City charge shoppers who opt to use these temporary bags.
19. Use pasta, jam and olive jars for odds and ends throughout your apartment. These glass containers are perfect for holding screws, nails, pet food, pens and pencils.
Heating and Cooling
20. During the winter, layering your bed with blankets will help you stay warm even when a cold front arrives.
21. Add heavier curtains to your windows during cold months. This will help insulate your windows and could help you save on your electric bill.
22. When summer arrives, use a ceiling fan to give your AC a break. Adding some greenery to your apartment can also keep it cool while making your place even more stylish.
Whether your apartment is a studio or has four bedrooms with kids and pets, applying even a few of these tips will help you achieve a more sustainable lifestyle.
"I think the most important thing is to not feel like you have to do it all," Gilbert said. "If we, as individuals, implement a few sustainable lifestyle practices, together it will create a huge impact on the world."
Greystar is committed to sustainability.
The information presented on or through this Website is made available solely for general information purposes. We do not warrant the accuracy, completeness, or usefulness of this information. Any reliance you place on such information is strictly at your own risk. We disclaim all liability and responsibility arising from any reliance placed on such materials by you or any other visitor to this Website, or by anyone who may be informed of any of its contents. Any reference to amenities, services, rules, policies, or procedures at a Greystar apartment community is general in nature, and each Greystar apartment community may have amenities, services, rules, policies, and procedures that differ from those referenced on this Website. Please consult with your Greystar apartment community for the exact amenities, services, rules, policies, or procedures applicable.<
This Website may include content provided by third parties, including materials provided by other users, bloggers, and third-party licensors, syndicators, aggregators, and/or reporting services. All statements and/or opinions expressed in these materials, and all articles and responses to questions and other content, other than the content provided by Greystar, are solely the opinions and the responsibility of the person or entity providing those materials. These materials do not necessarily reflect the opinion of Greystar. We are not responsible, or liable to you or any third party, for the content or accuracy of any materials provided by any third parties.