Hosting a TV Watch Party: Make Your Premiere on the Party Scene a Success
Lifestyle
September 24, 2018
The fall TV season has arrived! Are you ready for the debuts of your favorite shows on NBC, CBS, ABC and Fox? From the latest Netflix originals to the live award shows coming soon, it's always better to enjoy the TV when surrounded by friends.
THE WATCH PARTY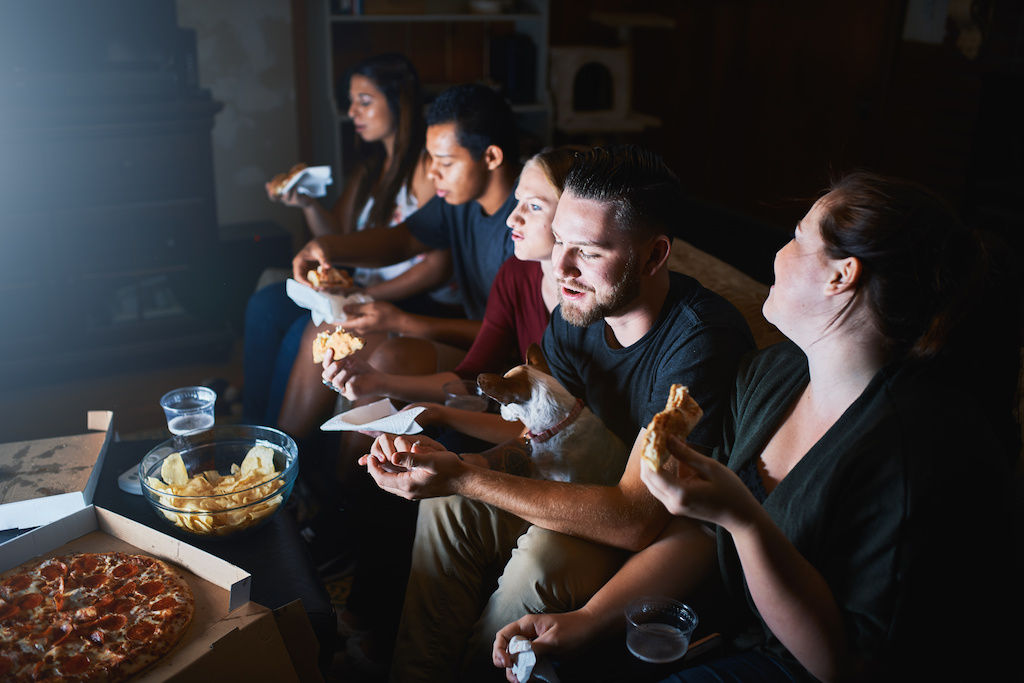 Perfect for your apartment, the watch party allows you to enjoy the company of your favorite people and your favorite show. Let out your inner nerd and show off your creative side while being the saving grace for friends who don't have cable TV or streaming services.
Be sure to provide ample seating with a central view of the TV.

The perfect size for a TV depends on the size of the party. However, a 49- to 55-inch TV will be big enough for most crowds.

Chances are you already have your couch facing the TV, but it doesn't hurt to bring out extra chairs or throw pillows for your guests to sit on. Just make sure one seat isn't directly in front of another.

Ensure you have the right streaming services for your party. If you're going to watch Game of Thrones, make sure you have HBO Go, or if you're playing an award show party, double check to ensure you have access to the channel the show is on.
Have simple decorations themed around what you're watching. According to Patrick Ledesma, the director of Georgetown University's Student Centers, "organizing, planning and a theme" are the qualifiers for a memorable party. Over the years, Ledesma has helped coordinate events including concerts at various universities and his own wedding. Through his experiences, he says the first step in to planning any kind of event is determining who or what the party is for. You can find printable décor that is free and within theme on multiple party-planning sites.
Feature food and drinks inspired by the movie or show. Save entrées and loud snacks for the pre-show gathering and have simple snacks such as popcorn, cookies or a bowl of chips for the show itself. Pop culture tends to be Ledesma's main source of inspiration for work and play. Watch parties for popular shows help inspire the meal, decoration and purpose. "The best part of planning is when you have to be creative and find a fun way to tie it all together," he says.

Encourage your friends to arrive before show time to make sure everyone gets socializing out of the way before the main event starts. The last thing you want is to miss the climax because a friend was talking about how much they missed someone else.
Party foul: Specifically, for watch parties of TV shows and movies, avoid being the person who spoils the show or plot for everyone. If you've already read the book or any reviews, avoid hyping the highlights. Gushing about the show or spoiling a major plot point can be inconsiderate to guests and hosts.
Community courtesy: Watch parties usually won't get too loud, so notifying your neighbors of your gathering isn't necessary. But, let your guests know they should only park in designated visitor areas and not in reserved spots.
Just because the credits are rolling doesn't mean the parties are ending. There are still a variety of ways to throw a party in your apartment. Check out our previous party planning blogs and see how you can easily host a dinner party or a big sporting event watch gathering in your apartment.
Party Hosting Series
#1: Looking to host a World Series party - or any sports game gathering with friends and loved ones? Here are the fouls you should avoid.
#2: You don't need a formal dining room to host a great dinner party. Here are a few tips so you can be the best host possible.
#3: Board and card game nights can be a fun way to spend the weekend with friends and loved ones. Throw the most awesome party at your apartment with these tips.
The information presented on or through this Website is made available solely for general information purposes. We do not warrant the accuracy, completeness, or usefulness of this information. Any reliance you place on such information is strictly at your own risk. We disclaim all liability and responsibility arising from any reliance placed on such materials by you or any other visitor to this Website, or by anyone who may be informed of any of its contents. Any reference to amenities, services, rules, policies, or procedures at a Greystar apartment community is general in nature, and each Greystar apartment community may have amenities, services, rules, policies, and procedures that differ from those referenced on this Website. Please consult with your Greystar apartment community for the exact amenities, services, rules, policies, or procedures applicable.
This Website may include content provided by third parties, including materials provided by other users, bloggers, and third-party licensors, syndicators, aggregators, and/or reporting services. All statements and/or opinions expressed in these materials, and all articles and responses to questions and other content, other than the content provided by Greystar, are solely the opinions and the responsibility of the person or entity providing those materials. These materials do not necessarily reflect the opinion of Greystar. We are not responsible, or liable to you or any third party, for the content or accuracy of any materials provided by any third parties.