Get Your BBQ on at Your Apartment Community During National Grilling Month
Community Life
July 24, 2019
We're in the midst of summer, and what better way to enjoy the spirit of the season than firing up the grill and cooking some delicious food during National Grilling Month. If you live in an apartment, you may not be able to have a grill on your patio or balcony because of local fire codes, but you can opt to use one of your community's public areas with a grill.

Before using any community grill, it's recommended that you follow certain guidelines and proper etiquette.
Clean the grates as best as you can, even if they look clean already.
If you come across any ashes, be sure to empty those out so they aren't a fire hazard.
Cover the grates with aluminum foil if you're not comfortable putting meats and vegetables directly on them.
Be courteous to others and don't monopolize the grill for long periods of time. Check with your apartment community to see if it requires signing up for grill use time.
Don't move the grill. Keep it in the designated area.
If you have lots of smoke coming from the grill, close the lid or turn down the heat to be considerate to surrounding neighbors who may have the windows open.
Make sure to clean up after yourself once you're done.
Here are 10 of our apartment communities with smokin' grilling areas and amenities that will help you unleash your inner grill master.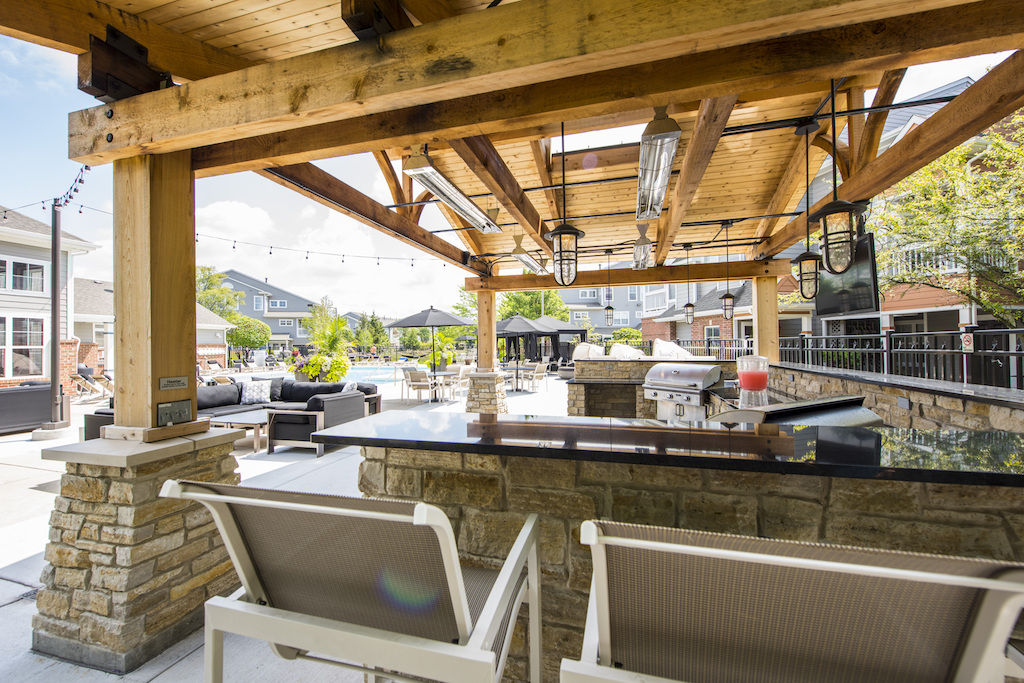 Grand Reserve

Located in Naperville, Illinois – a western suburb of Chicago – Grand Reserve offers condo-quality living with amenities that exude ultimate style, convenience and comfort. One of these perks is the poolside outdoor kitchen, offering two propane grills and ample counter space under a gorgeous wood and brick gazebo.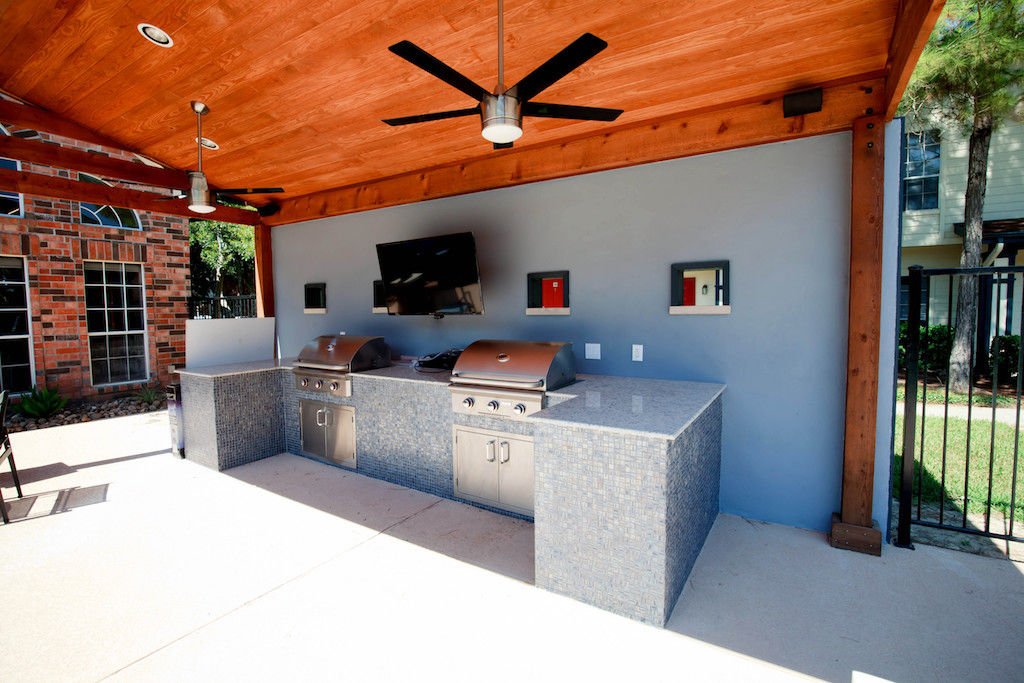 Aston at Cinco Ranch

Savoring barbecue in Texas is like brushing your teeth: It's something you just need to do. At Aston at Cinco Ranch in Katy, you have everything you need to treat your family and friends to a Texas-style BBQ. Adjacent to the saltwater pool, the community's covered outdoor grill area features a pair of propane grills, a flat-panel TV and plenty of counter space.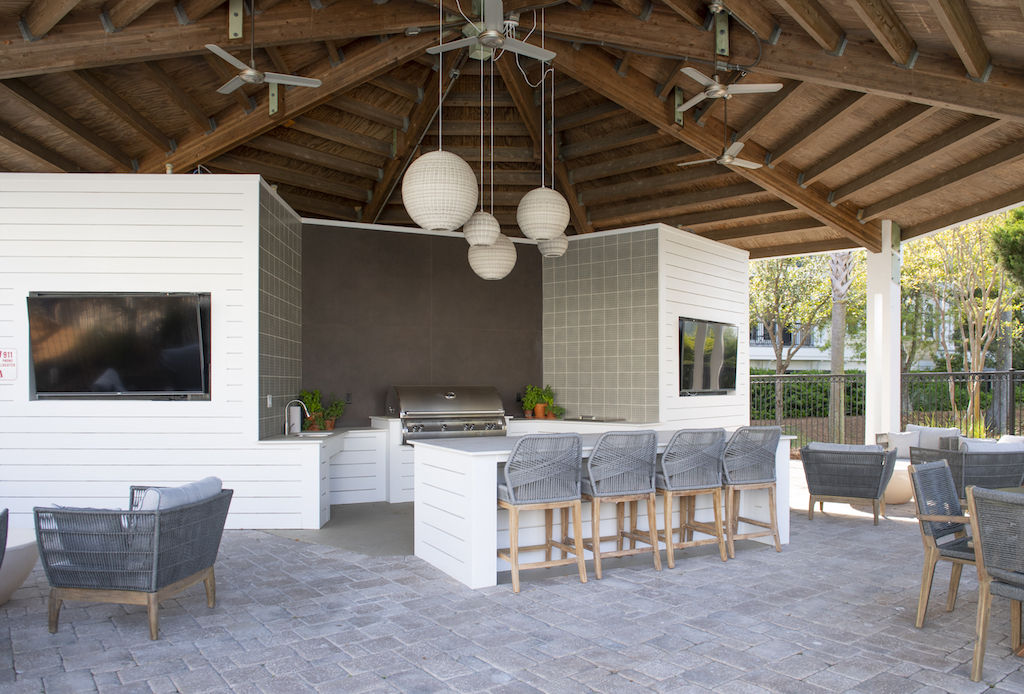 Daniel Island Village

Let Southern charm and sophistication surround you when hosting a summer birthday party or hangout at Daniel Island Village in Charleston, South Carolina. Underneath a stunning cottage-style, poolside pavilion, you'll find a propane grill, sink, two flat-panel TVs, island and chic wicker furnishings to keep your guests satisfied and entertained.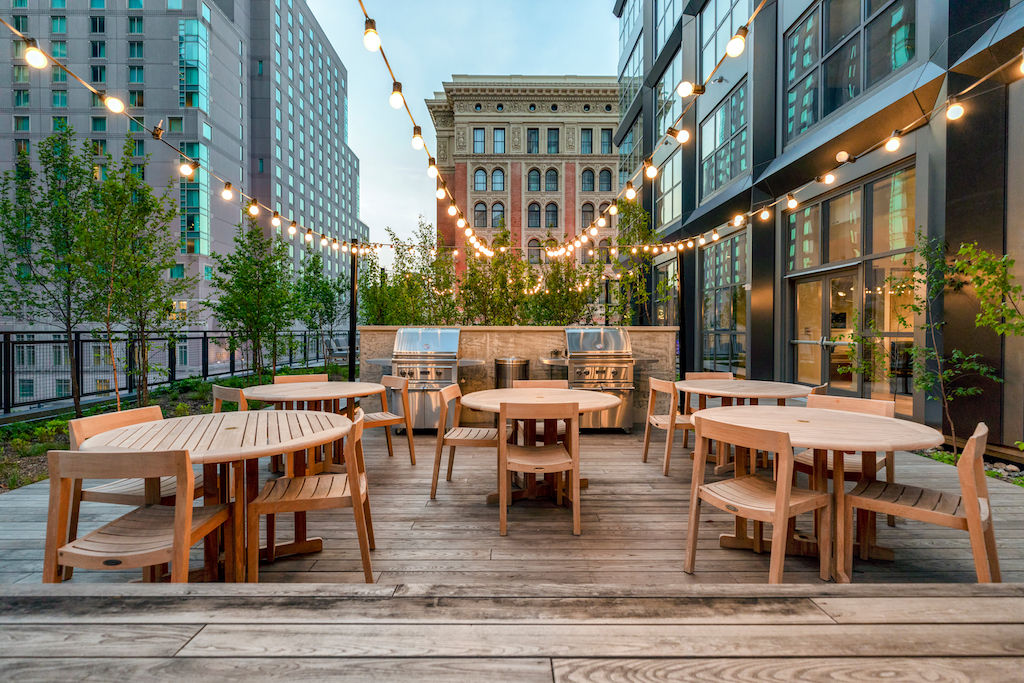 The Girard Apartments

Nothing says luxurious urban living quite like The Girard Apartments in the heart of Downtown Philadelphia. Rest assured, this upscale apartment community doesn't skimp on grilling amenities. Gather your pals, fire up one of two propane grills and admire the stunning city views out on our beautiful outdoor deck furnished with vintage string lights and a series of wooden benches and chairs.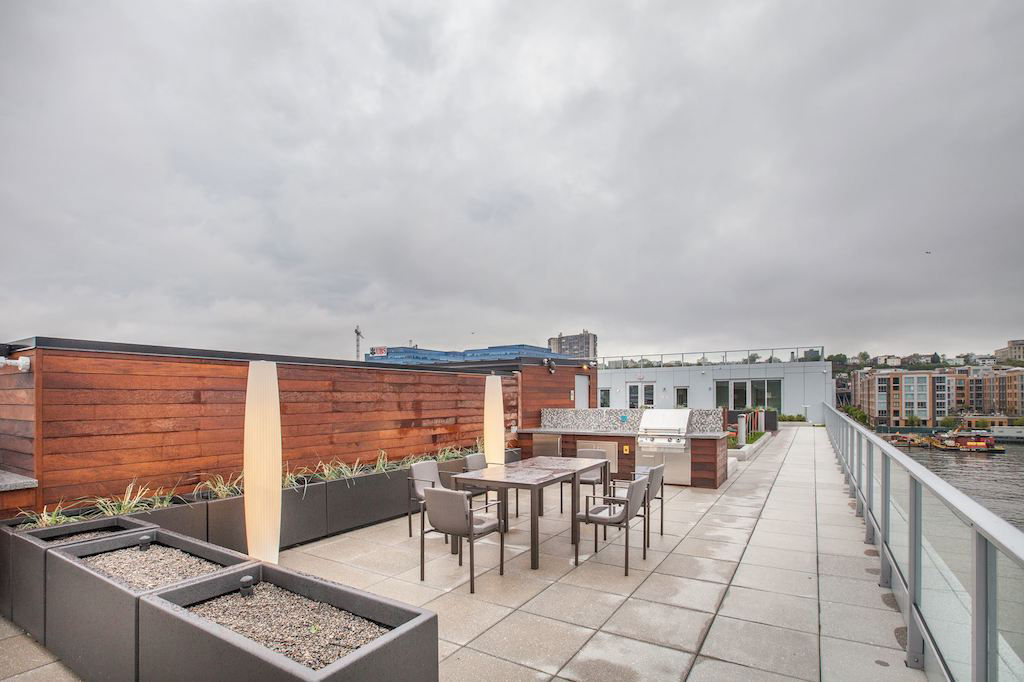 Harbor 1500

Nestled right on the edge of the Hudson River facing the sprawling Manhattan skyline, Harbor 1500 in Weehawken, New Jersey fully embraces the spirit of modern living. The best spot to witness the unparalleled views of New York City and the harbor is from the beautiful roof deck offering a propane grill, picnic areas, a screening lawn and sparkling pool and spa.


Kapilina Beach Homes

Say aloha to world-class island living when renting an apartment at Kapilina Beach Homes, located at Iroquois Point in West Oahu, Hawaii. As a resident, you have unbeatable access to a mile-long secluded beach, along with a pair of charcoal grills. So bring briquettes, cook some chicken kebabs and soak up the Hawaiian scenery from the sun-kissed sands.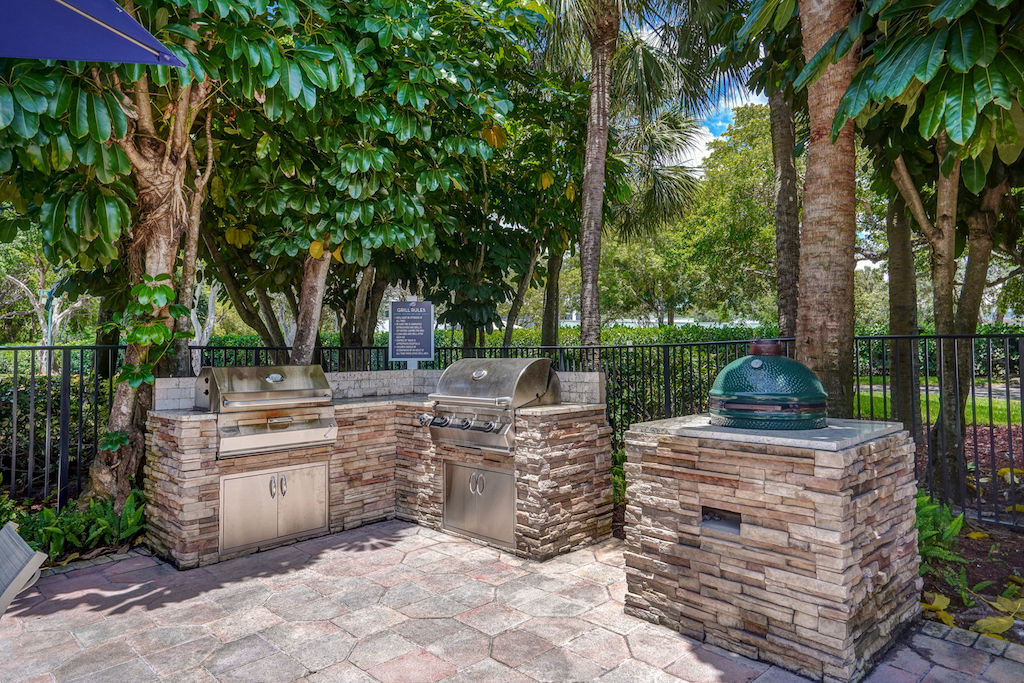 Plantation Colony Apartments

Situated just west of Fort Lauderdale, the Plantation Colony Apartments helps brighten living in the Sunshine State with its stylish apartments, luxe amenities and first-rate staff. When it comes to grilling, you'll be greeted with not only a tiki hut and two propane grills but also a smoker. Any self-respecting BBQ lover would be remiss to not take advantage of it and cook perfectly smoked brisket or ribs.


Radius Apartments

Seattle might be known for its coffee, but that doesn't mean you can't show off your searing skills at Radius Apartments. Whenever the sun's out and the weather is warm, head up to the rooftop deck to take in breathtaking views of the Emerald City while cooking delicious slabs of meat on one of the propane grills.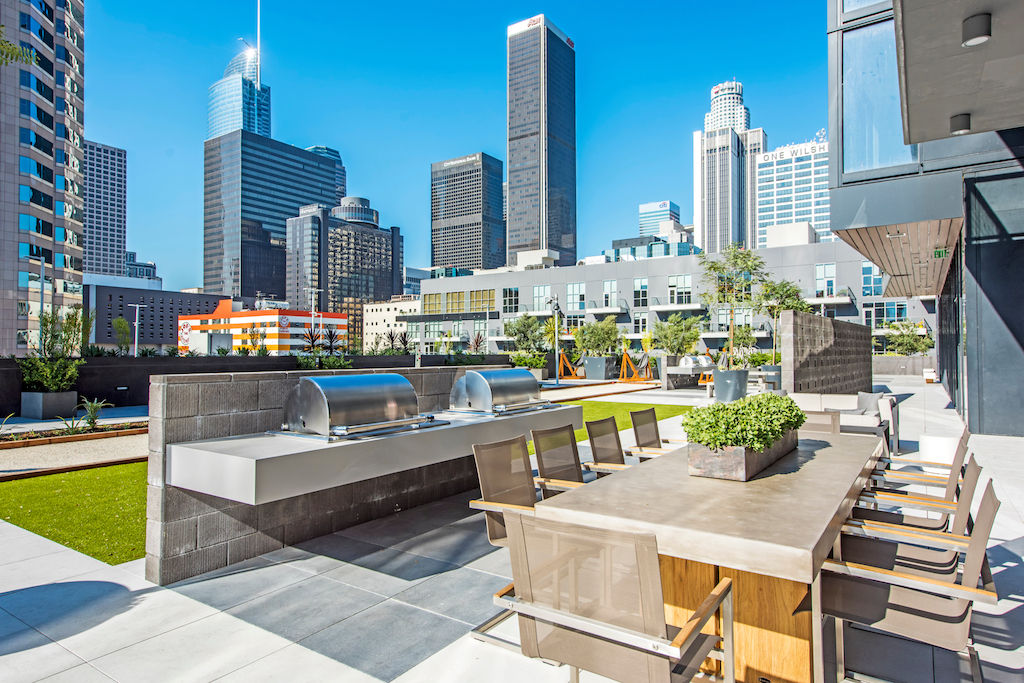 Atelier Apartments

Standing 33 stories high in the midst of Downtown Los Angeles, Atelier Apartments provides the perfect home for anyone looking to revel in the glitz and glamour of La La Land. Take advantage of LA's perfect year-round weather and head to the resort-style pool deck, where you can fire up one of the two propane grills as you marvel at the city views and the apartment community's verdant landscaping.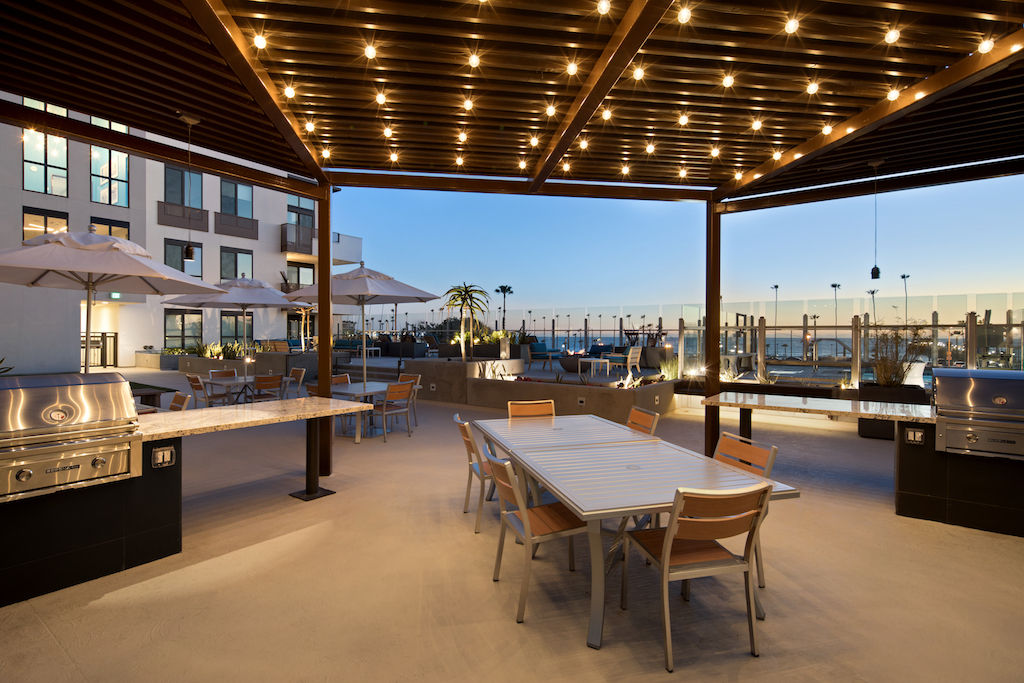 Pierside Apartments

Located just steps away from the picturesque beaches of Oceanside, California, Pierside Apartments makes the perfect home base for soaking up the SoCal lifestyle. After a fun-filled beach outing, head to our thoughtfully landscaped BBQ and picnic area with high-quality propane grills and sleek outdoor furniture.

Other Blogs Posts You Might Be Interested In

• Check out our blog series covering the best BBQ places in America, including Nashville, Kansas City and Texas.
• If attempting to grill a steak results in a final product that looks and tastes more like the charcoal briquettes used to cook it than a delicious meal, check out these tips for summer grilling success.
• After working up a sweat grilling, why not take a dip in your apartment community's pool? Here are 8 ideas for a 5-star staycation at your watering hole.

The information presented on or through this Website is made available solely for general information purposes. We do not warrant the accuracy, completeness, or usefulness of this information. Any reliance you place on such information is strictly at your own risk. We disclaim all liability and responsibility arising from any reliance placed on such materials by you or any other visitor to this Website, or by anyone who may be informed of any of its contents. Any reference to amenities, services, rules, policies, or procedures at a Greystar apartment community is general in nature, and each Greystar apartment community may have amenities, services, rules, policies, and procedures that differ from those referenced on this Website. Please consult with your Greystar apartment community for the exact amenities, services, rules, policies, or procedures applicable.

This Website may include content provided by third parties, including materials provided by other users, bloggers, and third-party licensors, syndicators, aggregators, and/or reporting services. All statements and/or opinions expressed in these materials, and all articles and responses to questions and other content, other than the content provided by Greystar, are solely the opinions and the responsibility of the person or entity providing those materials. These materials do not necessarily reflect the opinion of Greystar. We are not responsible, or liable to you or any third party, for the content or accuracy of any materials provided by any third parties.