Moving Checklist: How to Relocate
For Residents
March 3, 2020
Whether you're moving across the street or the country, moving can be a stressful and nerve-wracking experience. With that in mind, it's not uncommon to make a mistake that can cost you your time, money, and sanity. So, before packing your first box, it's crucial to have an actionable relocation checklist on-hand. Feeling overwhelmed? Of course, you are, which is why we've created this list so that the transition into your new apartment is as seamless and as stress-free as possible.
Choose Your Location Wisely
Whether you already live in a Greystar property or you're considering setting up your home with us for the first time, here's the good news: we have 1,800-plus properties and communities all across the world for you to choose from, so make a list of the detailed features you're looking for — and be sure to include any deal breakers!
Create a "Moving" File
Whether you prefer a Google document or Excel spreadsheet, create a place to store quotes, receipts, and any other records associated with your move so that you can access them at a moment's notice.
Hire Help
Don't choose the first mover you spot in a Google search. Instead, schedule in-home estimates with a few reputable moving companies. Even though you want to save money, know when it's not a good idea to cut corners. While some DIY moves make sense (like a small studio apartment or dorm), don't bite off more than you can chew by trying to move into a larger apartment on your own. Think about it: Can you really disassemble all your furniture and wrap it up correctly? Not to mention, most movers will provide liability coverage if your items get damaged or lost in transit. Lastly, consider the all-encompassing costs of a DIY move that include the packing materials, moving truck (gas, tolls, parking), and the replacement/repair of any broken objects.
If you're relocating overseas, you'll have to obtain quotes from companies that can crate up and ship your goods via boat. No matter which method you need, note that choosing the correct time of day, week, month, and year can save you time and money. Weekdays are typically more cost-effective than weekends because they're less busy, which means your mover is more apt to be on time. Leases usually begin at the beginning or end of the month, so try to schedule a move in the middle instead. While you can't always put off a move because of a busy period, keep in mind that high season for moving takes place between Memorial Day and Labor Day (in the U.S., that is).
Purge
While movers can help, it's up to you to declutter every single room, closet, nook, and cranny before boxing things up. Don't waste your time by packing items that you're going to get rid of as soon as you get to your new apartment. Why not offset some of the moving costs by hosting a garage/estate/tag sale?
Take Inventory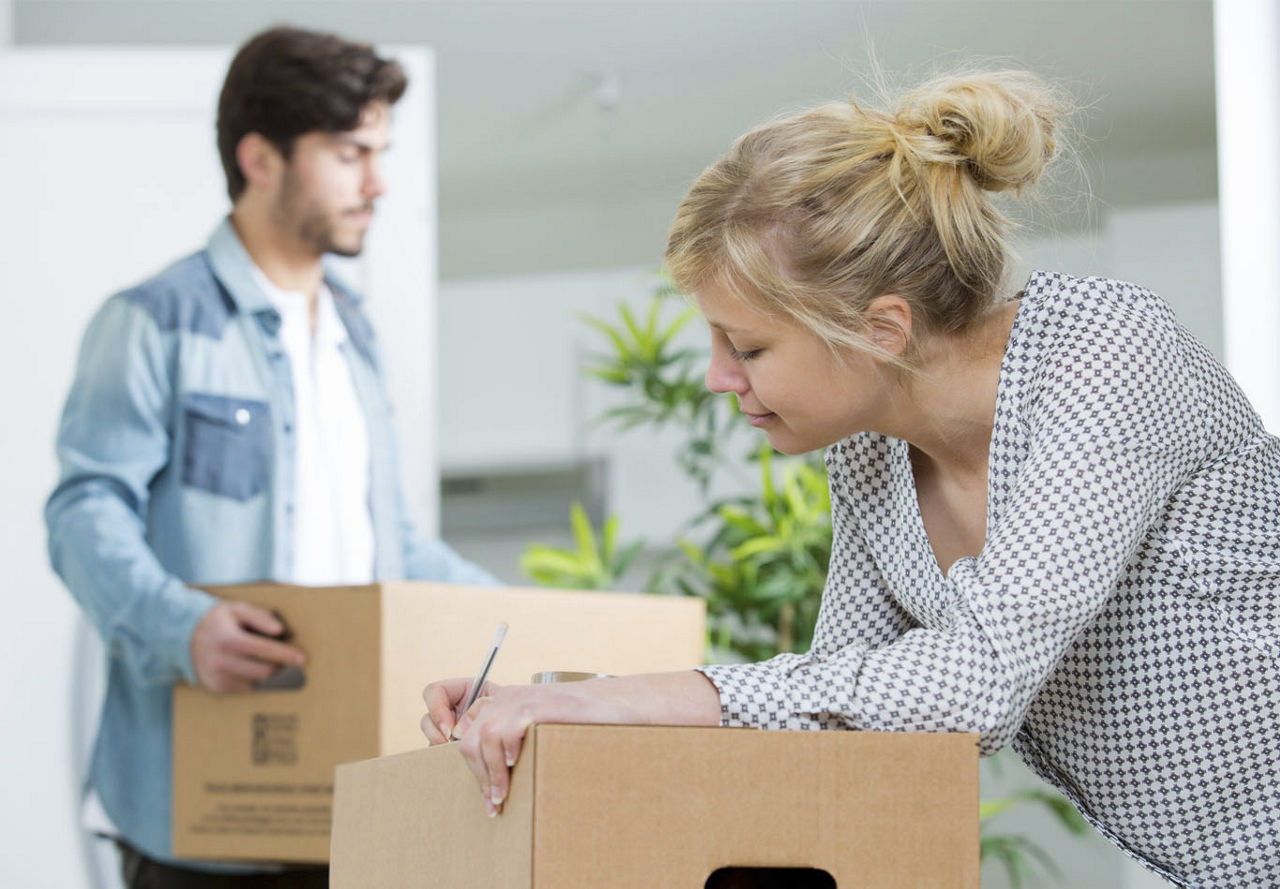 Make it easier for yourself and your movers by taking inventory of everything that's going into each box as you (or a pro) packs up. Don't forget to number and label each box and write which room it should be placed in on move-in day. To help you manage this process, consider downloading an online home inventory app. Regardless of the move, having a comprehensive list of all your possessions is helpful in case you ever need to file a claim with your insurance company due to theft, fire, or a natural disaster.
Make a Change of Address Checklist
Redirecting your mail and notifying pertinent contacts of your new address is something that should be done at least two weeks before your moving date because it can take a couple of weeks for the changeover to kick in. Make a change of address checklist, so you don't forget any federal or state agencies, utility and credit card companies, doctors, school contacts, memberships, etc.
Cancel/Transfer Utilities
If you're relocating to another country, you can simply cancel your utilities — just make sure you're set up with the new utility companies in your new home country at least two days before your scheduled arrival. This may take a little research on your part, so be sure to carve out enough time at least one month in advance of your move. The same rule applies if you're transferring utilities in the same state. This is an important step no matter what your situation is, as you don't want to be double-charged and/or left without electricity or heat/air conditioning on the first day in your new abode.
Make a Plan for Your Pets
You think moving is stressful for you, just imagine how your four-legged friends feel! With that in mind, be sure to make arrangements for your pet(s) before moving day. Once you're in your new home, slowly introduce your pets to their new surroundings — don't rush this process! For cats, only allow them to snoop around one to two rooms before letting them loose within the entire household. Felines typically hate change, so it may take a while for them to come around. Keep up with their identical routine as much as you can, so don't purchase any new blankets, toys, or feeding bowls — the scent of familiar items will help them feel comforted. These items should be close at hand, so don't pack them away.
If possible, ask someone to look after your pets on move-in day so that they aren't wired by all the activity. Otherwise, keep them sequestered in one area with lots of food, water, bedding, and toys. It's also not a bad idea to work on getting a vet lined up in your new hometown, so you're prepared just in case of an emergency. If you're relocating overseas, speak to your vet several months beforehand to be sure you're following all of the required protocols for relocating a pet abroad. It's likely you'll need some style of vaccination and applicable paperwork. It's also advisable to ask for recommendations on the way to travel with a cat or dog on a plane so that it's as stress-free as a process for them as possible. Check with your airline so that you're not blindsided by their rules for flying with animals. Read airline reviews from other pet owners who have flown with their furry friends to see which experience was as stress-free for pet and person alike.
Be Prepared for The First Night
It's unrealistic to think everything is going to be in order the day you move in, so don't forget to pack an essentials box to get you through the first night. Key items to pack include electronics (phone, charger, computer, etc.), keys, credit cards/cash, toilet paper and toiletries, a child and/or pet's favorite toy, pet food, snacks and beverages, candles and matches, all-purpose cleaner, plates and utensils (even disposable), paper towels, a change of clothes, pajamas, pillows, blankets, garbage bags, flashlight, and an emergency kit.
Need all the relocation assistance you can get? Check out these other informative articles.
Don't get caught off guard. Know how to recognize

apartment rental scams

Getting a new roommate? Here's how to give him/her a

warm welcome!

Moving into a small apartment? Check out these tips for

decorating a small space.
The information presented on or through this Website is made available solely for general information purposes. We do not warrant the accuracy, completeness, or usefulness of this information. Any reliance you place on such information is strictly at your own risk. We disclaim all liability and responsibility arising from any reliance placed on such materials by you or any other visitor to this Website, or by anyone who may be informed of any of its contents. Any reference to amenities, services, rules, policies, or procedures at a Greystar apartment community is general in nature, and each Greystar apartment community may have amenities, services, rules, policies, and procedures that differ from those referenced on this Website. Please consult with your Greystar apartment community for the exact amenities, services, rules, policies, or procedures applicable.
This Website may include content provided by third parties, including materials provided by other users, bloggers, and third-party licensors, syndicators, aggregators, and/or reporting services. All statements and/or opinions expressed in these materials, and all articles and responses to questions and other content, other than the content provided by Greystar, are solely the opinions and the responsibility of the person or entity providing those materials. These materials do not necessarily reflect the opinion of Greystar. We are not responsible, or liable to you or any third party, for the content or accuracy of any materials provided by any third parties.