Make Your Apartment Bedroom Great on National Make Your Bed Day
Lifestyle
August 15, 2019
Do you wish your bedroom was a more relaxing and inviting space, but you're unsure of the best way to get there? Are you constantly looking for new ways to make it feel a bit bigger and less cramped? In the world of apartment living, these are issues that come up frequently, especially for those who live in smaller units.

Laura Umansky, founder of Laura U Interior Design, offers her recommendations on how to improve your bedroom's style and functionality to create a greater sense of space and comfort. And since National Make Your Bed Day is coming up on Sept. 11, there's no better time to start thinking about what you might want to update.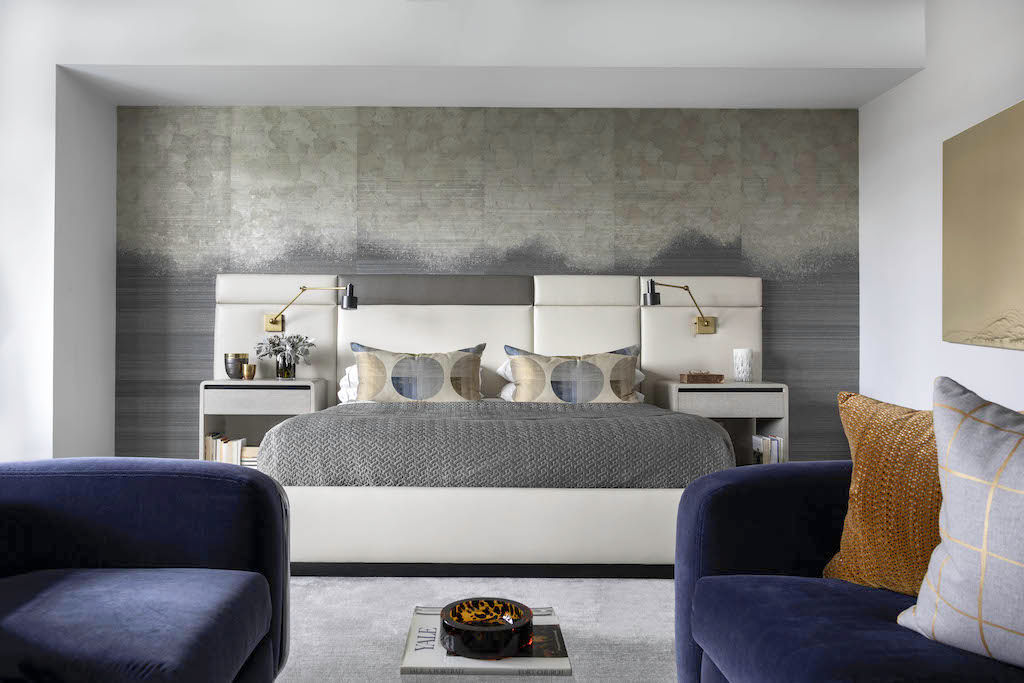 Mattresses

When it comes to the overall comfort of your bedroom, Umansky says the No. 1 thing to address is your mattress quality. It sounds simple, but often people focus on finding the most affordable mattress rather than one that provides exactly what their body needs. While this may help your wallet in the short term, you'll pay for it in the long run with poor sleep and a greater chance for body pain.

Once your mattress situation is settled, it's important to surround it with pieces that compliment it well. "In terms of optimal comfort, both physically and visually, a soft headboard is a must," Umansky says. "I also like a soft frame with rounded corners. Having a comfortable mattress is, of course, important, so it makes sense to surround it with durable, cushioned upholstery that supports you coming in and out of bed."

Pillow Selection

According to Umansky, you'll need not only pillows that match your décor, but also pillows that are used exclusively for sleeping. She recommends full, hard pillows for lift and aesthetic, while using soft pillows for sleeping. You should always keep in mind your preferred sleeping position and select pillows that are made to support your preference.

Whether you prefer to sleep on your back, side or stomach, there are different types of pillows suited for each of us, so always make sure you're buying the right pillow for the best possible sleep experience. Additionally, Umansky recommends buying a few throw pillows that you can change out with changing seasons or trends as a cost-effective way to keep your bedroom feeling fresh and new throughout the year.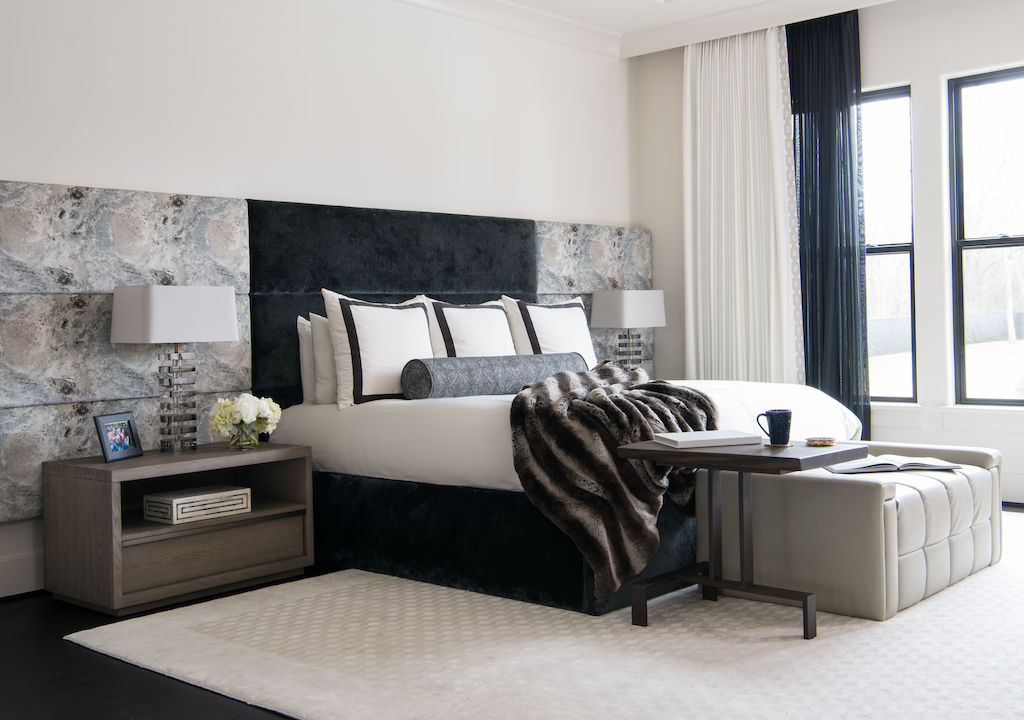 Light Fixtures

In terms of light fixtures, Umansky isn't a huge believer in colored light bulbs. It's commonly believed that using red light in your bedroom can reduce the effects of the blue light you encounter throughout the day, and in turn, lead to higher sleep quality.

However, Umansky said she has yet to see any proven results from such techniques. Instead, she focuses on replacing any canned, or recessed, lights with table lamps, which give off a much more natural ray of light.

Art Above the Bed

Another trend that Umansky advises against is hanging artwork over your bed. While there's nothing wrong with hanging a few statement pieces at eye level around your room, she says hanging them above your bed detracts from your room's main purpose: comfort, relaxation and sleep. Additionally, she says to keep your bold designs and bright colors in other areas of your apartment in order to keep your bedroom itself a bit more subdued.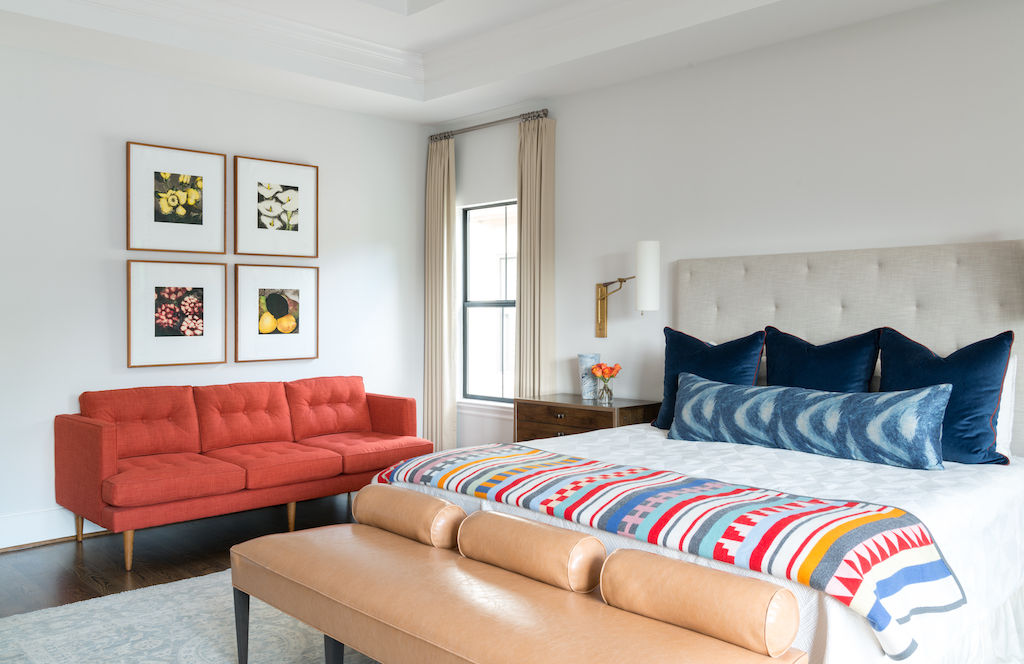 Create Additional Space

If you live in a smaller apartment, it can be hard to make your bedroom feel like the spacious place you truly desire. If your current bedroom feels a bit cramped, it's obviously going to impact your ability to stretch out and relax as much as you want to.

If you're looking for a way to create a greater sense of depth and dimension, Umansky suggests adding mirrors as an efficient way to create the illusion of additional space. Carefully placed floor length mirrors can make your room feel taller by drawing the eye up and directing it around the room. Also, a strategically placed grouping of small, square mirrors on the wall can resemble a window, which helps give the room a light and airy feel.

Another quick way to create space is by simply removing objects that crowd the room. "While it may create a striking aesthetic, smaller rooms don't need a king-sized bed, plus two side tables, a dresser and a console. Keep things simple with fewer pieces," Umansky says.

Dual-function Furniture

In addition to getting rid of unnecessary items, Umansky says you should consider investing in dual-function furniture. A bed that also serves as a storage space can free up quite a bit of extra room, affording you the space you need to finally feel at home. And you don't have to stop with just your bed. You can a choose from a wide variety of multipurpose furniture, including dressers that function as desks, and bookshelves that can be used to hang purses and other small items.

Photo 1 Courtesy of Laura U Interior Design, Photographed by Kerry Kirk
Photo 2 Courtesy of Laura U Interior Design, Photographed by Michael Hunter
Photo 3 Courtesy of Laura U Interior Design, Photographed by Michael Hunter

Other Blogs You Might be Interested in
The information presented on or through this Website is made available solely for general information purposes. We do not warrant the accuracy, completeness, or usefulness of this information. Any reliance you place on such information is strictly at your own risk. We disclaim all liability and responsibility arising from any reliance placed on such materials by you or any other visitor to this Website, or by anyone who may be informed of any of its contents. Any reference to amenities, services, rules, policies, or procedures at a Greystar apartment community is general in nature, and each Greystar apartment community may have amenities, services, rules, policies, and procedures that differ from those referenced on this Website. Please consult with your Greystar apartment community for the exact amenities, services, rules, policies, or procedures applicable.

This Website may include content provided by third parties, including materials provided by other users, bloggers, and third-party licensors, syndicators, aggregators, and/or reporting services. All statements and/or opinions expressed in these materials, and all articles and responses to questions and other content, other than the content provided by Greystar, are solely the opinions and the responsibility of the person or entity providing those materials. These materials do not necessarily reflect the opinion of Greystar. We are not responsible, or liable to you or any third party, for the content or accuracy of any materials provided by any third parties.