Getting an IRS Tax Refund? Why Not Build a Home Theater System in Your Apartment
With the dreaded tax season ending today, you might be patiently waiting for that precious refund to appear in your bank account. The burning question is: What are you going to do with your extra chunk of change? Why not invest in a home theater system for your apartment? It'll breathe new life into your favorite flicks and binge-watching Netflix sessions.
Before you add anything to your shopping cart, though, you need to conquer two roadblocks: apartment space and noise. With help from Carlo Lo Raso, senior editor at Secrets of Home Theater & Hi-Fi, we've compiled a few tips and tricks that are convenient for you and considerate of your apartment neighbors.
Start Out with Compact Speakers
Does size matter? It depends. Bigger is only better if your apartment living room boasts enough square footage to accommodate large speakers. When in doubt, settle for compact gear.
"When living space is small, the best advice I could give is to keep things simple," says Lo Raso. "I would look for equipment and speakers that are compact and can multi-task so, that way, you can keep the electronic 'box count' to a minimum."
Little speakers can easily fill a cozy living area with high-quality sound. Later down the road, you can always upgrade to larger equipment if you move into a bigger apartment or think your current space can handle a speaker enlargement.
At first, start out with a pair of bookshelf speakers and a receiver – like this Yamaha and JBL combo – then gradually add more pieces to your setup. Is patience a virtue you often ignore? Go ahead and buy an all-in-one solution to complete your 5.1 surround sound system. This Pioneer home theater package is a solid choice since it's compact and affordable.
Sound bars are an increasingly popular choice for apartment residents living in quainter spaces. They're slim, sleek and self-powered, which means no receiver is needed. Also, many sound bars, including these Klipsch models, come with subwoofers to beef up the low end of your movies and music. A sound bar, though, cannot match the same immersive listening experience as a 5.1 surround sound system. Still, it's a massive upgrade from the tinny sound of built-in TV speakers.
Mount Your Speakers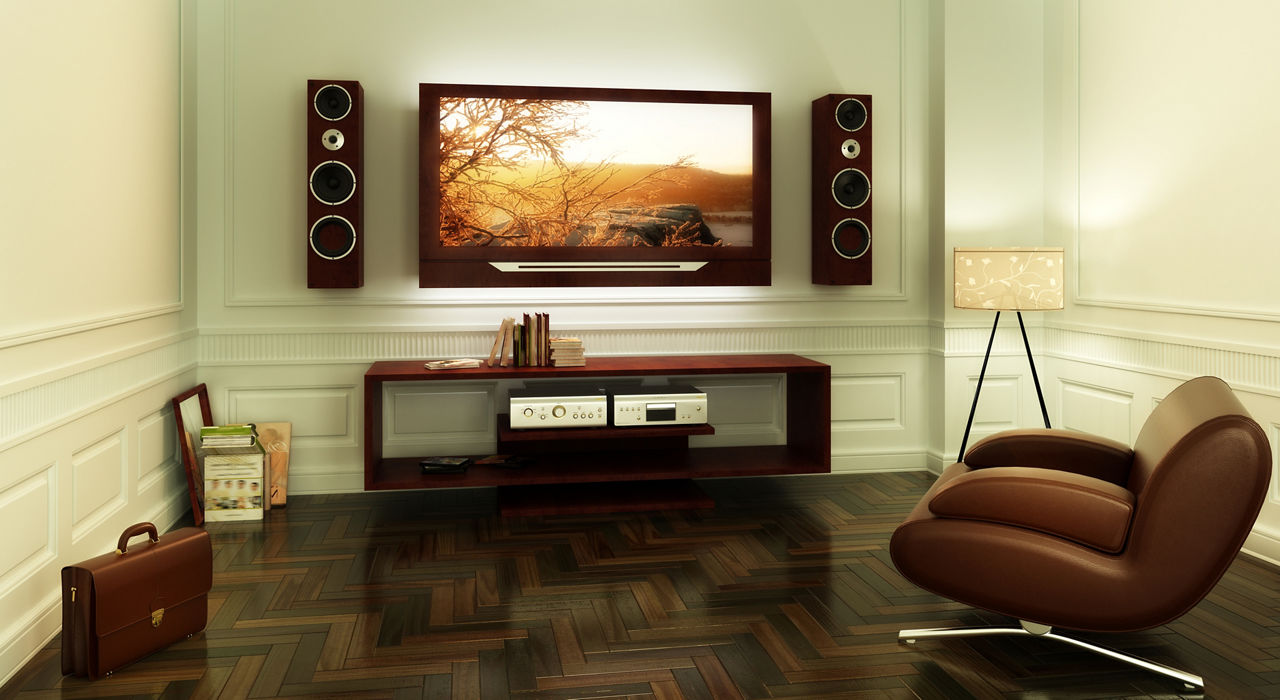 Wall-mounted speakers are excellent for freeing up valuable floor space in your apartment. They also nicely complement any décor. For optimal sound, angle your speakers down toward your sofa. If you opt for a 5.1 surround sound system, put your rear speakers on the wall behind where you'll be seated. Now, before you break out a power drill and go to town on some drywall, make sure to check out a few videos on how to mount speakers without damaging your apartment walls. Excessive holes can put a sizable dent in your security deposit.
"I would not recommend cutting a hole in a wall to mount an in-wall speaker or trying to fish cable through apartment walls," Lo Raso said. "That is just asking for headaches and liability. Also, if you have an adjoining neighbor that shares the same wall that you are thinking of hanging speakers on, have the courtesy to discuss what you are thinking with them. If the wall construction is not particularly well-insulated, they will most likely hear what you are playing, and no one wants an unhappy neighbor!"
When you have your speakers safely mounted, it's time disguise those dangling wires. There are plenty of wire-concealing products at your disposal that blend well with most walls. For seamless concealment, it's best to hide your wires along the top of your baseboards. You can also try tucking wires between the bottom of your baseboard and carpet – if you have it. Just be careful not to damage either or you'll be paying for it.
Unwilling to put in the elbow grease? The next suggestion might be more up your alley.
Consider Cutting the Wires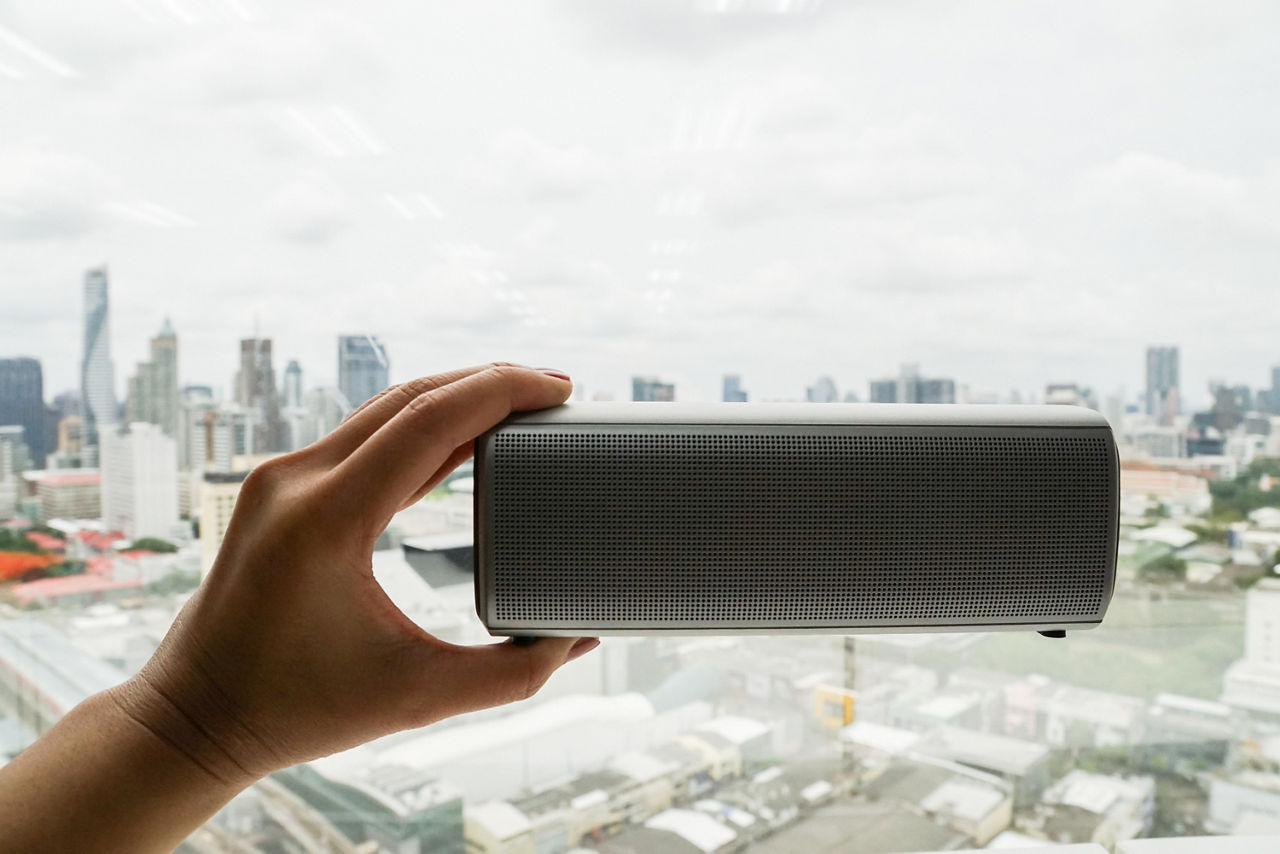 Many diehard audiophiles may argue that wired speakers sound better than wireless speakers because a larger volume of electrical data is easier to transmit through a wire than a wireless signal. In a nutshell, more data equals better sound. But technology, especially Wi-Fi and Bluetooth®, has come a long way since wireless speakers were first introduced. The difference in audio fidelity is subtle, so you would have to listen intently to notice it.
Although wireless speakers have improved over the years, there are still some disadvantages. For one, wireless speakers generally cost more than their wired counterparts. Even if you see a wireless system at a reasonable price, be wary. Some inexpensive models use older technology that can interfere with your Wi-Fi or other wireless products, which may lead to sound degradation.
Also, a "wireless speaker system" is a semi-misnomer. Sure, speaker wires are nowhere to be found, but there is one crucial component of a wireless system that cannot be transmitted over the air: power. Wireless speakers have an AC power cable that must be plugged into an outlet. "What you may save in speaker wire you may have to deal with in extension cords," Lo Raso adds.
Despite these drawbacks, wireless speakers are still way more convenient to install than wired speakers. If your pockets are deep enough, Bose offers wireless home theater setups that are compact and top-of-the-line.
Beware of the Sub
When it comes to building a home theater setup in your apartment, you should always be a good neighbor. Even if your speakers are set at a reasonable volume, the subwoofer is the bass-pumping beast you must tame. This is because low frequencies have longer wavelengths that travel easily through apartment walls and floors. The result? Annoyed neighbors.
To appease your fellow residents, find the smallest sub available – usually 8 inches or 10 inches. Make sure it's front-firing rather than down-firing, which directs the sound waves at the floor. This Yamaha subwoofer could be an effective solution for you.
The next step is decoupling the subwoofer from the floor. "Auralex and IsoAcoustics offer isolation platforms that essentially act as a subwoofer stand," Lo Raso says. "This will help tighten up the bass in a room and minimize vibrations going through walls and the floor."
As far as placement, do not put the sub by a shared wall. Try placing it next to your sofa, so you can quickly lower the volume if things get too loud.
Get Decorative Acoustic Panels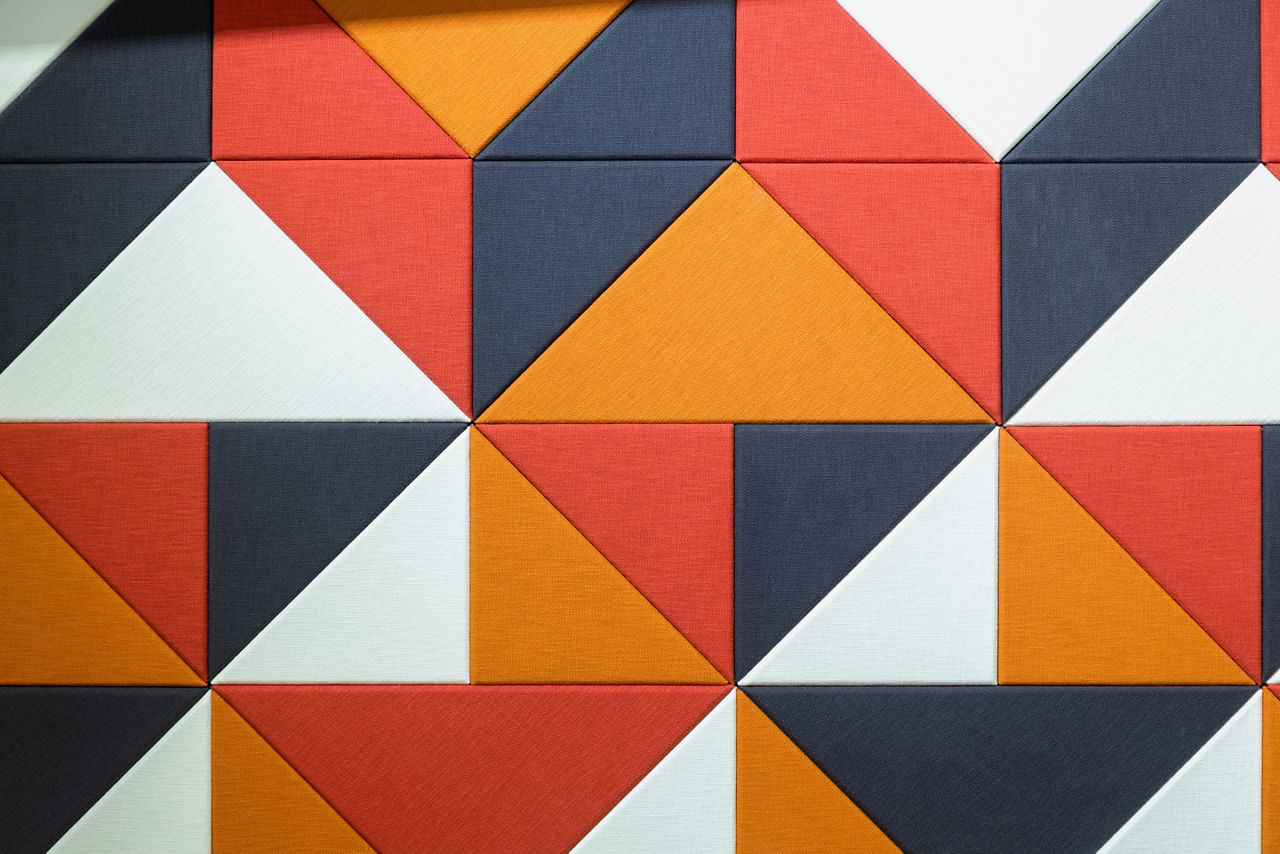 Acoustic treatment combined with wall art? Sounds like the ultimate killing of two birds with one stone. GIK Acoustics provides stylish acoustic panels with unique designs and various finishes to spruce up your apartment décor. A blackout curtain is another versatile accessory to consider putting in your living room since it eliminates TV glare and adds a vibrant pop of color.
To set the record straight, acoustic treatment is not the same as soundproofing. Lo Raso explains: "Acoustic panels help improve the sound of a room only. They won't do much for preventing noise that bothers your neighbors. That has to do more with wall construction and insulation. There are many kinds of products on the market for various applications. They can mostly be broken down into two different types: absorptive and diffusive. Absorptive panels will naturally absorb sound and help reduce unwanted echoes and reflections from hard surfaces. Diffusive panels break up and distribute sound waves to help create a more open and less localized sound. Common practice is to use a combination of both types of panels in a room to achieve a good and balanced overall sound."
Don't get on your apartment management team's bad side by playing your music too loud on your new sound system. Here are a few tips on ways to build an even better relationship with your manager.
The information presented on or through this Website is made available solely for general information purposes. We do not warrant the accuracy, completeness, or usefulness of this information. Any reliance you place on such information is strictly at your own risk. We disclaim all liability and responsibility arising from any reliance placed on such materials by you or any other visitor to this Website, or by anyone who may be informed of any of its contents. Any reference to amenities, services, rules, policies, or procedures at a Greystar apartment community is general in nature, and each Greystar apartment community may have amenities, services, rules, policies, and procedures that differ from those referenced on this Website. Please consult with your Greystar apartment community for the exact amenities, services, rules, policies, or procedures applicable.
This Website may include content provided by third parties, including materials provided by other users, bloggers, and third-party licensors, syndicators, aggregators, and/or reporting services. All statements and/or opinions expressed in these materials, and all articles and responses to questions and other content, other than the content provided by Greystar, are solely the opinions and the responsibility of the person or entity providing those materials. These materials do not necessarily reflect the opinion of Greystar. We are not responsible, or liable to you or any third party, for the content or accuracy of any materials provided by any third parties.