Curious what your friend is paying? Here are details on average 1-bedroom rent in our top 15 markets
There are certain things you just don't ask about. When it comes to how much cash your buddy is pulling in at his or her new job or the price of the sparkler on your cousin's left ring finger, sometimes it's more tactful to ponder than to inquire outright. Another touchy subject? The amount your friends are paying each month for rent. But don't fret! We've put together some facts and figures from our top 15 markets so that you can stay informed without having to commit a serious faux pas.
We based our statistics on one-bedroom apartments because they offer the perfect combination of space and efficiency – a balance that is highly appealing to many types of renters. Singles and couples alike have more than enough room to spread out, and there's no shortage of space for entertaining friends. With defined areas for cooking, sleeping and relaxing, one-bedroom apartments make it easy to keep a home that's as clean as it is comfortable.
From the Bay Area to Boston, see what your friends around the U.S. are likely paying for their pads – but remember, you didn't hear it from us.
1. Seattle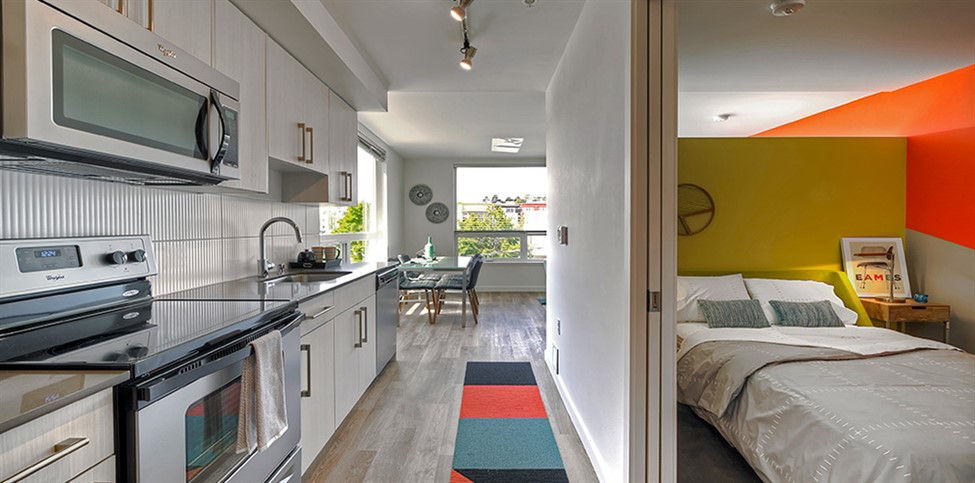 Ray Apartments in Seattle, Washington
In exchange for easy access to fascinating art museums and fresh seafood at Pike Place Market, your friends in this picturesque Pacific Northwestern city are paying anywhere from less than $1,000 to more than $3,000 per month.
One-Bedroom Low: $810
One-Bedroom High: $3,798
Average Square Footage: 685
2. San Francisco
Your loved ones in San Francisco probably work for a startup, are very particular about their coffee and hate it when you refer to their city as Frisco. Their rent may seem a bit pricey to you, but they save a lot of gas money by taking the BART to work.
One-Bedroom Low: $1,070
One-Bedroom High: $4,165
Average Square Footage: 688
3. Los Angeles
Whether your L.A. friends are struggling actors/actresses or have already made it big in the entertainment industry, they probably had no problem finding a Greystar apartment. In addition to beloved parks, restaurants and pro sports teams, the City of Angels offers a wide range of apartments for budgets of all sizes.
One-Bedroom Low: $921
One-Bedroom High: $5,345
Average Square Footage: 742
4. Phoenix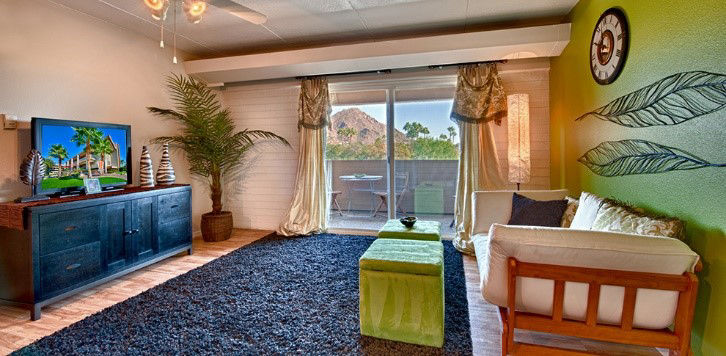 Capri on Camelback in Phoenix, Arizona
As if year-round sunshine, spectacular golf courses, thrilling nightlife and gorgeous mountain vistas didn't sound tempting enough, Arizona's capital city also boasts a remarkably reasonable cost of living. Are you jealous, yet?
One-Bedroom Low: $414
One-Bedroom High: $1,598
Average Square Footage: 707
5. Denver
With all of the skiing and snowboarding photos your Denver friends post on social media, it might be hard to tell if they even have jobs. Turns out, with Denver's lower-than-average apartment prices, taking a day off here and there might not mean coming up short on rent!
One-Bedroom Low: $509
One-Bedroom High: $2,780
Average Square Footage: 735
6. Dallas
Everything's bigger but the cost of living in this sprawling North Texas city, home to flourishing dining and nightlife scenes, one of the country's most beautiful skylines and – of course – America's favorite team, the Dallas Cowboys.
One-Bedroom Low: $490
One-Bedroom High: $2,731
Average Square Footage: 755
7. Houston
The most populous city in the Lone Star State, Houston is a little more expensive than Dallas, but the spectacular shopping centers, world-class museums and the cutting-edge NASA Johnson Space Center make it all worthwhile.
One-Bedroom Low: $581
One-Bedroom High: $2,662
Average Square Footage: 756
8. Austin
The Kenzie at The Domain in Austin, Texas
Known as the state's weirdest city – in a good way – this Texas Hill Country town is renowned for its tasty tacos and picturesque parks. Rent starts at just over $800, so think of all the money your friends save by not having to fly in to music festivals!
One-Bedroom Low: $821
One-Bedroom High: $2,255
Average Square Footage: 751
9. Chicago
The largest city in the Midwest by a landslide, Chicago is practically paradise for anyone who loves pro sports, deep-dish pizza and chilly winters. It's the perfect compromise for renters who desire a cosmopolitan lifestyle without the hefty price tag that usually accompanies big-city living.
One-Bedroom Low: $772
One-Bedroom High: $2,915
Average Square Footage: 778
10. Miami
This beachfront city is a hub of colorful Cuban culture and beautiful art, making it the perfect retreat for creative types who appreciate a hint of Caribbean flair. Being close to the beach comes at a price, but from the looks of your friends' Snapchats, it's worth it.
One-Bedroom Low: $907
One-Bedroom High: $3,039
Average Square Footage: 816
11. Atlanta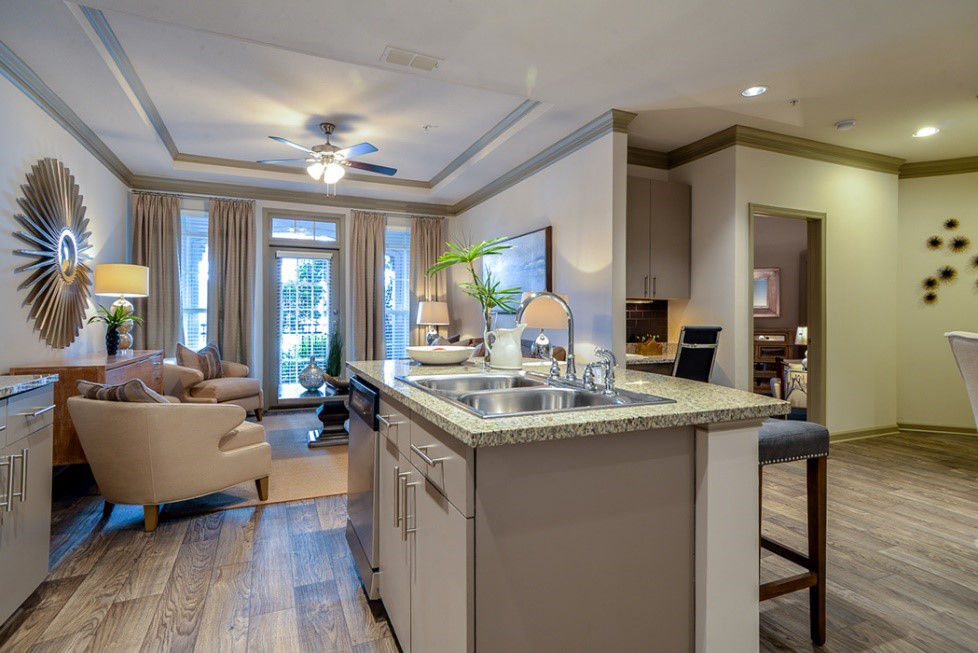 Avana Uptown in Atlanta, Georgia
One of the South's largest and most vibrant cities, Atlanta offers an array of shopping and nightlife as well as one-of-a-kind attractions and historic sites. Your ATL friends have to deal with some pretty steamy summers, but with one-bedroom apartments starting at a cool $675 per month, the heat is easy to get used to.
One-Bedroom Low: $675
One-Bedroom High: $2,415
Average Square Footage: 822
12. Charlotte
This beautiful Southeastern city is home to the Carolina Panthers, dozens of family-owned breweries and some of the most underrated museums in the country. And with rent prices starting at under $600, your Charlotte friends likely have plenty of disposable income to spend out on the town.
One-Bedroom Low: $590
One-Bedroom High: $2,880
Average Square Footage: 772
13. Baltimore
Art, history and charming shopping and dining come together in this beautiful harbor city just an hour north of Washington, D.C. One-bedroom prices top off around $2,200, which might explain why your friend was able to splurge for a luxury loft.
One-Bedroom Low: $906
One-Bedroom High: $2,165
Average Square Footage: 750
14. New York
The Union at Lyndhurst in Lyndhurst, New Jersey
Without a doubt the country's most iconic city, NYC is beloved for its dynamic theater scene, captivating museums, towering skyscrapers and diverse blend of cultural influences. And contrary to popular opinion, there are reasonably priced, decently sized apartments in the area, so if your friend lives in a shoebox, they might just not know where to look.
One-Bedroom Low: $725
One-Bedroom High: $4,990
Average Square Footage: 769
15. Boston
From shopping and nightlife at Faneuil Hall to fascinating history along the illustrious Freedom Trail, there's something for everyone in Massachusetts' capital and largest city. One-bedroom apartments start at under $400 per month, leaving your Beantown buddies less bean counters and more Red Sox fans.
One-Bedroom Low: $361
One-Bedroom High: $3,800
Average Square Footage: 657
Now that you've got the scoop on how much rent your friends or loved ones are paying, you can move on to more important things, like figuring out if that's really your coworker's natural hair color. Best of luck! If your detective work ever requires relocation, contact Greystar to find an apartment that meets your unique needs.
Note: Pricing and square footage averages are based on apartments in the entire metro area.