Greystar Ranks in the Top 5 in the National Multifamily Housing Council (NMHC) in Four Categories
Press Release
April 12, 2023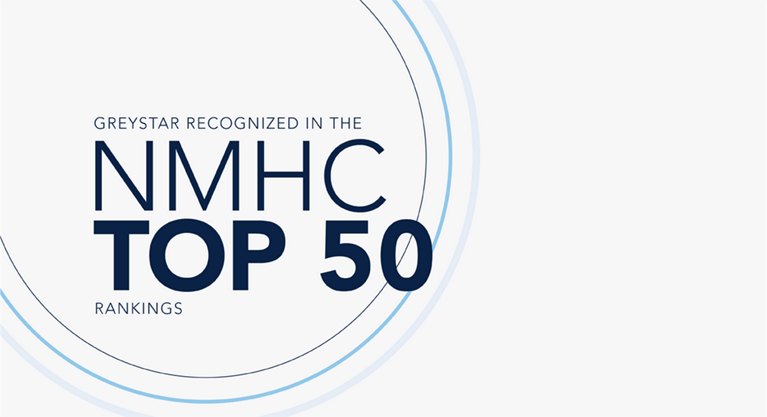 Charleston, S.C. – April 12, 2023 – Greystar Real Estate Partners, LLC ("Greystar"), a global leader in the investment, development, and management of rental housing properties, is pleased to announce that it has been recognized as the largest apartment manager for the thirteenth consecutive year in the National Multifamily Housing Council's 34th annual 2023 NMHC 50, the authoritative ranking of the nation's top apartment owners, managers, developers, builders, and more.
In addition to being the largest manager, Greystar was recognized as the second largest developer, the second top owner, and was also recognized in the top five largest builders' list.
"Greystar's success in the four categories in which we are ranked is a testament to the amazing team that continues to drive the growth of Greystar," said Bob Faith, Founder, Chairman, and CEO of Greystar. "Our team members have a relentless focus on serving residents, partners, and clients, and as we celebrate Greystar's thirtieth year, we couldn't be more excited for the road ahead."
Strong year-over-year growth globally through 2022 strengthened Greystar's dominant market position. Through a range of deals, acquisitions, and a focus on resources that allow teams to continue to drive future success, Greystar is well-prepared for shifting trends in housing. Some of the factors that contributed to Greystar being named the largest apartment manager include:
• More than 726,000 rental housing units and beds under management in the US in 2022
• 2,795 communities managed in the US in 2022
• $250+ billion value of managed and owned portfolio globally
Greystar's development and construction business also continues to lead in the NMHC rankings. Some of the contributing factors include:
• 11,695 units started as a developer and 10,827 units started as an apartment contractor/builder in 2022
• Over $29 billion of global development assets and nearly $12.5 billion of global development pursuit
• Capitalized $16.4 billion as a general contractor
Greystar continues to pursue new opportunities to scale portfolios in credit, logistics, single-family rental, life sciences, and more. Some of the top deals that contributed to Greystar's position as a Top Owner in 2022 include:
• Successfully syndicated two portfolios for $1.24B of equity
• Continued to expand our US credit platform with nearly $1 billion closed
• Successfully completed Thackeray's capital raise with $296M
• Established a robust and national logistics portfolio, across 12M+ square feet in 12 markets and secured logistics pipeline across 6 markets and over 4M square feet
• Committed $1.6 billion to Life Sciences Investments
• Recapped a large asset in NYC totaling $150M of equity
About Greystar
Greystar is a leading, fully integrated global real estate company offering expertise in property
management, investment management, development, and construction services in institutional quality
rental housing, logistics, and life sciences sectors. Headquartered in Charleston, South Carolina,
Greystar manages and operates more than $250 billion of real estate in 234 markets globally with offices
throughout North America, Europe, South America, and the Asia-Pacific region. Greystar is the largest
operator of apartments in the United States, manages more than 817,000 units/beds globally, and has
a robust institutional investment management platform comprised of more than $69 billion of assets
under management, including over $29 billion of development assets. Greystar was founded by Bob
Faith in 1993 to become a provider of world-class service in the rental residential real estate business.
To learn more, visit www.greystar.com.

About NMHC Rankings
All apartment owners, managers, developers, builders, and syndicators are invited to answer a survey questionnaire that asks about their prior year's activities. Apartment owners, managers and syndicators are ranked based on their portfolio holdings (either owned, managed, or syndicated) as of January 1, 2023, while developers and builders are ranked based on the number of apartment units started in 2022. Greystar pays a nominal subscription fee to NMHC unrelated to these awards.
For more details about the NMHC 50 and the methodology behind the rankings, visit NMHC's website.
Greystar Media Inquiries
Liza Kunkel