How to Meet New People in Your Greystar Student Community
Community Life
March 16, 2022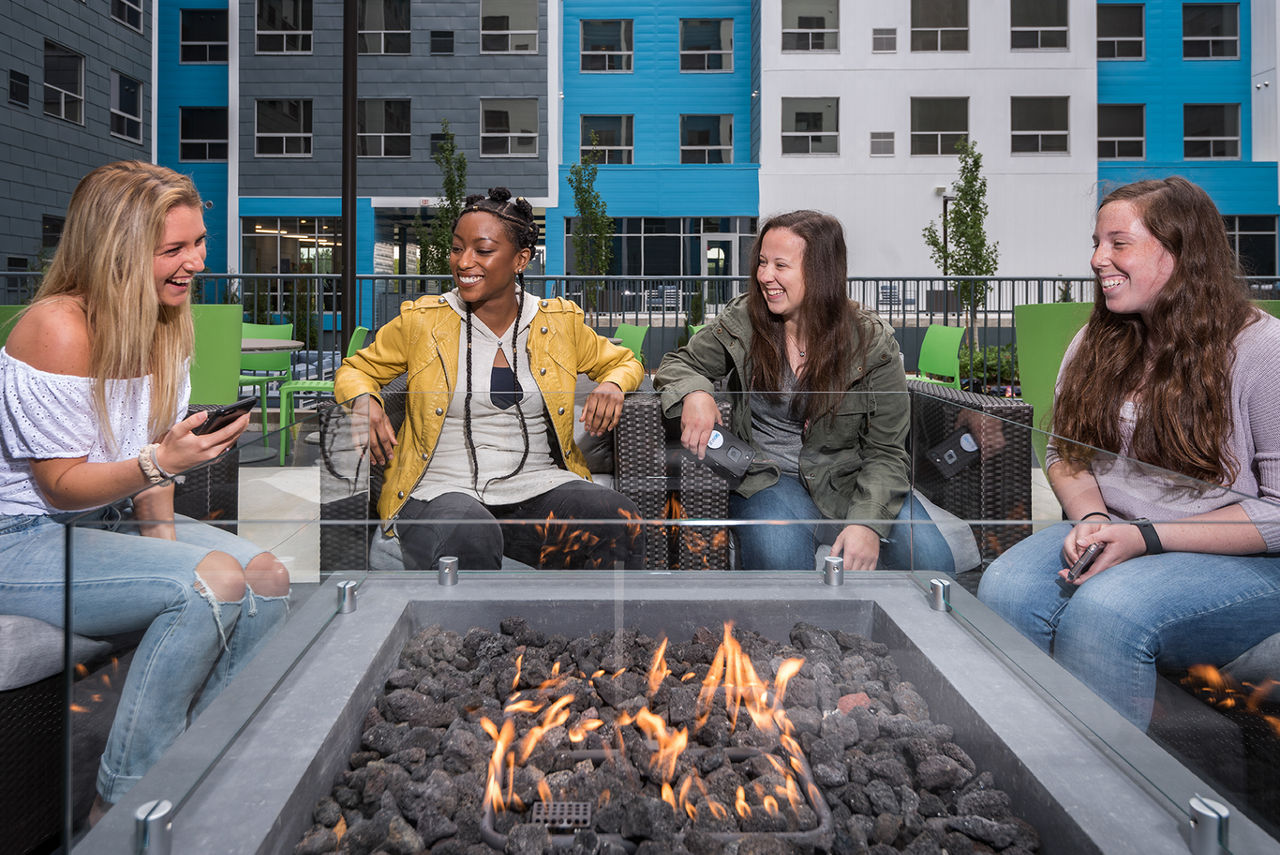 (Skyvue, Lansing, Michigan, USA)
Heading off to college is a BIG move. It can be an intimidating (and exciting!) adventure. Maybe you're living on your own for the first time and learning how to balance school, work, and a social life. Maybe you're feeling homesick and missing the familiarity of high school and your childhood friends. Even if your college is in the same town where you grew up, starting a new chapter like moving out is a great time to widen your circle and meet new people… and settling into a Greystar community is the perfect first step.

If you're not in class, then odds are you're in your apartment. Living in a Greystar community is great because of the spontaneous social interaction it invites—whether it's hanging out in the common areas doing homework, lounging by the pool, or staging an impromptu Nerf battle at 2 am on a Tuesday. It's a fertile ground for meaningful friendships. And while you can't force or manufacture friendship, you can seek and cultivate it. That's why we've put together some top tips to meet new people in your Greystar community.

1. Hit up the community events.
Greystar communities intentionally plan events and gatherings for their residents so that you can meet new friends. If you find a couple people you vibe with, you can all make plans to go to the next one together.
COLAB—located in downtown Denver near CCD, MSU, and CU Denver—holds weekly resident events to engage and inspire its residents in addition to a heated indoor pool, gym, rooftop deck, and dedicated spaces for both studying and relaxing.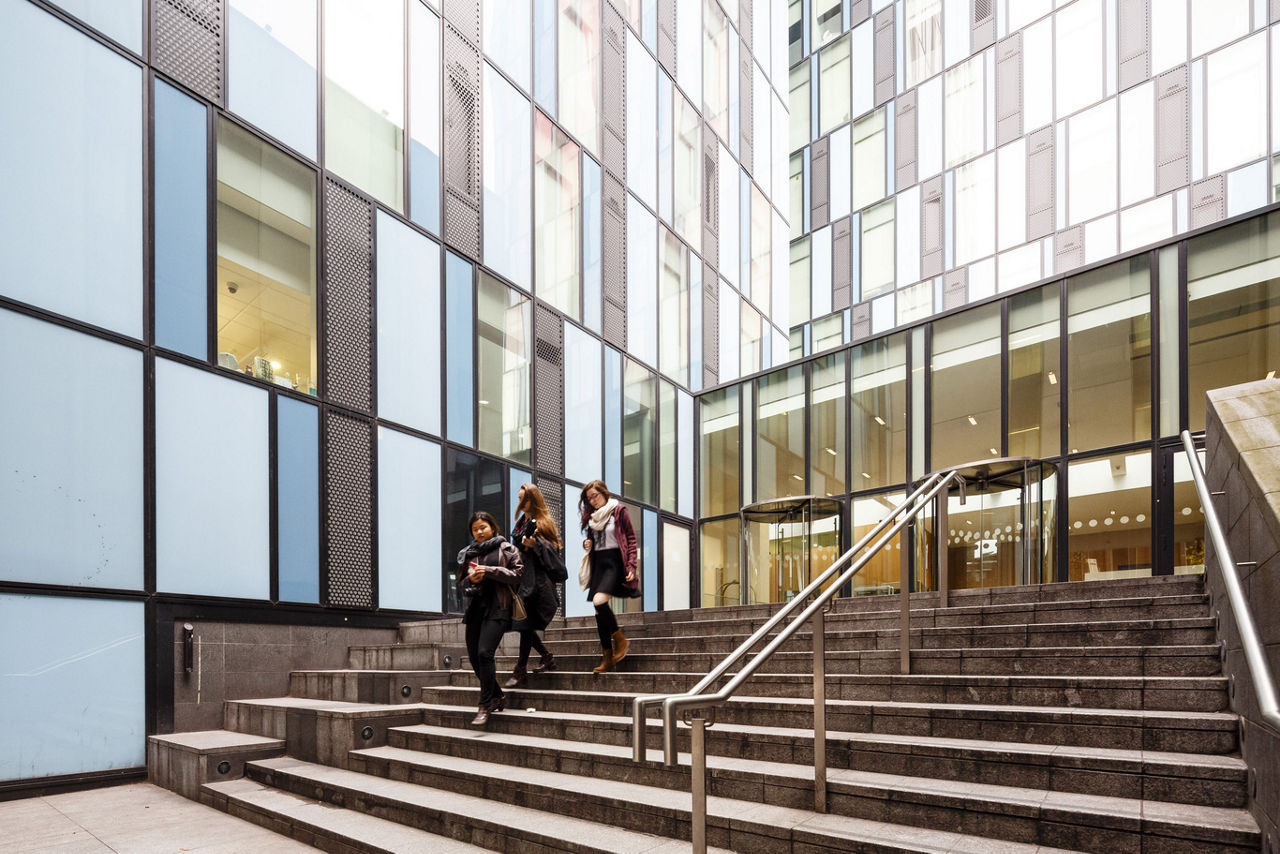 (Chapter Kings Cross, London, England, UK)
2. Get to know your neighbors.
Living in an apartment community takes the guesswork out of who to introduce yourself to, but we know how hard it can be to step outside of your comfort zone. But seriously, go ahead and knock on your neighbor's door and ask them if they want to grab coffee with you in the social spaces.

Chapter Kings Cross in North London offers plenty of amenities for you and your neighbors to get to know each other, including study spaces, a games area, and a cinema. And with Kings Cross station close by, traveling around London and further afield is easy.

3. Hang out in the common areas.
The fitness center, pool, clubhouse, or study areas are great places to hang out and make friends. If you're not too busy studying, you can bring snacks and board or card games and make instant friends looking for something fun to do.
At Hub Madison, just seconds away from the University of Wisconsin, residents not only have access to an on-site spa and sauna, yoga studio, and pool, they can also hit up their community volleyball court, business center, TV lounge, or Jumbo Tron for common areas that help to make lifelong friendships and grow as a student.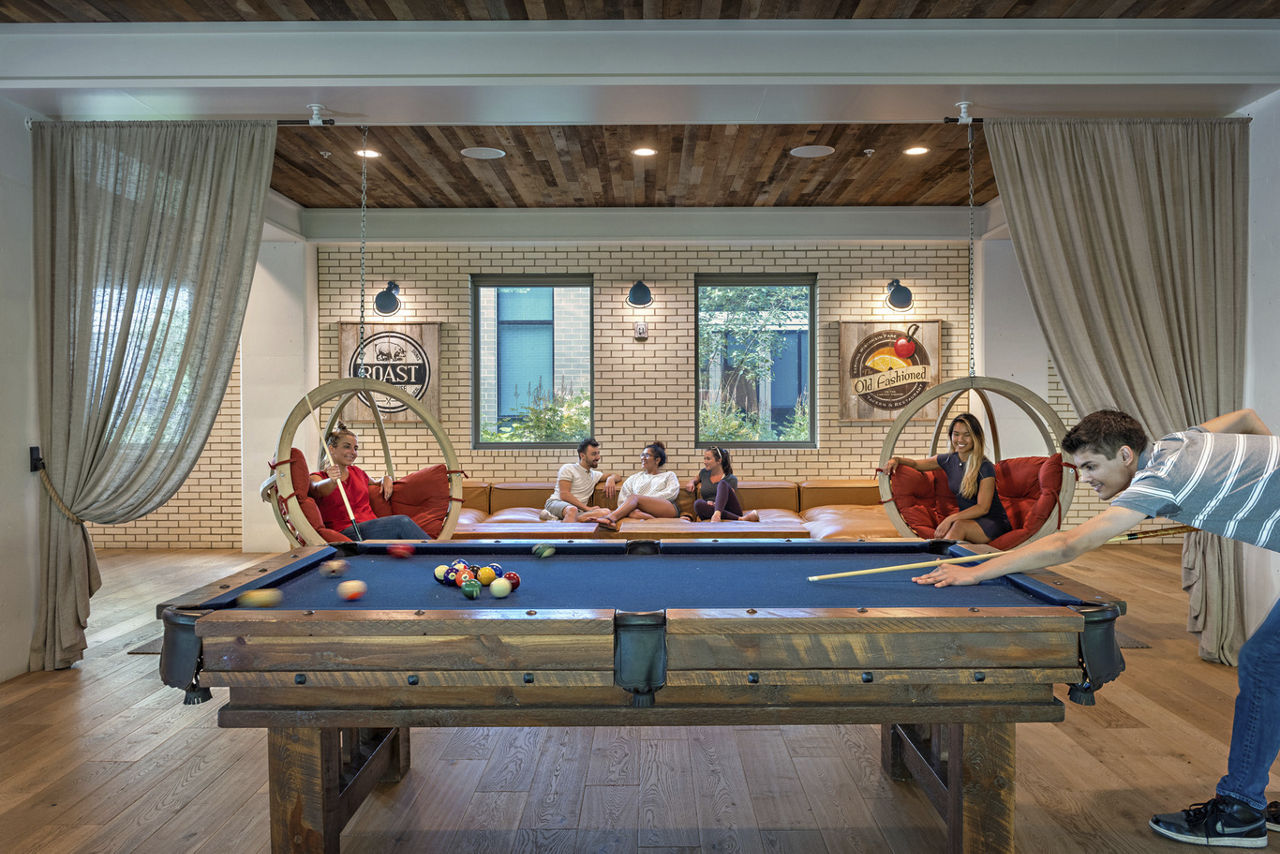 (Hub Madison, Madison, Wisconsin, USA)
4. Eat meals with people.

Throughout history, people have bonded over food. College is no different; a meal is a great way to get closer to a new friend or chat with an old one.

On-campus housing at Sacramento State Hornet Commons boasts their Live here, Live well program that promotes proper nutrition, an active lifestyle, and overall wellness through amenities like bocce ball, a half basketball court, a sundeck and hammocks. Go grab a bite and come back to a shared amenity, or invite your new friends to your place for a homemade feast.

5. Be yourself.
Turns out, your parents were right. Don't worry about trying to fit in. Just be your friendly self and be open about your interests and experiences and you'll attract compatible best friends.

We know. Consciously seeking out new friends can feel a little awkward at first. Just remind yourself that everyone else is probably just as nervous as you are, so if you can muster up the courage to get a conversation going, they'll most likely be super grateful and friendly in return.
The information presented on or through this Website is made available solely for general information purposes. We do not warrant the accuracy, completeness, or usefulness of this information. Any reliance you place on such information is strictly at your own risk. We disclaim all liability and responsibility arising from any reliance placed on such materials by you or any other visitor to this Website, or by anyone who may be informed of any of its contents. Any reference to amenities, services, rules, policies, or procedures at a Greystar apartment community is general in nature, and each Greystar apartment community may have amenities, services, rules, policies, and procedures that differ from those referenced on this Website. Please consult with your Greystar apartment community for the exact amenities, services, rules, policies, or procedures applicable.

This Website may include content provided by third parties, including materials provided by other users, bloggers, and third-party licensors, syndicators, aggregators, and/or reporting services. All statements and/or opinions expressed in these materials, and all articles and responses to questions and other content, other than the content provided by Greystar, are solely the opinions and the responsibility of the person or entity providing those materials. These materials do not necessarily reflect the opinion of Greystar. We are not responsible, or liable to you or any third party, for the content or accuracy of any materials provided by any third parties.