Unleash the Fun at These Top Dog-Friendly Spots in Scottsdale, Arizona
For Residents
April 24, 2019
Dogs and their owners live happily ever after in Scottsdale, Arizona, with plenty of blue skies and sunshine to keep life outdoors active when desired and leisurely when tired. The city, which has a very decent average walkability score of 32, makes it easy for you and your dog to get from one place to another together – on foot.
No matter if you live in an apartment, house, condo or townhome, here's how to keep a dog-friendly lifestyle in Scottsdale.
Dog-Friendly Dining
There's nothing quite like petting your pup on a patio while chowing down on some delicious cuisine. In Scottsdale, it's a piece of cake finding the right balance for you and your canine buddy, as the city has a whopping 117 dog-friendly restaurants and bars. That means outdoor patios galore!
After spending a beautiful day in Old Town Scottsdale, stop at Brat Haus, one of the best casual lunch and dinner spots in town. With a wide variety of brats, burgers, salads and sides all made from scratch and inspired by European food craftsmen, Brat Haus welcomes you and your pup for a fun time and prime, easy-going grub. Enjoy the open-air patio full of games including bag toss, ping pong, darts and life-size Jenga. There's even a dog menu, which offers pork-n-chicken brats and dog "beer." To take it further, they'll throw a "pawsitively perfect party" for your pup's birthday, which includes spent grain dog treats, dog beer by Good Boy Dog Beer, dog brats, party hats and a backdrop for photos.
For the furry and fancy, enjoy the feel of timeless elegance at the Mediterranean restaurant Olive & Ivy. The menu is made up mouthwatering dishes that will "transport you to the warm, relaxing French Riviera." Enjoy dishes such as sea scallops and lamb meatballs before experiencing the delight of freshly baked pastries from the restaurant's Marketplace, which also offers complimentary doggie bones. Cocktails, bubblies, craft beers and bold red wines are available for the perfect springtime happy hour on the large sunlit patio.
Other great dog-friendly patio options, as recommended by Experience Scottsdale, include the healthy choice, Farm & Craft; another Mediterranean option, Virtù; the breakfast and lunch hot spot Daily Dose; and premier venue for craft beer and wood-fired pizza, Craft 64.
A Very Furry Shopping Spree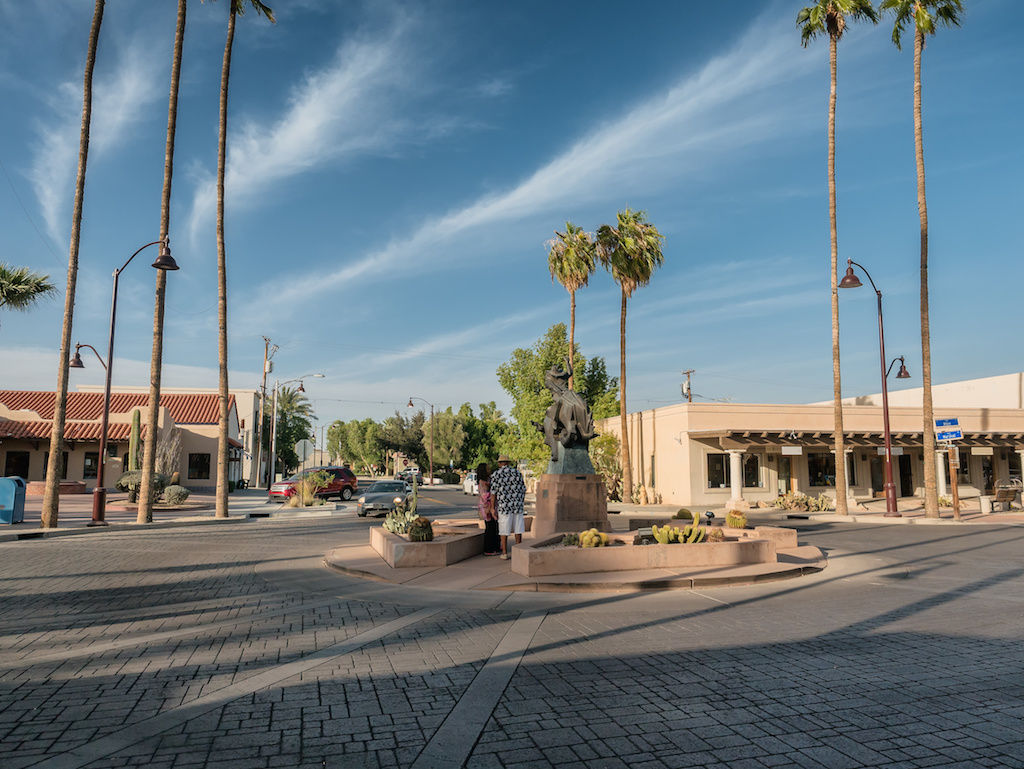 Scottsdale shopping will not leave you - or your dog - wanting. With 17 dog-friendly shopping centers, you and your pup can get some serious items checked off the to-do list on a sunny Saturday or Sunday. Experience Scottsdale recommends starting your excursion at the Scottsdale Quarter, a 28-acre mixed-use shopping center that combines retail, restaurant and entertainment options. It's a center of diverse architecture and lush landscaping where you can catch a movie, grab a bite and snag some awesome deals at various shops. The Quarter hosts tons of events, especially for the pups, including Paws at the Patio in partnership with the Arizona Humane Society.
At Kierland Commons, you'll experience an upscale destination that blends shopping, dining and entertainment in an intimate, outdoor and dog-friendly setting. The development incorporates around 70 high-end stores, as well as a variety of the valley's consistently ranked best restaurants with patio dining, such as The Greene House, The Mission, and Postino Wine Café.
In Old Town Scottsdale, you'll find the locally beloved 5th Avenue Shops and Boutiques, a spot especially known for artistic interests, souvenir hunting and eclectic accessories. Often referred to as one of the nicest places to walk around in Old Town, it's full of quaint cottage shops and a western artistic presence, which makes it pleasant to spend the day, especially with your furry pal. The center is also raved about for its convenient free public parking, a nice perk for bringing the dog along for the ride.
Other dog-friendly shopping opportunities include the Pavilions at Talking Stick, where you'll find Scottsdale Doggie Suites, a Petco and restaurants with pet-friendly seating. Singh Farms is a place for lovers of fresh produce, planting gardens and petting the animals (your dog included).
Dog Parks Worth Barking For
Why should humans have all the fun? Scottsdale has got plenty of parks for your pups to pounce, roll, sprint and leap. In fact, for every 100,000 residents in Scottsdale, there are 1.3 dog parks.
Chaparral Park, Scottsdale's most popular dog park, is made up of 4 acres of off-leash doggie fun. Imagine the possibilities for your pup as he plays in the grass frolic zones and turf areas or on the play features and water fountains. With plenty of seating for people, owners can watch their dogs roam free. Specialized areas are available for other types of dogs.
Then, you can get back in touch with nature and your pet by visiting Scottsdale's McDowell Sonoran Preserve, approximately 30,500 acres of protected Sonoran Desert land. Miles of untouched terrain awaits, perfect for leisurely walks with your best friend and some more challenging hikes to get the body working. Dogs can be on or off a leash.
For a well-rounded outdoor experience for you and your doggo (on or off the leash), take a walk through the Arizona Canal Path, which is one of the longest multi-use trails in the county. Paved at some parts and unpaved at others, the trail is perfect for biking, skating, walking and running. Located between both sides of the Arizona Canal, the path also provides access to many residences, commercial centers and other recreational options perfect for you and your pet.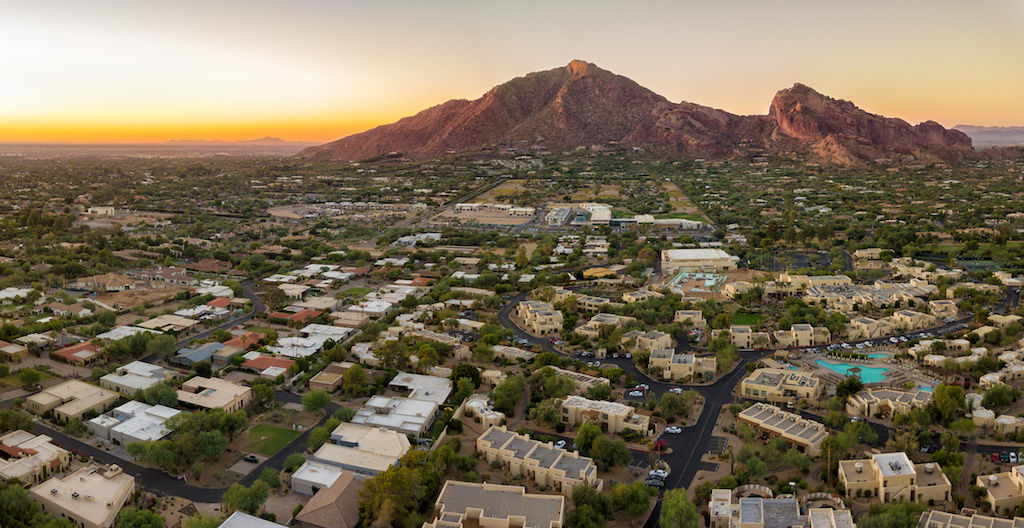 Unleash the Fun With These Additional Blog Posts Of Interest
The information presented on or through this Website is made available solely for general information purposes. We do not warrant the accuracy, completeness, or usefulness of this information. Any reliance you place on such information is strictly at your own risk. We disclaim all liability and responsibility arising from any reliance placed on such materials by you or any other visitor to this Website, or by anyone who may be informed of any of its contents. Any reference to amenities, services, rules, policies, or procedures at a Greystar apartment community is general in nature, and each Greystar apartment community may have amenities, services, rules, policies, and procedures that differ from those referenced on this Website. Please consult with your Greystar apartment community for the exact amenities, services, rules, policies, or procedures applicable.
This Website may include content provided by third parties, including materials provided by other users, bloggers, and third-party licensors, syndicators, aggregators, and/or reporting services. All statements and/or opinions expressed in these materials, and all articles and responses to questions and other content, other than the content provided by Greystar, are solely the opinions and the responsibility of the person or entity providing those materials. These materials do not necessarily reflect the opinion of Greystar. We are not responsible, or liable to you or any third party, for the content or accuracy of any materials provided by any third parties.