Fall Cleaning Tips and Checklist: The Kitchen
Lifestyle
September 1, 2018
Not much can compare to the aroma of fall. Whether it's the scent of cooler mornings or fresh baked apple pie (now that you can bake without heating up the kitchen), autumn offers a time of coziness and transition. Giving your apartment a refreshing fall cleaning – from the living room to the bedroom to the closet – can help you make the seasonal transition
The Kitchen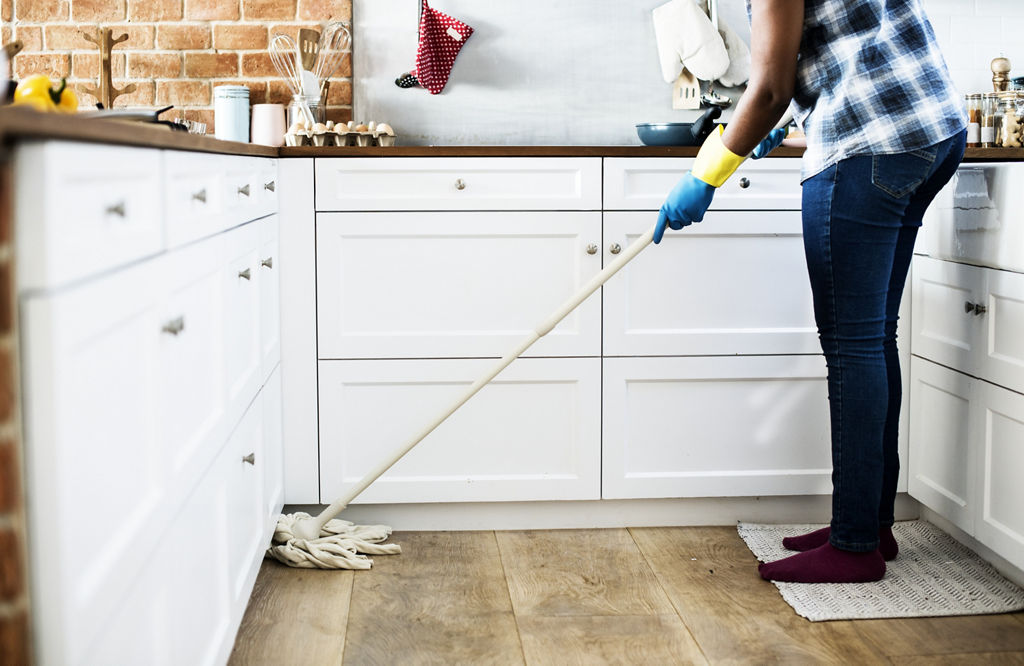 Whether you're a gourmet foodie or microwave connoisseur, your kitchen plays a major part in our daily lives. Giving your kitchen a deep clean will make whatever recipe you're preparing a much easier process. It's best to start your deep clean with the broadest tasks first, then steadily move into the smaller details. Start by cleaning your major appliances including the outside of your refrigerator, stovetops and countertops. Organize and disinfect all of your countertops with the special wipes that are perfect for grabbing crumbs and eliminating bacteria.
Lorraine Brock, Founder and President of Get Organized!, a certified woman-owned professional organizing company based in Richardson, Texas, recommends using a Mr. Clean Magic Eraser for wiping down counters and walls. She also has an easy way to clean the inside of your microwave. "Put a wet rag in your microwave for 15 to 30 seconds. Afterward, all the moisture from the rag will loosen up the gunk or crusty stains – making it so much easier to wipe off."
When focusing on your refrigerator, be sure to add or replace your baking soda, which keeps your food fresh for longer. Have a trash bag handy and go through all of your perishable foods, reviewing expiration dates. If your refrigerator is bursting at the seams, move some items to the freezer.
Now it's time to tackle your cabinets. "The first step in a complete pantry organization is removing all of the items inside of said pantry — set a staging area on a dining room table or any flat surface," said Kimberly Kimbriel, Kitchen Buyer at The Container Store. "Discard all of your out-of-date items and donate non-perishable items that you won't realistically use to a local food bank."
After your cabinets are completely empty, wipe down all surfaces to remove dust build-up throughout the year. Add fresh liners to absorb any spills while cutting down on dust. When putting items back into your storage area, Kimbriel recommends creating zones to organize your items.
"Utilize deep and vertical pantry space by creating zones, or groups, for similar items with clear containers," Kimbriel said. "For example, store your baking soda, salt, baking powder and vanilla in one bin for no-hassle baking every time. You'll find that you'll also save yourself a great deal of time if everything is easily accessible."
Transferring larger food products into see-through containers will help prolong their lifespan and make it easier to find. "By transferring bulk items into clear and sealed containers, you'll preserve the freshness and see when you're running low. Broken flour bags, hardened brown sugar and easily spilled bags of rice cease to exist when they are contained and visible."
With Thanksgiving approaching and relatives flocking to your home, now is the perfect time to organize your kitchen. Having organized and easily finable ingredients will take the stress out of preparing meals and may even lead to some therapeutic cooking sessions.
Kitchen Checklist
Disinfect countertops, clean walls and refrigerator door

Place wet rag in microwave and turn on for 15-30 seconds for an easier clean

Replace baking soda in refrigerator

Trash any expired foods from your refrigerator and freezer

Empty out your cabinets, clean surfaces and add liners

Organize your cabinet contents into zones that are clearly marked

Transfer large food items into clear containers

Empty out any dishes from the dishwasher

Vacuum or mop floor

Empty out trash container
Fall Cleaning Series
The information presented on or through this Website is made available solely for general information purposes. We do not warrant the accuracy, completeness, or usefulness of this information. Any reliance you place on such information is strictly at your own risk. We disclaim all liability and responsibility arising from any reliance placed on such materials by you or any other visitor to this Website, or by anyone who may be informed of any of its contents. Any reference to amenities, services, rules, policies, or procedures at a Greystar apartment community is general in nature, and each Greystar apartment community may have amenities, services, rules, policies, and procedures that differ from those referenced on this Website. Please consult with your Greystar apartment community for the exact amenities, services, rules, policies, or procedures applicable.
This Website may include content provided by third parties, including materials provided by other users, bloggers, and third-party licensors, syndicators, aggregators, and/or reporting services. All statements and/or opinions expressed in these materials, and all articles and responses to questions and other content, other than the content provided by Greystar, are solely the opinions and the responsibility of the person or entity providing those materials. These materials do not necessarily reflect the opinion of Greystar. We are not responsible, or liable to you or any third party, for the content or accuracy of any materials provided by any third parties.