Luxury, Pet-Only Apartment Community Becomes Reality Thanks to Greystar
Community Life
April 1, 2019
Whether you're a dog or cat person, there's no question your four-legged friend brings a bundle of joy and comfort to your life. While most Greystar apartment communities are pet-friendly, The Global Leader in Rental Housing™ now wants to up the ante and start a new trend as it continues to be at the forefront of innovation.
On April 1, 2019, Greystar will kick-off construction on Paws & Whiskers on The Boulevard in Los Angeles, California. The world's first luxury, pet-only apartment community will welcome dogs and cats and give them a taste of the human life – sans the humans. Architectural renderings from the full-service integrated marketing agency Primary show the scope of this one-of-a-kind project.
Paws & Whiskers will provide a comfortable, luxurious and all-inclusive oasis for felines and canines. The high-rise apartment complex in the City of Angels will consist of two edifices: the cat-only Milo and the dog-only Otis. All units will feature floor-level sinks, automatic treat dispensers and a personal robotic maid to clean up any hair that is shed. Human visitors will always be welcome, but a permit and non-refundable deposit will be required if they stay longer than a week. Cars, trucks and vacuum cleaners will not be permitted in this community.
The Milo Building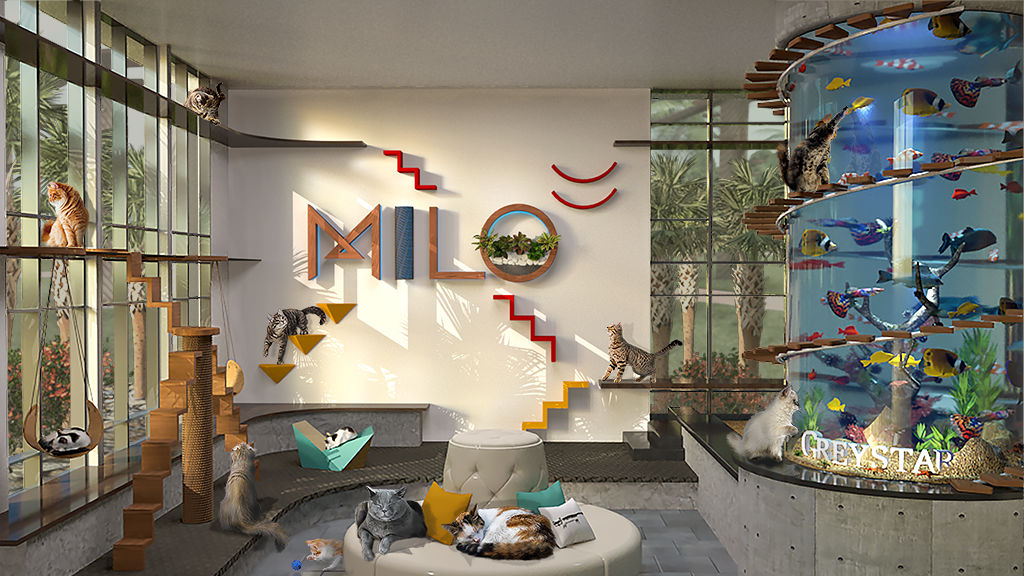 Each building within the exclusive community will boast perks tailored to its respective residents. In The Milo building, felines will love clawing away at doors made of sisal fabric, the material commonly used for scratching posts. Hunger will never be an issue because all kitchens will come complete with faucets that release delicious wet food. Thanks to high-tech, self-cleaning litter boxes in every apartment, residents will be able to take care of their business without any problems.
When it's time to play, kitties will stay constantly stimulated and entertained with automatic laser pointers that offer 360 degrees of self-rotation. After a fun-filled day, cats can snooze soundly inside one of several random objects dispersed throughout the apartment including storage boxes, dish racks, Ugg boots, guitar cases and more.
The Otis Building
In The Otis building, apartments will boast artificial turf instead of standard carpet, so canines can "do their business" wherever and whenever they please. Each apartment will be equipped with a Poomba, a state-of-the-art robotic vacuum cleaner designed to pick up pet feces without making a huge mess.
Keeping furry friends active is important, so that's why all doggy units will include treadmills with personalized TVs broadcasting a 24-hour stream of squirrels in their natural habitat. Along with squirrels, pups can also be on the lookout for mail carriers since every front door will be installed with a video doorbell. Wall-mounted speakers across the entire apartment complex will be blasting The Baha Men classic, "Who Let the Dogs Out?" in a continuous loop.
Apartment Community Amenities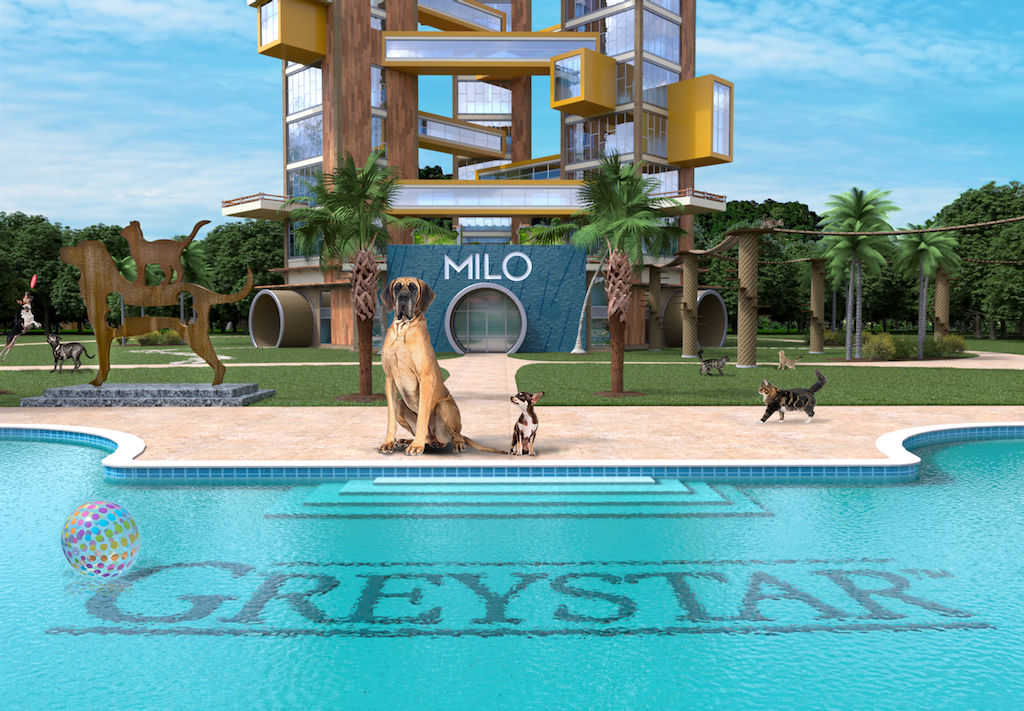 Paws & Whiskers on The Boulevard will provide a wide range of community amenities and activities as well. An expansive park will be the perfect place for four-legged friends to roam around while meeting new buddies. After a play session, all furry pals can head over to the carwash-like pet cleaning area for easy bathing or jump in the bone-shaped pool.
Full-body massages performed by certified pet masseuses will let all animals relax and rejuvenate from a long day of lounging around. Pets can also get their namaste on by performing downward-facing dog, cat pose and other animal-related positions at daily yoga classes offered in the on-site gym.
No longer will you have to find that perfect apartment for you AND your pet. Cats and dogs interested in renting a luxury pet-only apartment can begin the application process on April 1, 2020.
As an Equal Pet Housing Opportunity community, Paws & Whiskers on The Boulevard ensures all pets — even the smelly ones — will not be discriminated against when renting an apartment. No animals will be harmed in the construction of these buildings, which are a complete April Fool's Day joke.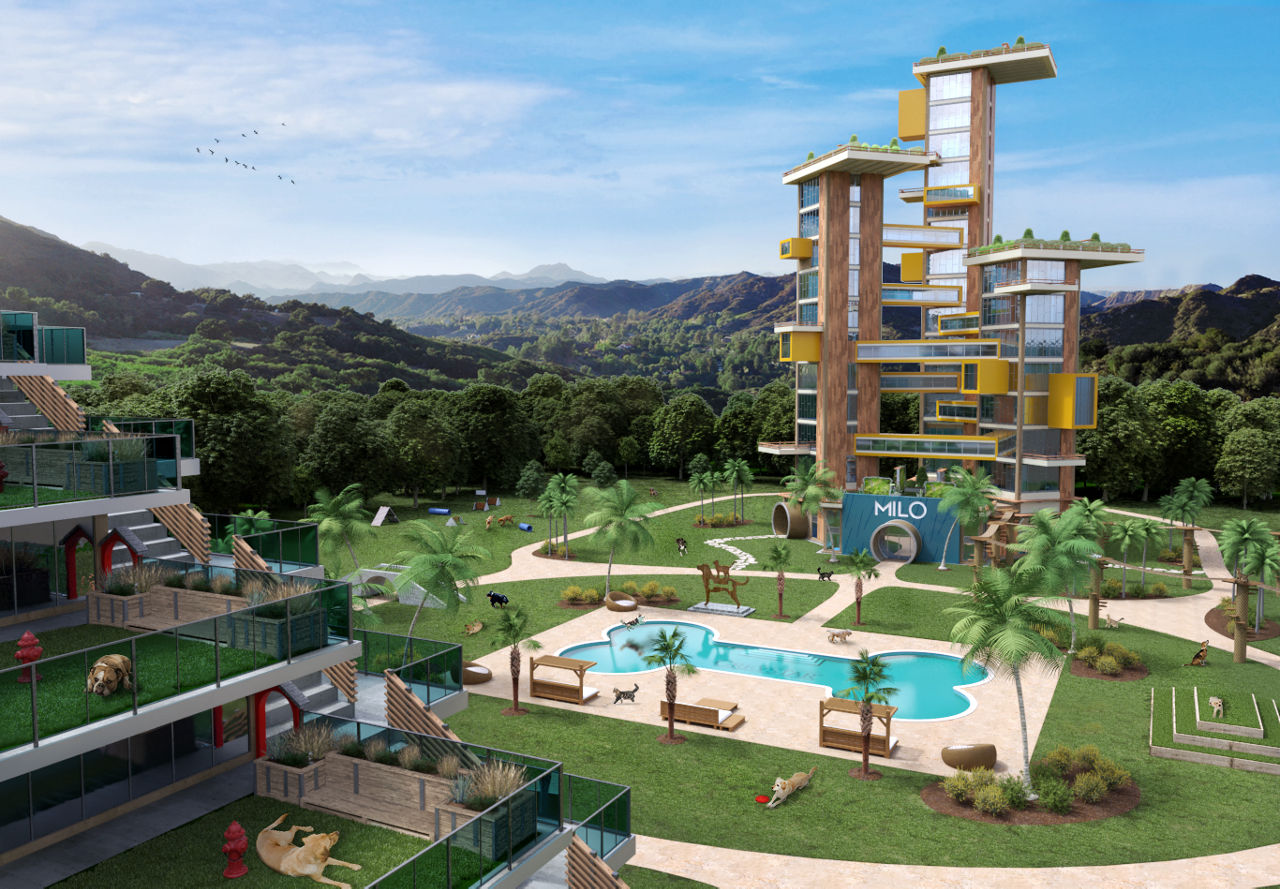 Other Pet-Related Blog Posts Of Interest
The information presented on or through this Website is made available solely for general information purposes. We do not warrant the accuracy, completeness, or usefulness of this information. Any reliance you place on such information is strictly at your own risk. We disclaim all liability and responsibility arising from any reliance placed on such materials by you or any other visitor to this Website, or by anyone who may be informed of any of its contents. Any reference to amenities, services, rules, policies, or procedures at a Greystar apartment community is general in nature, and each Greystar apartment community may have amenities, services, rules, policies, and procedures that differ from those referenced on this Website. Please consult with your Greystar apartment community for the exact amenities, services, rules, policies, or procedures applicable.
This Website may include content provided by third parties, including materials provided by other users, bloggers, and third-party licensors, syndicators, aggregators, and/or reporting services. All statements and/or opinions expressed in these materials, and all articles and responses to questions and other content, other than the content provided by Greystar, are solely the opinions and the responsibility of the person or entity providing those materials. These materials do not necessarily reflect the opinion of Greystar. We are not responsible, or liable to you or any third party, for the content or accuracy of any materials provided by any third parties.