5 Apartment Gym Workouts You'll Want to Try
Community Life
March 9, 2022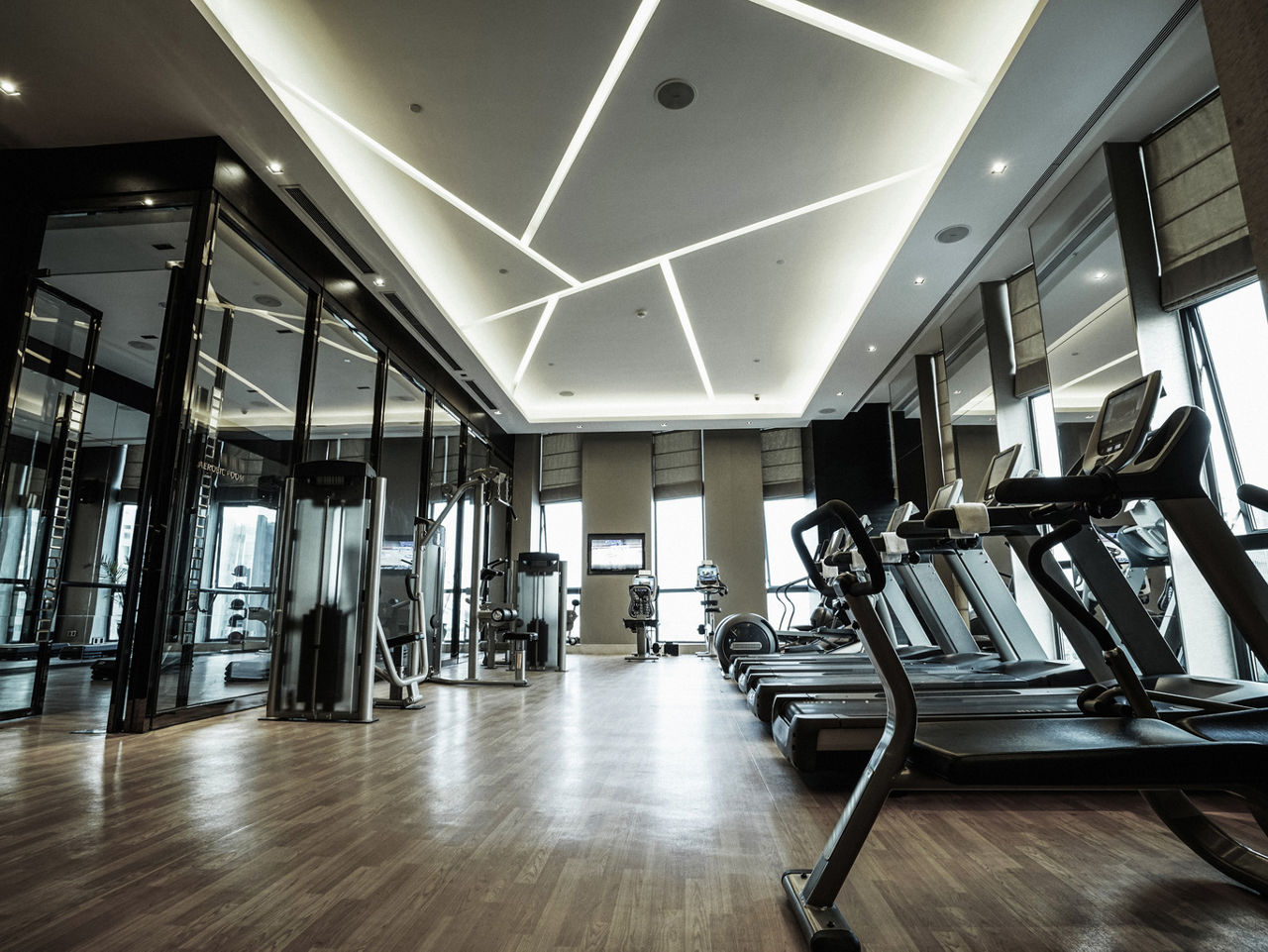 (Hollingsworth, New York, NY)
From surf simulation to climbing walls to low-impact strength sessions, the latest fitness trends feed on variety. Greystar is proud to offer state-of-the-art amenities and equipment in many of its communities, and we know our residents want options when it comes to intensity, style, and skill level.

It's still early in 2022 and a great time to shake up your exercise plans. While mantras in previous years were heavily focused on pushing our bodies to the limit, fitness and health experts expect more of an emphasis on overall wellness this year—a balance of mind and body workouts that epitomize self-care.

When it comes to what types of workout experiences are available to you, the answer is many. Here are five apartment workouts you'll want to try.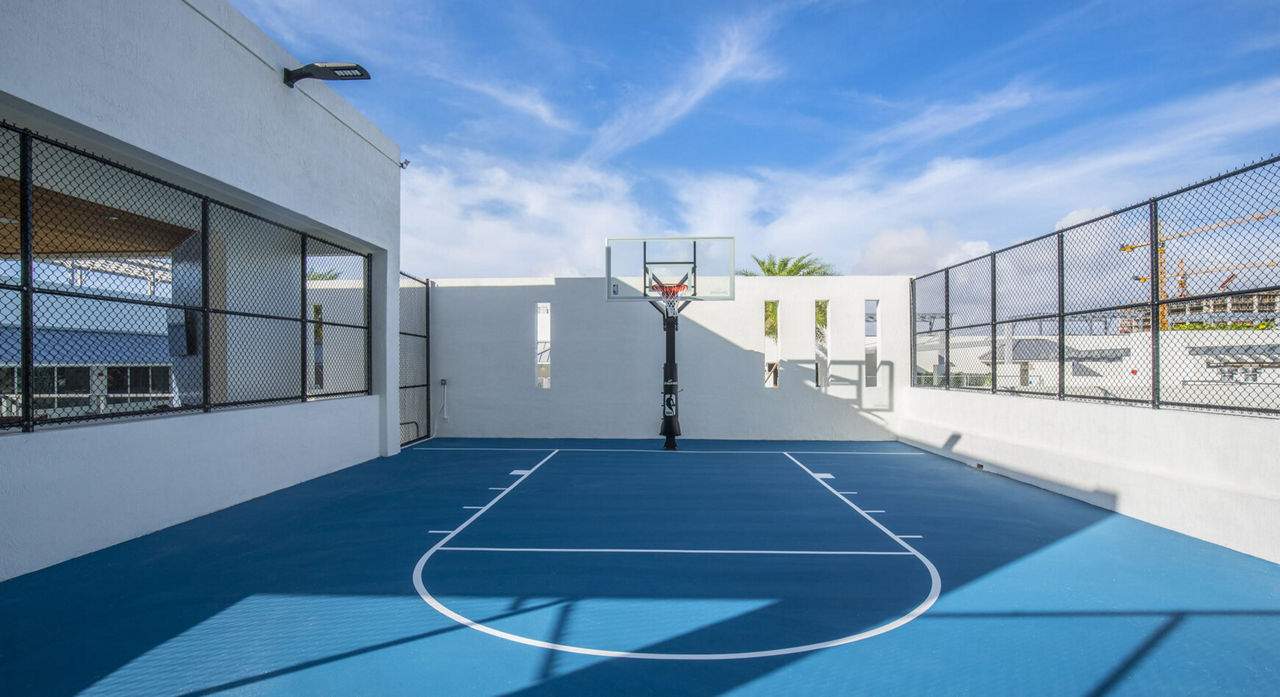 (SOMA at Brickell, Miami, FL)
1. Take Your Shot at Rooftop Basketball

In addition to a full fitness studio, SOMA at Brickell in Miami, FL also boasts a rooftop sports court. You want a workout that doesn't feel like a workout? Basketball helps to improve coordination, flexibility, and endurance, as well as speed, agility, and strength. It's the ultimate full-body activity that not only boosts your physical health, but makes exercise fun and is accessible to people of all ages and skill levels. And as an added bonus, it's outside. After the past couple pandemic-heavy years, a little fresh air sounds good to us.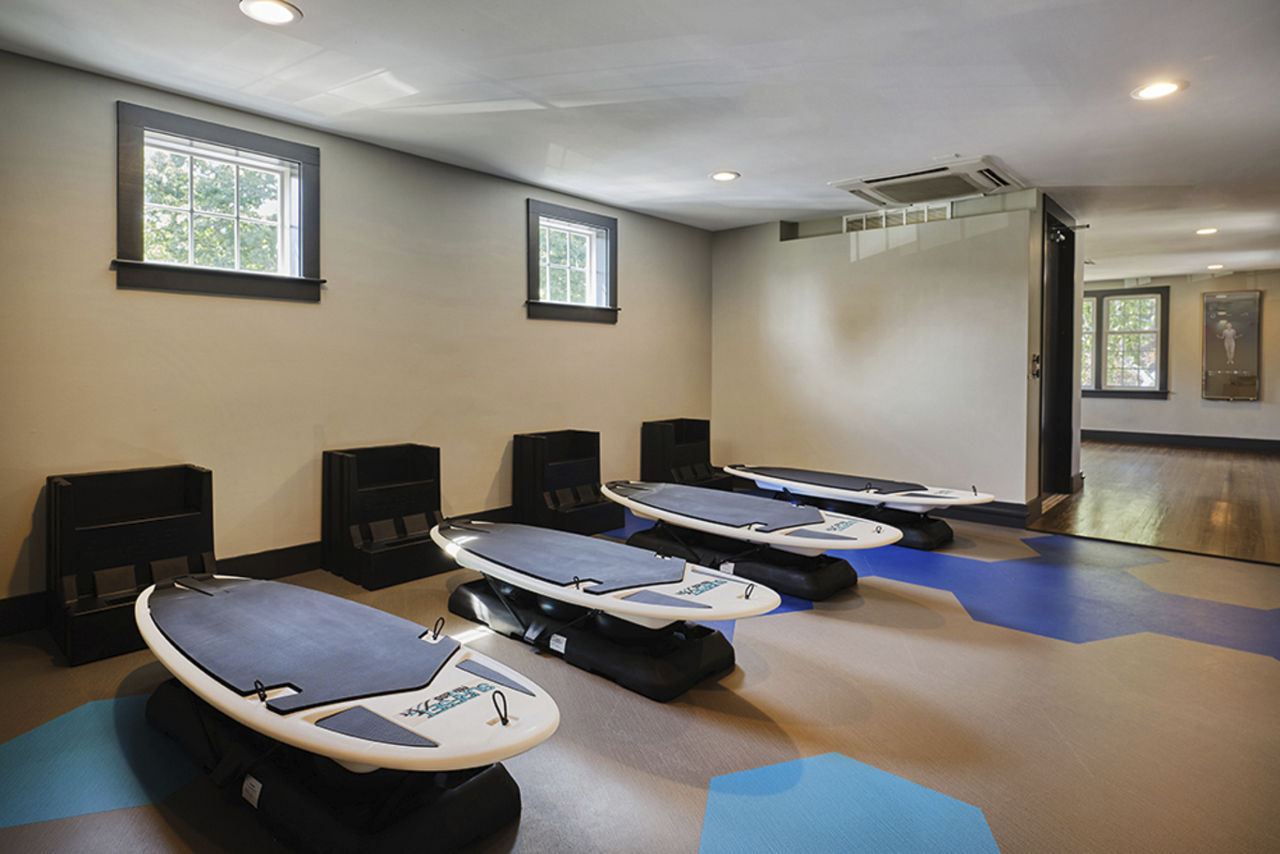 (Halstead Framingham, Framingham, MA)
2. Hang Ten with Simulated Surfing
The sport of surfing offers a host of health benefits, and with this surf simulation room at Halstead Framingham, residents don't need to brave the ocean to enjoy them. These machines provide a high-energy, high-intensity workout featuring real surfboards mounted on top of air-filled bladders. The bladders move according to the placement of the rider's weight to imitate the motion of the ocean. This workout brings the dynamic strength-building benefits of riding a wave and helps improve agility and balance.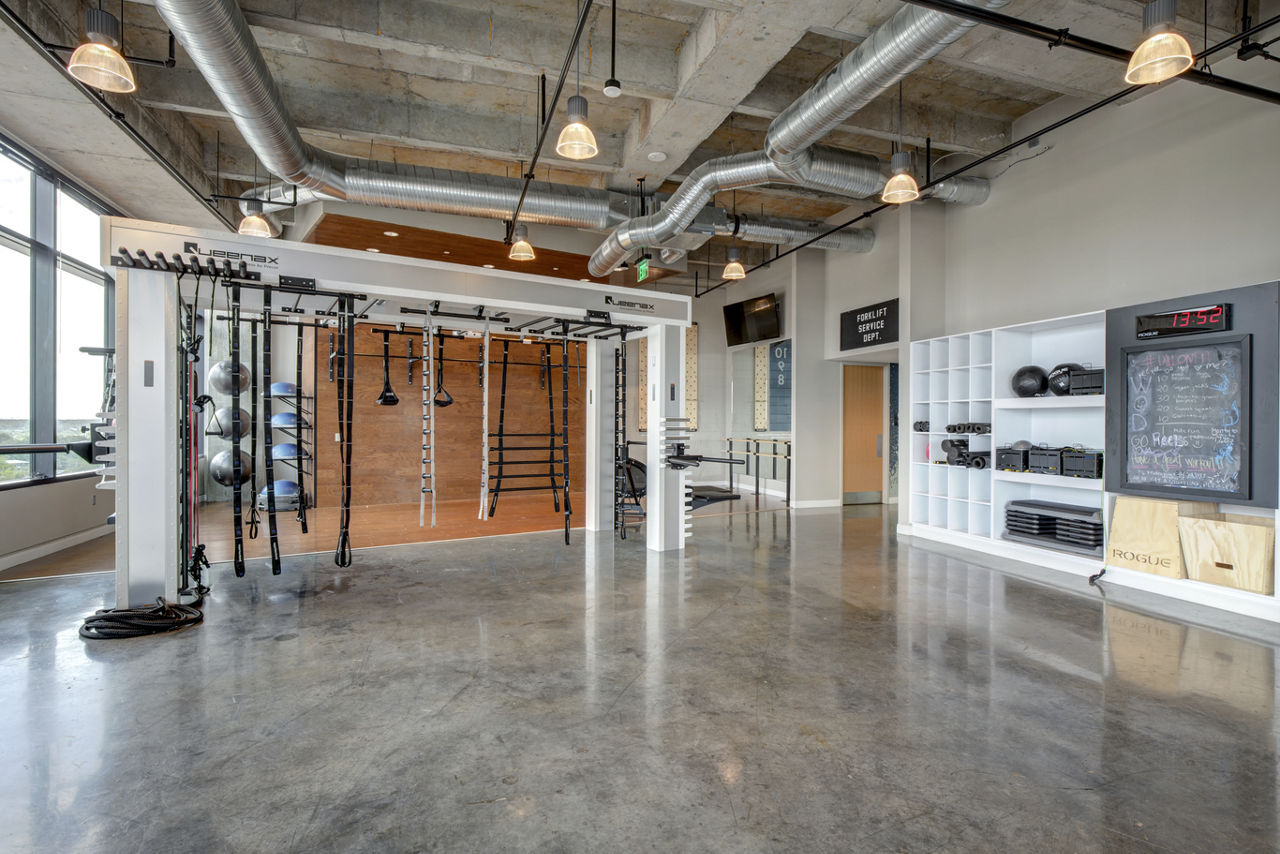 (The Dillon Apartments, Raleigh, NC)
3. Train Your Way with CrossFit
CrossFit has taken the world by storm in recent years, and is a form of high-intensity power fitness. This space at The Dillon Apartments is designed specially for some of these workouts to help improve physical strength, balance, flexibility, and aerobic fitness, giving full-body workout options for residents. Despite its hard-as-nails reputation, CrossFit exercises can be easily modified and are accessible for people of all levels, making it an ideal amenity for this Raleigh community.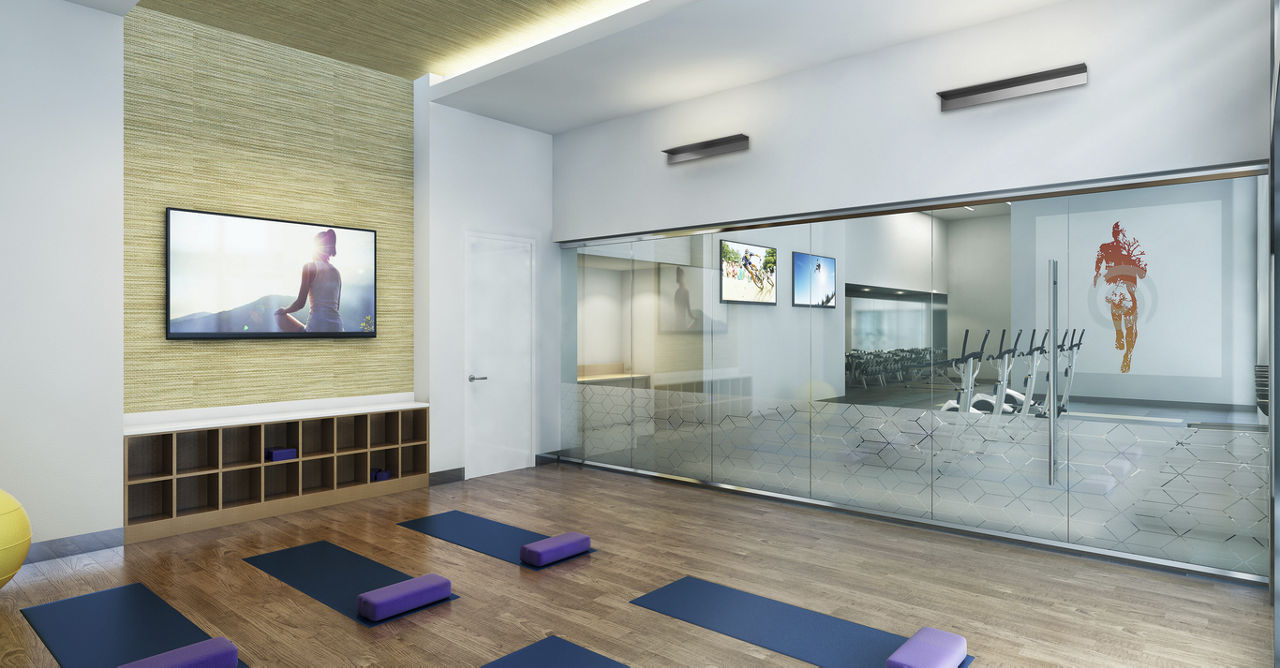 (Parq on Speer, Denver, CO)
4. Balance Your Body and Mind in a Yoga Studio
Yoga studios are a place for community—where like-minded neighbors gather, connect, and support each other. This space at Parq on Speer is designed to be a peaceful environment for low-intensity strength building, balance, and flexibility. In addition, yoga places added emphasis on a calm mind, leaning more heavily into stress reduction, confidence boosts, and sleep improvement than some of our other trending options.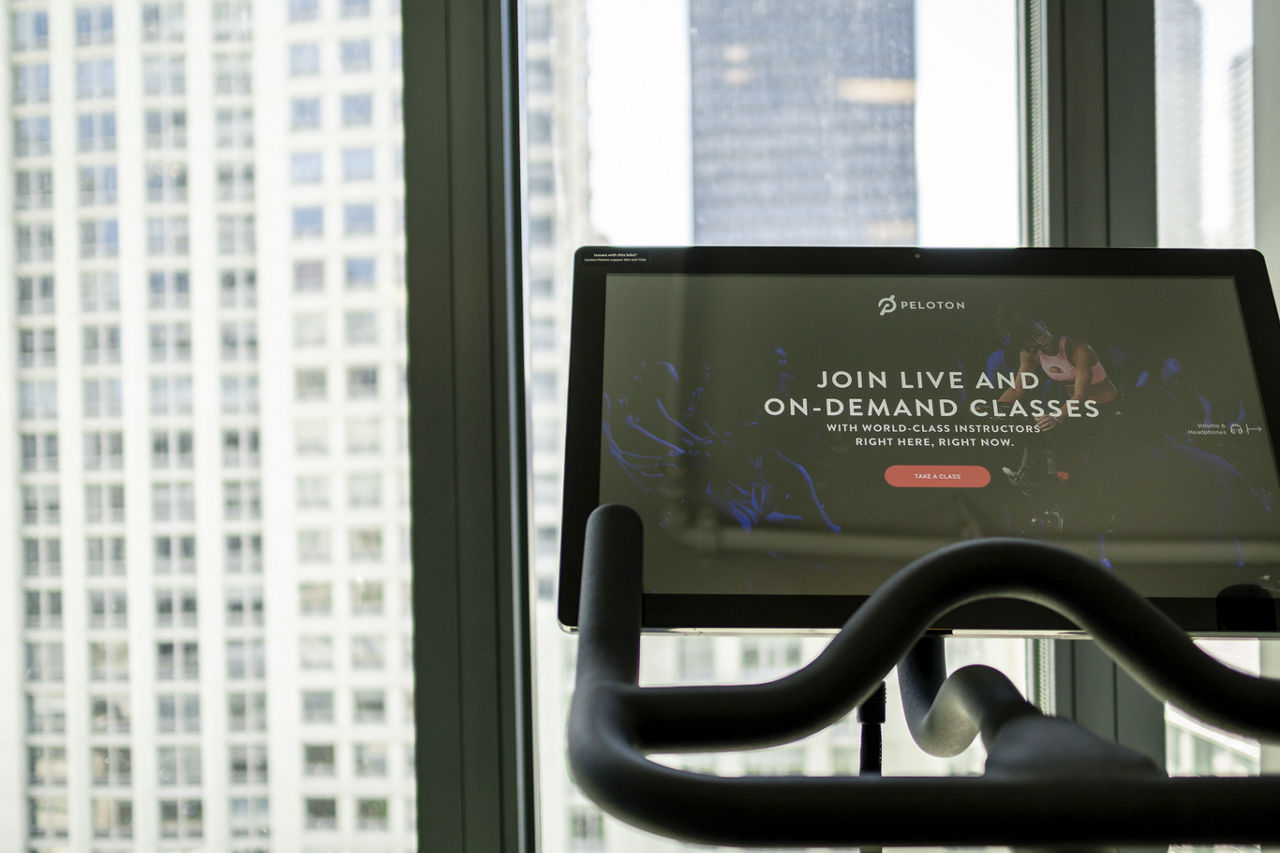 (State and Grand, Chicago, IL)
5. Spin with a View

The convenience of on-demand classes, varying intensity options including high intensity interval training (HIIT), and a view of downtown Chicago? State and Grand has it figured out. If you're looking for a workout that's easy on your joints, strengthens your muscles (including your heart!), and burns calories, cycling is for you. Set your own pace or follow a trainer, the choice is yours and available at your leisure.
The information presented on or through this Website is made available solely for general information purposes. We do not warrant the accuracy, completeness, or usefulness of this information. Any reliance you place on such information is strictly at your own risk. We disclaim all liability and responsibility arising from any reliance placed on such materials by you or any other visitor to this Website, or by anyone who may be informed of any of its contents. Any reference to amenities, services, rules, policies, or procedures at a Greystar apartment community is general in nature, and each Greystar apartment community may have amenities, services, rules, policies, and procedures that differ from those referenced on this Website. Please consult with your Greystar apartment community for the exact amenities, services, rules, policies, or procedures applicable.

This Website may include content provided by third parties, including materials provided by other users, bloggers, and third-party licensors, syndicators, aggregators, and/or reporting services. All statements and/or opinions expressed in these materials, and all articles and responses to questions and other content, other than the content provided by Greystar, are solely the opinions and the responsibility of the person or entity providing those materials. These materials do not necessarily reflect the opinion of Greystar. We are not responsible, or liable to you or any third party, for the content or accuracy of any materials provided by any third parties.