Building a Better Playground for KIDS
Talent and Culture
March 30, 2021
It's been tough to raise money for charity this year, with large fundraising events made impossible, and many companies suffering plummeting profits. This year required some out of the box thinking and as a result Greystar Europe has volunteered to renovate the Kids Hayward Adventure Playground. Below is an account of the first week of renovations as told by Grace Morgan, Procurement at Greystar and Charity Committee member.
The Hayward Adventure Playground in Islington is a haven for learning and play, hosting up to 40 special educational needs children and their workers every day, sometimes until 9pm. When meeting Katy (the playground manager) and her team last summer, I was amazed to learn that they are open practically 365 days a year. This, coupled with dwindling funds due to the pandemic, meant the playground needed some serious TLC.
A key issue I wanted to tackle in the first renovation week was the poor lighting in the playground, which made Covid-safe play tough to facilitate after 4pm. Kids had received funding from Derwent London for the upgrade, which Greystar also kindly contributed to. Our electrical maintenance partner, CC Cousins, offered to upgrade all 14 existing floodlights at cost, as well as install four new post-mounted lights at the far end of the playground. The entire outdoor area is now very well-lit, and the site team are happy with the improvements.
Also on the wish list of new items were kitchen cupboards, lockers, plug sockets, taps, lockable display boards and kitchen taps; all of which we managed to procure and install, thanks to a generous donation of time and money from our mechanical maintenance partners, Vision Contracts.
Thanks to a charitable donation from Greystar, the firepit was also completely upgraded by Playforce Ltd. At the end of the week, the entire hall (including staff office and kitchen) was deep cleaned courtesy of our summer cleans and common area cleans provider, Smarter Services.
While these works were going on, myself and the Greystar site volunteers tackled the much-needed maintenance tasks around the playground. We managed to make amazing progress, thanks to Amir Lelic, Carla Gomez, Charlie Lemmon, Danut Apostu, Davi Chala, Dominic Baines, Glyn Calved, Jakub Wilamowski, Joan Albert Torredemer, Mandy Bath, Michael O'Reilley, Natthimon (Tuk) Khiawchaum, Nelio Santos, Sebastian Cwikla and Viktoras Golubovas. We were also joined all week by the head of the electrical department at Vision Contracts, Elliot Stone, who was a fantastic asset to the operation.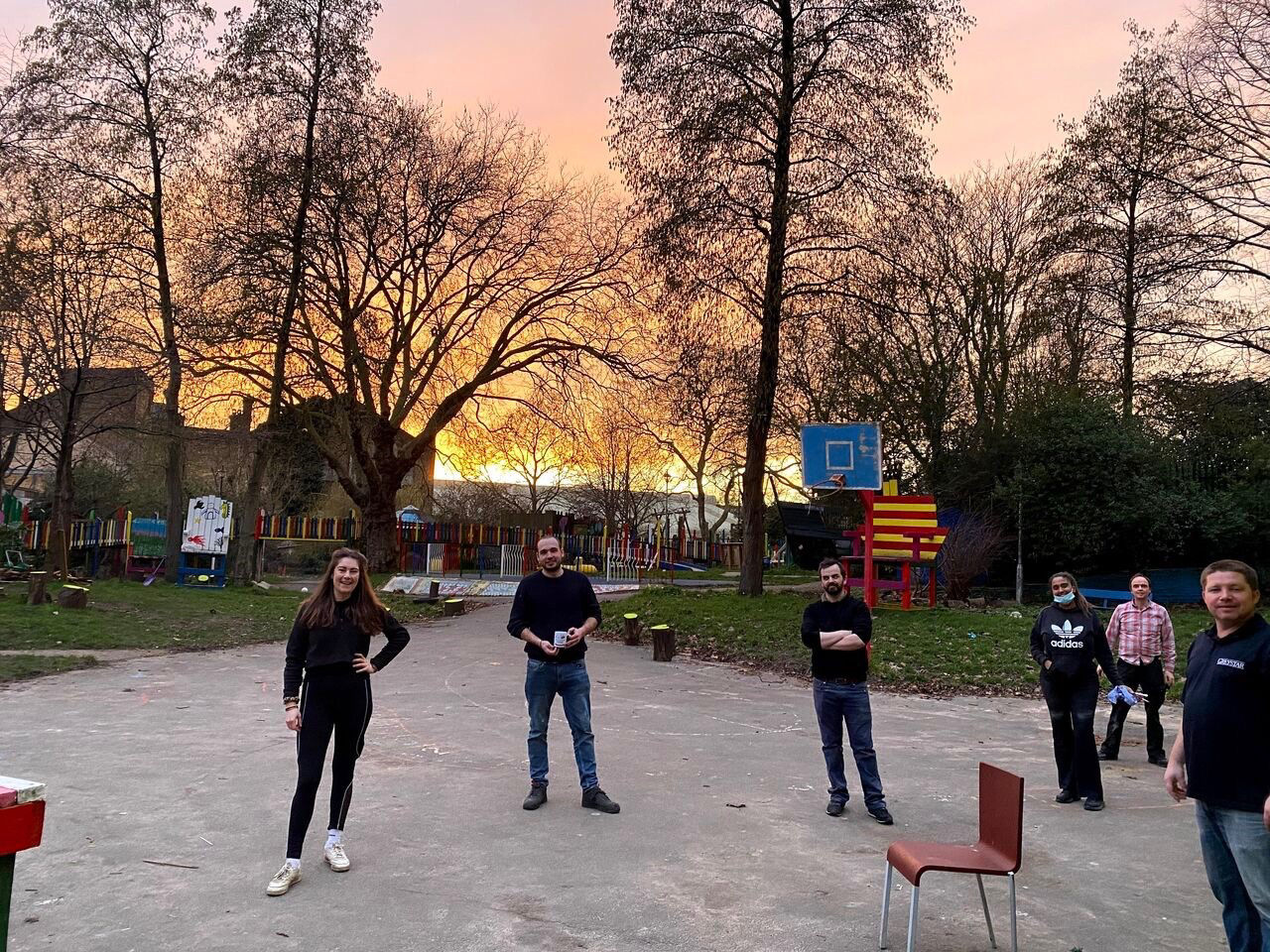 Here is how the week unfolded:
Monday:
The 40-yard skip arrived, and we began clearing out the compound of unwanted bulky items

We unveiled the new kitchen cupboards, and dismantled the old ones
Tuesday:
The pressure washer arrived

Taps fixed and new plug sockets installed in kitchen

Two interior walls painted; two exterior walls painted

Lots of junk (including an ice cream cart) cleared from the compound into the skip to create more storage space for the onsite team

3 sofas and 8 beanbags collected from Chapter Islington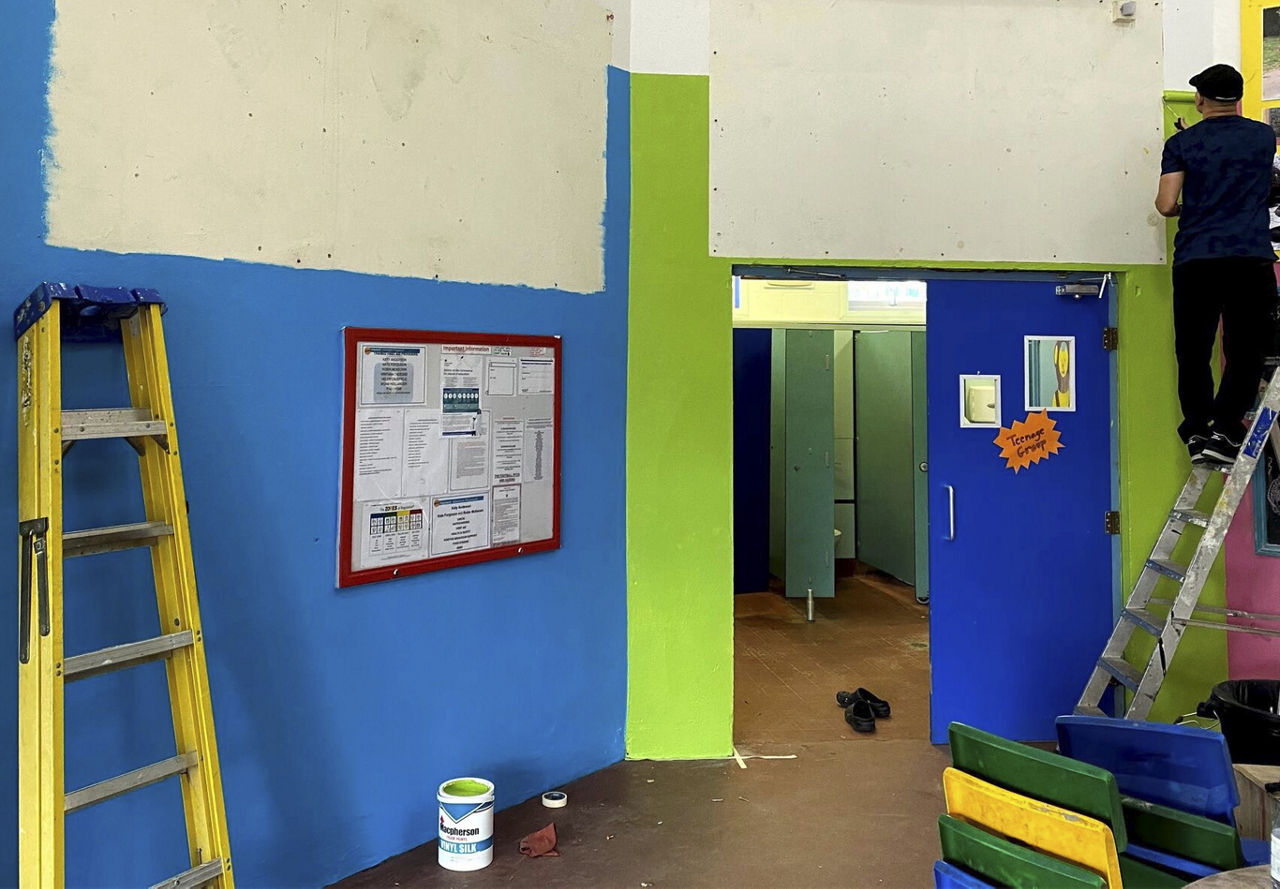 Wednesday:
Pressure-washed wooden walkway and replaced faulty wooden boards

Fire door survey from Checkmate Fire

Filled the 40-yard skip and exchanged it for another!

Removed sink in art room, cleaned, boarded up over pipes, painted, installed new sofa

Cleaned and painted inside walls

Put up new kitchen cupboards

Painted exterior walls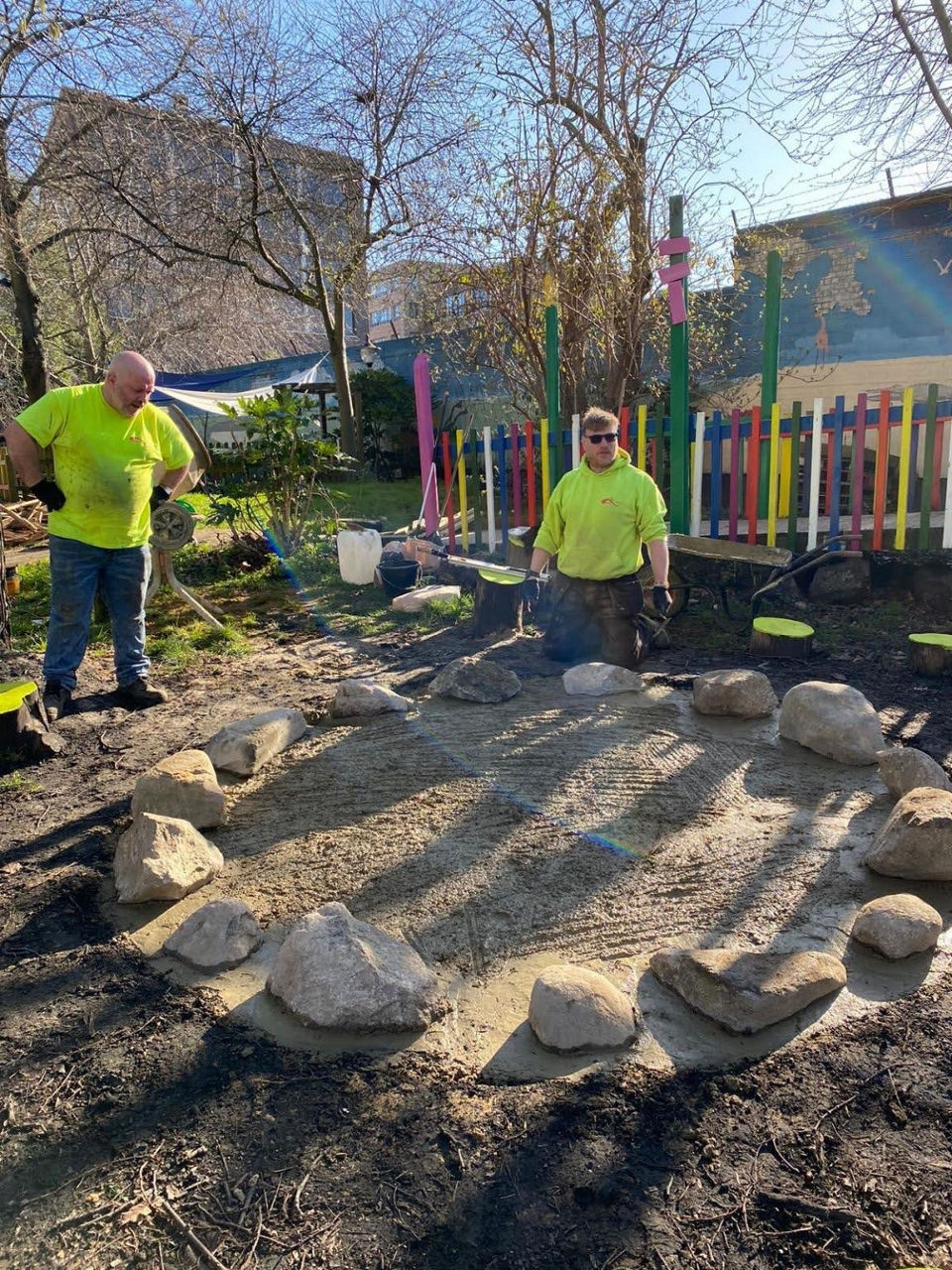 Thursday:
Playforce

arrived to clear the existing bonfire area and level out the ground, ready to install the brand-new fire pit tomorrow morning

The lockers arrived! I went over to Chapter Islington with Nelio (Charter Place) and Dom (Chapter Highbury II) to collect them, but they were so darn heavy that we ended up tying them to the roof rack on Nelio's car!

Replaced decaying boards on the walkway with new ones

Paul and Percy, the playground penguins, were painted

Mandy did a fantastic job painting a fire exit sign on the wall, upon which we have stuck the actual fire exit sign (the playground hosts some children who love to pull signs off the wall, so now the fire exits are still visible when this happens!)

Sanded down the round table in the hall, ready to be varnished tomorrow

Fixed the extractor fan in the laundry room, which will prevent mold growth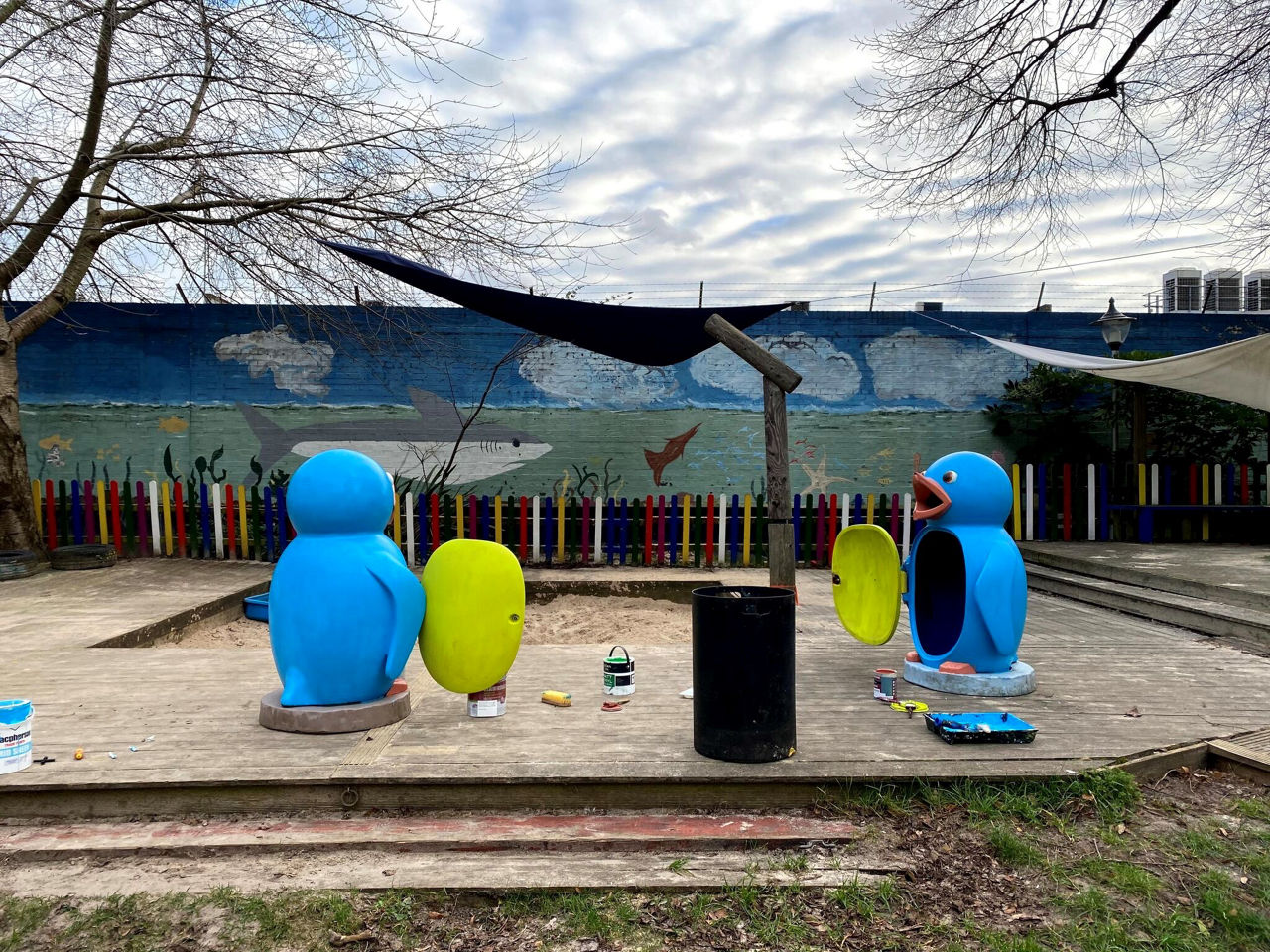 Friday:
Outdoor Lighting upgraded, thanks to Jack Parker and his team at CC Cousins. Funding courtesy of Derwent London and Greystar

Fire Pit installed, thanks to

Playforce Ltd

. Funding Courtesy of Greystar

Lockers and notice boards installed, thanks to funding from Vision Contracts, along with new sofas in the main hall donated by Chapter Islington

More pressure washing and painting

Deep clean of entire site, courtesy of

Jason Southwell

and his brilliant team at Smarter Services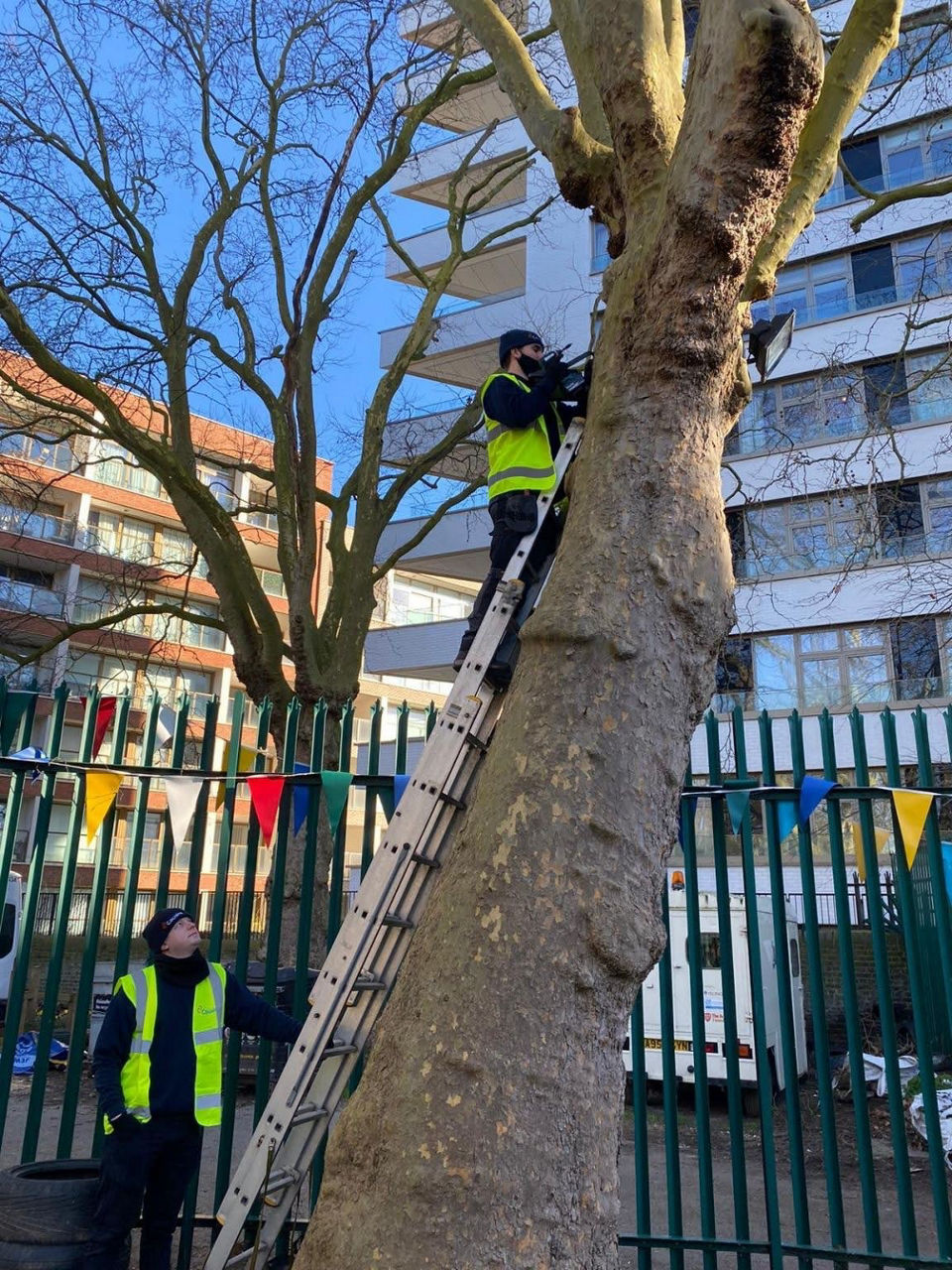 It was an amazing week, and just the start of what we can do for this amazing charity. I'm so proud of and grateful for all the volunteers we had last week, the collaboration with partners, the funding secured in such a short space of time, and the opportunity to make a difference in these difficult times.
The information presented on or through this Website is made available solely for general information purposes. We do not warrant the accuracy, completeness, or usefulness of this information. Any reliance you place on such information is strictly at your own risk. We disclaim all liability and responsibility arising from any reliance placed on such materials by you or any other visitor to this Website, or by anyone who may be informed of any of its contents. Any reference to amenities, services, rules, policies, or procedures at a Greystar apartment community is general in nature, and each Greystar apartment community may have amenities, services, rules, policies, and procedures that differ from those referenced on this Website. Please consult with your Greystar apartment community for the exact amenities, services, rules, policies, or procedures applicable.
This Website may include content provided by third parties, including materials provided by other users, bloggers, and third-party licensors, syndicators, aggregators, and/or reporting services. All statements and/or opinions expressed in these materials, and all articles and responses to questions and other content, other than the content provided by Greystar, are solely the opinions and the responsibility of the person or entity providing those materials. These materials do not necessarily reflect the opinion of Greystar. We are not responsible, or liable to you or any third party, for the content or accuracy of any materials provided by any third parties.