5 Must-Dos for Creating Beautiful Bohemian Décor
Lifestyle
October 20, 2015
Free spirits who love bold color, eclectic style, and vintage touches have fallen for Bohemian design. Boho décor is a fabulous way to introduce your own unique expression in your rental apartment. Filled with personality, this design style really allows you the freedom to mix and match pieces that will create truly unique spaces. Follow these simple tips to achieve the Bohemian look at home.
1. Color, Color and More Color
The first step to achieving the Bohemian vibe at home begins with adding brilliant pops of color to your space. Hot fuchsias, vibrant oranges, and candy-colored greens and yellows will achieve an effect that says someone who loves life and fun lives here. Shopping for the Boho look is simple, as you can find old or new pieces from any color palette that will work in unison when placed in your living spaces.
Image courtesy of Point2Homes
2. Patterned Inspiration
Bohemian design translates best with mixed patterns. Striped and floral fabrics, and tribal, geometric or free form wall art - they will pull your design scheme together effortlessly. Look for cheerful, interesting patterns and don't be afraid to go bold. Use a Moroccan throw or fabric with a tribal dream catcher pattern to adorn a striped chair and your room will be instantly transformed.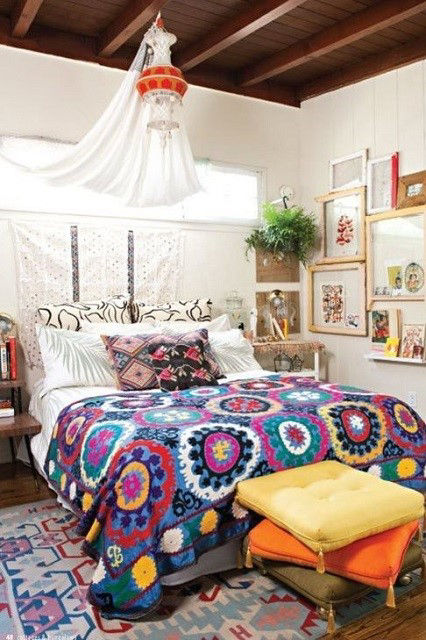 Image courtesy of Apartment Therapy
3. Textures Are Your Friend
A beautiful window treatment using flowing sheer fabrics, nubby wool rugs mixed with silky throw pillows - all work together in Bohemian design. Don't be afraid to try many different fabrics throughout your rooms. Texture creates different emotions as you sit in your space. A gilded, sheer fabric hung above your bed instantly raises your room to boho-chic status. Soft silks against warm wools will encourage your guests to snuggle up and stay awhile.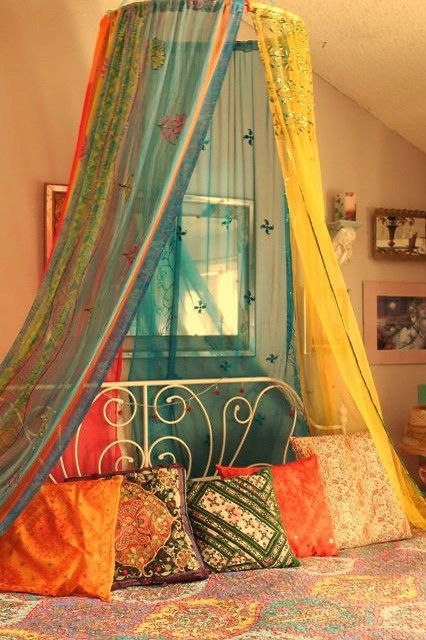 Image courtesy of Etsy
4. Layer on the Style
Throw pillows for floor seating, jars for storage, suitcases stacked as a side table, and piles of books to place your coffee cup on - all nod to the Bohemian look. Layering also gives you the ability to repurpose old things into fabulous up-cycled pieces in your space. Adding layer upon layer is effortless and will make you and your guests feel comfortable and relaxed.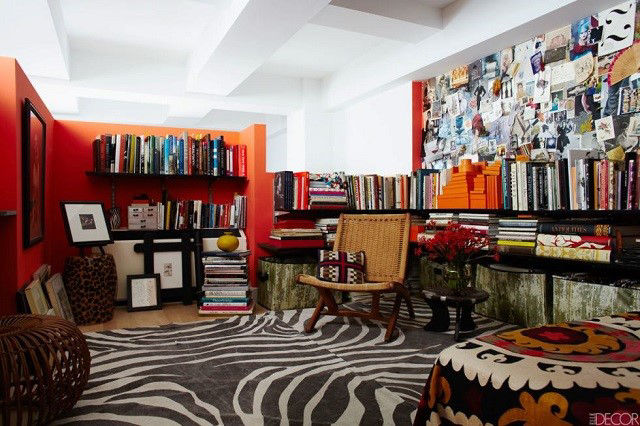 Image courtesy of Elle Decor
5. Don't Forget the Accessories
As with any great outfit, especially important for any well designed space are the "ornaments" that complete the look. Select accessories with metallic, shiny finishes, sparkle, and lots of character. Candles, lanterns, pillows, an exotic throw, feathers, artwork, or incense holders will all finish off your Bohemian look affordably and beautifully.
Image courtesy of Etsy
Bohemian design is fun, effortless, and super budget-friendly. Shop on vacation or in antique shops or even rummage in your parents' basement to begin collecting pieces that will take your apartment from boring to boho in no time!
This post was brought to you by our friends at RENTCafé.