5 Green Amenities That Will Transform Your Apartment Home
Greystar Green
August 17, 2015
People embrace green living for different reasons. Some want to help the environment; others want to save money, while others want to implant good values in the younger generation. No matter the reasons, green living is admirable. The best part is that you can reduce your carbon footprint without having to lower your quality of life. If you've decided to go green and want to fill your rental apartment with green features, here's how to do it.
1. Consider Energy Efficient Lighting
Image via Freshome
These days, using incandescent bulbs can use a lot of precious energy and make a strain on your wallet. Eco-conscious renters use LED bulbs which are durable, efficient, and cost-effective. While the bulbs are more expensive than their incandescent and fluorescent counterparts, they last up to 25 times longer. They help you to save money on replacement costs and lower your electricity bill. They also don't have the disposal conditions that other bulbs have. Once you know the unequaled versatility that LEDs offer, you'll never use any other bulbs in your home.
2. Decorate with Recycled Furniture
Image via: blueberryhome.fr
When chosen carefully, recycled furniture can be both functional and fashionable. The furniture is beneficial to the environment because landfills don't get filled with unnecessary waste. Furthermore, natural resources are conserved – fewer raw materials are required to update furniture than to make new furniture. So, the next time you see a sofa on the curb, don't be so quick to look away.
3. Improve your Air Quality for a Cleaner Environment
Image via Williams-Sonoma
Green plants such as mother-in-law's tongue, areca palm, and English ivy will infuse your home with beauty and improve the quality of air. Plants rid the air of toxins and impurities and are the ultimate in practical decorating. Put two plants in your bedroom to help you breathe easier when sleeping. If you don't have a green thumb, choose sturdy ones that are easy to care for.
4. Get Energy Star Appliances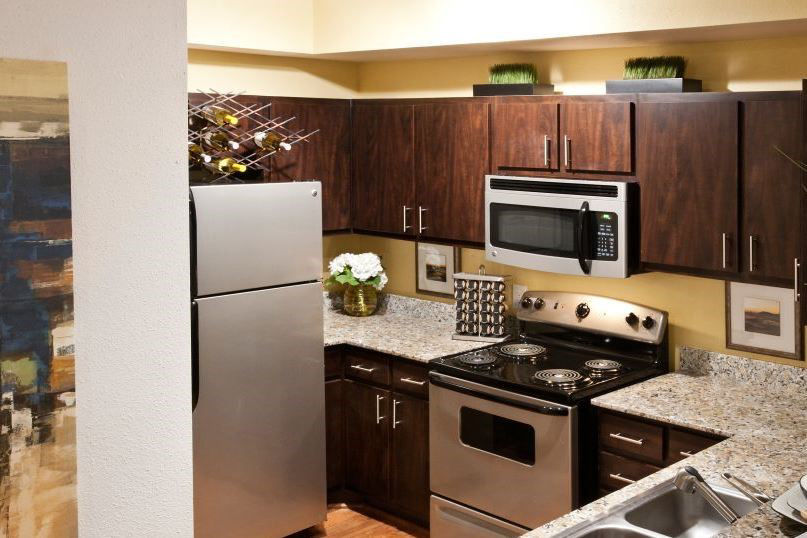 Image via RENTCafé
Buying energy star appliances is a no-brainer, but buying is not an option when renting an apartment. Home appliances like dishwashers, refrigerators, and washing machines consume a lot of water and electricity. When you're shopping for a new apartment ask if the community offers energy star appliances. They will help reduce your energy consumption. If you can't, don't beat yourself up. Keep in mind that every little action counts and even replacing bulbs can help you to save energy.
5. Choose Natural Fabrics
Image via: Home-Designing
Home décor objects are made from different fabrics, some of which have serious environmental impacts. Petroleum-based products release hazardous substances which harm the environment. Bleaching and dyeing also produce substances which contaminate the air and waterways. To become eco-conscious, use décor elements made from eco-friendly fabrics like organic cotton, hemp, bamboo, and silk.
With energy costs rising and the effects of pollution becoming more visible, embracing green living has become critical. More people are realizing that many of the resources we use are not renewable and will run out in a few years. Become eco-conscious and play your role in preserving the environment.
This post was brought to you by our friends at RENTCafé.