Ivanhoé Cambridge, Bouwinvest and Greystar agree to acquire first asset for Paris student and young professional accommodation venture
Press Release
September 7, 2021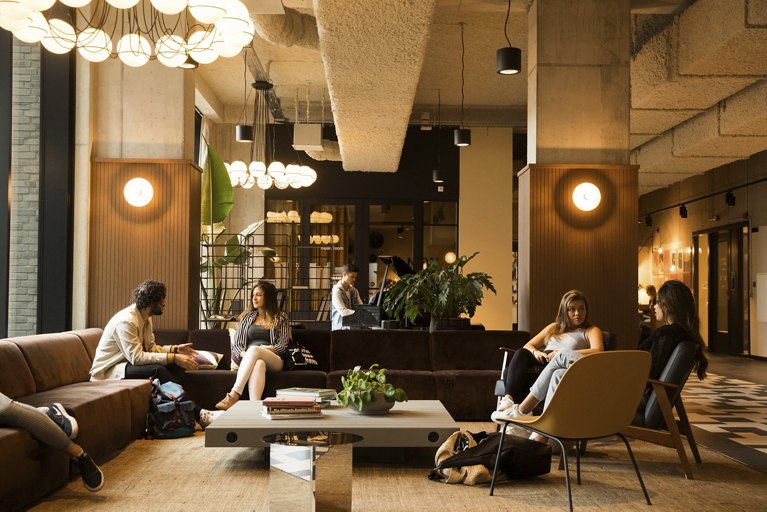 • The proposed development aims to deliver over 370 new co-living units through an office-to-residential conversion subject to the relevant approvals
• The project will be carried out under a VEFA contract
• The asset will be located close to central Paris and is well-connected to La Défense, Paris CBD and several large corporate headquarters
Paris, 7 September 2021 – Global real estate institutional investment companies Ivanhoé Cambridge Holdings UK Ltd ("Ivanhoé Cambridge") and Bouwinvest Real Estate Investors ("Bouwinvest") alongside Greystar Real Estate Partners LLC ("Greystar"), a global leader in the investment, development and management of high-quality rental housing properties, today announced that they have agreed to acquire a co-living asset in the western suburb of Paris subject to obtaining the necessary planning permits.
The deal is the first for the partner's Paris student and young professional accommodation venture, which was announced in June 2020 and has an investment capacity of €1 billion. The project fits the venture's strategy of delivering purpose-designed, amenity-rich and highly serviced residential that responds to growing demand and the need for flexible housing options for younger people in Paris.
The proposed plans will deliver over 370 new co-living units subject to obtaining all relevant approvals. They include the conversion of the existing office building to residential and the development of a new mid-rise building to create circa 118,400 sq ft (11,000 sqm) of high-quality space. The project will be developed in partnership with three highly experienced national developers through a VEFA ("Vente en l'Etat Futur d'Achèvement") contract.
The asset is located in a mixed-use office and residential area, well-serviced by public transportation linked to the La Défense business district, Paris CBD and several large corporate headquarters.
"We are delighted with the implementation of this strategy aimed at meeting the recurring need for student and young professionals housing in the Greater Paris. This first project is also a great opportunity to convert an office building that no longer meets post-Covid market standards into premium housing", says Arnaud Malbos, Head of Investments, Europe, Ivanhoé Cambridge.
Hideki Kurata, Managing Director – France, Greystar, commented: "The asset is the first of several deals in our robust pipeline for the Paris Venture. We are delivering a new product to the French market that meets the increasing demand for high-quality rental housing from single-person households and the needs of early Gen Z and elder Millennials. We will provide a rental solution for young professionals that focuses on community living in purpose-designed buildings with a wealth of amenities underpinned by exceptional service offering a compelling alternative to the traditional market."
Press contacts
Greystar
Finsbury (PR adviser) - Tel: +44 (0) 20 7251 3801
Gordon Simpson: gordon.simpson@finsbury.com
James Thompson: james.thompson@finsbury.com
Andrew Pantaleo: andrew.pantaleo@finsbury.com
Ivanhoé Cambridge
Julie Benoit: julie.benoit@ivanhoecambridge.com; Tel.+33 (0)7 86 89 34 23
Thomas Carlat: thomas.carlat@ivanhoecambridge.com; Tel.+33 (0)6 73 46 00 97
About Ivanhoé Cambridge
Ivanhoé Cambridge develops and invests in high-quality real estate properties, projects and companies that are shaping the urban fabric in dynamic cities around the world. It does so responsibly, with a view to generate long-term performance. Ivanhoé Cambridge is committed to creating living spaces that foster the well-being of people and communities, while reducing its environmental footprint.
Ivanhoé Cambridge invests internationally alongside strategic partners and major real estate funds that are leaders in their markets. Through subsidiaries and partnerships, the Company holds interests in more than 1,100 buildings, primarily in the industrial and logistics, office, residential and retail sectors. Ivanhoé Cambridge held C$60,4 billion in real estate assets as at December 31, 2020 and is a real estate subsidiary of Caisse de dépôt et placement du Québec (cdpq.com),a global investment group. For more information: ivanhoecambridge.com.
About Bouwinvest
Bouwinvest Real Estate Investors B.V. specialises in managing real estate portfolios for institutional investors (pension funds and insurers). We invest for the long term, in a responsible manner, with respect for the world around us. Bouwinvest strives to achieve sustainable returns on behalf of its pension fund clients. We manage €12.9 billion (YE 2019) in assets within five Dutch property sector funds and three international real estate investment mandates in Europe, North America and Asia-Pacific. For more information, go www.bouwinvest.com.
About Greystar
Greystar is a leading, fully integrated real estate company offering expertise in investment management, development, and management of rental housing properties globally. Headquartered in Charleston, South Carolina, Greystar manages and operates an estimated $220 billion of real estate in more than 210 markets globally including offices throughout the United States, United Kingdom, Europe, South America, and the Asia-Pacific region. Greystar is the largest operator of apartments in the United States, manages more than 748,000 units/beds, and has a robust institutional investment management platform with approximately $45.1 billion of assets under management, including over $21.3 billion of assets under development. Greystar was founded by Bob Faith in 1993 with the intent to become a provider of world-class service in the rental residential real estate business. To learn more, visit www.greystar.com.