Greystar to deliver 294 Build to Rent homes in Battersea
Press Release
July 25, 2023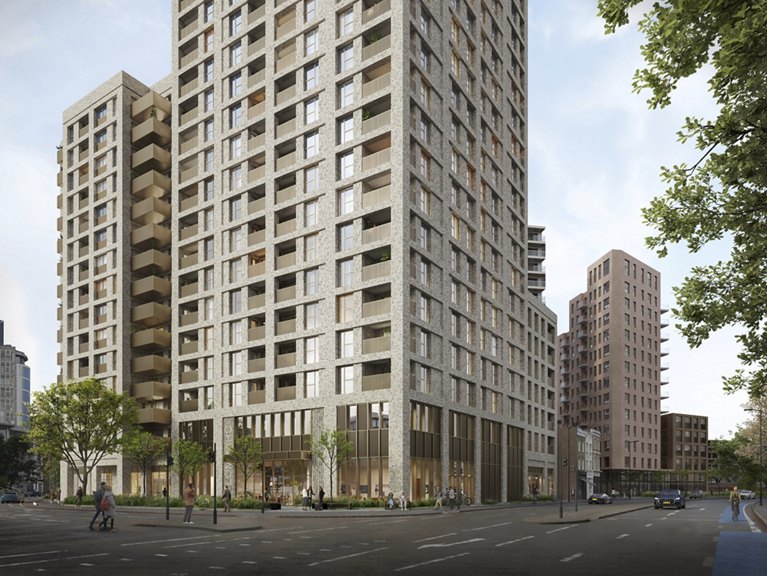 Wandsworth Council unanimously approves plans, which include 35% on-site affordable housing
London, 24 July 2023
Greystar has secured planning approval for a new build-to-rent scheme on Lombard Road in Battersea. The scheme will deliver high-quality rental homes from one to three bedrooms, including 90 affordable properties. The mix of apartments and tenures will cater for families, couples, and single renters.
In the current climate of increasing rents and living costs, the high-level of London Affordable Rent (71% of the affordable units by habitable rooms) will meet a substantial need within the borough for an affordable rental option that still delivers a high-quality environment and security of tenancy. The homes will be marketed exclusively to people living and working in the borough for the first three months.
The approval follows Greystar's acquisition of the site from Big Yellow a year ago.
Daniel Thompson, Managing Director – UK Development, Greystar, said: "This is a fantastic result, which will create a diverse community in a high-quality building. The high proportion of properties being offered below market rent makes this an accessible option for people living and working in the borough. We look forward to working with Wandsworth Council to market the properties to Wandsworth residents."
In addition to the residential properties, the scheme features three retail spaces on the ground floor, providing new local services and enlivening the area around the building. It features 872 sq m of new, landscaped public realm and will be a car free development, other than nine off-street Blue Badge parking spaces. It also includes 516 long-stay and 22 short-stay cycle spaces.
The site is situated at the Junction of Lombard Road and York Road in an established residential neighbourhood within walking distance of a variety of local shops and restaurants in both Battersea and Clapham. It benefits from excellent public transport connectivity, including National Rail links at Clapham Junction Station. Battersea Park is also within walking distance with its sports centre, tennis courts and 200 acres of parkland.
The scheme will deliver 250 FTE construction jobs and 15-20 FTE operational jobs, targeting local people. Greystar has also committed to delivering an Employment and Skills Contribution targeting local people, as well as helping to fund the implementation of a Controlled Parking Zone around the building and an Open Space contribution.
ENDS
For further information please contact
Emma Garner, Cascade Communications
egarner@cascadecommunications.co.uk / +44 (0)20 7871 3562
Notes to editors
Greystar is a leading, fully integrated global real estate company offering expertise in property management, investment management, development, and construction services in institutional-quality rental housing, logistics, and life sciences sectors. Headquartered in Charleston, South Carolina, Greystar manages and operates more than $275 billion of real estate in 238 markets globally with offices throughout North America, Europe, South America, and the Asia-Pacific region. Greystar is the largest operator of apartments in the United States, manages more than 803,000 units/beds globally, and has a robust institutional investment management platform comprised of more than $74 billion of assets under management, including nearly $32 billion of development assets. Greystar was founded by Bob Faith in 1993 to become a provider of world-class service in the rental residential real estate business. To learn more, visit www.greystar.com.