Greystar launches Be Casa, the innovative concept of flexible and accessible accommodation where the new needs of the consumer are at the heart of its offer
Press Release
October 25, 2022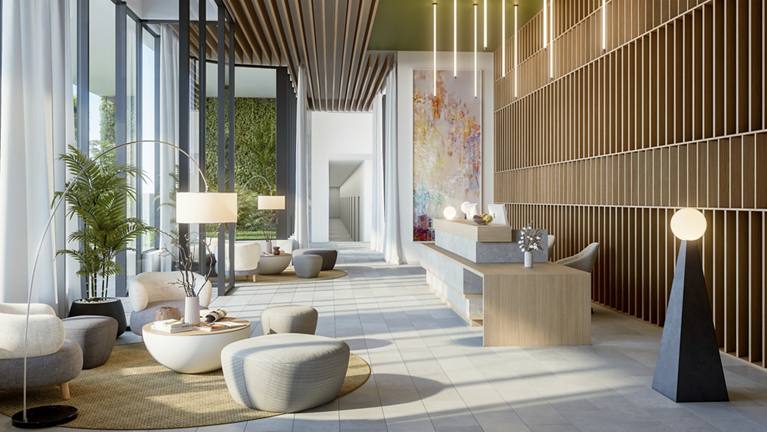 Be Casa will bring to the market quality accommodation inspired by flexibility and community, and professionally managed to respond to the changing demands of the population.
Greystar is to roll out three Be Casa accommodations in the Madrid region that will provide more than 2,500 flats. All three projects have been received with great interest and are being actively promoted and supported by the town councils of each municipality.
As a result of a deep understanding of consumer needs, Be Casa will offer flexibility in the length of stays, a combination of private and communal areas, a wide range of included services and competitive prices, with the aim of providing versatile spaces for work, leisure, and rest.
Madrid, 25 October 2022 – Greystar, a global leader in the investment, development, and management of high-quality rental housing, presents Be Casa, a new concept of hybrid and accessible accommodation focused on the customer and their needs.
Be Casa is created to provide the market with innovative, professionally managed quality accommodation that responds to the new demands of the population, such as greater flexibility; the need for spaces and environments that balance privacy with the outdoors, and communal areas adapted to work, leisure and rest.
Between now and 2023, Greystar will roll out three buildings under the Be Casa brand in Rivas-Vaciamadrid, San Sebastián de los Reyes and Valdebebas, offering more than 2,500 fully furnished studios and one or two-bedroom flats with fully equipped kitchens and bathrooms, as well as communal areas and a wide range of services.
The three projects, each of which is well connected by public transport and has easy access to the main access roads to Madrid, have been received with great interest and are being actively promoted and supported by the town councils of each municipality.
With an all-inclusive pricing policy, Be Casa will provide welcoming and fully equipped communities aimed at all types of customers: from those who need a temporary accommodation solution for work or personal circumstances, to those who want to explore alternatives to buying a home or a long-term rental contract, or are looking for versatile spaces, inclusive services and excellent connections. Be Casa stands out for the flexibility in the duration of the stays (days, weeks, or months) and for the ease of contracting, which can be done online and does not require a long-term contract.
It combines all the advantages of living at home with the comforts and services of a hotel, promoting a new way of understanding accommodation: inclusive and sustainable spaces and environments that generate a balance between work and personal life.
The private areas are configured to combine comfort, aesthetics and functionality with avant-garde, practical and sustainable design. The communal areas will provide an average surface area of 7,000 square metres and will consist of co-working spaces, gyms, social clubs, cafeterias, laundrettes, pet spas, cinema, together with large open spaces including gardens, outdoor swimming pools and sports courts. Each client will also have a parking space included and the option of storage rooms, with all services included in the price (utilities and Wi-Fi, cleaning, package reception and attention from a team that ensures security and maintenance).
Another premise of Be Casa is to enable residents to 'live' experiences through activities of interest and events, to create community and enrich their stays. This will also be achieved through the spaces: designed for them to feel an instant connection with themselves, with others and with the world around them.
Reservations for the Rivas-Vaciamadrid community can already be made through the Be Casa website.
Juan Acosta, Managing Director Greystar Spain: "There is no doubt that the way we live is evolving, and with it the way we think about housing. We need to be innovative in order to create flexible accommodation based on a new value proposition, focused on the tenant and the creation of community, providing customers with a professional and quality service. Be Casa stems from a deep understanding of the consumer and their needs to create communities where customers can share versatile spaces and unique experiences. Greystar is a long-term partner backed by institutional capital, and therefore especially committed to the success of the communities we operate in".
Be Casa: committed to sustainability and the revitalisation of municipalities
The generation of wealth and value for society, from a sustainable perspective, is another of the pillars of the project. Be Casa will contribute to the revitalisation of the municipalities where it is located, generating a positive impact on the environment with the generation of direct and indirect jobs, as well as the use of local suppliers and various collaborations with the local councils' employment agencies.
Finally, Be Casa is committed to sustainability, not only in the design of its offer and its prices, which are intended to be accessible and inclusive for all types of groups, but also from an environmental perspective. All the communities have the strictest environmental certifications, such as BREEAM "Very Good", and incorporate sustainable materials, energy self-sufficiency systems through aerothermal energy, bicycle parking areas to promote green mobility and parking spaces with chargers for electric cars.