Greystar Announces A$1.3 Billion Final Close of Greystar Australia Multifamily Venture I ("GAMV I")
Press Release
February 11, 2021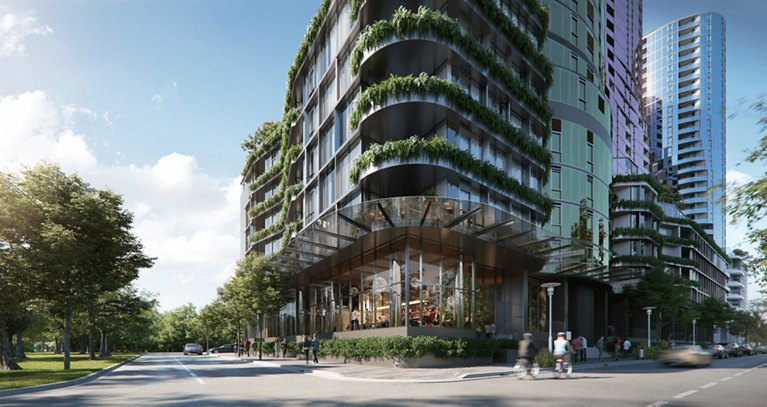 The Develop-to-Core venture, with capital commitments of A$1.3 billion, will primarily focus on the Sydney and Melbourne rental residential markets
SYDNEY, AUSTRALIA – February 11, 2021 – Greystar Real Estate Partners, LLC (Greystar), a global leader in the investment, development, and management of high-quality rental housing properties, is pleased to announce the final close (subject to regulatory approvals) of its flagship Australian investment vehicle Greystar Australia Multifamily Venture I (GAMV I) with total capital commitments of A$1.3 billion. In the final close, Ivanhoé Cambridge and a major European institutional investor joined founding investor APG Asset Management to establish Australia's largest Build-to-Rent venture to-date. The partnership will work together to deliver a new generation of high quality, purpose built rental housing with best-in-class services and amenities to meet the rapidly evolving needs of the large rental cohort in Australia.
Mr. Graeme Torre, Managing Director, APG Asset Management Asia, said,
"We see it as simply a matter of time before the build-to-rent residential sector gains a foothold in all the key Asia-Pacific markets. So, it is no surprise to us that major investors such as Ivanhoé Cambridge have committed to the sector alongside APG in a sophisticated market such as Australia. With continued urbanisation being a key requirement if we are all to have a chance of meeting climate goals and the consequent need to provide more housing options, Build-to-Rent presents as an essential asset class beyond just the economics. At APG, on behalf of our pension fund clients, we have a strong and global conviction to this sector, and we are delighted to have these partners join with us and Greystar to cause the sector to now become firmly established in Australia."
Mr. Adam Pillay, Senior Managing Director of Asia-Pacific for Greystar, said,
"The strong performance we have seen across our business globally, despite the challenges and uncertainty that have come with the onset of the global pandemic, has only served to reinforce our confidence, and that of our global partners, in the resilience of the rental housing sector. The strength of the national response to the pandemic in Australia, where underlying fundamentals remain attractive and the signs of market recovery are underway, underlines our conviction in the opportunity for long-term investment in institutional rental housing in this key market."
Mr. George Agethen, Senior Vice-President, Asia-Pacific of Ivanhoé Cambridge, said,
"The importance of rental housing is a key global conviction for Ivanhoé Cambridge, and we are delighted to extend our exposure to Australia together with Greystar and APG. As an early mover in the sector, we are excited to contribute to the institutionalisation of Build-to-Rent in Australia, and this venture will seek to set new benchmarks in customer service and amenities provision, while offering greater peace of mind to tenants."
Mr. Chris Key, Managing Director of Greystar Australia, said
"The quality of rental experience that Build-to-Rent offers residents in major urban centres around the world is not on offer here in Australia today. We plan to provide future focused, next generation rental housing with an abundance of customised amenity and communal spaces that are curated to provide a world-class resident experience. These projects will be designed to align and adapt to resident needs in a rapidly changing world. Careful consideration will be given to ensure we design and create seamless connections with the surrounding neighbourhoods to support the urban future of our major cities, while fostering a unique sense of community among those living within our buildings."
In addition to the previously announced acquisition by GAMV I of two properties for development in the inner Melbourne market of South Yarra, Greystar has also secured a second project on behalf of GAMV I in Gladstone Street, South Melbourne, part of the Fishermans Bend urban regeneration precinct. Greystar plans to commence both projects later this year with the projects having the potential to deliver over 1,300 new rental homes and create approximately 2,000 jobs over their construction phase.
"With the resources and global expertise of our trusted capital partners, we have the opportunity to deliver over 5,000 new homes for Australian renters to enjoy for many years to come. As we face a major downturn in high density construction in the coming years this partnership provides us with the opportunity to make our own contribution to Australian job creation and the economic recovery post Covid-19." said Mr Key.
About Greystar
Greystar is a leading, fully integrated real estate company offering expertise in investment management, development, and management of rental housing properties globally. Headquartered in Charleston, South Carolina, Greystar manages and operates over an estimated US$200 billion+ of real estate in nearly 200 markets globally including offices throughout the United States, United Kingdom, Europe, Latin America, and the Asia-Pacific region. Greystar is the largest operator of apartments in the United States, managing approximately 713,000 units/beds, and has a robust institutional investment management platform with approximately US$37.2 billion of assets under management, including over US$16 billion of assets under development. Greystar was founded by Bob Faith in 1993 with the intent to become a provider of world-class service in the rental residential real estate business. To learn more, visit www.greystar.com.
About APG Asset Management
Every day APG is busy with something that already concerns millions of Dutch people and one day will concern millions more: pensions. APG strives to provide a good pension in a livable world for all participants, employers and pension funds. Together we work on a sustainable future in which we do not only look at prosperity, but also at well-being. Because pensions are about people, life and how we live together. So that we, our parents, and our children can enjoy a good income. Today, tomorrow, and beyond. As the largest pension provider in the Netherlands APG looks after the pensions of 4.7 million participants. APG provides executive consultancy, asset management, pension administration, pension communication and employer services. We work for pension funds and employers in the sectors of education, government, construction, cleaning, housing associations, sheltered employment organizations, medical specialists, and architects. APG manages approximately €573 billion (December 2020) in pension assets. With approximately 3,000 employees we work from Heerlen, Amsterdam, Brussels, New York, Hong Kong, Shanghai and Beijing. www.apg.nl
About Ivanhoé Cambridge
Ivanhoé Cambridge develops and invests in high-quality real estate properties, projects and companies that are shaping the urban fabric in dynamic cities around the world. It does so responsibly, with a view to generate long-term performance. Ivanhoé Cambridge is committed to creating living spaces that foster the well-being of people and communities, while reducing its environmental footprint. Ivanhoé Cambridge invests internationally alongside strategic partners and major real estate funds that are leaders in their markets. Through subsidiaries and partnerships, the Company holds interests in more than 1,000 buildings, primarily in the industrial and logistics, office, residential and retail sectors. Ivanhoé Cambridge held C$64 billion in real estate assets as at December 31, 2019 and is a real estate subsidiary of the Caisse de dépôt et placement du Québec (cdpq.com), one of Canada's leading institutional fund managers. For more information: ivanhoecambridge.com
Media Contacts:
Greystar
Michael Mullane
T+61(0)414 590 296
Jo Osorio
T+61 416 135 590
Ivanhoé Cambridge
Robert T. Grieves, Hamilton Advisors
rgrieves@hamiltonadvisorsltd.com
D +852 2488 8866| M +852 9305 1810
Julie Benoit, Ivanhoé Cambridge
julie.benoit@ivanhoecambridge.com
M + 33 7 86 89 34 23
APG Asset Management
Dick Kors
T +31 634020751