What is Canvas by Greystar?
Apartments and Communities
July 27, 2022
Canvas by Greystar offers next-generation student accommodation in university cities across the UK and Netherlands. We strive to provide our residents with more than just a room and give them the tools to make their mark on the world.
Our Canvas Locations
Canvas has 8 properties across the UK, located in London, Manchester, Bristol, Coventry and Glasgow, plus one in Utrecht, The Netherlands. All our locations are hubs of connectivity, within walking distance to the closest tube, train or bus stations and with direct links to main universities and colleges across the cities. Canvas puts students in the beating heart of the community to enable them to study, work, shop, relax, party and live like a local, as we endeavour to be more than the average student accommodation.
"The site is located in a very accessible area between Walthamstow Central and Stratford, just perfect for people like me who visit these places often but don't want to be living surrounded by busy crowds. Most importantly, the building is just right beside the tube and overground station, which directly connects to Central London."
Xiaohan – Stayed at London Walthamstow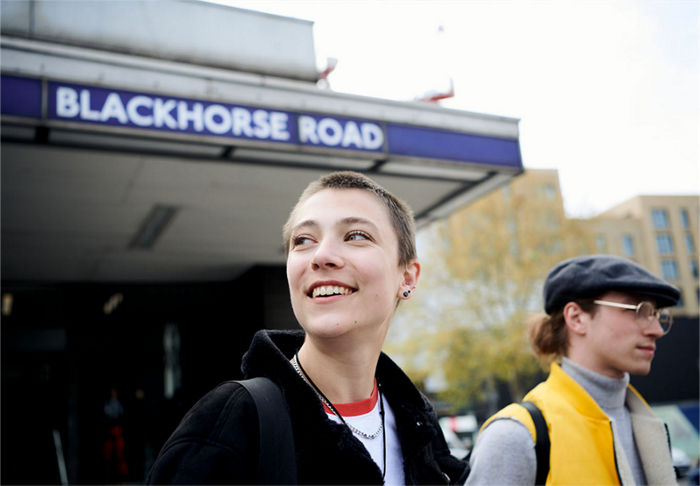 More Than Just a Room
Canvas provides a unique collection of fully furnished rooms ranging from studios and townhouses, to shared apartments and en suites – there's something for everyone. But we strive to offer more than just a room.
Our Canvases offer all-inclusive bills with 24-hour management, security and maintenance teams on hand for our residents' every need. They can also make the most of access to all on-site services and amenities from private gyms, study and social spaces, to rooftop terraces, cinemas and karaoke rooms, plus enjoy a packed events schedule with regular events celebrating cultural holidays, mindfulness and wellbeing, and career development.
At Canvas, the well-being of our residents is always at the forefront of our minds. We have a dedicated wellbeing support service via the My Healthy Advantage app, which includes welfare support and mindfulness advice, plus free access to trained councillors for all Canvas residents. We also have regular wellbeing and mental health support training for the Canvas teams and ensure they're always up to date and engaged with these training programs to confirm that students' wellbeing is always put first. Our Virtual Resident Experience Platform is also available for residents to access a range of virtual events and on-demand content from the comfort of their Canvas room.
"The building contains all of the necessary resources to facilitate a productive student environment (study room, gym, wash/dry facilities etc.) along with great personal and social spaces. The staff have been fantastic – nothing is too much to ask, they have been welcoming and accommodating from day one."
Jack – Stayed at Coventry Arundel House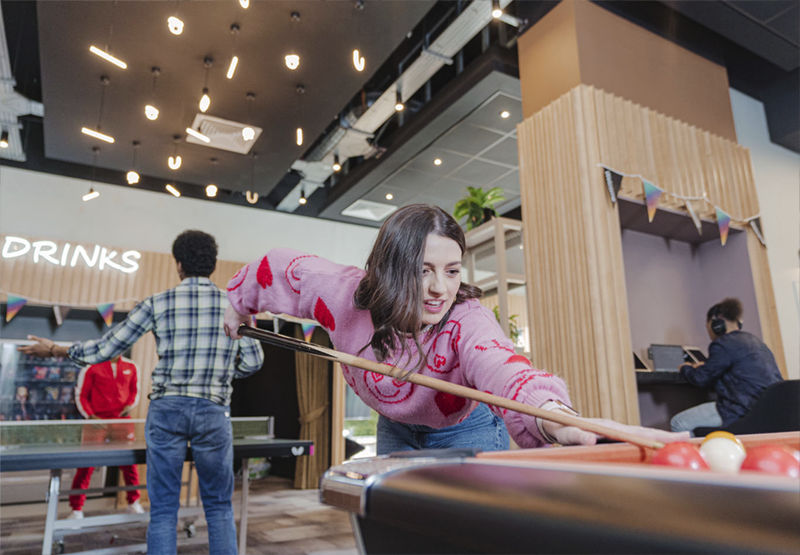 A Spectrum of Possibilities
Canvas puts people first: All types of people, from all types of places, making their home with us. We celebrate diversity but also focus on what brings us together, as student life gives everyone shared events and milestones, our locations and communities give us all a shared experience, and Canvas links us all together.
To highlight this across the Canvas branding, we have an overarching spectrum palette to signify unity, which is then broken down into colours per city to give each of our Canvas locations a sense of individuality. The individual colours for each city have been selected based on influential, cultural and historical factors around the local areas.
For example, all Canvas Utrecht (the location that started it all) branding is orange. Based on one of the main paint colours made by a company called Utrecht Artists, started by a European artist and his brother who moved to Brooklyn in the 40s and, unable to find quality canvas linen on that side of the Atlantic, started importing it from Europe. They named their company in honour of the nineteen Dutch settlers that founded the town of New Utrecht in New York in the 1600's. The canvas and paint is still made today.
Canvas Wembley's red mirrors the colour of the seats at the world-famous Wembley Stadium and, of course, England's famous red football shirts. It's also a nod to the colour seen in the new Spanish steps art project in the London Wembley area.
And Canvas Bristol's yellow comes from where we commissioned a local graffiti artist to paint murals at the building that represented the local culture and heritage. After extensive consultation with local residents, the artwork produced paid tribute to the local carnival and music scene and the centre piece for the main mural is a huge sunset, which is where the yellow is taken from.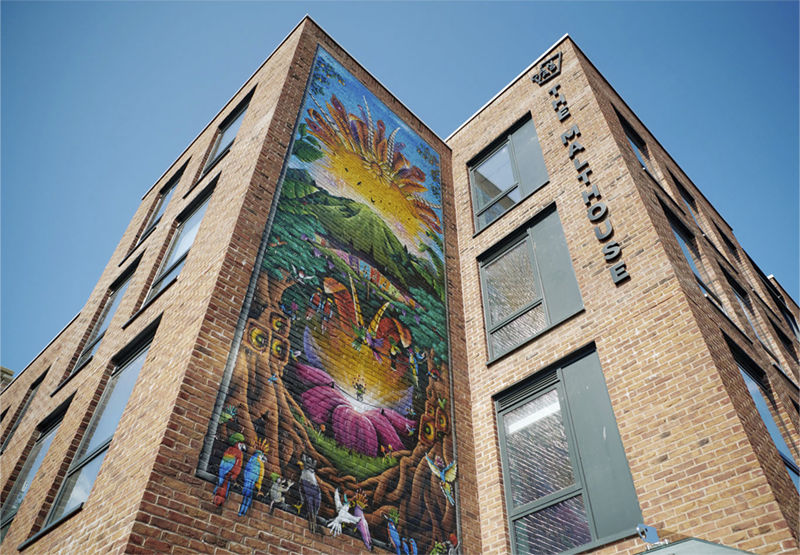 Our Sustainability Pledge
At Canvas, we're housing the next generation and know that sustainability is at the forefront of everyone's minds. As part of our ongoing sustainability pledge, our aim for the future is that in all situations, at all Canvas resident touchpoints, we'll be able to use the most sustainable printing and production methods available.
For internal signage, we use OSB panels which are more environmentally friendly compared to the usual use of acrylic signage found in other buildings. OSB is made from fast-growing trees of small diameter and utilises minimal chemicals in comparison with products of the same category.
In general print situations, we use the Mondi NAUTILUS® graphic paper range, which is uncoated and made from 100% post-consumer recycled paper. These papers match the highest sustainability standards and are FSC™ and EU Ecolabel certified.
Plus, we're looking to ensure that all furniture within our Canvas properties is made from recycled, reused and repurposed materials, wherever possible. Would you guess that these tables at Canvas Walthamstow are made from recycled yoghurt pots?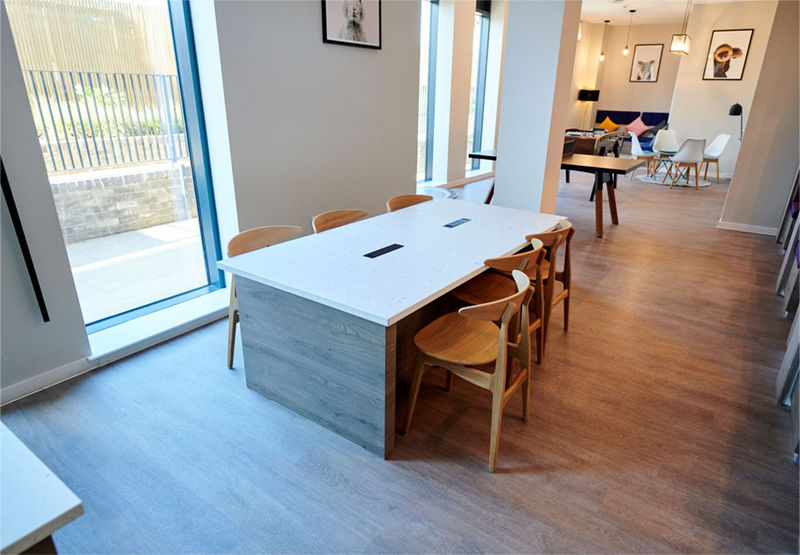 We're excited to grow our Canvas community further and share our journey. If you want to find out more about student life at Canvas, head over to www.canvas-student.com and follow us on Instagram at @canvas_studentuk or @canvas_utrecht.
The information presented on or through this Website is made available solely for general information purposes. We do not warrant the accuracy, completeness, or usefulness of this information. Any reliance you place on such information is strictly at your own risk. We disclaim all liability and responsibility arising from any reliance placed on such materials by you or any other visitor to this Website, or by anyone who may be informed of any of its contents. Any reference to amenities, services, rules, policies, or procedures at a Greystar apartment community is general in nature, and each Greystar apartment community may have amenities, services, rules, policies, and procedures that differ from those referenced on this Website. Please consult with your Greystar apartment community for the exact amenities, services, rules, policies, or procedures applicable.
This Website may include content provided by third parties, including materials provided by other users, bloggers, and third-party licensors, syndicators, aggregators, and/or reporting services. All statements and/or opinions expressed in these materials, and all articles and responses to questions and other content, other than the content provided by Greystar, are solely the opinions and the responsibility of the person or entity providing those materials. These materials do not necessarily reflect the opinion of Greystar. We are not responsible, or liable to you or any third party, for the content or accuracy of any materials provided by any third parties.