How To Create A Home Office
Over the past few weeks, the safest option for many of us has been to work from home. With the official employee guidelines from governments across the globe instructing us all to work from home unless it is impossible for us to do so, carrying out the 9-to-5 at the house has quickly become the new normal.

For many of us, the traditional 9-to-5 grind is becoming a thing of the past. In fact, The New York Times reported in 2014 that between 2005 and 2012, the number of Americans working remotely increased by an astonishing 79 percent! What's more, some experts claim that employees who work from home are more productive and satisfied than their office-bound counterparts.
However, staying on task can feel difficult when you're working at the kitchen table (or, let's be honest, the living room couch). If you plan on working from your apartment more than a couple of hours a week, we recommend putting together a home office. You can easily set up shop in an empty corner of your bedroom or living room.
Whether this is your first time working from home or you class yourself as a seasoned professional, here are some inspiring home office design ideas that will make your space feel worthy of a Fortune 500 ranking:
1. Add pops of color:
In general, the walls in all Greystar apartments are painted neutral colors. This is perfect for a home office since it fosters an environment of calmness and clarity. That being said, bright colors are perfectly fine as accents, so feel free to let your personality shine through in details such as furniture color, wall art and rugs!
2. Pick out a spacious work surface:
When working on a big project, the last thing you want to feel is cramped or confined. If you're on a tight budget, IKEA has the perfect answer – a variety of mix-and-match tabletops and legs that come in several styles and can be put together in a flash. If you'd like to invest in furniture that's more solid or stately, local furniture stores might be the place to start. Just remember to measure the room before going shopping so the desk you buy doesn't end up consuming the space or blocking the window and/or door. Also keep in mind whether you will be using multiple monitors, docking stations or printers that will take up space when deciding on whether to invest home office furniture.
3. De-clutter with simple shelving: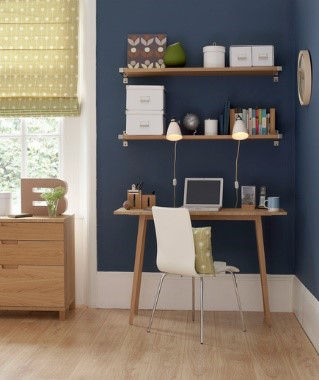 Install some floating shelves for a solution that is simultaneously sophisticated and functional. For an especially cohesive look, make sure that your shelves match the desk or tabletop you've picked out. Be sure to check with your community manager regarding safe installation of shelves.
4. Keep papers under control with hanging clipboards:
If you're into unconventional wall decor, this quirky idea is a must. Use clipboards to corral important documents or display photos, art or your favorite inspirational quotes.
5. Write reminders on a chalkboard tile: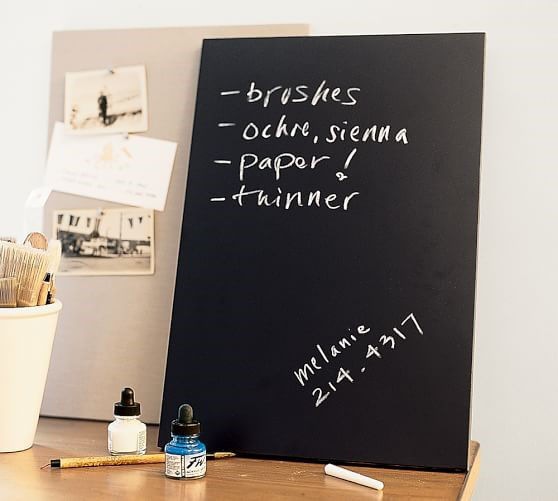 Add some charm to your home office when you opt for a hanging chalkboard instead of a boring old whiteboard. Pottery Barn sells chalkboard tiles individually and in sets of four (in case you want to add a few to your kitchen or entryway!).
6. Organize cords with household items:
Keeping chargers, Ethernet cables and headphones where they belong is easier than ever with the help of a few handy binder clips! If you'd like something a little more colorful, order a pack of CableDrop organizers.
7. Enhance the scenery with some pint-sized greenery:
Add some cheer to your office with a tiny desk plant! We recommend cacti and succulents since they require minimal watering and maintenance. But, the occasional bouquet of flowers is always a nice treat.
Now there's nothing stopping you from taking care of business, except perhaps deciding between business casual or pajamas!
Whilst staying indoors may become repetitive or start to feel frustrating, it is important to remember that working from home is a luxury that isn't possible for everyone. Certain jobs require people to travel to their place of work – for instance if you operate machinery, work in construction or manufacturing, or are delivering front line services. Right now the best thing we can do in stay indoors and follow the advice of our government, for more information about Greystar's response to Coronavirus (COVID-19) click here.
The information presented on or through this Website is made available solely for general information purposes. We do not warrant the accuracy, completeness, or usefulness of this information. Any reliance you place on such information is strictly at your own risk. We disclaim all liability and responsibility arising from any reliance placed on such materials by you or any other visitor to this Website, or by anyone who may be informed of any of its contents. Any reference to amenities, services, rules, policies, or procedures at a Greystar apartment community is general in nature, and each Greystar apartment community may have amenities, services, rules, policies, and procedures that differ from those referenced on this Website. Please consult with your Greystar apartment community for the exact amenities, services, rules, policies, or procedures applicable.
This Website may include content provided by third parties, including materials provided by other users, bloggers, and third-party licensors, syndicators, aggregators, and/or reporting services. All statements and/or opinions expressed in these materials, and all articles and responses to questions and other content, other than the content provided by Greystar, are solely the opinions and the responsibility of the person or entity providing those materials. These materials do not necessarily reflect the opinion of Greystar. We are not responsible, or liable to you or any third party, for the content or accuracy of any materials provided by any third parties.