Houston's Back, and These Hot Spots Will Initiate You into the New Space City
For Residents
May 30, 2018
To be a champion, one must face down adversity and overcome obstacles that peers would have thought impossible to overcome. By this definition, Houston is full of champions. And no, we're not just talking about the Justin Verlanders and José Altuves out there. We're talking about the ordinary citizens of Space City, the ones who have persevered and persisted through the hardship they faced in the fall of 2017.
When Hurricane Harvey hit the Gulf Coast, the impact was crippling. Causing $180 billion-plus in damages, the wettest tropical cyclone the United States has ever seen displaced thousands and affected the lives of millions. Defeating hardship after hardship — and overcoming adversity the likes of which had not been seen since Hurricane Katrina hit New Orleans in August 2005 — the citizens of Houston banded together and, in Astros-like fashion, came back swinging in an effort to rebuild their beloved city.
Today, though the city is still in the process of recovering from the calamity, Houstonians have begun returning to normalcy. Many areas have or are being restored, allowing citizens to get back to their ordinary routines. If you recently moved to the area or are considering making the Bayou City your home in the future, here are a few hot spots — chosen by locals for locals — that are back up and running.
Dining
To see for yourself how much the city has recuperated, you've got to grab dinner at Spindletop. The seafood restaurant that's 34 floors off the ground offers breathtaking vistas of downtown thanks to its revolving dining room. Completing a rotation every 45 minutes, the restaurant atop the Hyatt Regency Houston gives you constantly changing views while treating your palate to Southwestern-inspired dishes paired with a glass of wine or a rich cocktail. Celebrate your new apartment in your new city by making a reservation — as long as it's not on a Sunday or Monday night when the hot spot is closed.
If you're looking for something a bit more casual, you'll want to check out Kirby Ice House. The ranch-style bar features 50 beers on tap, eight draft cocktails and a large wine collection, in addition to a large backyard area that is frequented by popular food trucks. Since the bar has a 600-person capacity, finding a place to sit down and socialize with friends shouldn't be too difficult — unless it's a beautiful spring or fall night when the stars are shining brightly.
Outdoors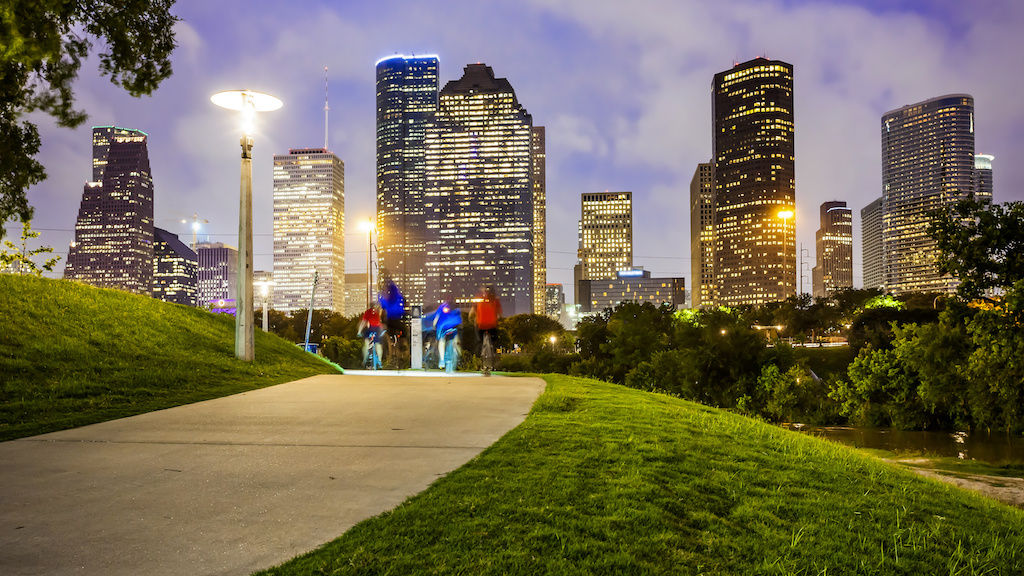 Apartment residents wanting an experience that's out of this world — or rather, all around it — can stop by the Houston Zoo. The wildlife exhibits at the second most visited zoo in the United States are home to more than 900 species from all over the world. From feeding the giraffes to riding on the popular carousel, you'll have plenty of options for keeping a budding environmentalist entertained. If you're an adult that's jealous because the kids get to have all the fun, check out Camp Zoofari for Adults and explore the connection between the Houston Zoo and wildlife conservation.
While Houston is one of the largest cities in the country, not everything in the area is covered with concrete. Buffalo Bayou Park is a beautiful urban getaway that you'll love to explore. Cyclists appreciate riding along both sides of the waterway, and their enthusiasm for the park is only rivaled by the dogs probing the area's surplus of smells. Though currently closed due to flooding, when Johnny Steele Dog Park reopens this summer, it will once again take its place at the top of the dog park podium. Featuring ponds, shade structures, water play features and drinking fountains with spigots for your four-legged friend, the green space offers you and your canine companion plenty of options to enjoy.
Events
If you really want to immerse yourself in the local culture, you've got to attend the Houston Livestock Show and Rodeo that takes place in late February and March. Featuring championship rodeo competitions, concerts performed by celebrated musicians, a world-renowned livestock show and a fun-filled carnival, the rodeo entertains and educates Houstonians about agriculture while providing plenty of excitement for all ages.
For all you runners who are new to Houston and looking for an event to participate in, the rodeo's 10k race and 5k fun run/walk are great ways to show your speed while benefiting the Houston Livestock Show and Rodeo Educational Fund. Following the race, you'll deserve a meal fit for the competitor you are, which is why you should check out some of the public venues at the World's Championship Bar-B-Que Contest. It's only steps from the finish line, and you can enjoy some mouthwatering brisket while listening to live music before attending the Livestock Show's carnival. Cowboy boots are optional, of course!
Shopping
The Astros aren't the only world-class organization in Houston. The Galleria is an elite shopping destination that sees more than 30 million visitors walk through its doors each year. The center's 400 stores are composed of luxurious brands including Tiffany & Co., Gucci, Louis Vuitton, H&M, Chanel, Ralph Lauren and many more. Plus, find furniture and accessories to decorate your new apartment with at Macy's, Lovesac, Off the Wall Gallery and Tommy Bahama.
When your arms get tired of toting around bags full of your favorite brands, take a break at one of the steakhouses or dumpling bars the Galleria offers. A full-sized ice rink sits in the heart of the mall, so you can skate and spin to your heart's delight regardless of the weather outside, which can be gorgeous one moment and gloomy the next.
Maybe you aren't interested in following the most recent fads and trends. Perhaps you like looking back more than you do forward. If that's the case, stop by the Historic Heights 19th Street. Packed with stores offering vintage clothing, antique home décor and handmade jewelry, the outdoor shopping center is a unique escape from your run-of-the-mill mega mall. Just think about all the new accoutrements you can find to decorate your Greystar apartment!
If you're looking for an apartment to rent in the Houston area — be it in downtown, the Energy Corridor, Uptown or the Museum District — check out all of the communities Greystar has to offer.
The information presented on or through this Website is made available solely for general information purposes. We do not warrant the accuracy, completeness, or usefulness of this information. Any reliance you place on such information is strictly at your own risk. We disclaim all liability and responsibility arising from any reliance placed on such materials by you or any other visitor to this Website, or by anyone who may be informed of any of its contents. Any reference to amenities, services, rules, policies, or procedures at a Greystar apartment community is general in nature, and each Greystar apartment community may have amenities, services, rules, policies, and procedures that differ from those referenced on this Website. Please consult with your Greystar apartment community for the exact amenities, services, rules, policies, or procedures applicable.
This Website may include content provided by third parties, including materials provided by other users, bloggers, and third-party licensors, syndicators, aggregators, and/or reporting services. All statements and/or opinions expressed in these materials, and all articles and responses to questions and other content, other than the content provided by Greystar, are solely the opinions and the responsibility of the person or entity providing those materials. These materials do not necessarily reflect the opinion of Greystar. We are not responsible, or liable to you or any third party, for the content or accuracy of any materials provided by any third parties.