Greystar Appoints Terri Herubin to Lead U.S. Open-Ended Fund Platform
Press Release
April 9, 2019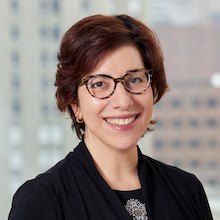 Industry veteran to play pivotal role as firm advances global expansion of sector-specific perpetual life funds

CHARLESTON, S.C. – April 9, 2019 – Greystar Real Estate Partners, LLC and its affiliates ("Greystar"), a global leader in the investment, development, and management of high-quality rental housing properties, is pleased to announce that Terri Herubin has been hired as a Managing Director of Portfolio Management responsible for Greystar's U.S. open-ended fund platform. In this role, Ms. Herubin will oversee the company's flagship perpetual life funds in the U.S., and she will also serve as practice leader for Greystar's international open-end investment vehicles.

"Greystar is creating a center of excellence in sector-specific open-ended funds globally, and we remain a dominant and growing market leader in the management of these investment vehicles," said Bob Faith, Founder and CEO of Greystar. "Our success can be directly attributed to our commitment to attracting and retaining the industry's best talent. Terri exemplifies this strategy, and her role will be pivotal in supporting the continued global expansion of this critical aspect of our business."

Most recently, Ms. Herubin served as Managing Director and Real Estate Senior Product Specialist at Angelo Gordon, where she contributed to the strategic growth of the firm's real estate assets under management. She joined Angelo Gordon from Barings Real Estate, where she was a Managing Director and lead Portfolio Manager for the firm's core open-end fund, as well as a member of the real estate equity investment committee. Prior to Barings Real Estate, Ms. Herubin held senior positions at The Townsend Group, United Development Company and New York State Teachers' Retirement System.

"Terri is an exceptional talent with a demonstrated track record of managing various types of real estate investment vehicles, and we're thrilled to have her on our team," said Wes Fuller, Executive Managing Director of Investment Management at Greystar. Ms Herubin has relocated to Greystar's corporate headquarters in Charleston, SC and will report to Chris MacNaughton, Greystar's Senior Managing Director of Portfolio Management.

Ms. Herubin holds a B.A. in urban planning from the University of Illinois at Urbana-Champaign as well as a J.D. from Brooklyn Law School, and she currently serves on the board of trustees for Brandywine Realty Trust.

About Greystar
Greystar is a leading, fully integrated real estate company offering expertise in investment management, development, and management of rental housing properties globally. Headquartered in Charleston, South Carolina, Greystar manages and operates an estimated $115 billion of real estate in over 180 markets globally including offices throughout the United States, UK, Continental Europe, Latin America, and the Asia-Pacific region. Greystar is the largest operator of apartments in the United States, managing approximately 500,000 units/beds, and has a robust institutional investment management platform with $32 billion of assets under management including $12 billion of assets under development. Greystar was founded by Bob Faith in 1993 with the intent to become a provider of world-class service in the rental residential real estate business. To learn more, visit www.greystar.com.
Media Contact:
Megan Kivlehan
ICR on behalf of Greystar
Megan.Kivlehan@icrinc.com