Greystar acquires five purpose-built student accommodation assets across the UK for £291m
Press Release
February 18, 2021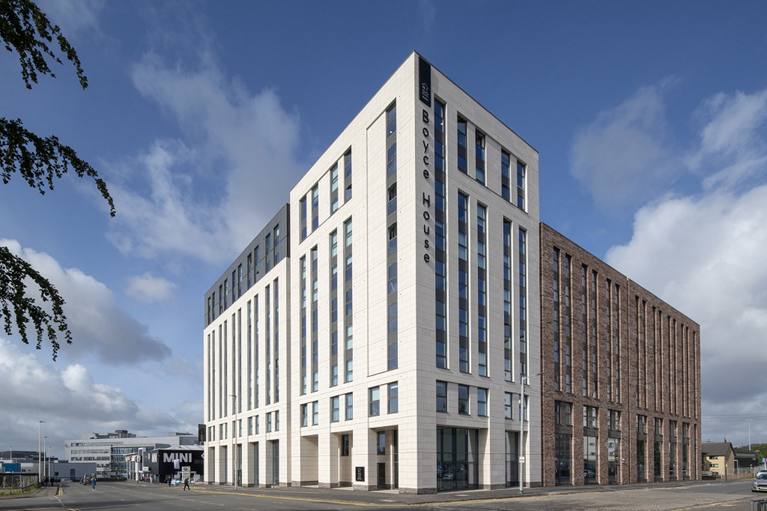 •
Assets have been acquired from the Nido portfolio owned by KKR in an off-market transaction
•
The five buildings are located in the world-renowned university cities of London, Glasgow, Coventry and Bristol
•
Greystar will undertake a proactive asset management strategy to maximise value and operate them under a new European brand
London, 18 February 2021 –
Greystar Real Estate Partners, LLC ("Greystar"), a global leader in the investment, development, and management of high-quality rental housing, has acquired five purpose-built student accommodation ("PBSA") assets in the UK for £291 million in an off-market transaction from the Nido portfolio owned by leading global investment firm KKR for a managed fund.
The five PBSA assets comprise a total of 2,163 units situated in four cities renowned for their higher education institutions – London, Glasgow, Coventry and Bristol. Four of the assets are operational and let to students for the 2020/21 academic year, while the asset in Bristol is under construction and due for occupancy in September 2021.
Greystar will implement a proactive asset management strategy to maximise the value of each asset and operate them under a newly created European brand, which will be brought to market later this year. Each asset currently offers a range of different room types to suit students' individual needs, allowing for a range of pricing. The sites are well-located close to the respective university campuses and nearby city centres, with the London sites benefiting from excellent transport links.
The acquisition forms Greystar's second UK PBSA portfolio, alongside the premium London-focused brand Chapter. It follows the sale of the iQ portfolio to Blackstone for £4.7 billion by the Goldman Sachs, Wellcome Trust and Greystar partnership at the beginning of 2020. Greystar has been scaling its PBSA operations in Europe recently announcing a new develop-to-core venture in Paris and a large acquisition of 1,500 units in Spain to grow its market leading Resa brand.
Ben Mowbray, Senior Director – UK Investment, Greystar, said:
"The acquisition marks our re-entry into the regional UK student accommodation market following the sale of iQ and a successful six years owning and operating a separate premium portfolio in London. We see potential to generate additional yield from these assets through dynamic pricing and the introduction of our world class operating platform. The fundamentals of the UK student accommodation market are still strong despite the pandemic. There was a record number of applications to higher education institutions across the country and students are adapting to a hybrid model of learning. Meanwhile there is still a structural undersupply of student accommodation to meet this demand."
Mark Allnutt, Senior Managing Director - Europe, Greystar, said:
"The rise of student accommodation is a global phenomenon, driven by global demographics. The global population of students in higher education, including both international and domestic, currently stands at 250 million and this is expected to double over the next 15-20 years. Again, this is driven by secular trends rather than cyclical factors, notably the rise of the middle class in emerging markets. Regardless of the pandemic, student housing remains a counter-cyclical asset class, so while near term occupancy may be temporarily affected, we expect rental rates to remain resilient. As occupancy recovers, we expect to see continued rental growth with few risks from a weak economy and labour market. Student numbers tend to rise with unemployment as graduate students 'retool' for the recovery phase of the cycle."
For more information contact:

Greystar media enquiries: Tel: +44 (0) 20 7251 3801
Finsbury (PR adviser)
Gordon Simpson gordon.simpson@finsbury.com
James Thompson james.thompson@finsbury.com
Andrew Pantaleo Andrew.pantaleo@finsbury.com


About Greystar
Greystar is a leading, fully integrated real estate company offering expertise in investment management, development, and management of rental housing properties globally. Headquartered in Charleston, South Carolina, Greystar manages and operates over an estimated $200 billion+ of real estate in nearly 200 markets globally including offices throughout the United States, United Kingdom, Europe, Latin America, and the Asia-Pacific region. Greystar is the largest operator of apartments in the United States, managing approximately 713,000 units/beds, and has a robust institutional investment management platform with approximately $37.2 billion of assets under management, including over $16 billion of assets under development. Greystar was founded by Bob Faith in 1993 with the intent to become a provider of world-class service in the rental residential real estate business. To learn more, visit www.greystar.com

About the Portfolio
Forest Road in Walthamstow, London, house 353 rooms with the majority currently allocated to ensuites with a selection of studios. It is in a strong commuter location adjacent to Blackhorse Road Underground Station offering access to central London in 15 minutes via the Victoria Line. The 15-floor building offers views across London and also contains a gym and 923 sqm of commercial space at ground floor level.

Albion Way in Wembley, London, comprises 283 rooms currently weighted towards ensuites and 104 sqm of commercial space at ground level. It is a four-minute walk to Wembley Park Underground Station offering easy access to central London via the Jubilee and Metropolitan Lines in around 20 minutes. Wembley is becoming a popular hub for students living outside Zones 1 and 2 given its accessibility.

Kyle Street in Glasgow houses 401 beds, of which the majority are ensuites, and 383 sqm of commercial space at ground floor level. The asset is located between two of Glasgow's three universities – the University of Strathclyde (ten-minute walk) and Glasgow Caledonian University (five-minute walk). Both universities are significantly undersupplied with limited access to high quality PBSA.

Whitefriars Lane in Coventry comprises 778 beds weighted towards ensuites rooms and is located in the middle of the Coventry University campus. It is one of the best located PBSA buildings in Coventry and is a five-minute walk from the city centre. Coventry is one of the largest university cities in the UK and boasts two institutions – the University of Warwick and Coventry University. The latter has experienced strong growth over the past decade.

Wilder Street in Bristol comprises 348 predominantly ensuites rooms and 208 sqm of commercial space at ground level. The asset is located in Stokes Croft around a 20-minute walk from the centre of the University of Bristol campus, a seven-minute walk from Cabot Circus and a 15-minute walk to the city centre. Historically planning has been very restrictive in term of the provision of student accommodation in the city, as a result there is a significant supply and demand imbalance for modern, high quality housing.