Sacramento State, Greystar Celebrate the Opening of Hornet Commons
Press Release
August 11, 2021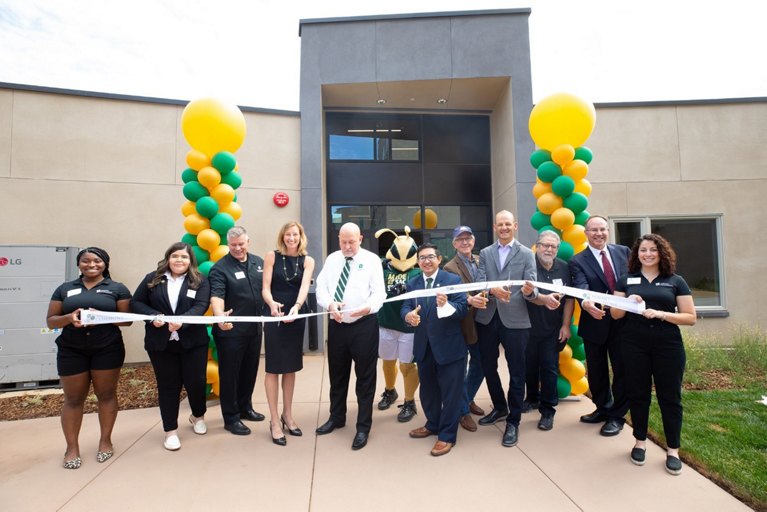 Sacramento, CA., Aug. 11, 2021 – Sacramento State University hosted a ribbon-cutting ceremony on July 29, 2021, to mark the opening of Hornet Commons, an 1,100-bed student housing community developed in partnership with Greystar Real Estate Partners, a leader in mixed-use collegiate housing. The project provides a new gateway on the campus's southern border while anchoring the formerly isolated site back to the campus.
Hornet Commons will serve upper-division and graduate students who are seeking convenience, independence, and community in a residential environment that promotes their academic success in alignment with Sacramento State's mission.
"Hornet Commons provides yet another way to bring our Hornet Family back together again by offering housing options geared toward sophomores, juniors, seniors, and graduate students," said Sacramento State President Robert S. Nelson. "We all know that students who live on campus tend to have higher grades and graduate sooner. Hornet Commons will give 1,100 students each year that boost on their pathway to graduation."
Hornet Commons offers apartment-style housing in fully furnished units ranging from studios to 4-bedrooms. Amenities include a swimming pool, fitness center, volleyball and bocce ball courts, an Einstein Bros. Bagels café, fire pits, a clubhouse, hammock hangers, a yoga lawn, and a sundeck.
"We are excited to welcome Sacramento State's students to Hornet Commons," said Julie Skolnicki, Senior Managing Director of Greystar University Partnerships. "This project was conceived with lofty goals of supporting academic outcomes, strengthening the sense of community, and providing a long-term partnership. This vision has never been more significant as we welcome students back to Sacramento State and support the campus mission of transforming lives by preparing students for leadership, service, and success."
To help with the economic challenges of attending college, Greystar has launched the Hornet Helping Hands ("H3") Scholarship. Funded by Greystar and generous sponsors, H3 will provide full housing scholarships for deserving students each year.
About Greystar
Greystar is a leading, fully integrated real estate company offering expertise in investment management, development, and management of rental housing properties globally. Headquartered in Charleston, South Carolina, Greystar manages and operates over an estimated $220 billion of real estate in more than 200 markets globally including offices throughout the United States, United Kingdom, Europe, South America, and the Asia-Pacific region. Greystar is the largest operator of apartments in the United States, managing more than 740,000 units/beds, and has a robust institutional investment management platform with approximately $41.3 billion of assets under management, including over $19.2 billion of assets under development. Greystar was founded by Bob Faith in 1993 with the intent to become a provider of world-class service in the rental residential real estate business. To learn more, visit www.greystar.com.
Media Contact: media@greystar.com