PGGM Infrastructure Fund acquires 100 percent stake in RESA
Press Release
August 1, 2022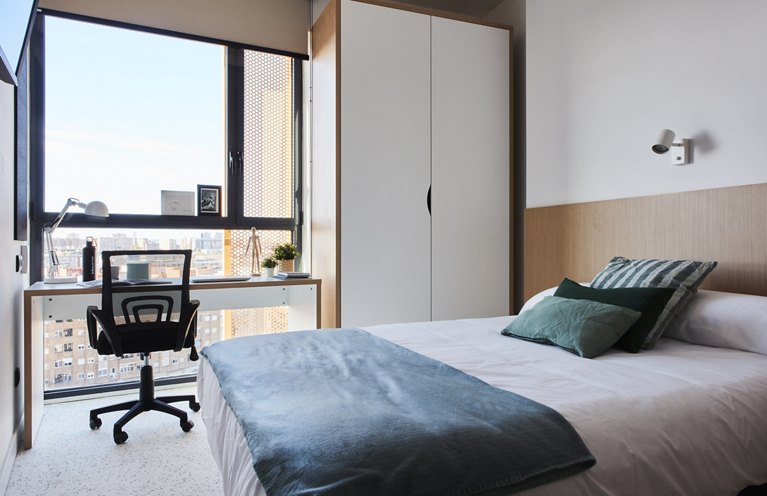 Spain – 1 August 2022 –
PGGM Infrastructure Fund has entered into a definitive agreement to acquire the leading Spanish student accommodation group RESA (Residencias de Estudiantes en España) from Greystar, AXA IM Alts and investors represented by CBRE Investment Management.
The acquisition of RESA further strengthens PGGM's positioning within the social infrastructure. PGGM's Infrastructure Fund has a long track-record[1] in the student accommodation sector having built a strong and successful partnership with UPP in the UK for more than 10 years, PGGM being the majority shareholder at UPP with a 60% equity stake.
Under the partnership of AXA IM Alts, CBRE IM and Greystar during the 2017-2022 period, RESA has grown to become the largest student accommodation platform in Spain, with approximately 11,200 beds in 21 key student cities, including Madrid, Barcelona and Valencia, and expanded from 33 residences to 43 (40 are currently in operation and 3 are under development, with expected openings in 2024 and 2025).
Stuart Bousfield, Investment Director at PGGM Infrastructure
: "RESA is Spain's leading student accommodation portfolio, with more than 30 years of track-record, an excellent management team in place and considerable growth potential in one of Europe's most undersupplied student housing markets. It will provide stable and inflation-linked returns to our clients like pension fund PFZW.''
Natasha Mol-Knechtel, Head of PPP and Social Infrastructure investments at PGGM
adds: "Affordable and high-quality student accommodation is essential for a functioning education and social system and with the acquisition of RESA we are advancing our sustainable development agenda.''
Juan Manuel Acosta, Managing Director – Spain, Greystar
, said: "We entered the Spanish residential real estate market in 2017 with the acquisition of RESA. Alongside our partners, we have added significant value and grown the portfolio to the multi-award-winning sustainable portfolio it is today. This would not have been possible without the hard work and dedication of the RESA team members who are committed to ensuring residents have the best experience at university – even during the pandemic. Moving forward, we will continue to grow our portfolio of residential and student housing assets in southern Europe via discretionary capital and other ventures."
Line Verroken, Investment Director at CBRE IM
, said: "Since our entry into the Spanish student housing sector in 2017, we have seen a tremendous consolidation and growth opportunity as well as a strong institutionalization of the sector. We are proud to have supported the growth of RESA into a market-leading platform and are very thankful for the dedication and hard work of Greystar and the RESA employees."
The deal comes after a structured process involving a large number of potential buyers.
The deal is conditional upon obtaining merger clearance approvals from the Spanish Antitrust Authorities.
BBVA (M&A and Debt Advisory), Freshfields Bruckhaus Deringer (Legal), KPMG (Financial and Tax DD), and Savills (Technical) advised PGGM on the acquisition.
Eastdil Secured (M&A), CBRE (Commercial), Garrigues (Legal and Tax), Deloitte (Financial), Arcadis (Technical) and Longevity advised AXA IM Alts, CBRE IM and Greystar on the sale.
For more information:
PGGM Corporate Communication
Ellen Habermehl
Ellen.habermehl@pggm.nl
+31 (0)30 277 97 35
www.pggm.nl
About RESA
RESA is the largest private and fully vertically integrated student accommodation platform in Spain, with c. 11,200 beds under management, split into 43 projects located in more than 20 cities across the country. During the academic year, RESA offers accommodation solutions tailored to the needs of each university campus, i.e. full-year accommodation for undergraduate students, monthly accommodation for international mobility students and even residences designed specifically for professors, researchers, masters and postgraduates. During the summer, RESA's main activity is complemented by hosting sports and cultural groups, congresses and educational groups.
www.resa.es
About PGGM
PGGM is a not-for-profit cooperative pension fund service provider. As a pensions administrator, asset manager and advisor to pension fund boards, it executes its social mandate: to provide for good old-age incomes for 4.4 million participants in the Netherlands. As of June 30, 2022 PGGM managed long-term pension capital of c. EUR 241 billion worldwide. Rooted firmly in the Dutch healthcare sector, PGGM develops innovative provisions for labour market issues in this sector, alone or with strategic partners. Our member organization PGGM&CO supports 764,000 workers and pensioners with a background in healthcare.
www.pggm.nl
About CBRE Investment Management
CBRE Investment Management is a leading global real assets investment management firm with $146.8 billion in assets under management* as of March 31, 2022, operating in more than 30 offices and 20 countries around the world. Through its investor-operator culture, the firm seeks to deliver sustainable investment solutions across real assets categories, geographies, risk profiles and execution formats so that its clients, people and communities thrive.
CBRE Investment Management is an independently operated affiliate of CBRE Group, Inc. (NYSE:CBRE), the world's largest commercial real estate services and investment firm (based on 2021 revenue). CBRE has more than 105,000 employees (excluding Turner & Townsend employees) serving clients in more than 100 countries. CBRE Investment Management harnesses CBRE's data and market insights, investment sourcing and other resources for the benefit of its clients. For more information, please visit www.cbreim.com
*Assets under management (AUM) refers to the fair market value of real assets-related investments with respect to which CBRE Investment Management provides, on a global basis, oversight, investment management services and other advice and which generally consist of investments in real assets; equity in funds and joint ventures; securities portfolios; operating companies and real assets-related loans. This AUM is intended principally to reflect the extent of CBRE Investment Management's presence in the global real assets market, and its calculation of AUM may differ from the calculations of other asset managers and from its calculation of regulatory assets under management for purposes of certain regulatory filings.
www.cbre.com
About Greystar
Greystar is a leading, fully integrated real estate company offering expertise in investment management, development, and management of rental housing properties globally. Headquartered in Charleston, South Carolina, Greystar manages and operates over $221 billion of real estate in 224 markets globally including offices throughout North America, Europe, South America, and the Asia-Pacific region. Greystar is the largest operator of apartments in the United States, manages over 768,000 units/beds, and has a robust institutional investment management platform with more than $58.2 billion of assets under management, including over $24 billion of development assets. Greystar was founded by Bob Faith in 1993 with the intent to become a provider of world-class service in the rental residential real estate business. To learn more, visit
www.greystar.com