Peak Pacific Northwest Living Can Be Found at Traverse North Bend
Press Release
August 9, 2023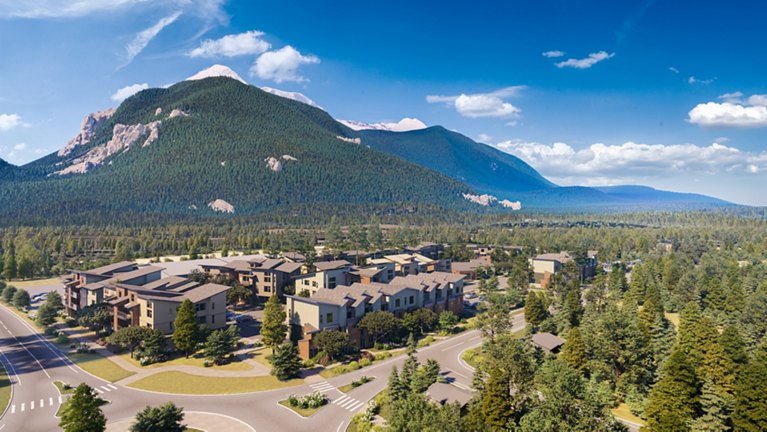 Peak Pacific Northwest Living Can Be Found at Traverse North Bend, Now Pre-leasing
NORTH BEND, WA (August 1, 2023) — Greystar Real Estate Partners, LLC ("Greystar"), a global leader in the investment, development, and management of real estate, including rental housing, logistics and life sciences, today announced that Traverse North Bend is now pre-leasing and offering in-person construction tours.
"Traverse North Bend provides residents a private sanctuary nestled among the fir trees in the foothills of Mount Si," Aaron Keeler, Managing Director Development, Greystar, said. "The stunning surroundings are only the beginning of this new community's charm and appeal. Care was taken to design Traverse North Bend to maximize the mountain views while providing top-notch amenities tailor made for people that want the quality of life and natural surroundings free from city distractions and 30 minutes from the city amenities, you can have the best of both worlds. We strived to create a cozy mountain lodge feel that welcomes residents home."
The community is comprised of 12 garden-style and townhome buildings that have 128 apartment homes in one-, two- and three-bedroom layouts, which have more square footage than average apartments in the area. Floor-to-ceiling windows provide plenty of natural light while also showcasing the views from each apartment and the amenity space. Large balconies and patios provide a personal outdoor space to admire the surrounding scenery. Indoor features include quartz countertops, wood-style plank floorings, two different interior color packages, elevated stainless steel appliances and 16-foot ceilings on the third floor.
A fitness center featuring free weights, TRX and cardio equipment provide the opportunity to exercise with a view of Mt. Si. Rainy nights can be spent in the onsite movie theater with popcorn machine. Residents can entertain in the clubhouse, which features a chef's kitchen, living room and televisions. The lobby area provides a quiet co-working lounge. Firepits, lounge furniture and barbecues combined with landscaping designed to blend into the surrounding area provide relaxation opportunities.
Nearby Mt. Si provides more than just stunning views, as there are an abundance of recreation opportunities including skiing, hiking, kayaking, rafting, mountain biking, golfing and more. The community of North Bend is close to the picturesque Snoqualmie pass.
The town itself has a walkable downtown, the historic North Bend Theater, a thriving arts and culture scene and the North Bend Farmer's market that feature offerings from local farmers, bakers and artisans. Traverse North Bend is also situated near I-90, providing easy access to Issaquah, Bellevue and Seattle.
For more information, or to schedule a tour, please visit traversenorthbend.com or call 425-648-1812.
About Greystar
Greystar is a leading, fully integrated global real estate company offering expertise in property management, investment management, development, and construction services in institutional-quality rental housing, logistics, and life sciences sectors. Headquartered in Charleston, South Carolina, Greystar manages and operates more than $275 billion of real estate in 238 markets globally with offices throughout North America, Europe, South America, and the Asia-Pacific region. Greystar is the largest operator of apartments in the United States, manages more than 803,000 units/beds globally, and has a robust institutional investment management platform comprised of more than $74 billion of assets under management, including nearly $32 billion of development assets. Greystar was founded by Bob Faith in 1993 to become a provider of world-class service in the rental residential real estate business. To learn more, visit www.greystar.com.