Greystar Welcomes Residents to Laureat in Fort Lauderdale, FL
Press Release
February 24, 2020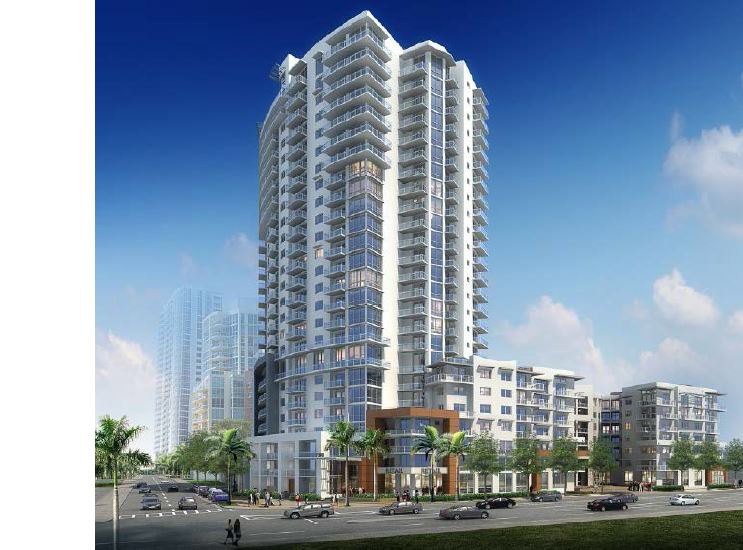 Premier Luxury High-Rise Provides Residents with Prime Access to the Iconic Las Olas Boulevard and Downtown Fort Lauderdale
CHARLESTON, S.C. and FORT LAUDERDALE, Fla. – February 24, 2020 – Greystar Real Estate Partners, LLC ("Greystar"), a global leader in the investment, development, and management of high quality rental housing properties, today announced it has welcomed the first residents to Laureat, a premier, cultivated residential high-rise located at 790 East Broward Boulevard in Fort Lauderdale.
Laureat is comprised of 327 spacious residential units in a 25-story high rise, with unparalleled views of the beach, New River and the City of Fort Lauderdale skyline. The luxury property is located near the heart of downtown Fort Lauderdale's central business district, easily walkable to the iconic Las Olas retail and entertainment corridor just three blocks to the south. In addition to Las Olas, the property is half a mile east of Fort Lauderdale's historic Himmarshee Village, a thriving entertainment district with unique, locally owned bars and restaurant venues, and just two miles from the beach.
"As one of the most diverse and culturally rich regions in the country, southern Florida continues to attract a growing amount of public and private investment for all types of projects designed to benefit and enhance the community," said Todd Wigfield, Senior Managing Director of East Coast Development at Greystar. "Today, downtown Fort Lauderdale's central business district is home to a growing roster of blue chip companies across a wide range of industries. South Florida remains an important region for Greystar and we are pleased that our team has delivered a best-in-class property to the local community.
Laureat boasts best-in-class finishes– including modern kitchens with Carrara marble countertops, GE® Energy Star® stainless steel appliances, tile floors, custom closets, wine coolers, and sleek wooden cabinetry – along with innovative Smart building and home technology (such as keyless entry and Nest programmable thermostats), high end concierge and hotel level service offerings, and cutting edge community amenities, including an amazing eighth floor skyline pool deck, fitness center, and co-working space. With a timeless and iconic curved exterior architecture and a modern, high-end interior, the property will stand the test of time and be an incredible addition to the City of Fort Lauderdale skyline.
"We are excited to introduce South Florida's premier luxury residence that was designed to match the spirit and the live-work-play lifestyle that makes the downtown Fort Lauderdale and Las Olas community the economic and cultural hub of Broward County. The location is incredible, and our residents will enjoy walkability to world class restaurants, shopping, office space, cultural amenities, and service retail, as well as proximity to the beach. We are so pleased to be part of such a great City," said Lewis Stoneburner, Managing Director of Development at Greystar. "We acquired this site in 2017 with the goal of creating the leading luxury residential high-rise in the Las Olas and Fort Lauderdale community, providing residents with convenience, quality, service, and style. Our world class development and construction team has executed that vision perfectly, and we look forward to welcoming all residents to Laureat and providing them with services of the highest quality to create an unmatched living experience in such a vibrant community."
Mr. Stoneburner runs Greystar's development and construction business in the state of Florida. Throughout Florida, Greystar has closed 18 development deals totaling over $1.2 billion of development or approximately 5,100 units. Greystar has an active Florida development pipeline of over $400 million.
Having initially acquired the site in May of 2017, Greystar started construction in the fourth quarter of 2017 and delivered the first units in fourth quarter of 2019. Greystar will continue to manage the property through its leading property management services arm.
As the nation's largest apartment operator, Greystar currently manages over 33,000 units in Florida, including nearly 12,000 units in South Florida alone. Globally, Greystar owns over 167,000 rental units and manages 525,000 units.
For more information on Laureat, please visit https://laureatlasolas.com/.
About Greystar
Greystar is a leading, fully integrated real estate company offering expertise in investment management, development, and management of rental housing properties globally. Headquartered in Charleston, South Carolina, Greystar manages and operates an estimated $160 billion+ of real estate in nearly 200 markets globally including offices throughout the United States, UK, Continental Europe, Latin America, and the Asia-Pacific region. Greystar is the largest operator of apartments in the United States, managing more than 525,000 units/beds, and has a robust institutional investment management platform with approximately $36.1 billion of assets under management, including nearly $14.2 billion of assets under development. Greystar was founded by Bob Faith in 1993 with the intent to become a provider of world-class service in the rental residential real estate business. To learn more, visit www.greystar.com.
Contact
Media
Joele Frank, Wilkinson Brimmer Katcher
Jon Keehner / Julie Oakes / Jack Kelleher
212.355.4449