Greystar's Heather Moore, Bella Peacock, and Angela Russell Recognized as Leading Women in Real Estate
Press Release
September 29, 2022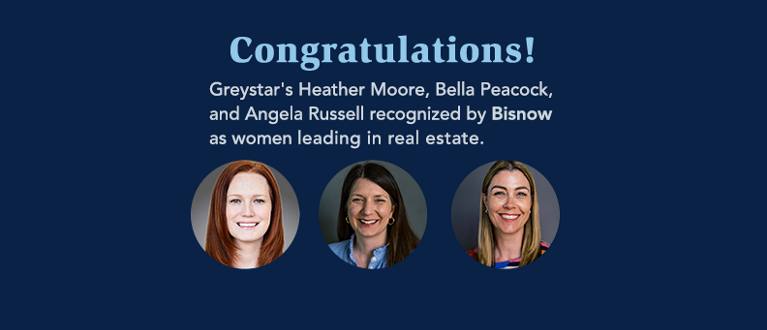 Charleston, S.C. – September 29, 2022 – Greystar Real Estate Partners, LLC ("Greystar"), a global leader in the investment, development, and management of high-quality real estate, including rental housing, logistics, and life sciences, today announced that Heather Moore, Managing Director of Real Estate, Bella Peacock, Managing Director of Investment Management & Operations, and Angela Russell, Senior Managing Director of European Investment Operations, were recognized by Bisnow as women leading in real estate.
Heather was one of 50 award winners for Bisnow's Women Leading Real Estate Award. The program celebrates the industry's top innovators, dealmakers and thought leaders across various verticals in the commercial real estate industry. Heather along with other fellow honorees were selected based on their leadership qualities and drive to do business over the last year during uncertain economic times.
Bella and Angela were recognized among 41 women in Bisnow's Women Leading Real Estate list in the UK. The list recognized mentors, diversity champions, innovators and radical thinkers. Bella and Angela were both recognized for demonstrating their ability to adapt and thrive in an industry that is ever evolving.
"We are incredibly proud of the leadership Heather, Bella, and Angela demonstrate every day for Greystar and across the broader real estate industry," said Bob Faith, Founder, Chairman and CEO of Greystar. "Their hard work and the thoughtful, innovative approach they bring to their roles and regions help Greystar thrive and serves as a model for other women in the industry. Each of them deserves this recognition and it is wonderful to see them honored."
Heather leads the New York third-party management team for Greystar Property Management. Heather's portfolio is comprised of approximately 50 assets and 11,000 units. She has led the third-party platform growth by expanding the regional capabilities to include construction management, facilities and maintenance expertise, union and prevailing wage labor strategy, and affordable housing and compliance oversight. This shift to further institutionalize third-party management has brought large clients, such as Goldman Sachs, UBS, RXR, Global Holdings, and Shorenstein, to Greystar. She has led the leasing-up of 3,000 units in New York and consulting on approximately 4,000 units for future developments.
Based in Greystar's London office, Angela is responsible for overseeing the finance, tax, human resources, technology, and corporate departments for both the multifamily and student platforms across Europe. Angela works with her team to ensure effective local execution in each of Greystar's seven European markets against the company's global vision and framework.
Bella is responsible for asset execution across 37,000+ units of student and multifamily housing in Europe, leading the company's Asset Management and Operations teams in the region. Bella works with her teams in our seven European markets to ensure the effective implementation of the Greystar global operating model, applying it to the local context of each market to drive asset performance across all stages of the investment lifecycle.
About Greystar
Greystar is a leading, fully integrated global real estate company offering expertise in property management, investment management, and development services in institutional-quality rental housing, logistics, and life sciences sectors. Headquartered in Charleston, South Carolina, Greystar manages and operates over $240 billion of real estate in 226 markets globally with offices throughout North America, Europe, South America, and the Asia-Pacific region. Greystar is the largest operator of apartments in the United States, manages over 782,900 units/beds globally, and has a robust institutional investment management platform comprised of more than $59 billion of assets under management, including approximately $25 billion of development assets. Greystar was founded by Bob Faith in 1993 to become a provider of world-class service in the rental residential real estate business. To learn more, visit www.greystar.com.
Greystar Media Inquiries
zain.abouseido@greystar.com
+1 215 398 0628