Greystar Wins 2023 Kingsley Excellence Awards
Press Release
February 22, 2023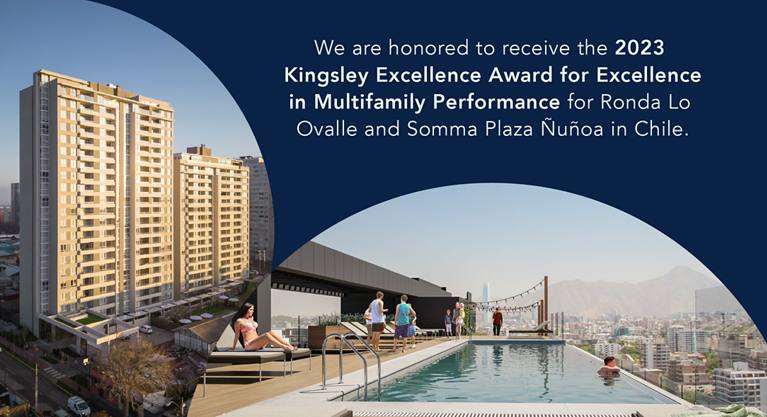 Greystar recognized as one of the multifamily industry's best-in-class
Santiago, Chile – February 24, 2023 — Greystar Real Estate Partners, LLC ("Greystar"), a global leader in the investment, development, and management of real estate, including rental housing, logistics, and life sciences has announced today that it was named a winner of the 2023 Kingsley Excellence Awards, which recognize companies who continually exceed industry standards and consistently deliver an outstanding customer experience.

Ronda Lo Ovalle and Somma Plaza Ñuñoa, two of Greystar's properties in Chile which began operating last year and are Greystar's first operating assets in South America, have exceeded the Kingsley Index benchmark for overall customer satisfaction, the most comprehensive performance benchmarking database in the real estate industry, representing more than 6 million prospects and residents surveyed annually.

"We are thrilled to be honored by Grace Hill as one of the winners of the 2023 Kingsley Excellence Awards for Greystar's multifamily performance in Chile," said Tom Livelli, Managing Director for Greystar in South America. "We have made it our mission to positively impact the resident experience for renters in Chile, and this recognition gives us immense pride. We look forward to expanding our impact and serving more communities in Chile and across the region."

"Surveys are the premier tool to gain insight and benchmark change. The Kingsley Excellence Awards recognize those who have gone above and beyond in regard to industry standards and understand the importance of providing their customers with the highest experience," said Kendall Pretzer, CEO of Grace Hill. "These are the companies who exceed expectations on a continual and consistent basis. Grace Hill is proud of the contributions these companies make to the industry."

About Greystar
Greystar is a leading, fully integrated global real estate company offering expertise in property management, investment management, and development services in institutional-quality rental housing, logistics, and life sciences sectors. Headquartered in Charleston, South Carolina, Greystar manages and operates more than $250 billion of real estate in 227 markets globally with offices throughout North America, Europe, South America, and the Asia-Pacific region. Greystar is the largest operator of apartments in the United States, manages nearly 794,000 units/beds globally, and has a robust institutional investment management platform comprised of more than $62 billion of assets under management, including over $26 billion of development assets. Greystar was founded by Bob Faith in 1993 to become a provider of world-class service in the real estate business. To learn more, visit www.greystar.com.

About Grace Hill
Grace Hill provides technology-enabled talent performance solutions that help owners and operators of real estate properties increase property performance, reduce operating risk, and grow top talent. Its industry-leading solutions covering policy, training, assessment, and data-driven insights are bolstered by years of real estate experience, in-depth service-level expertise, and outstanding customer support. Today, Grace Hill represents more than 2300 companies for their talent performance solutions. Visit us at gracehill.com or on LinkedIn.

Methodology for KingsleySurveys
All Grace Hill KingsleySurveys clients can be eligible for the award and are not solicited to participate. To earn the award, a property's resident satisfaction must exceed the Kingsley Index, which is the most comprehensive performance benchmarking database in the real estate industry and represents over 6 million prospects and residents surveyed annually.
Greystar Media Inquiries
zain.abouseido@greystar.com
Tel: +1 215.398.0628