Greystar SoCal Golf Event and Vendor Fair Raises Over $270,000 for the PTSD Foundation of America
Press Release
September 5, 2019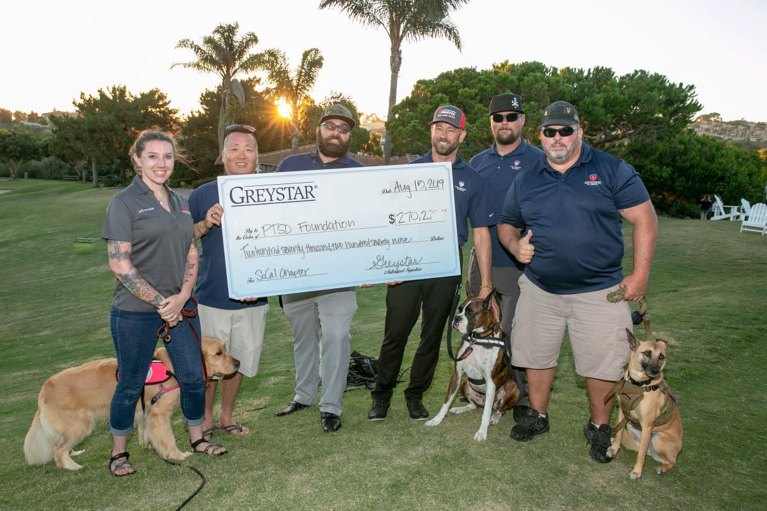 Through regional golf events, Greystar has collectively raised more than $1.3M for critical veteran service organization to date
NEWPORT BEACH, Calif. – September 3, 2019 – Greystar Real Estate Partners, LLC ("Greystar"), a global leader in the investment, development, and management of high-quality rental housing properties, recently hosted the fourth annual Greystar SoCal Charity Golf Event and Vendor Fair, which raised more than $270,000 for the Southern California chapter of the PTSD Foundation of America.
Greystar has collectively raised more than $1.3 million to support the PTSD Foundation of America through its regional golf tournaments to date, and the foundation plans to launch a new chapter in Northern California at the end of this year as a direct result of the success of the annual SoCal Golf Event.
The event was hosted at Monarch Beach Golf Links in Dana Point, California, and welcomed the support of more than 144 golfers, with nearly 50 sponsors and a Vendor Fair featuring more than 60 vendors. Prior to the event, Greystar's property management teams in Southern California supported the effort to raise funds and spread awareness by hosting special events at properties across the region. In total, 64 Greystar communities hosted events, raising more than $15,000 for the PTSD Foundation.
Kevin Kaberna, Executive Director of Investment Management at Greystar, said: "Greystar is honored to support and partner with the PTSD Foundation of America, which provides critical resources to our nation's veterans. We are grateful to all of our sponsors and participants who helped make our Orange County event a success. With their assistance, the PTSD Foundation has been able to grow its presence in California and provide veterans much needed support."
The PTSD Foundation of America is a nonprofit organization dedicated to mentoring combat veterans dealing with post-traumatic stress and their families. The foundation provides recreational therapy as well as a recovery program, individual mentoring sessions with certified combat trauma mentors, job placement and peer support groups.
For more information about the Greystar SoCal Charity Golf Event, please visit https://www.greystarcharitygolfevent.com/
For more information about the Greystar Lowcountry Open, please visit http://greystarlowcountryopen.com/
For more information about the Greystar Desert Open, please visit https://www.greystardesertopen.com/
About Greystar Greystar is a leading, fully integrated real estate company offering expertise in investment management, development, and management of rental housing properties globally. Headquartered in Charleston, South Carolina, Greystar manages and operates an estimated $150 billion of real estate in over 185 markets globally including offices throughout the United States, UK, Continental Europe, Latin America, and the Asia-Pacific region. Greystar is the largest operator of apartments in the United States, managing more than 500,000 units/beds, and has a robust institutional investment management platform with approximately $35.8 billion of assets under management, including nearly $13.9 billion of assets under development. Greystar was founded by Bob Faith in 1993 with the intent to become a provider of world-class service in the rental residential real estate business. To learn more, visit www.greystar.com.
About PTSD Foundation of America / Camp Hope PTSD Foundation of America is a non-profit organization dedicated to mentoring our veterans and their families with military related PTSD. Currently, we have over 15 Chapters across the United States to help counsel veterans through their challenging times. Camp Hope, an extension of PTSD Foundation of America provides interim housing along with peer to peer combat warrior counseling with an on-site campus based in Houston, Texas. For additional information, please visit their website at www.ptsdusa.org.
Media Contact: Liza Kunkel Greystar Public Affairs Liza.Kunkel@Greystar.com