Greystar and Rockpoint Group Sell Maryland Student Housing Community University View in Largest Single-Asset Student Housing Trade
Press Release
November 26, 2018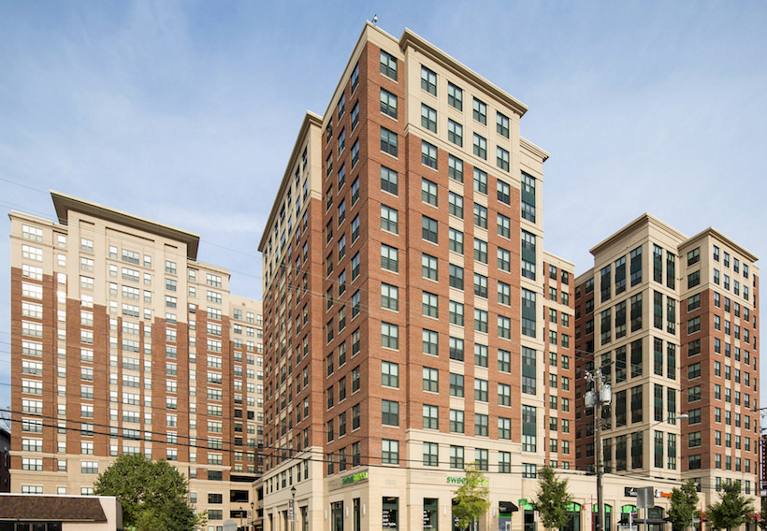 CHARLESTON, S.C. – November 26, 2018 – Greystar Real Estate Partners, LLC ("Greystar"), a global leader in the investment, development, and management of high-quality rental housing properties, today announced the sale of University View, a pedestrian student housing community adjacent to the University of Maryland. Greystar acquired the property in 2016 in a joint venture with real estate private equity firm Rockpoint Group, and the partnership has agreed to sell the property for $235 million, marking the largest ever single-asset student trade in the United States. CBRE National Student Housing's Jaclyn Fitts, William Vonderfecht and Casey Schaefer represented Rockpoint Group and Greystar in partnership with Washington DC Multifamily's William S. Roohan and Michael Muldowney.
University View is a 1,573-bed (507-unit) pedestrian student housing community comprised of two high rise buildings with 9,218 square feet of ground floor retail space. The partnership executed on significant capital upgrades to the property, including extensive renovations to units and all common areas.
"The acquisition, investment in, and sale of University View exemplify the power of Greystar's vertically integrated platform," said Kevin Kaberna, Executive Director and leader of Greystar's U.S. Investment platform. "We were able to perform considerable interior upgrades while maintaining affordable rents for students, allowing us to produce a best-in-class property for the university community and significantly capitalize on our investment."
Located adjacent to the University of Maryland, University View offers students an easy commute to campus across a connecting pedestrian bridge. The fully furnished apartments range from studio to four-bedroom floorplans and feature single bedrooms, a 50-inch HDTV in each living room, high-speed internet, in-unit laundry, and secure entry and electronic key access. Also available are hardwood-style floors, stainless steel appliances, private bathrooms and walk-in closets.
The highly amenitized property boasts two 24-hour fitness centers; barre and yoga studios with fitness classes; individual and group study rooms; media lounges; a game room with pool tables, ping-pong and TVs; a resort-style pool and sundeck with campus views; enclosed bike storage with repair station; Zipcars; 24-hour on-site management; and social events for residents.
Greystar is the second largest operator of student housing in the U.S., the largest owner and operator of student housing in Spain, and the third largest owner of student housing in the United Kingdom. Greystar's student housing portfolio now comprises more than 120,000 beds globally, including approximately 74,000 beds owned and/or managed in the U.S. and over $2.0bn under development.
About Greystar
Greystar is a leading, fully integrated multifamily real estate company offering expertise in investment management, development and property management of rental housing properties globally. Headquartered in Charleston, South Carolina, with offices throughout the United States, UK and Continental Europe, Latin America and Asia-Pacific, Greystar operates in over 150 markets globally and is the largest operator of apartments in the United States, managing over 480,000 units/beds. Greystar also has a robust institutional investment management platform dedicated to managing capital on behalf of a global network of institutional investors, with approximately $31 billion in gross assets under management including more than $12 billion of developments that have been completed or are underway – $9.9 billion in the U.S. and $2 billion internationally. Greystar was founded by Bob Faith in 1993 with the intent to become a provider of world class service in the rental housing real estate business. To learn more about Greystar, visit www.greystar.com. Data as of Q2 2018 but pro forma for inclusion of EdR transaction.
About Rockpoint Group
Rockpoint Group, L.L.C. ("Rockpoint") is a real estate private equity firm and Registered Investment Adviser with its headquarters in Boston and with additional primary offices in San Francisco and Dallas. Rockpoint employs a fundamental value approach to investing and targets select product types located primarily in major coastal markets in the United States. Rockpoint utilizes a consistent strategy across distinct return profiles through its opportunistic and growth and income investment programs. Rockpoint targets assets with intrinsic long-term value, at attractive prices relative to replacement cost and stabilized cash flows, and with particular emphasis on value creation opportunities and complex situations. Since 1994, Rockpoint's co-founders with others have sponsored 13 commingled funds and related co-investment vehicles through Rockpoint and a predecessor firm. In total, they have raised approximately $19 billion in capital commitments and invested or committed to invest in 412 transactions with a total peak capitalization in excess of $56 billion (inclusive of fund equity, co-investor equity and debt).
CBRE Group, Inc. (NYSE:CBRE), a Fortune 500 and S&P 500 company headquartered in Los Angeles, is the world's largest commercial real estate services and investment firm (based on 2017 revenue). The company has more than 80,000 employees (excluding affiliates), and serves real estate investors and occupiers through approximately 450 offices (excluding affiliates) worldwide. CBRE offers a broad range of integrated services, including facilities, transaction and project management; property management; investment management; appraisal and valuation; property leasing, strategic consulting; property sales; mortgage services and development services. Please visit our website at www.cbre.com.
Media Contact:
Liza Kunkel
Greystar Public Affairs