Greystar Launches Pilot Housing Scholarship Program with Sacramento State
Press Release
July 28, 2021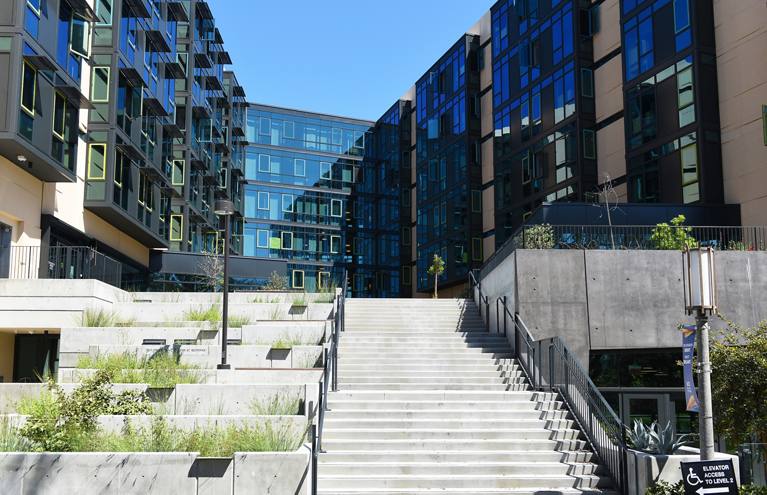 San Francisco, CA., July 28, 2021 – Greystar Real Estate Partners is launching the Hornet Helping Hands Scholarship at Sacramento State University, a need-based student housing scholarship for the Hornet Commons project opening this fall. With an initial investment of $150,000 seed funded by Greystar and generous sponsors, the establishment of the Hornet Helping Hands – or H3 – Scholarship will provide full housing scholarships to underrepresented and economically disadvantaged students each year.
"Sacramento State's partnership with Greystar has not only added 1,100 more beds to our campus; the partnership will also provide scholarships that will help our students sleep in those beds," said Sacramento State President Robert S. Nelson. "I want to thank Greystar and everyone working at Hornet Commons for ensuring that Sacramento State is a welcoming and caring University."
"Studies prove that living on-campus supports student success in higher education, and we know that housing and non-academic costs remain one of the largest obstacles for students seeking higher education," said Julie Skolnicki, Senior Managing Director of Greystar University Partnerships. "Access to and the affordability of higher education is a core value of our University Partnerships and Development teams, so we are thrilled to establish our pilot program at Sacramento State to reduce housing insecurities for students in our communities for years to come. We thank Sacramento State and our sponsors for their partnership and support of this exciting initiative."
Greystar would like to extend a special thank you to the sponsors that generously contributed to the seed funding for the pilot program, including: Steinberg Hart, Sundt Construction, Largo Concrete, BuildGroup, Conco, LDI Mechanical, Devcon Construction, Power Design Inc., Target, and Helix Electric.
About Greystar
Greystar is a leading, fully integrated real estate company offering expertise in investment management, development, and management of rental housing properties globally. Headquartered in Charleston, South Carolina, Greystar manages and operates over an estimated $220 billion of real estate in more than 200 markets globally including offices throughout the United States, United Kingdom, Europe, South America, and the Asia-Pacific region. Greystar is the largest operator of apartments in the United States, managing more than 740,000 units/beds, and has a robust institutional investment management platform with approximately $41.3 billion of assets under management, including over $19.2 billion of assets under development. Greystar was founded by Bob Faith in 1993 with the intent to become a provider of world-class service in the rental residential real estate business. To learn more, visit www.greystar.com.
Media Contact: media@greystar.com