Greystar launches in Ireland with €175.5m acquisition of Dublin Landings and appointment of Ireland country lead
Press Release
July 25, 2019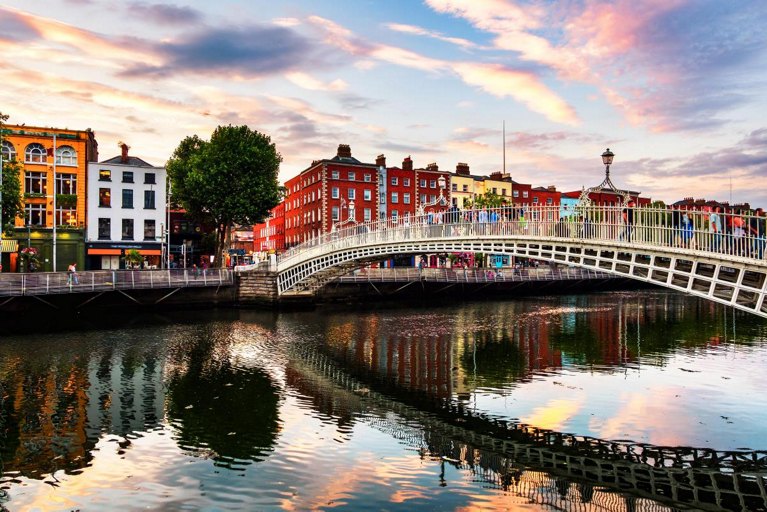 July 25, 2019: – Greystar Real Estate Partners, LLC ("Greystar"), the global leader in rental housing, today announces the launch of Greystar in Ireland, with the acquisition of Dublin Landings by an affiliate of Greystar from Ballymore International Developments Limited ("Ballymore") and Oxley Holdings Limited (SGX: 5UX) ("Oxley"). Additionally, Greystar announces the appointment of Claire Solon as Managing Director of Greystar Ireland, to lead and drive forward its strategy in the country.
The Dublin Landings acquisition of 268 residential apartments with associated amenity spaces represents Greystar's first entry into the growing purpose-managed and highly attractive build-to-rent (BTR) market in Ireland. Dublin Landings will be a state-of-the-art waterfront mixed-use development also comprising 565,000ft2 of office space over 5 blocks and 17,000ft2 of retail and restaurant space. Residential amenities will include a concierge service, landscaped gardens, a private gym, business lounges and 210 basement parking spaces. The development is in a prime location in the Dublin Docklands, with quick access to Dublin's city centre via the Docklands and the capital's financial district.
The 5.5-acre site is currently under construction with the residential components being delivered in phases, beginning in the fourth quarter of 2019. The acquisition of this core-plus asset for a net consideration of €175.5 million is on a forward-purchase basis.
Claire Solon, who will begin her role at Greystar Ireland 21 October 2019, is currently Head of Property at Aviva, with responsibility for over €600m of property assets across Ireland and the UK. At Aviva, her role involves managing the fund portfolio comprising acquisitions, investment strategies and significant redevelopment projects. Claire previously worked at The Electricity Supply Board ("ESB") where she was Head of Estates Management with responsibility for the ESB property portfolio. Throughout her career, Claire has led the development of projects such as Blackrock Shopping Centre, Enterprise House offices, Royal Hibernian Way and the ESB Headquarter offices on Fitzwilliam St. Claire is a Fellow and past President of the Society of Chartered Surveyors Ireland, and a Fellow of the Royal Institute of Chartered Surveyors.
Mark Allnutt, Senior Managing Director UK & Ireland of Greystar, said: "As the European build-to-rent market continues to grow strongly, this deal demonstrates Greystar's position as one of the leading developers in this space. Alongside Dublin Landings, we are looking forward to welcoming Claire as our Ireland country lead. Her wealth of experience in the Irish property sector will be invaluable as we continue to expand our footprint in the UK and Ireland."
Commenting on her appointment, Claire Solon said: "I am excited to be joining the Greystar team and building on their significant experience in the residential sector by driving that ambition in Ireland. We will be seeking to grow on the success of Dublin Landings in terms of the future acquisition of large residential development opportunities. There is a significant market for high quality, well located and professionally managed rental accommodation and I look forward to driving the delivery of this vision."
Peter Halpenny, Group Developments Director, Ballymore Group, said: "We are delighted to welcome Greystar to the Irish real-estate market through this acquisition at Dublin Landings, which has become a quality, vibrant base for high-calibre business tenants in Dublin, including the National Treasury Management Agency, the Central Bank and WeWork. Ballymore Group, together with Oxley is committed to the integration of unique and high-quality developments to existing communities, to build and enhance culturally rich and vibrant environments for people who live and work in Dublin. We anticipate that this exemplar and quality development will further enrich the highly sought-after Dublin Docklands, and will continue to attract high-profile tenants and purchasers."
Mr Ching Chiat Kwong, Executive Chairman and CEO, Oxley Holdings, said: "We have been delighted to work with our partner, Ballymore Group on this development. We believe that Dublin Landings is a true representation of a best-in-class mixed-use development that will continue to contribute significantly to the Dublin Docklands area for businesses and residents. We would like to wish Greystar well in Ireland and we look forward to seeing the continued success of the development in the future."
For more information contact:
Greystar media enquiries: Finsbury (PR adviser) Tel: +44 (0) 20 7251 3801
Gordon Simpson gordon.simpson@finsbury.com
James Thompson james.thompson@finsbury.com
Andrew Pantaleo andrew.pantaleo@finsbury.com
About Greystar
Greystar is a leading, fully integrated real estate company offering expertise in investment management, development, and management of rental housing properties globally. Headquartered in Charleston, South Carolina, Greystar manages and operates an estimated $115 billion of real estate in over 180 markets globally including offices throughout the United States, UK, Continental Europe, Latin America, and the Asia-Pacific region. Greystar is the largest operator of apartments in the United States, managing approximately 500,000 units/beds, and has a robust institutional investment management platform with over $32 billion of assets under management including $12 billion of assets under development. Greystar was founded by Bob Faith in 1993 with the intent to become a provider of world-class service in the rental residential real estate business. To learn more, visit www.greystar.com.
About Ballymore
Ballymore is an independently-minded property developer with a multi award-winning portfolio of some of Europe's largest urban development projects. A privately-owned company, Ballymore was established by founder, Chairman and CEO Sean Mulryan in Dublin in 1982.
Taking a visionary approach to development and placemaking, Ballymore's projects are renowned for best-in-class design and innovation, winning 40 top industry awards in the last three years alone. The business' resolute commitment to quality is embedded in every detail of its projects. From conception through to delivery and then estate management, Ballymore maintains the quality its residents and tenants expect.
Ballymore has significant land holdings across the UK and Ireland. As a result of its independent nature, the company has the flexibility to identify opportunities, pursue challenging projects and make bold decisions. This has resulted in a number of pioneering projects, including the world's first 'sky pool' at Embassy Gardens, and a European-first for English National Ballet's purpose-built new home at London City Island. Ballymore puts culture and the arts at the heart of many of its developments - to create places with soul where people live, work, and belong.
Live developments in Ireland, in addition to Dublin Landings, include the million square foot mixed-use Connolly Quarter development in inner city Dublin and large housing developments of approximately 1,700 homes in Piper's Hill, Bellingsfield, Stoneleigh and Royal Canal Park. In the UK, Ballymore are currently delivering London City Island, Embassy Gardens, Wardian London, Goodluck Hope, Royal Wharf and Three Snowhill. For more information please visit www.ballymoregroup.com
About Oxley Holdings Limited
Oxley Holdings Limited is a Singaporean home-grown property developer with a diversified portfolio including property development, property investment and project management. Oxley is listed on the Main Board of the SGX-ST and has a market capitalisation of approximately S$2.15 billion.
The Group currently has a business presence across eleven geographical markets including Singapore, the United Kingdom (the "UK"), Ireland, Cyprus, Australia, Cambodia, Malaysia, Indonesia, China, Japan and Myanmar. Since Oxley's incorporation in March 2010, the Group has launched a portfolio of 32 projects, and completed 23 projects. In partnership with Ballymore, it is currently developing the Royal Wharf, a waterfront residential development in London, Dublin Landings, a mixed-use development of commercial, retail and residential in Dublin Docklands and Connolly Quarter a large scale Dublin inner city centre mixed-use regeneration development incorporating a hotel, commercial offices, retail, amenity and residential. For more information please visit www.oxley.com.sg