Greystar invests in its first build to rent development in Germany with 234 residential apartments in Hamburg
Press Release
March 22, 2022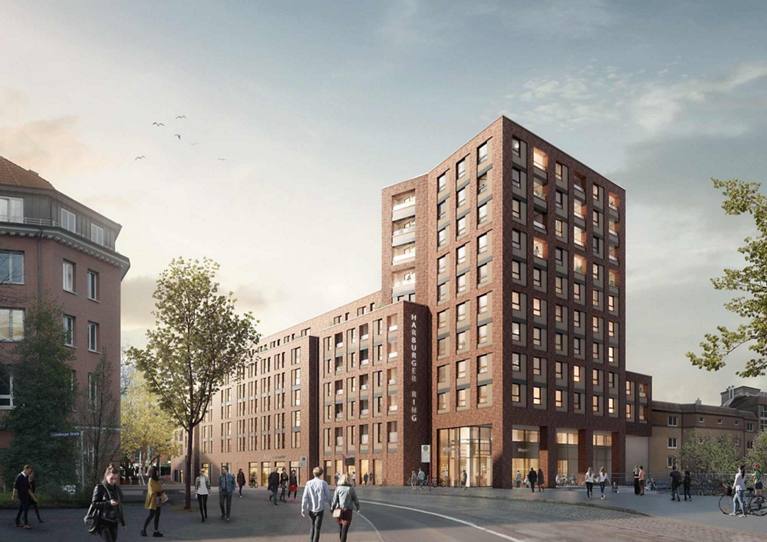 Large residential project in Hamburg Harburg acquired from developer BPD
High-quality apartments for rent with on-site services and amenities aimed at the young professional market
Greystar is building a one billion Euro diversified portfolio across Germany and Austria with a global institutional investor
Frankfurt, 17 March 2022 – Greystar Real Estate Partners LLC ("Greystar"), a global leader in the investment, development and management of high-quality rental housing properties, has acquired a 234-unit residential development in Hamburg's up-and-coming Harburg district as part of its develop-to-core venture with a global institutional investor to build a diversified, high-quality rental apartment portfolio in Germany and Austria.
The forward purchase transaction with developer BPD is the first major development project in Germany and Austria acquired by global residential investor Greystar and follows a purchase in Frankfurt (LY30) and a development in Vienna (District Living).
The asset contains 234 residential apartments with a mix of studio one-, two- and three-bedroom. Greystar plans to add approximately 2,060 sqm of retail space on the ground floor, 28 parking spaces and approximately 400 sqm of social space including a resident's lounge, co-working area and a private gym to the development in Hamburg.
Strategically located within walking distance of major public transport links and directly adjacent to supermarkets, restaurants and multiple shopping facilities, the development is in line with Greystar's strategy of delivering highly amenitised purpose-built products close to transportation hubs. The development is a response to the persistent undersupply of high-quality rental flats in Hamburg, with a city-wide vacancy rate of 0.2%, according to CBRE.
Thomas Wünsche, Senior Director - Germany and Austria, Greystar, said: " The investment strategy for our German and Austrian develop-to-core venture, is to build a diversified portfolio of institutional-quality rental flats by focusing on multi-family properties of scale in key markets such as Berlin, Frankfurt, Hamburg, Munich, Cologne, Düsseldorf, Stuttgart and Vienna. We are implementing specific value creation strategies based on Greystar's global planning and development experience to provide a unique rental experience to our residents and achieve above-average returns and yields for our investors. Each asset will include a range of high-quality amenities tailored to the market and leverage Greystar's market-leading operational platform, which focuses on providing an exceptional customer experience and includes a dedicated onsite team to provide support to residents 24/7."
The continuous increase in single and two-person households in Hamburg is a driver of demand for quality rental flats. New lifestyles and social trends have led to an increase of single and two-person households in Hamburg. The growth forecast ensures strong future demand for quality rental flats.
Located south of Hamburg's city centre, the Harburg district offers proximity to the Technical University of Hamburg and numerous employers (Continental, Mercedes Benz, Tesa, TK Insurance, etc.). In addition, Channel Hamburg at Harburg Harbour is an ongoing urban development project and the location of around 160 mainly technology-oriented companies with 6,000 employees.
The building blends in very well with the surrounding development, with the 11-storey high-rise section set to become a landmark. The facades facing the streets and the square are clad in clinker brick - a typical Hamburg material. The building has predominantly floor-to-ceiling windows. The two inner courtyards are terraces that can only be used by the residents.
The interior design concept is being developed by Greystar in close consultation with BPD. Greystar has already appointed the local interior designer JOI-Design with the development of a bespoke interior design for the building.
Greystar entered the market in Germany and Austria in 2018 with the acquisition of District Living, a 110-metre high-rise in Vienna's 22nd district on the banks of the Danube. The completed project will offer a mix of student, young professional and rental flats. Greystar also owns and operates LY30 in Frankfurt, which was acquired in 2019 and comprises 182 rental flats.
Greystar's European strategy of forward purchasing, forward funding and developing residential projects is also evidenced in major construction projects and residential developments in the UK, the Netherlands, France, and Spain.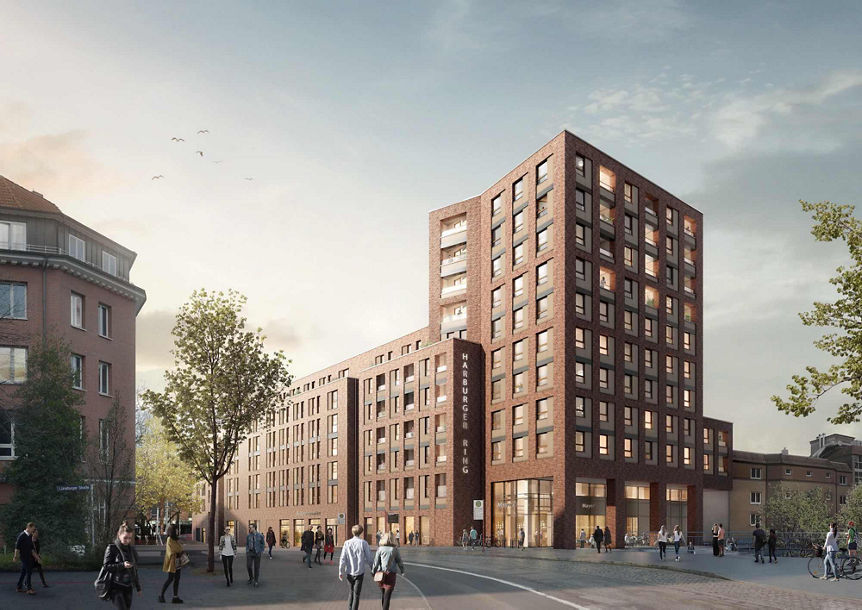 For more information contact:
Dr. Heinrich Raatschen
hr@targacommunications.de
Tel: +49 69 153 24 21-15
About Greystar
Greystar is a leading, fully integrated real estate company offering expertise in investment management, development, and management of rental housing properties globally. Headquartered in Charleston, South Carolina, Greystar manages and operates approximately $230 billion of real estate in 215 markets globally including offices throughout North America, Europe, South America, and the Asia-Pacific region. Greystar is the largest operator of apartments in the United States, manages more than 754,000 units/beds, and has a robust institutional investment management platform with approximately $49.9 billion of assets under management, including $22.6 billion of development assets. Greystar was founded by Bob Faith in 1993 with the intent to become a provider of world-class service in the rental residential real estate business. To learn more, visit www.greystar.com.