Greystar and Fender Katsalidis announce approval of Australia's largest build-to-rent development
Press Release
September 13, 2021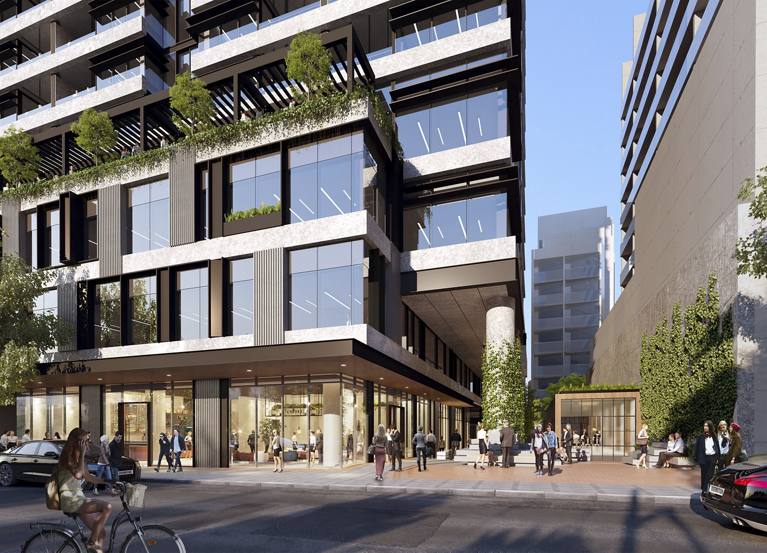 Located in the Inner Melbourne suburb of South Yarra, Australia's largest approved build-to-rent project will bring increased housing diversity and best-in-class resident amenity facilities to Australia, showcasing industry-leading innovation from Greystar, Fender Katsalidis, Contour Town Planning and City of Stonnington
MELBOURNE, Australia – September 13, 2021 – Greystar Real Estate Partners, LLC ("Greystar") – a global leader in the investment, development and management of high-quality rental housing properties – together with Fender Katsalidis ("FK"), today announced the planning approval of a new build-to-rent development in the Inner Melbourne suburb of South Yarra. This is the largest build-to-rent development ever to receive a permit in Australia, allowing for the construction of 625 units and 2,400 square metres of retail / commercial office space.
"This purposeful design will not only deliver a best-in-class build-to-rent experience to consumers with expertly managed apartments, workspaces and abundant amenity areas, but it will also introduce an innovative new flexible living typology to Australian renters. This project is not just the largest development of its kind, but it is an important step in increasing the diversity of housing choice in Australia," said Chris Key, Managing Director for Greystar in Australia.
While the build-to-rent market in Australia is in its early stages, it is a highly regarded emerging asset class building on the success of the model in international markets. Key to the success of this property type is collaboration with stakeholders, showcasing not just the positive social and environmental impacts on the housing industry, but also the overall benefit that build-to-rent developments will offer to the construction industry and the Australian economy. This development will create approximately 970 jobs during the construction phase, and approximately 150 further jobs through the office, retail and on-site management components post-completion.
"We worked closely with the City of Stonnington to ensure the planning process was driven by collaborative innovation. While build-to-rent is an emerging housing product in Australia, we believe it is simply a matter of time before this residential sector gains a foothold as a primary investment allocation for institutional investors in the Australian market. The City of Stonnington has worked closely with us to understand the nuances of the build-to-rent model, and as a result, we have collectively delivered our shared vision of a truly innovative development plan," said Mr Key.
The proposal includes two towers over a combined basement, with ground level retail offerings that will activate a pedestrian through-link and contribute to the precinct and neighbourhood amenity. The first 30-storey Yarra Street tower will include 382 build-to-rent apartments and 2,000 square metres of commercial office space. The second 21-storey Claremont Street tower will provide 243 fully furnished, flexible living apartments. The development will deliver a new pedestrian laneway leading to South Yarra train station, which will conveniently connect residents to Melbourne's CBD in just two stops.
"Our design centres on integrating build-to-rent and flex housing into the character of South Yarra's Forrest Hill precinct through the incorporation of amenity and a focus on the site's context," said James Pearce, Director at Fender Katsalidis.
"The towers will be distinct but achieve cohesion using colours and materiality, with the architecture providing the foundations to allow Greystar to operate numerous services and provide a high-quality living experience for its residents," said Mr Pearce.
The podium design focuses on enhancing the pedestrian journey for the community while the two towers above are a composition of interlocking, elegant slender forms that maximise views for residents. Greystar acquired the two adjoining properties on Yarra and Claremont Streets in February 2020, with this development capitalising on two of the last remaining development sites of scale in the sought-after Forrest Hill Precinct. The local area has an abundance of retail, food and entertainment offerings, especially along Toorak Road and Chapel Street, that all add to the highly desirable characteristics of this location for modern living.
"This build-to-rent project is an important step in Greystar's strategic vision of unlocking complex development sites to bring high-quality housing options to a broader spectrum of the rental population," adds Key.
Despite the challenges experienced in markets due to the global pandemic, over the medium term the growth in the Australian population is expected to continue to drive household formation and rental demand. Housing affordability remains a significant issue in markets like Melbourne and Sydney driving continued growth in the rental cohort, with rental demand also being driven by younger generations prioritising lifestyle experiences that come with living in urban centres.
About Greystar
Greystar is a leading, fully integrated real estate company offering expertise in investment management, development, and management of rental housing properties globally. Headquartered in Charleston, South Carolina, Greystar manages and operates an estimated US$220 billion of real estate in more than 210 markets globally including offices throughout the United States, United Kingdom, Europe, Latin America, and the Asia-Pacific region. Greystar is the largest operator of apartments in the United States, managing more than 748,000 units/beds, and has a robust institutional investment management platform with approximately US$45.1 billion of assets under management, including over US$21.3 billion of assets under development. Greystar was founded by Bob Faith in 1993 with the intent to become a provider of world-class service in the rental residential real estate business. To learn more, visit www.greystar.com.
About Fender Katsalidis
Fender Katsalidis is a multi-disciplinary international design firm delivering projects around the globe, with offices in Melbourne, Sydney, Brisbane and a sister-studio in London. The practice's work includes ground-breaking projects such as Mona in Hobart and Merdeka 118 in Kuala Lumpur, set to become the world's second tallest tower. Spanning cultural, commercial, multi-residential, seniors living and hotel typologies, Fender Katsalidis delivers holistic solutions in architecture, masterplanning, urban design and interiors. The practice's core philosophies – place, sustainability and innovation – are embedded across Fender Katsalidis' project portfolio. www.fkaustralia.com
Media contacts:
Greystar:
Emma Graham: Emma.graham@edelman.com; T +61 (0) 401 363 662
Fender Katsalidis:
Joanne Tramontana: joanne@communicationscollective.com.au; T +61 (0) 422 064 710